If you know you'll mostly use your MIDI controller for beginners at home or in a studio instead of looking for a portable unit, try this one. Firstly, it has a range of controls you can access straight from its surface, so working on your DAW isn't even necessary—you do much of the mixing from your controller.
Secondly, this is a bigger unit, measuring much longer than some of the portable units on our list. That makes it more appropriate as equipment that remains stationary in one place most of the time. It's also much heavier than units we've reviewed here, so you don't necessarily want to carry this one around.
10
Upgrade Pick
Arturia Keystep Controller & Sequencer
Features
Keys: 32, velocity-sensitive
Controls: Sync in/out; Shift; Rec; Play; pitch bend and modulation touch strips; Pattern and Brownian randomness options; octave up/down
Connectivity: USB; MIDI Din output
DAWs and software: not specified
Dimensions: 19.09 x 5.71 x 1.42 in
Weight: 3.1 lbs
Other features: Sequencer, Arpeggiator, and Controller modes; compatible with most existing synthesizers; CV outputs; sustain pedal output jack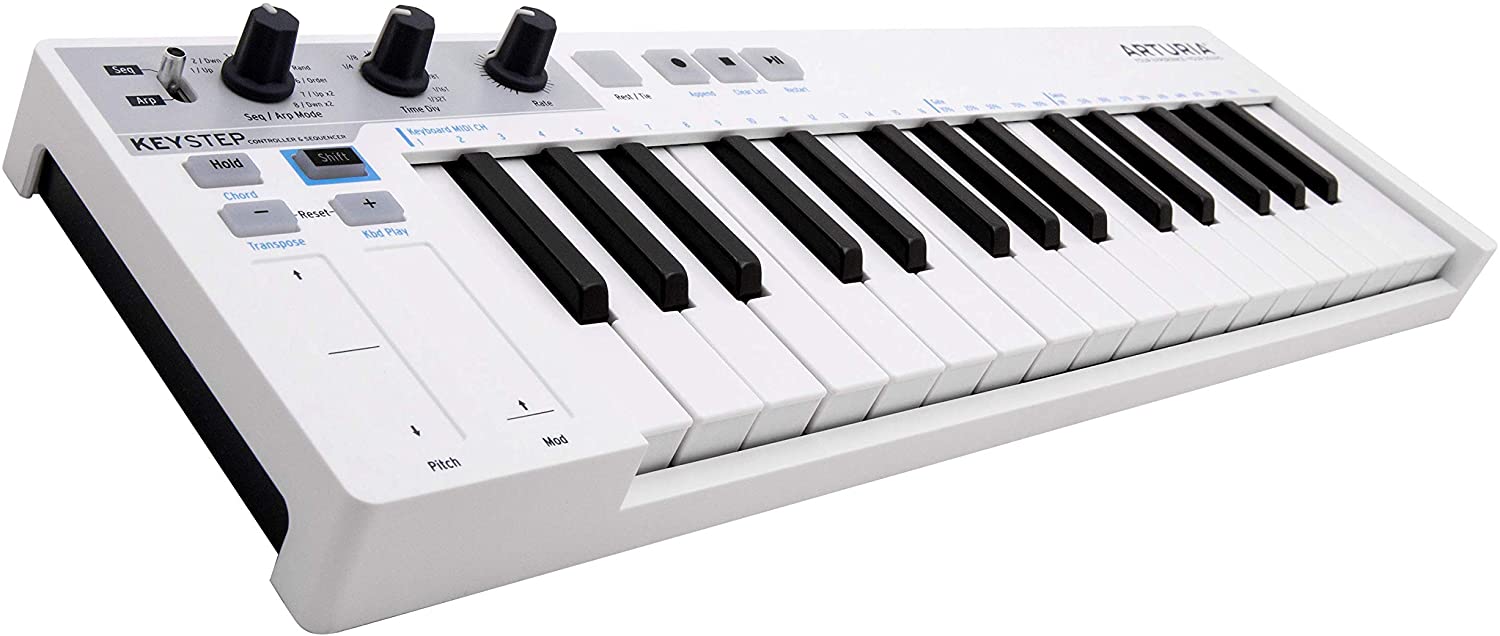 Good

The keys do offer a very authentic feel, and it's comfortable to play on. The arpeggiator is a great feature to have, as is the sustain pedal input.
Bad

Components like the sliders could be exchanged for wheels or a different type of slider. In the current design you may accidentally touch it while playing and add effects you don't want.
This starter MIDI keyboard is last on our list, but still a wise investment since the brand built in multiple features into one unit. It's a smart fusion of a MIDI controller and a keyboard that still makes you feel as if you're playing on a quality piano or keyboard. Since the experience can add to your creativity at any given moment, this is important for beginner composers and producers. There are also features of a polyphonic step sequencer built into this unit. All of this is why it's our upgrade pick. Perhaps after you've tried a standard MIDI controller you'll want to invest in this, and since it comes at a very reasonable price, it's still budget friendly to add this to your gear.
You'll notice this one has more keys than most of the models on our review list that only have 25. While this makes it bigger, it also gives you a wider range for playing, a feature that could be valuable for those used to playing on standard pianos who now want to try out other aspects of music production.
With the unit having more keys and various features, including buttons for stop, play and record as well as other controls, it's obvious that it's larger and heavier than many portable models.
Things to Consider
When you pursue a passion like music, your equipment should enhance your experience, not hamper it. We compiled this buying guide about beginner MIDI controller shopping, to help you make the right choice from the start.
If you're just getting into this business, this guide is what you'll need. We cover everything from what these pieces of equipment are exactly, to identifying the best ones for your use. How much does connectivity matter and which features will ensure you get value for money? It's important to truly understand these aspects, because each musician is different. You need to identify what will work for you in terms of key action, software, weight and many other features mentioned below.
So, keep reading to shop like a pro muso.
How does a MIDI keyboard work?
Firstly, MIDI (Musical Instrument Digital Interface) refers to a certain protocol. This was designed to help hardware like computers and musical instruments to communicate with each other.
With your MIDI controller sending data to your DAW (Digital Audio Workstation) on your computer, you can simplify creating sounds during composing music or producing tracks. Easily add sounds by playing the notes on the keyboard or pressing the drum pads, instead of using your PC keyboard or manually writing in each note as MIDI information. With this tool you can edit, enhance and even replace sounds to suit you. Your MIDI will do it all.
Note that it's not your controller producing the sounds; it simply sends data or information to your other equipment to create the sounds.
Features to consider in a MIDI keyboard if you're a beginner
In our beginner MIDI controller reviews you saw that there are different models and types. Each one was designed to cater for a specific need and you need to determine which features will be most valuable to you. Here are the most important specs to consider and understand in order to make an informed decision.
Controls sets and options
The keys are the primary feature of a MIDI controller, but the more controls you have, such as the pads you find on the AKAI Professional MPK Mini MK3, the better.
The most popular controls include:
Pads that usually relate to adding drum beats to your tracks. They should be velocity sensitive and if they have an aftertouch feature they will sound even better. Pads are valuable for anyone wanting to add beats to their music.
Knobs can usually be used for different features and depending on the model it may be up to you to assign the knob to a certain function. For example, they can help you adjust volume of notes or customize a filter you add to a track. Having a physical knob to turn rather than working with your mouse and PC makes the task faster and even more enjoyable.
Faders are similar to knobs in that they help you make adjustments to the audio. Once again, it's much easier to get it just right by having the fader under your fingers than using your mouse. It also lends itself to help you feel more creative in the moment.
Keys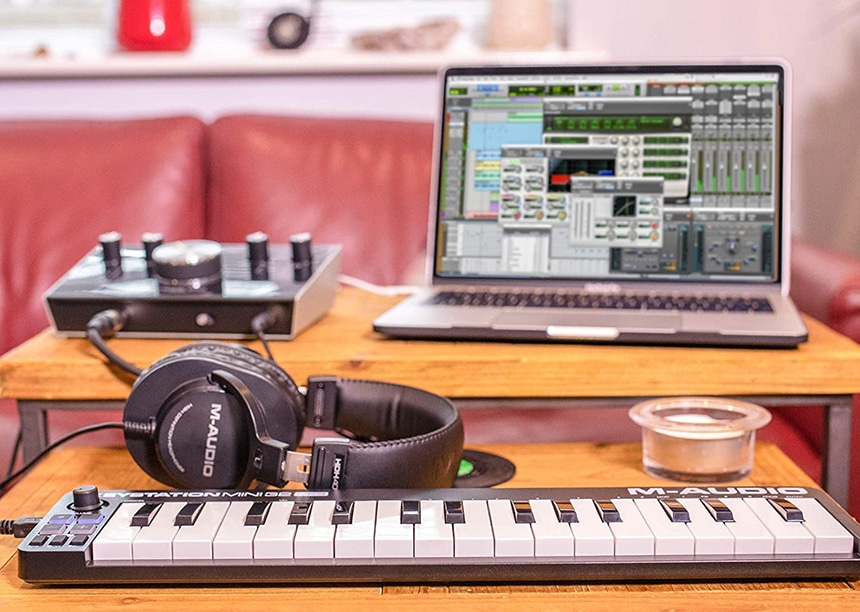 Most of our starter MIDI keyboard models above have 25 keys, but as you can see in the Arturia Keystep Controller & Sequencer, some have even more. There are different designs, usually being 25, 49, 61 or 88. But then you saw that it can also be 32 and even 37 is a common occurrence.
Having 25 keys is enough on a beginner MIDI controller and this also suffices if you're looking for a portable unit or when your studio has limited space. However, when you progress you may want more keys to make it easier to create more elaborate tracks and use both hands at once. This is why many pros prefer 49 keys at least, especially if they don't often travel with their gear.
Remember the number of keys doesn't always limit you in how high or low your notes can be. For example, you have Octave up and down buttons on many models we reviewed.
Key action
Research the key action because it will impact how comfortably you play. There's not necessarily a best type of action; it simply needs to suit your needs. The main types are:
Synth action: Here the keys pop back into place quickly after being pressed down. Synth action is an option in many MIDI controllers on the market. Some players find it best for fast playing.
Semi-weighted action: This is a more advanced design and there's a weight attached to each key. This influences how it moves after being pressed down, since it will move back up slower than a synth action key after you lift your finger. This is closer to how traditional pianos react and some who are used to pianos may prefer this. It also is beneficial when playing fast pieces.
Weighted hammer action: This is the closest you'll get to a 'piano-feel' when using a MIDI controller and will feel very comfortable for an experienced pianist. They're not often integrated into 25-key beginner models like the ones we reviewed, but it may be something you can invest in in future for an authentic feel.
Connectivity
A MIDI controller on its own doesn't offer you much, since it's meant to use with other equipment. For example, it needs to be connected to your computer. Look at how it connects to your PC so you know you'll have a simple setup. A plug-and-play unit usually doesn't require much effort in terms of installing software or downloading sounds. You can simply switch on and start mixing.
Also see what you need to connect to, to power your controller. A USB powered unit is very handy since you won't need an open wall socket to plug in yet another power supply. Simply link it to your computer and you're ready. This also makes it portable and practical for taking your gear with you wherever you go.
Other connections include Bluetooth which can be handy but may be less stable than connecting via cable. And if you have inputs for headphones, sustain pedals and other devices they always come in handy.
DAWs and software
You can see that many of the models we reviewed have DAW and other software packages included. This supplies you with sounds and many mixing features right from the start, instead of having an additional expense to set up your studio. Look for software that's known for its user friendliness and that will work on your PC. For example, GarageBand is popular music creation software, but it's meant for Mac, not a Windows computer.
Other popular DAW options include Ableton and Pro Tools. If you have software that the industry uses, there will be no reason to upgrade later on, saving you money in the long run.
Dimensions and weight
The size and weight of your MIDI controller will determine its portability, which is very important if you'll travel with your gear. This could be because you're an aspiring performer using your MIDI on stage, or you may attend classes to improve your skills. This is where compact units like the Akai Professional MPK Mini Play come in handy. Designs like this one won't weigh you down or take up much space. The latter is also important if you have limited space available in your studio.
If you want a more comfortable play experience you may sacrifice small dimensions for having more keys, as can be found in the M Audio Keystation Mini 32 MK3 and Arturia Keystep Controller & Sequencer. So, first consider what you'll use your controller for before deciding on the ideal size.
Warranty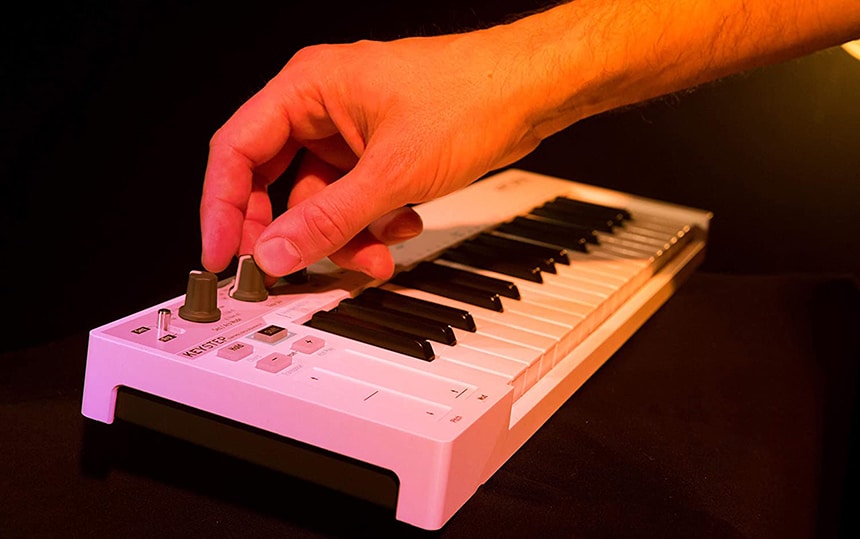 A warranty shows a brand's faith in the quality of their product, so it's worthwhile comparing different models. You can get a warranty of up to 2 years on a model like Novation Launchkey Mini MK3, so don't settle for too short a period of cover. Your controller may undergo a lot of heavy handling especially if you travel with it, and you don't want to pay for a replacement too soon.
FAQ
What DAW do I need for my MIDI keyword?
Pick a DAW that's user friendly and also compatible with your PC. Not all software works on both Windows and iOS. Popular options include Cubase, Ableton, Pro Tools and GarageBand, with the latter being for Mac users specifically. A DAW like Ableton that allows for different views of your audio track, such as session views and arrangement views are very helpful.
What's the difference between a MIDI controller and hardware synthesizer?
The main difference between a MIDI controller and a synthesizer relates to the sounds they produce. While a synthesizer has internal sounds, this is not the case with a MIDI controller that usually only helps you manage virtual software by sending data to the DAW on your computer. You can see that you therefore need additional equipment to produce sound when you work on a MIDI controller and it must be connected to a computer with the right software. This is not necessary when using your synthesizer.
An interesting fact is that you can actually use a synthesizer as a MIDI controller. For this to work the synthesizer must be able to give an output of a MIDI signal, whether through an appropriate MIDI cable or a USB connection.
What's the difference between MIDI and audio interface?
When you record audio, you're capturing the sounds of an actual sound, generated by an instrument or equipment. In contrast, the MIDI data is simply information sent to a computer, so you're not recording actual sounds. Advantages of MIDI files is that they're easy to edit and add or remove effects. A drawback is that it's not the solution to add dialogue or singing to a track, which is possible with recording normal digital audio files. But note that digital audio files are often bigger than MIDI files, so you'll need more storage space.
Our verdict
It's time to pursue your dream and improve your skills as a musician, composer or producer. Find the best MIDI keyboard for beginners among our list of options and you'll be ready.
We suggest you try the AKAI Professional MPK Mini MK3, since you can't go wrong trusting an industry favorite brand. Also, this one is fairly compact while still giving you loads of features like its quality drum pads.
You may want more keys, in which case our Best Value option, the M-Audio Keystation Mini 32 MK3 is a winner. With plug and play it's easy enough for any beginner to try out.
Make sure your setup is easy by picking a model like the Midiplus AKM320 with keyboard controller. With the USB hub you can power it up almost anywhere so your new hobby can be enjoyed wherever you go.
You have the insight thanks to our buying guide. Now, pick the best MIDI keyboard for beginners for your use.
References
1.
How to play your first chords on a piano or MIDI keyboard | MusicRadar
Get started by learning a C major triad
2.
Getting Started with MIDI Keyboards | Sweetwater
In this guide, you'll learn what a MIDI controller is and how to set one up with a DAW. Click here to learn more and set up your MIDI keyboard!