Korg is a brand well-known for its electric pianos, keyboards, and synthesizers. And this unique MIDI controller takes a whole new spin on a classic design. This lightweight and portable controller is great for DJs and producers looking for a simple controller they can bring around to gigs and productions sessions.
One of the standout features of this controller is the design. Unlike most keyboards out there, this controller doesn't have classic piano keys. Instead, you have backlit pads that are very sensitive and allow you to play and record music.
When testing this model out, we found that the connectivity is unmatched by many other controllers. You can connect this to your computer via a MIDI cable, or you can use the wireless connectivity to produce. This gives you more freedom as a DJ or producer. On top of that, it has additional pads and knobs that you can program to control a bunch of different things when producing on Reaper.
One thing we didn't like is that the wireless connectivity doesn't use Bluetooth, so you won't be able to connect it to an iPad or other device using Bluetooth. And while the unique pads work great for producing beats and step recording, if you're looking to play this instrument like a normal piano, you might have a hard time because the keys do not feel like piano keys at all.
5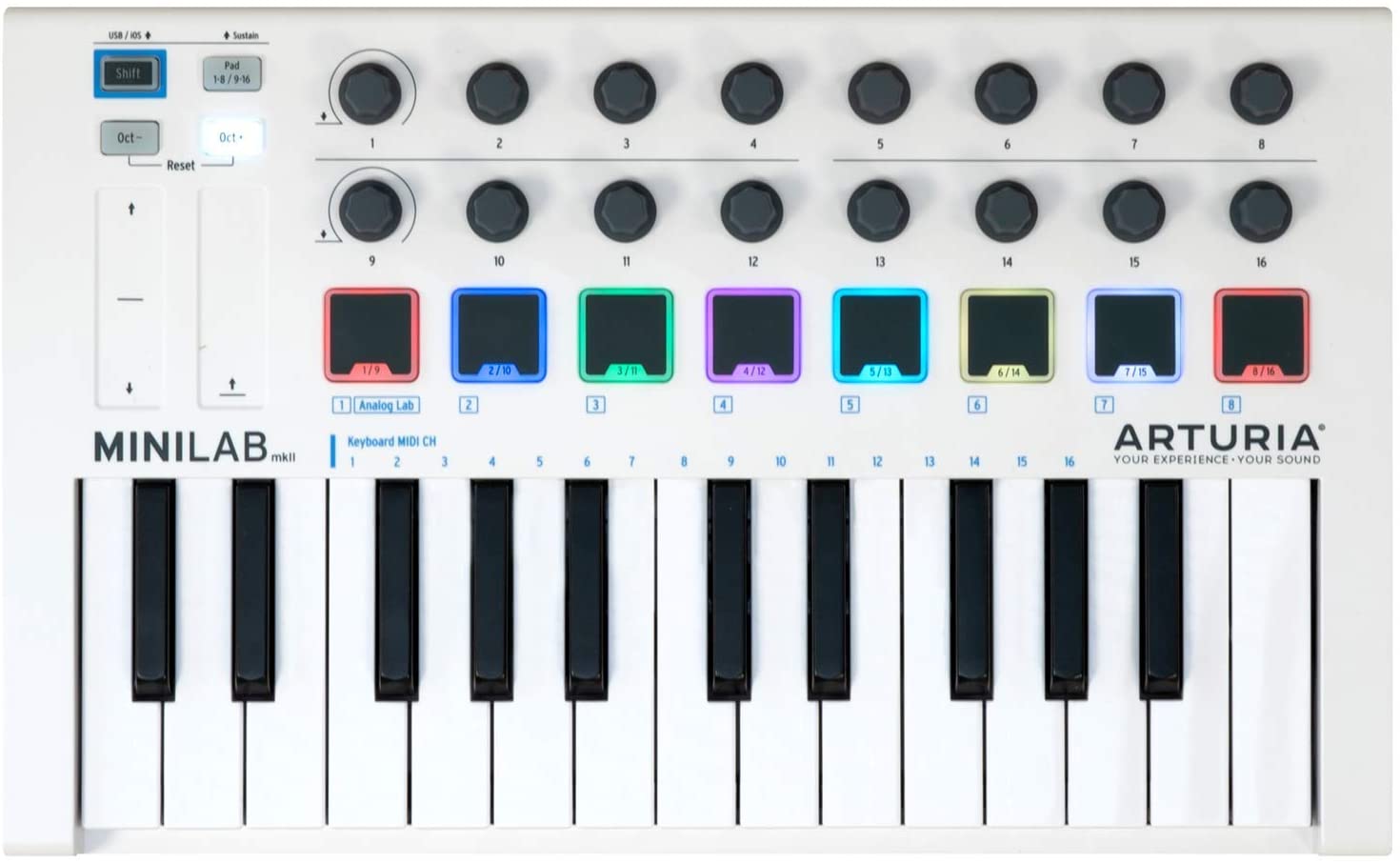 We've already talked about how Arturia is one of the best MIDI controller brands out there. And if you want to get your hands on a fully-capable Arturia model on a budget, this is the right pick for you.
Unlike other Arturia MIDI controllers out there, the MiniLab MK II is a compact controller is a 25-key keyboard that spans three octaves. This allows the brand to sell the controller for a lower price without sacrificing the quality of its equipment.
The design was one of the key features we found with this model. It has really compact and portable so you can carry it with you. We also enjoyed the fact that this model comes with the UVI Grand Piano, Analog Lab Lite, and Ableton Live Lite, which you can use to program and create sounds for the controller. The keyboard also comes with sixteen assignable encoders that will help you control the DAW, and two of them can be clicked. And since this keyboard has velocity sensitivity, you can add live dynamics by pressing the keys softer or harder.
When trying this model, we did find the small keyboard limiting. While it was perfectly fine for basic chord progressions, you can't play spread-out chords and complex melodies that span over multiple octaves. And for an Arturia model, we found that this keyboard felt rather flimsy and not as durable as their more premium options.
Things to Consider
There are many different MIDI controllers out there that you can use with Reaper. And when starting out your journey into music production, it can be hard to find the right one for the job, especially if you aren't well-versed in the world of music equipment.
There are many different factors to consider when trying to find the best MIDI keyboard controller for Reaper, which can make finding the right one very tough for beginners. To help you out, we've made a quick buying guide that contains everything you need to know about buying a MIDI keyboard for Reaper.
What is Reaper?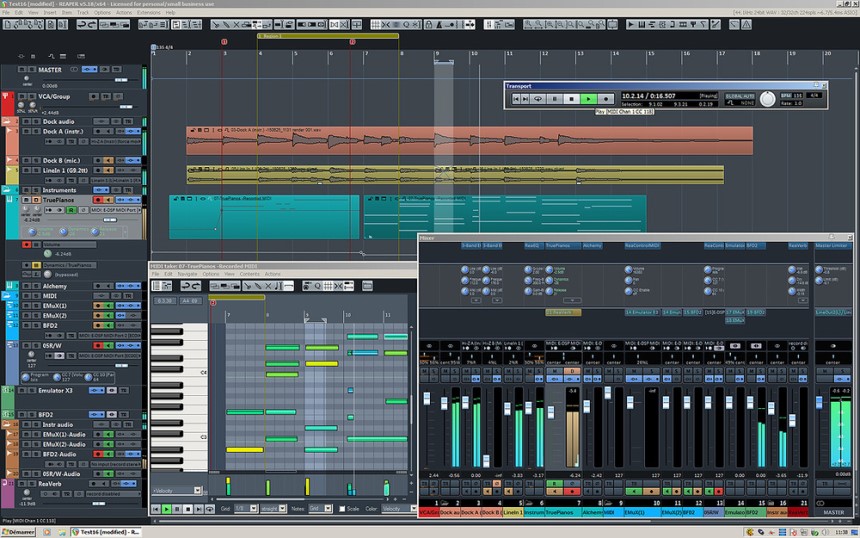 Reaper is a digital audio workstation (DAW) that's been around since 2006 Trusted Source REAPER - Wikipedia Reaper comes with a variety of commonly used audio production effects. en.wikipedia.org . They were created by a tiny company in California with big dreams of providing musicians and producers with an affordable DAW they can use to make music.
Reaper is well-known in the music community because it has everything you'd want and need from a DAW and can hold its own against premium and expensive options like Ableton or ProTools. With Reaper, you can do live and virtual instrument recording Trusted Source Cockos Reaper Review | PCMag Reaper offers nearly all of the features and flexibility, if not the ease of use or visual appeal, of powerhouse digital audio workstations like Pro Tools, at a fraction of the cost. www.pcmag.com , a virtual mixing console, notation editing, and you can even use it to store videos. On top of that, Reaper is compatible with most of the other VST's you can find on the market, giving you all the capabilities of using a premium DAW.
This DAW also contains great customization options like tweaking the menu and themes to your tastes, which isn't something you can achieve with other DAWs on the market today.
Features to consider
When buying a MIDI keyboard for Reaper, there are a couple of things you need to consider. These are arguably the most important features of any MIDI controller, and you need to take them into account whenever you shop for one. These are specific features to consider when buying a MIDI controller for Reaper;
Number of keys
As a producer, it's important to get a MIDI controller that can handle all your needs. MIDI controllers come in different shapes and sizes, for example, if you want more versatility, you can opt for the Arturia KeyLab MKII 61, which comes with 61 keys. But if you don't need that many keys for your music, you could save some money by choosing the Arturia MiniLab or the Korg MIDI controller, which comes with fewer keys.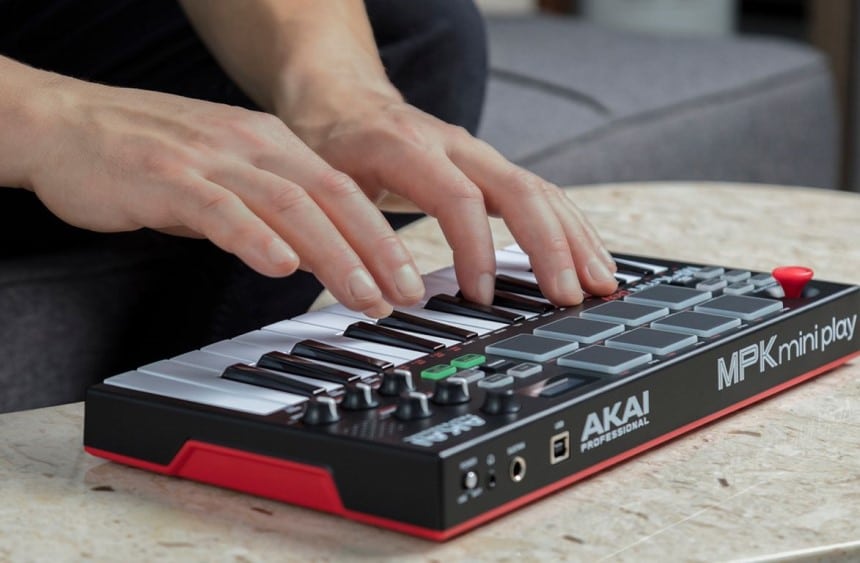 Item Dimensions and Weight
DJs and producers tend to work in different places. And if your keyboard is heavy and bulky, you'll have a hard time lugging it around. So, if you plan on moving around a lot when producing, it's best to get the lighter and smaller models that you can fit in your backpack. But if you don't plan on producing in other spaces, there's no problem opting for heavier options.
Material
Most MIDI controllers out there will be made of plastic, such as the AKAI Professional MPK Mini MPK3. These aren't the most durable materials out there, but they are enough to last you a long while in the studio. But for more premium builds and materials, you can opt for options, such as the Arturia MiniLab or the Arturia KeyLab.
Warranty
You never know if you're going to receive a defective product, and you would like to protect yourself from that. Ideally, you would want a model with a fairly long warranty like the Nektar Impact LX49+. In the event that there are manufacturing defects with your controller, the warranty will allow you to replace it for free, which is very important when buying musical equipment.
Price
Different producers work on different budgets. It's always important to choose the right controller based on your means. If you can invest a lot of money into a premium product, then you can go for the Arturia KeyLab, but if you're on a budget, the AKAI Professional MP3, Korg MIDI controller, and Arturia MiniLab controllers are great options for just about any producer out there.
Other features
Some MIDI controllers will come with extra features like the Arturia MiniLab, which comes with software, arpeggiator, pitch, and modulation knobs that can add a bunch of flavor to your tracks. Other models like the AKAI Professional MPK3 Mini are fairly simple but also come with features like an arpeggiator and modulation knobs. When shopping for MIDI controllers, it's crucial to go for options that can handle all your musical needs in the studio.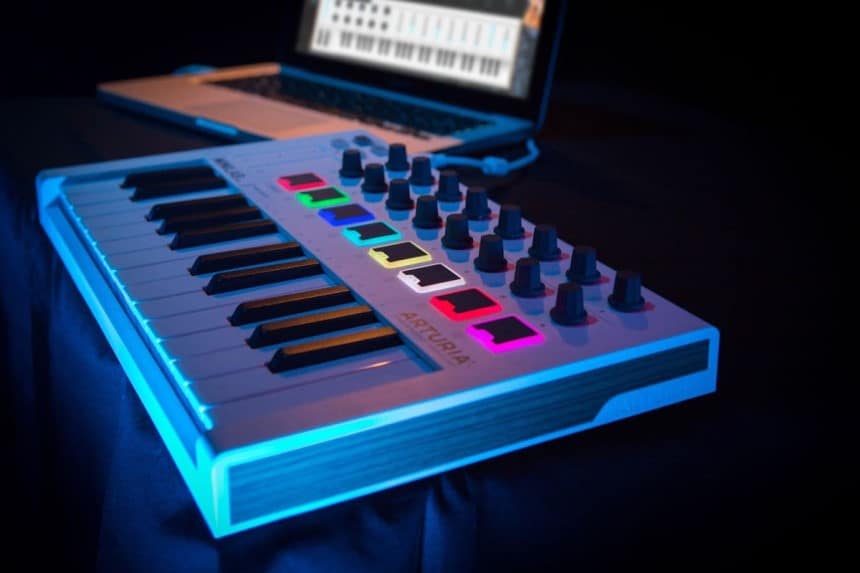 Included components
When you start making music with a MIDI controller, you will need a MIDI cable. At the very least, your MIDI controller should come with a MIDI cable so you can plug it into your computer right away and use it with Reaper.
How to Choose a Suitable MIDI Controller for Reaper?
It's always important to consider your own musical needs when considering musical equipment, whether it's a MIDI controller for Reaper, audio interface, or studio monitors. Reaper is compatible with most MIDI controllers out there, so make sure to choose a model that fits your own musical needs. If you produce piano or synth-heavy music, then you'll need more robust keyboards with more keys and features. But if all you need the controller for is simple hip-hop and trap melodies, then you can use smaller and more compact MIDI controllers.
FAQ
Is it possible to use Reaper instead of other DAWs?
Yes, the main reason producers use Reaper is that it's an affordable DAW with features that are up to par with some of the premium options like Ableton Live and ProTools. However, if you find that other DAWs work better than Reaper, you can always use the MIDI controller for another DAW. Most modern developers make sure that their DAWs are compatible with modest MIDI controllers out there to ensure maximum compatibility.
How to connect Reaper to the MIDI controller?
All you need to do to connect your MIDI controller to Reaper is plug it in through the USB connector. From there, you can go to Options->Preferences->Audio->MIDI Devices, then you can find the controller in "MIDI inputs to make available". Once you find the controller, right-click on it and check "Enable Input" and "Enable Input for Control Messages", and you can start using your MIDI controller to record and create music.
Our verdict
It's always important to choose the best MIDI controller for your needs. If you need a simple and compact model that can get the job done, we highly recommend our editor's choice, the AKAI Professional MINI MPK3, but if you need a premium model that comes with advanced features, then our choice is the Arturia KeyLab KII 61.
And in our opinion, the Arturia MiniLab 230401 was the best MIDI controller for Reaper that you can get on a budget. We made sure to include as much variety as possible in this list. So, whether you're a home producer or an established producer working in a large studio, our list has got you covered.
References
1.
REAPER - Wikipedia
Reaper comes with a variety of commonly used audio production effects.
2.
Cockos Reaper Review | PCMag
Reaper offers nearly all of the features and flexibility, if not the ease of use or visual appeal, of powerhouse digital audio workstations like Pro Tools, at a fraction of the cost.