If you have been hunting for a portable midi keyboard controller under $300 that will not make you sacrifice your musical brilliance, then you have found the one. The Arturia MiniLab MkII 25 Slim-Key Controller has a portable and compact design so that you can carry it with you.
This keyboard is ultra-responsive even though it has a mini design. It will provide you with all the tools necessary to get started with music production. It has 500 amazing classic synthesizer sounds as presets that you can use in your own music to perfect it. The keyboard also comes with sixteen assignable encoders that will help you control the DAW, and two of them can be clicked. There are two capacitive touch sensors so you can adjust the pitch and modulation to perfection.
The Arturia MiniLab MkII comes with UVI Grand Piano, Analog Lab Lite, and Ableton Live Lite, all of which will help you up your game.
There are two banks consisting of eight high-quality pads that are sensitive to velocity and pressure. The pads have RGB backlighting, which makes the keyboard look really cool on your desk. It is the best piano-style MIDI keyboard under $300.
6
Value for Money
AKAI Professional MPK225
Features
Keys: 25, semi-weighted, velocity-sensitive, full-size
Controls: 8 RGB-illuminated MPC-style pads; 8 control knobs and 4 backlit buttons
Connectivity: USB-MIDI
Dimensions: 11.77 x 19.25 x 3.62 in
Weight: 6.6 lbs
Other features: 4 banks for 32 pads in each pad; software package for Mac and PC included;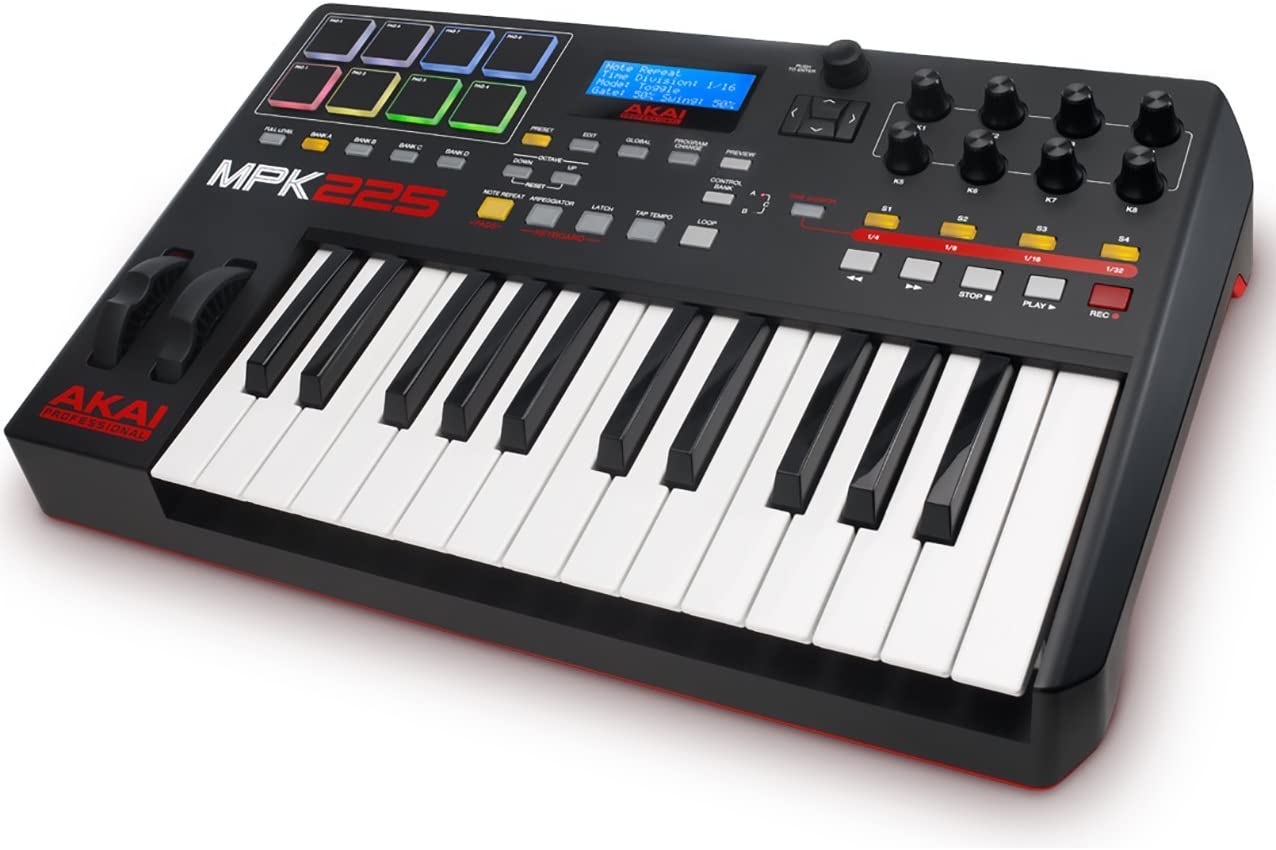 Good

Designed to be an all-in-one MIDI keyboard controller, the AKAI Professional MPK225 has deep software integration that will allow for enhanced workflow. The MPK225 has 25 semi-weighted keys, 8 MPC-style pads, and assignable controls that will make it easy for you to make different types of music.
Bad

This keyboard is not portable even though the design might lead you to think it is. It is not compatible with all computers.
The AKAI Professional MPK225 is an excellent USB MIDI Keyboard controller that you can simply plug and play. Get ready to feel like a professional with this keyboard because it is designed to provide you with maximum versatility. There are 25 semi-weighted keys that are sensitive to velocity that will offer you a wide range of sounds to work with. This MIDI keyboard comes with a premium piano-style keybed so that you feel natural and get the best response from the keyboard.
If you want to make catchy beats that will get the attention of the listener, you can use the eight MPC-style pads with RGB lighting. The keyboard has four banks to accommodate 32 pads. This will help you control loops, triggering samples, one-shots, and melodics. The keyboard is equipped with 12 assignable Q-Link controls. These include four backlit buttons and eight control knobs that will allow for easy DAW as well as virtual instrument mapping.
The MIDI keyboard comes with a comprehensive software package that includes Ableton Live Lite, SONiVOX Twist 2.0, and Hybrid 3 by AIR Music Tech, among others. Having access to these pro software will make your music production much easier.
Things to Consider
We understand that you want to get your hands on the best MIDI keyboard on a budget. If you are planning to get into music production, you need a MIDI keyboard to complete your setup. We have listed the best MIDI keyboards you can buy for less than 300 dollars so that you do not have to do the research. However, you must make a final choice based on your needs and preferences.
To help you out, we have compiled a buying guide so you can assess the models by yourself and compare them. We hope that you find this guide helpful.
What to expect from a MIDI keyboard under $300?
Since you are on a budget, you should try to get value for your money. It would be unfair to expect a MIDI keyboard under 300 dollars to have every advanced feature, but you should not lower your expectations too much either. To make it easier for yourself, make a list of the primary features you want and then narrow down your options.

Features to consider before you purchase a MIDI keyboard
When evaluating a MIDI keyboard, these are the features you should consider:
Controls sets and options
MIDI keyboards like the AKAI Professional MPK Mini MK3 and the Novation Launchkey Mini [MK3] usually have controls such as faders, buttons, knobs, and pads so that you are in charge of the sound production. They can transmit the MIDI data and give you increased control over the keyboard and the software.
With the help of the controller's sliders, modulation wheel, buttons, or knobs, you will be able to tweak the sounds in real-time. The effect produced will be much more natural as compared to using your mouse.
Some controllers have automapping technology to help correspond the different controls with certain software applications so that you face no issues.
Keys
The number of keys on a MIDI keyboard is one of the most important factors that you need to consider. Some can be wide, some can be delicate, and some can be portable. The key count preference will depend on your personal needs.
Controllers usually have 25, 49, 61, or 88 keys. Their length can vary from 20 inches to 50 inches. We have only included 25-key and 49-key controllers in this list because the others are priced at more than 300 dollars.
25-key controllers like the AKAI Professional MPK Mini MK3 are usually portable and lightweight. You can play them with one hand, but the sounds aren't of the highest quality.
49-key controllers like the M-Audio Keystation 49 MK3 are also mobile, but they can be played with two hands. The sound quality is definitely better.
Sometimes, you can find models with 32, 37, 73, or 76 keys.
Key action
The key action is an important consideration when you are choosing a MIDI keyboard. It refers to how the keys respond when you are playing. As a player, you should be comfortable with the keys no matter what type you choose.  There are three types of key actions you will come across when browsing the market for a MIDI keyboard:
The most affordable option on the list, keyboards with synth action use a spring mechanism that returns the keys to their original position. They are quick and light to the touch. Users who do not have any experience with an instrument will enjoy this key action. Synth-action keys stand out because of their speed. If you want to play fast music, you will enjoy how fast these keys are capable of moving.
Semi-weighted keyboards like the AKAI Professional MPK225 have light weights attached to the back end of the keys that operate alongside the springs. As a result, the keys return to their original position slower. Semi-weighted keys will give you the same springiness of synth-action, but the extra weight will give you the feeling of a real piano. Semi-weighted keyboards are popular among both amateurs and professionals because the keys are still light and swift.
These keyboards are reminiscent of a traditional piano are ideal for trained users. The keys give different levels of resistance when you are playing them. You will notice that the lower keys are heavier to the touch. Weighted hammer action is usually found in 88-note keyboards.
Connectivity
Most modern MIDI keyboards usually have USB ports via which you can connect them to your computer. The type of USB varies from machine to machine.
Dimensions and weight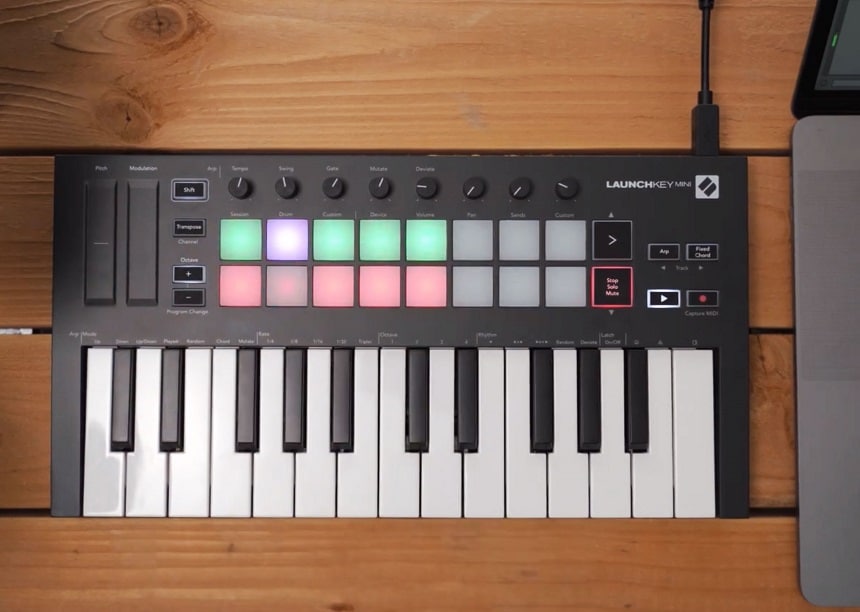 If you are concerned about the portability of your MIDI keyboard, then you must consider the dimensions and weight of the keyboard. The lighter and more compact the design, the easier it will be to carry it from place to place. The Arturia MiniLab MkII is one of the most portable MIDI keyboards available, and it weighs just 3.2 lbs. The Alesis V25 at 3.85 pounds is a close second.
Warranty
Warranty is something you should consider whenever you are buying any electronic equipment. Brands that truly have faith in their products do not skimp on warranty usually. Be sure to check the manufacturer's manual for the warranty offer before you make your purchase.
FAQ
Can you play a MIDI keyboard without a computer?
There is a common misconception that you cannot use MIDI keyboards without a computer. However, that is not true. You can use your MIDI keyboard by itself even without connecting it to a computer in case you do not have one or you do not want to undertake the setting up process. One thing to remember is that you will have to substitute the computer with some other device. This is because a MIDI keyboard controller cannot produce sound by itself. You must use a sound generator when you are not using a computer. You can simply connect the MIDI keyboard to a tone generator for the same purpose. The results will be similar.
What DAW do I need for my MIDI keyword?
You will need an audio recorder and editor in order to use the sound that you create with the help of the MIDI keyboard. There is no fixed DAW that you must use with your MIDI keyboard. You need to choose the perfect DAW to suit your needs. Your goals and targets will determine which DAW will work well for you. For example, if you want to record just stereo tracks, you could do it with a simple program. However, if you want to create music with complicated sounds and melodies, then you must opt for an advanced DAW that will provide you with the necessary settings. DAWs that are aimed at professionals will give you more features, but they come with a learning curve.
Is there a difference between a MIDI keyboard and a MIDI controller?
The term MIDI controller is used to refer to any device that is able to send MIDI data to a MIDI device. So, a MIDI keyboard is basically a MIDI controller. Most MIDI controllers are engineered to transmit musical notes accurately, and hence they take the shape of keyboards since it is fitting. The key thing to remember is that MIDI controllers or keyboards do not have in-built sounds. You must have an external source. As soon as you connect the MIDI keyboard to a computer, you will be able to start working. You can also use it to play virtual instruments.
Our verdict
While we think that all the MIDI keyboards listed above are excellent, we have our favorites.
The AKAI Professional MPK Mini MK3 has 25 velocity-sensitive keys and a wide range of controls that will allow you to make the best music. The OLED display is vibrant and easy to monitor. You can use any of the 1500+ preset sounds or you can experiment with your music via the assignable 360° knobs.
The M-Audio Keystation 49 MK3 is one of the most versatile MIDI keyboards on the market. Equipped with 49 full-size, velocity-sensitive keys, this keyboard comes with many features. You will also have access to a premium software suite that will make the sound production process easier.
The Novation Launchkey has 25 velocity-sensitive keys and a fixed chord mode. The Ableton Live control lets you experiment with the sounds until you are satisfied.
Now that you know some of the best MIDI keyboards under $300, which one will you choose?
References
1.
How to recognise the notes on a MIDI keyboard | MusicRadar
If you can handle the first few letters of the alphabet, you're equipped to get your head around the piano…
2.
5 Things You Need in a MIDI Keyboard Controller - Roland U.S. Blog
Consider these five tips for helping you choose the right MIDI keyboard controller for you. Live or Studio use?