The ammoon Worlde Panda mini uses a USB cable to connect to devices. This can be a tricky situation because if your USB cable isn't strong enough, the signal can get lost in transmission. However, this MIDI controller is dependable.
The ammoon Worlde Panda mini has 25 keys as well as a whole host of controls. It has 8 pads and 4 control knobs. With the sliders, you can move the pitch up or down, as well as the octaves. It has a standard black and white design that looks quite modern.
8
Best Software Package
M-Audio Oxygen 25 IV
Features
Keys: full-sized, synth action velocity sensitive
Pads: 8
Controls: 8 assignable knobs; transport buttons; octave up and octave down; assignable fader
Weight: 4 lbs.
Dimensions: 19.4 x 9.6 x 3.7 inches
More features: on-board LCD screen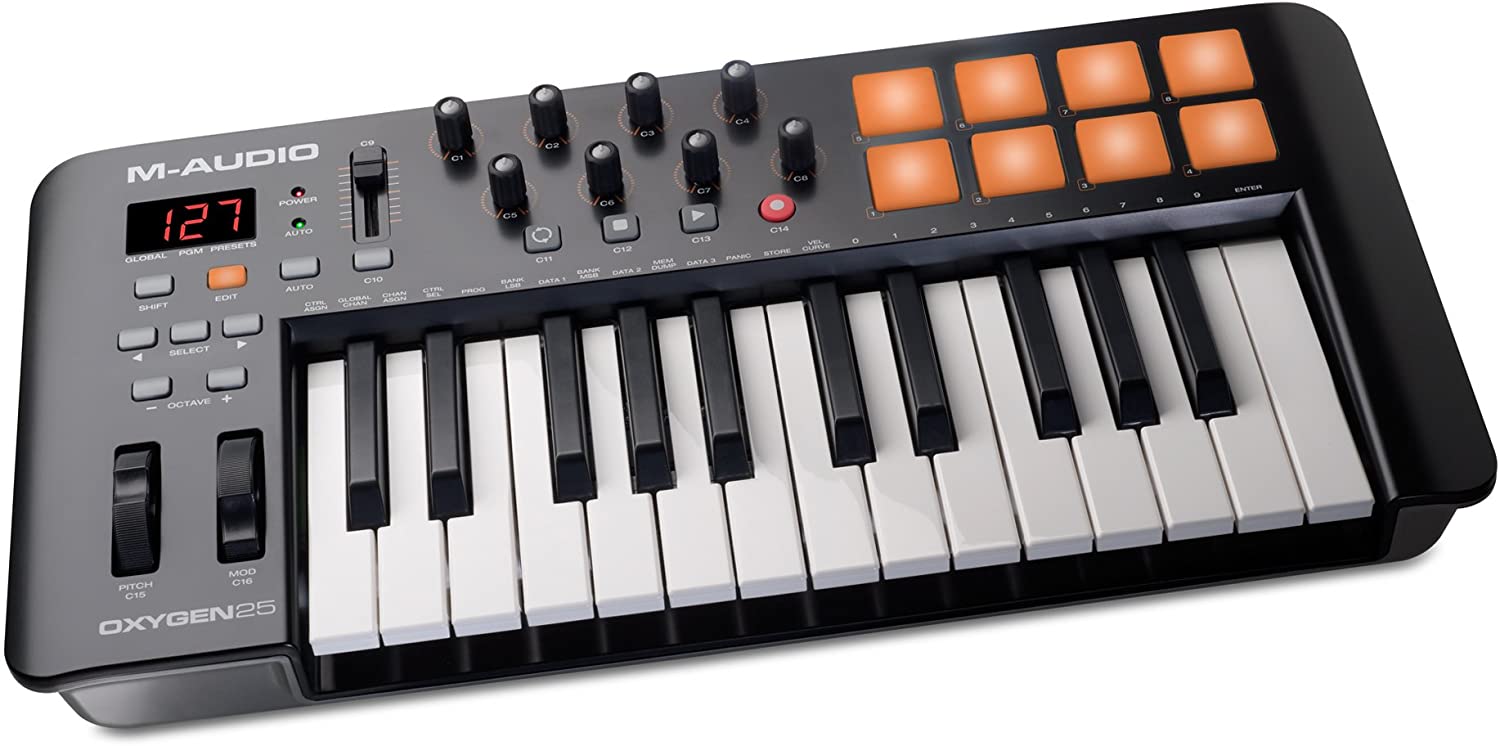 Check price
Good

The M-Audio Oxygen 25 IV has a lot of great features. In addition to the impressive software package, there are multiple buttons and knobs. There are 8 pads as well as buttons to control the octave and fader.

Visually, the M-Audio Oxygen 25 IV is quite unique. It has a classic black and white color scheme but its punctuated with a unique orange color. This gives the controller a real pop of personality.

Another nice feature is that the M-Audio Oxygen 25 IV contains full-size keys. If you plan on spending a lot of time composing on this controller, then having full-size keys will lower the frustration level and increase your creativity.
Bad

The M-Audio Oxygen 25 IV weighs 4 pounds, which is very heavy. There is also a lot of depth height in the dimensions, so just be aware of the extra space needed to store or move this controller.
When shopping for a MIDI controller, there are two many options. You can find a standalone controller or you can find one that comes with software in a package. If you're just starting out, having a software package is a really nice option. The M-Audio Oxygen 25 IV is definitely one of the best 25 key midi controllers with software.
Included in the software package Ableton Live lite, AIR Music Tech Xpand, and SONiVOX Twist. With these applications, you can create anything your mind can dream of.
Things to Consider
Get ready to unleash your creativity! The perfect 25 key MIDI controller is just around the corner. Now that you know what the top options are, consult our Buying Guide to help you navigate all the terms and features you can expect to find.
Features to consider when choosing a 25 key MIDI controller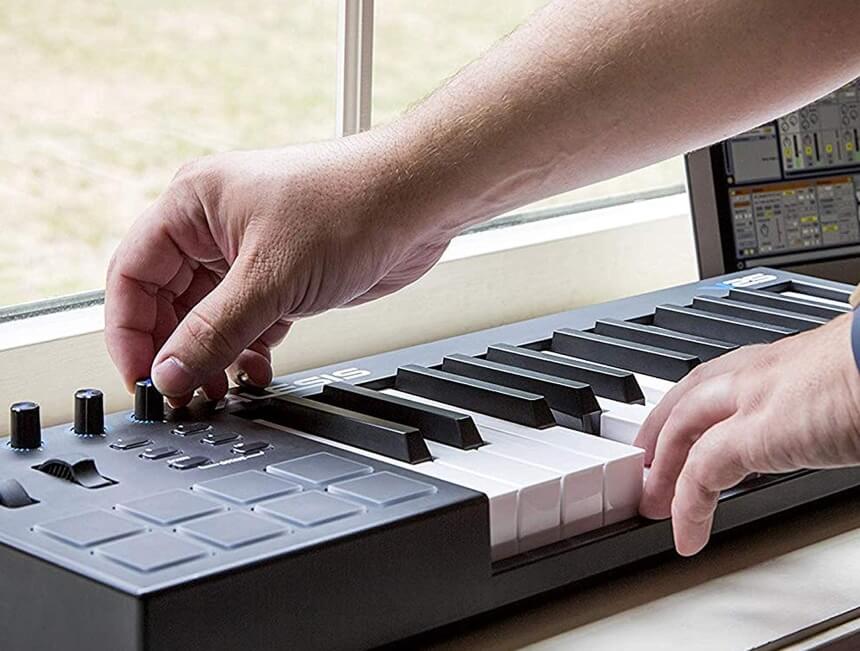 25 key MIDI controllers give you endless possibilities when it comes to making music. However, they are all unique in their own ways. Before you purchase a new 25 key MIDI controller, take a look at these important features so you can find an option that will work best for your needs.
Keys features
All 25 key MIDI controllers have, well, 25 keys. This is a combination of black and white keys and is made to mimic the layout of a real piano. The biggest categories of these keys is if they are mini or full-sized. Full-sized keys mean they are the same size as you would find on a piano. Mini-sized means they are shorter in length.
Some people are absolutely fine with mini keys. They get used to them and have no issues. However, there are those who can get easily frustrated by having to use smaller keys. It's harder not press mistaken keys, especially if you're trying to press the black keys.
The Alesis V25, the M-Audio Oxygen 25 IV, and the CME Xkey Air are great options if you want full-size keys.
Pads
You might see on some MIDI controllers a set of pads. These are square-shaped and smooth on their surface. Pads are normally used to incorporate drum sounds. However, sometimes you can program these pads to make other sounds or samples of sounds.
Not all MIDI controllers have pads, and their inclusion is a personal preference. If you have no need for drum sounds, then there's no sense paying for them.
If you would like to have pads on your MIDI controller, there are some great options. These include the Alesis V25, the Arturia MiniLab MKII, the Novation Launchkey Mini MK3, M-Audio Oxygen 25 IV, and the ammoon Worlde Panda mini.
8 is the standard number of pads. This should be adequate for your needs. The exception is the Novation Launchkey Mini MK3, which has a whopping 16 pads. If you're someone who likes drum beats or a lot of sound samples, then this is a great option.
Controls: knobs, touch sensors, buttons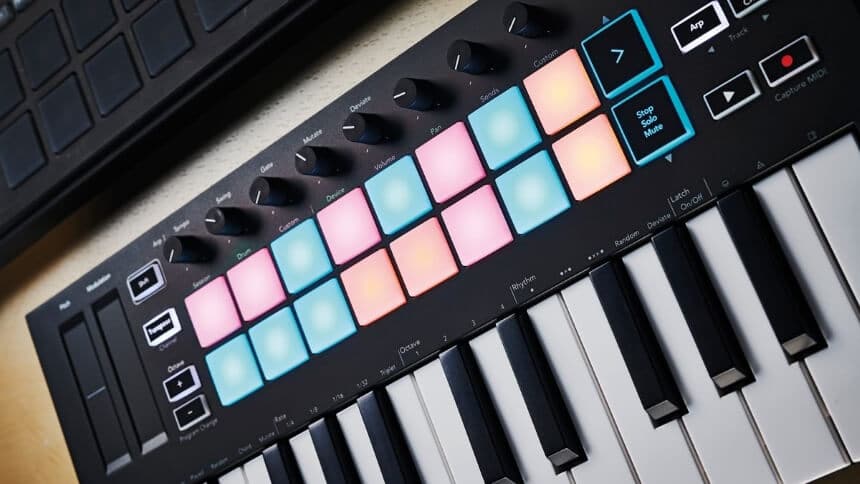 The beauty of a 25 key MIDI controller is that you have complete control over the music you are creating. In addition to playing the right notes on the keyboard, you also have a host of knobs, sensors, and buttons that can alter the sound.
However, not all MIDI controller on our list have a lot of options. The AKAI Professional LPK25 has a more basic approach. It includes an arpeggiator, sustain button, octave up and down, and tap tempo buttons. The Nektar SE25 is similar in its basic functions.
If you want a MIDI controller that has more power, there are plenty to choose from. The ammoon Worlde Panda mini, the M-Audio Oxygen 25 IV, and the Novation Launchkey Mini MK3 are all excellent options. They have fade sliders and multiple button options.
The only caution when it comes to controls is that you really want to be aware of what you need. If you're just looking for a mini keyboard you can play around with, then all the extra controls aren't necessary. However, if you are a professional songwriter, then you will want to really pay attention to these options.
When in doubt, it can be beneficial to purchase a product with more control options. Even if you are just a beginner songwriter, you may find you have a real knack for the craft. In this case, having the ability to do more instead of less with a MIDI controller can lead to more inspiration and more creativity.
Dimensions and weight
One of the really nice aspects of 25 key MIDI controllers is that they are small in size. These controllers are meant to be portable. You can take them from the bedroom to the kitchen and even to school or work. However, although you would say that all of the options on our list are technically lightweight, there is a lot of difference in this category.
The lightest option of all is the AKAI Professional LPK25. Weighing 15.9 ounces, it is just under 1 pound. This MIDI controller is made to be portable. You don't even need a bag to carry it. Another lightweight option is the CME Xkey Air, which comes in at 1.3 pounds.
On the other end of the spectrum is the M-Audio Oxygen 25 IV, which weighs 4 pounds. The Alesis V25 is similar, coming in at 3.9 pounds. While these options are still not technically heavy, relatively speaking, they are. Generally, the more features that a MIDI controller has, the heavier it will be. So, even if you have to sacrifice on size, you will still get a lot of practical applications.
As for dimensions, 25 key MIDI controllers are similar in size but again range according to their design. The Alesis V25 is one of the larger products on our list. Its dimensions are 24.6 x 9.6 x 4.5 inches. The M-Audio Oxygen 25 IV is also quite heavy, measuring 19.4 x 9.6 x 3.7 inches. It shouldn't come at a surprise that the two MIDI controllers that weigh the most have the largest dimensions.
When thinking about size and weight, just be sure to visualize where your MIDI controller will live. While they are small, some of them really aren't that small. You will particularly need to pay attention to the length of a MIDI controller. You will need a lot of free space, such as a desk or a table. Without the appropriate space, your area can be too cluttered, stopping you from succeeding in your task.
Connectivity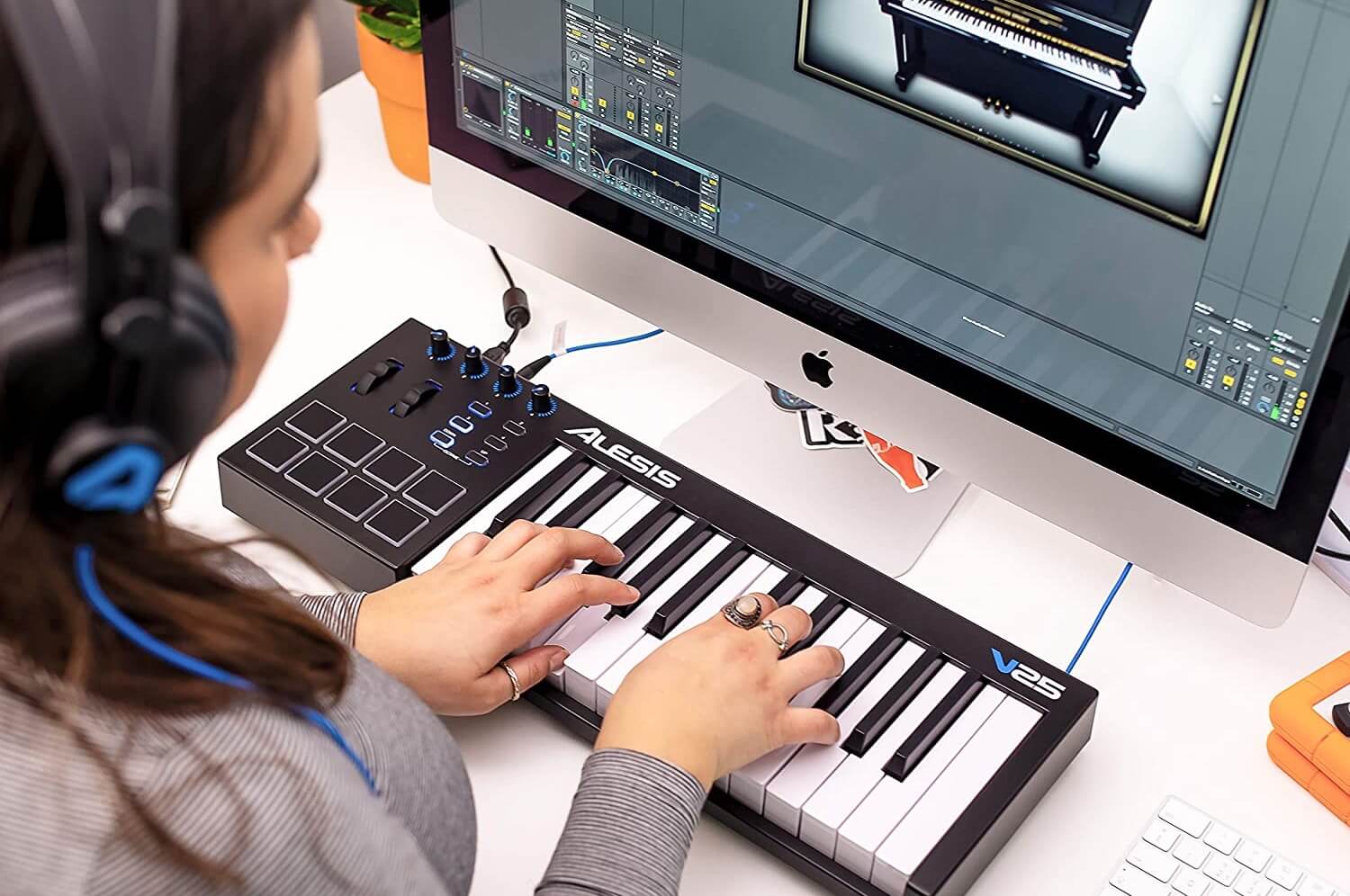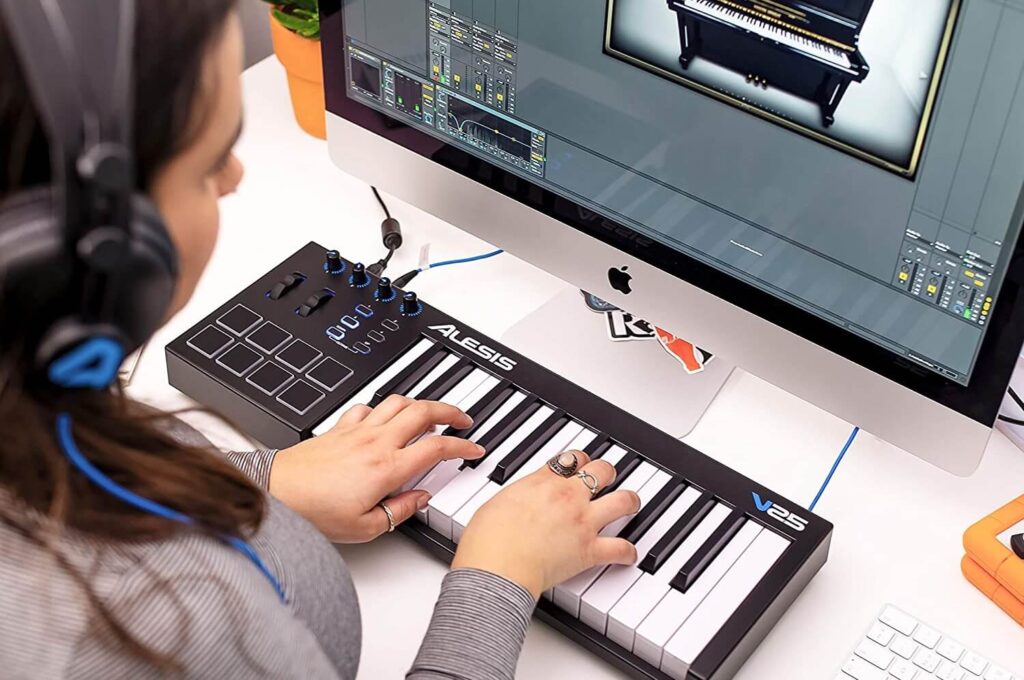 MIDI controllers need to connect to a device in order to make sound. They don't have speakers and therefore another device, such as a PC, laptop, and sometimes even a smartphone is needed. The main way to connect to an external device is through a USB cable.
This is an easy option. The USB cable is simple to use, and you can have your MIDI controller up and running in just a few minutes. However, you do need to be careful with your cord. Sometimes, a USB cable is an older one, and information isn't sent as quickly as you would like. Lag time can be really annoying, especially with music. If you find that the notes you're trying to create aren't being registered through your computer fast enough, you may want to replace your USB cord. Thankfully, this is a relatively inexpensive purchase.
Another way that some MIDI controllers can connect to devices is via Bluetooth. Having a cordless option is beneficial in many ways. Most notably, you don't have to worry about an extra cord cluttering your workspace.
However, Bluetooth comes with its own cautions. If your internet strength isn't strong enough, your Bluetooth signal can start to fade. This happens a lot if you have multiple devices turned on at the same time, all drawing the same internet signal.
Furthermore, you need to have a newer device to pair with. Otherwise, it might not be able to hold the signal.
If you're looking for a 25 key MIDI controller that can connect via Bluetooth, checkout the CME Xkey Air. It's fashionable and technologically advanced.
Software included
There are now many 25 key MIDI controllers that come with a software package in your purchase. This is both a good and bad aspect. If you already have this software, then a package is unnecessary and ultimately just adds to the expense of the product. However, if you're starting out, then a software package is a real bonus. It allows you to test out different types of software feature. Plus, the package bundle is usually less expensive than if you were to buy all the individual software separately.
The Alesis V25 has a great software package. It comes with Pro Tools, Ableton Live Lite 9, First Alesis Edition, and Mini Grand.
Another nice choice is the M-Audio Oxygen 25 IV. It comes with Ableton Live lite, AIR Music Tech Xpand, and SONiVOX Twist. While the AKAI Professional LPK25 isn't wireless, there is an upgraded version that gives you this option.
Other features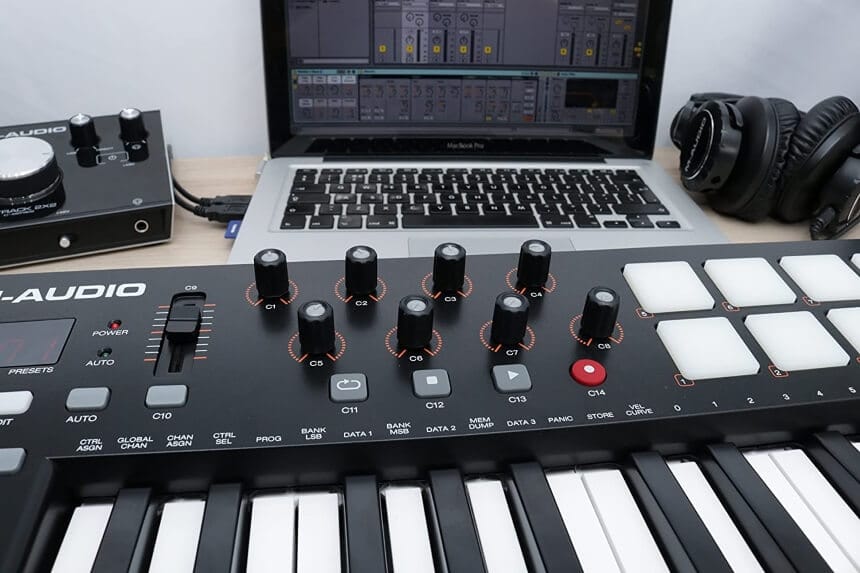 The really special thing about 25 key MIDI controllers is that they are all unique. As a result, there are many extra features you may not be aware of.
A one-year warranty is fairly standard with tech gadgets. However, the Novation Launchkey Mini MK3 comes with an impressive three-year warranty. There's a good chance that you'll want to replace your MIDI controller with a new model in three to five years, just because of the changing technology. It's nice to know there's a company that will see you through this lifespan.
Another important feature to be aware of is design. While how a MIDI controller looks does not affect how it sounds, it is an important feature. Your MIDI controller is where you create. If you're not inspired by it, your creations may lack a bit of life.
The CME Xkey Air has one of the most impressive designs on our list. It has an all-white color scheme, punctuated only by the black keys. It is sleek, stylish, and definitely futuristic.
Another nice feature, design-wise, is the inclusion of backlighting. The Alesis V25 has neon blue light surrounding its drum pads. Meanwhile, the Novation Launchkey Mini MK3 makes use of RGB lighting for its pads. You can even customize the colors for a really cool design.
One final feature to look for is if you don't need to install any drivers with your controller. A lot of MIDI controllers come with special drivers to install with your computer. This way your controller can better sync with another device. However, this can be a bit cumbersome, especially if you aren't tech savy. Having a MIDI controller that is easier to use, and just requires you to plug in so you can play is a real bonus. The AKAI Professional LPK25 is the best option for this feature. No drivers are included, and you can be up and running in just a minute or two.
FAQ
How long does it take to connect and set the controller up?
A lot of 25 key MIDI controllers boast the ability to simply plug in and play. All you need is a USB cord, and you can start producing sounds in a matter of minutes. However, with software and complicated devices, the setup time can take a bit longer. It's best to budget at least 30 minutes so you can get setup and understand what all the controls do.
Сan it be used without a laptop?
While MIDI controllers don't make any sound on their own, they don't necessarily need to be hooked up to a laptop to work. Instead, you could use a smartphone for some models. If your controller isn't able to work with a smartphone, you could also use a tone generator.
Which model can be used with an iPad/smartphone?
There are some MIDI controllers that can be hooked up with devices other than a computer. The
CME Xkey Air
is the best option for this feature.
Our verdict
Get ready to be creative as you craft your next composition. Our Editor's Choice for the best 25 key midi keyboard is the Alesis V25. In addition to cool buttons that are backlit, and incredible sound, it also comes with a comprehensive software package. While this option has full-size keys, you might be looking for more compact, mini ones. In that case, the Arturia MiniLab MKII is a great option. While its keys are smaller, they are still sensitive and able to play exactly what sounds you were hoping for. Finally, our Best Value pick for the best 25 key MIDI controller is the Nektar SE25. It has everything you need but at an affordable price. It's perfect if you are just starting out or if you need a cool present for a teenager. No matter which MIDI controller you pick, you'll soon be in touch with your creative side.
References
1.
Connect MIDI Keyboard | College of Music
How To Connect A MIDI Keyboard.
2.
LPK25 Editor User Guide
The LPK25 Editor software gives you intuitive ways to edit the many functions that your LPK25 can perform.
3.
The Complete Guide to Choosing a MIDI Controller
An article on how to choose the best MIDI controller for your music production needs.