AKAI Professional MPD 218 is the go-to for artists in need of pads to tap out beats or finger drums like the masters, such as Prince Paul, J Dilla, Pete Rock, and Dj Shadow.
This keyboard has put the music soul back into its pads at an affordable price. AKAI describes their rubberized, velocity-sensitive, grippy, and responsive pads as FAT. At the same time, produces and beatmakers across the globe agree that AKAI pads are among the best on the markets – especially at their price point.
AKAI Professional MPD 218 is laid out like a traditional drum machine – leveraging the tested and proven pad drum design.
The keyboard boasts an additional three banks to its 16 pads, which enables you to easily and quickly switch between drum kits when performing live finger drumming. It also makes it easy to test, play, and add new notes or sounds to your tracks from the loaded instruments or drum racks in any of the 3 banks. As such, you can focus on your creativity instead of referring to the screen now and then –as is the case with the mouse and computer keyboard.
Besides the pads, the MIDI controller comes with expected software, such as Ableton Live Lite, Bing Bang Drums 2, and more. Added to that is a full-featured software editor, that helps you dive deeper than what's offered by the frontal interface.
Bottom line, this keyboard is the best MIDI controller for Reason 6.5, as it captures every nuance and subtlety of your performance.
5
Best Keyboard
Native Instruments Komplete Kontrol A49
Features
Keys: 49 semi-weighted keys
Controls: 12 buttons; 8 knobs; pitch and mod wheels; octave up and down
MIDI I/O: USB
Software integration: KOMPLETE and NKS plug-ins; MASCHINE, Logic Pro X, GarageBand, and Ableton Live
Power source: bus-powered
Dimensions: 35 x 14 x 6 inches
Weight: 8.8 pounds

Good

One thing to really appreciate in this one is the great hardware and software integration. It boasts a fairly decent software bundle, with a majority of the important S-series bit. It's definitely a good value for your money.
Bad

On the flip side, the keyboard feels a little "dark" – compared to the S-series. And the browser option can drop out to control Logic.
The Native Instruments Komplete Kontrol A49 makes your music-making process fun, fast and physical. With it, you can easily find the right sound, own it, perform it, and capture the results; thanks to its responsive, semi-weighted keyboard.
The MIDI controller comes equipped with premium instruments and MASCHINE Essentials – everything you need to give life to your melody ideas.
With the featured Smart Play, you need not worry about hitting the wrong note. No. Just pick a scale and play.
The Activate chord mode allows you to make a rich progression by hitting single keys while switching on the arpeggiator helps turn the rich progression into an expressive musical performance.
Native Instruments Komplete Kontrol A49 features an Easy Mode that helps piano novices to map the white keys to their preferred scale. Keyboard novices can also benefit from the intuitive control over their virtual instruments and effects; as well as an informative OLED display for at-a-glance navigation.
What's more? The MIDI controller features full integration with various software, including plus MASCHINE, KOMPLETE, and NKS plugins, Ableton Live, Garageband, and Logic Pro X.
Things to Consider
Before finding the best MIDI controller keyboard for Reason, you must consider your needs and your working style. See, while MIDI keyboards boast various features designed to make your music-creation process, fast, fun, and physical; there are numerous types of controller equipment. Some are based on traditional live audio gear and others are useful for interfacing with DAW software.
In this MIDI controller for Reason buying guide, we explore the most important considerations for purchasing the best MIDI keyboard for Reason.
Let's get started.
How to choose the best MIDI Controller for Reason
As a rule of thumb, you should determine your budget first, and then determine which features of the MIDI controller you would be willing to forego or pay extra for. As such, you should first get familiar with the following features.
Number and types of keys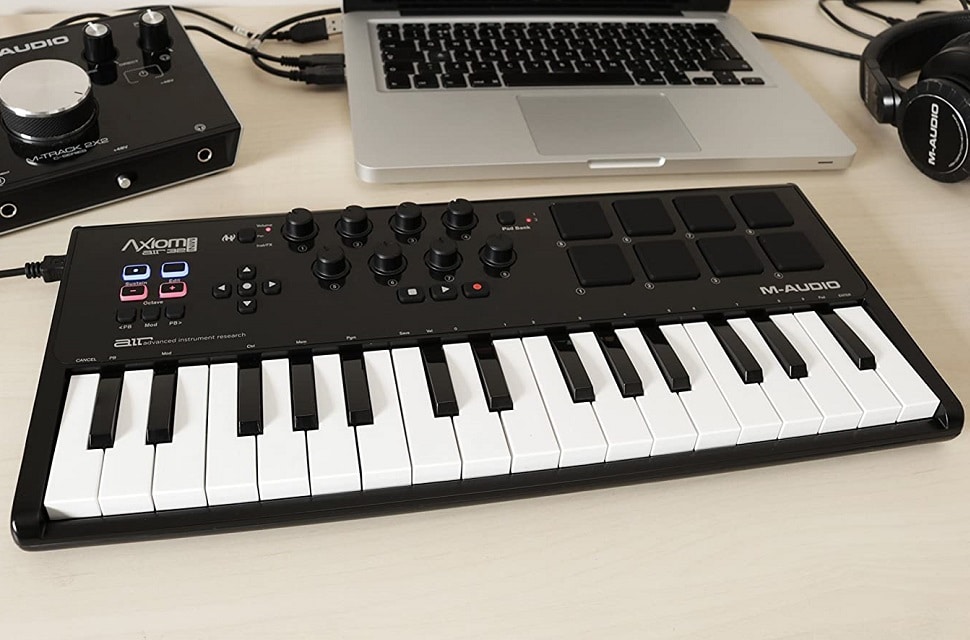 A piano-style keyboard is the most common way to input sound in a DAW. And while a real piano has 88 keys, you can play effectively with MIDI controllers that have 61 keys, 49 keys, or even 25 keys.
Note, fewer keys can limit your range in standard playing. Nonetheless, you can use the DAW to alter pitches of sounds or notes post-performance. Thus, a standard-length keyboard is not a necessity – especially if you have budget and space limitations. For example, the recommended M-Audio Axiom Air Mini 32 has 32 keys, making it ideal for small spaces.
When it comes to size, it's best to purchase controllers with full-size keys. As such, skip cheaper devices with mini keys or thinner keys – as they may be costly in the long run.
Another aspect to consider is the key weighting. That is, the amount of pressure it takes to press on the key and make a note/sound. MIDI keyboards boast three types of weighting. Typically, unweighted keys require little pressure and have no action. The semi-weighted keys have an increased spring pressure to give some sound. The weighted keys use a mechanical design that makes them feel like a real piano. Often, the more action in the keys, the more expression you'll get as you play quietly (p) and loudly (f).
Your weighting preference is influenced by what you're accustomed to, as well as the style of music you play. For instance, our editor's choice – Panorama P6 – features semi-weighted, synth-action keys, which favor expert pianists as opposed to novice or piano practice.
Besides weight, you should also consider the profile. That is the side view of your white keys. MIDI controllers boast a diving board profile, a lipped profile, or a waterfall profile.
Often, cheap MIDI keyboards feature a diving board profile, which can feel bendy to expert pianists who're used to a lipped profile.
Software integration
Often, when a generic MIDI controller is announced, it generates far less excitement compared to a controller that's created specifically for one DAW. Now, isn't it better to have a MIDI controller that's endlessly flexible instead of one that's bound to single software?
Well, according to Niels Larsen of Nektar Technology, "If you are trying to be all things to all DAWs, it's hard to deliver on your promise." That means specific controllers integrate more closely with their respective DAWs. As such, the Nektar DAW integration featured in Panorama P6 can integrate better with Reason than with Reaper and other software.
However, what really matters is how you play and engage with the keyboard. There's a relationship between you (the user), the keyboard, and the creative process. And the software that's key in recording, editing, and producing audio files plays a major role.
Thus, you should select a MIDI controller that's compatible with your DAW. Note, DAWs can support plugins, which can help beatmakers customize their device – making the workstation more versatile and flexible.
DAW's compatibility
Developers are making MIDI controllers that integrate better with their software. For example, Komplete keyboards, Native Instruments Maschine, and Ableton's Push. As noted earlier, specific controllers are bound to result in a tight integration, and as a result, improve your workflow.
Thus, purchase a MIDI controller that's compatible with your DAW to avoid frustrations. Luckily, the recommended MIDI controllers in this write-up work really well with Reason.
Controllers
Most controllers boast the basic Pitch and Modulation controls; as well as several buttons to change the octaves on the keyboard. However, you may prefer a controller with additional faders and rotary pots. Or opt for a dedicated controller that's separate from the keyboard.
Regardless, controls help automate parameters in your DAW. They also help you mix your song without using a mouse. In short, they provide more hands-on control.
In some keyboards, you have to manually assign the controls in your DAW. Others have dedicated software that sets up the controls for you. In the case of the latter, you should check what software is compatible with your MIDI controller.
Also, consider your needs. While a MIDI keyboard is good for sketching out your chord progressions and melodies or playing out piano parts. Beat programming calls for a controller with drum pads. Such controllers are designed to hit out the beat more efficiently. However, the board and the pads are relatively bigger than a keyboard note.
Some producers program other instruments using the drum ad devices. For example, Push and Maschine units.
Note, sometimes you may require both a MIDI Drumad and MIDI keyboard controller depending on your needs and the type of music you're playing. Luckily, controllers from AKAI, Nektar, and M-Audio give you the ability to control whatever software you select.
MIDI I/O
Most modern controllers transmit MIDI through USB; however, more complex setups call for something more. Having conventional –pin MIDI DIN jacks on the MIDI controller enables you to connect and control external MIDI equipment like hardware synths. At the same time, Gate and CV outputs allow you to play and modulate non-MIDI (vintage) synth gear.
21st century MIDI keyboards use MIDI to USB, and complex wireless and Bluetooth capabilities are gaining popularity. As such, check what your preferred controller allows for!
Again, most keyboard controllers feature a switch-type (sustain) pedal jack. However, basic modules don't offer one for a continuous-controller pedal. An expression pedal in your rig is a necessity – as it can make your melodies more expressive and enable you to regulate any controllable parameter in real-time.
Often, higher-end MIDI controllers let you assign a CC (continuous controller) number to the jack. But the inexpensive models are preset to CC 11 (expression) or CC 7 (volume). In that, if your keyboard has a fixed CC pedal input and you'd rather sweep a filter that's expecting a different CC value, you have to reset the parameter's mapping in the software. The reset can be daunting; however, it's also easy if your software has a "MIDI Learn" mode.

OS requirements
The M-Audio Axiom Air Mini 32 recommended above has no drivers and no Fuss Class-compliant with Mac OSX, Windows 8, Windows 7, Windows Vista, and Windows XP – for a simple and seamless setup.
Before purchasing a MIDI controller, you should check its associated OS (operating system) requirements and whether your OS meets them.
Besides, with the growth of tablet and mobile market apps, it's great to consider the OS requirements. See, there are great apps available for use on your devices.
For instance, if you have a MID controller without extra controls, you can use applications like Lemur or TouchOSC on your iPad to extend its capabilities.
The said applications can also let you create personal templates with the required faders and knobs, and have the iPad placed next to your controller so the two devices feel like one.
Power source
All the MIDI controllers recommended here are bus-powered. That is, they are USB-connected devices and the USB connection serves as their power source. They do not require any external power source.
You can have a repeater or UDSB hub to extend your USB distance or the number of connected devices.
You should take note of your USB version though. For instance, USB version 2 can deliver the power of up to 2.5 watts, the 3.0 version up to 4.5 watts. But the 3.1 version is reported to deliver up to 100 watts of power.
Besides the bus power, you can use a power adapter as well. The adapter is particularly handy where a large number of MIDI products are connected in series.
Dimensions and weight
The size and weight of your MIDI controller will affect its storage space and portability. As such, consider your available space, as well as mobility, and select a MIDI controller that suits you.
For example, an on-the-go musician should go for a compact yet powerful MIDI keyboard, such as the recommended Impact LX25+.
With the key features in mind, let's answer a couple of the commonly asked questions.
FAQ
What do I need to use a MIDI controller with Reason?
Reason has two different systems for configuring MIDI sources. When you connect a keyboard controller to lay Reason's instruments, the DAW assumes the connected device as the master. As such, it directs all the MIDI to the selected track or device. Therefore, the only thing required to use the controller with Reason is the MIDI controller itself, the DAW, and the preferred output devices.
Reason also has a separate direct MIDI routing system for patching incoming MIDI channels to devices in the Rack. The method is great for using the Reason Rack as a multitimbral sound module or connecting an external sequencer. In this case, you'll require an external sequencer as well.
Is there an actual difference between mini- and full-sized keys?
Yes. And the difference lies in their weight and size. Typically, full-sized keys are weightier, longer, and wider. On their end, mini keys are lighter and smaller. Given their narrow width, mini keys are close together, which can result in you pushing two adjacent keys every other note!
Our verdict
When it comes to the best MIDI controller for Reason, there are many different options. Based on our research, our top pick is the Nektar Panorama P6 thanks to its slick, futuristic look and quality features. The controller takes the DAW and MIDI control to a new level, with its after-touch and 61 ultra-expressive synch-action keys. While its semi-weighted keys deliver a clean down movement to ensure the play experience is not fatiguing. Added to that is its superior controls that set you up for great performance.
The Panorama can be substituted with Impact LX25+, a compact yet powerful MIDI controller. LX25+ provides the best value for your money thanks to its quality features that make it easy and fun to create melodies. Moreover, the keyboard is easy to set up and will have you making music in seconds.
If portability is your key consideration, consider selecting the M-Audio Axiom Air Mini 32 controller. It has a compact design and light weight.
References
1.
Using MIDI Controllers With Reason
Reason has two completely different systems for configuring MIDI sources. We unpick some of the confusion around this to find the best ways to sequence and play Reason from external devices.
2.
Supported MIDI keyboards and control surfaces
Supported MIDI keyboards and control surfaces