Although the IK Multimedia iRig Keys MINI was released some years ago, it remains one of the best keyboard controllers for Logic Pro X. this model is a 25-note option with several outputs and functions that ensure that you have an excellent time.
One of the main appeals of the IK Multimedia iRig Keys MINI is the size. It is a small, compact model, which makes it the right choice for any music producer that loves to make music on the go. Despite the small size, you get a lot of functionality. It allows you to play a wide range of notes. From playing from C2 to C5, you can move to playing other notes by utilizing the OCT up and down buttons on the layout.
There is a 1/8" TRS headphone output, MIDI I/O ports that help you to use it with your DAW. It works with Logic Pro X and is compatible with your Apple devices, MAC and PC.
The design of the keyboard is one of the nicest things about the IK Multimedia iRig Keys MINI. Although it is made of plastic, it doesn't feel cheap. The stiff frame gives it a nice heft when pressed. The other controls are also well-made and have a nice feel to them. While these will not match up to bigger and more expensive keyboards, they are still comfortable to use and feel really nice.
As this is a very portable model, it does not come with all the buttons that you might need for smooth operation. The IK Multimedia iRig Keys MINI makes up for the limited number of buttons by providing the versatile 5-8 button. This button activates the knobs and allows them to give you more functionality.
10
Best 25-Key Keyboard
Korg Midi Controller (NANOKEY-ST)
Features
Keys: 25, velocity sensitive, backlit
Pads: 8, velocity sensitive
Controllers: 8 knobs, X-Y pad, 12 buttons
Dimensions: 10.94 x 6.3 x 1.3 inches
Weight: 1.04 lbs
More features: KORG Software Bundle code, Apple GarageBand, USB Bus powered or 2 x AAA batteries, 10-hour battery life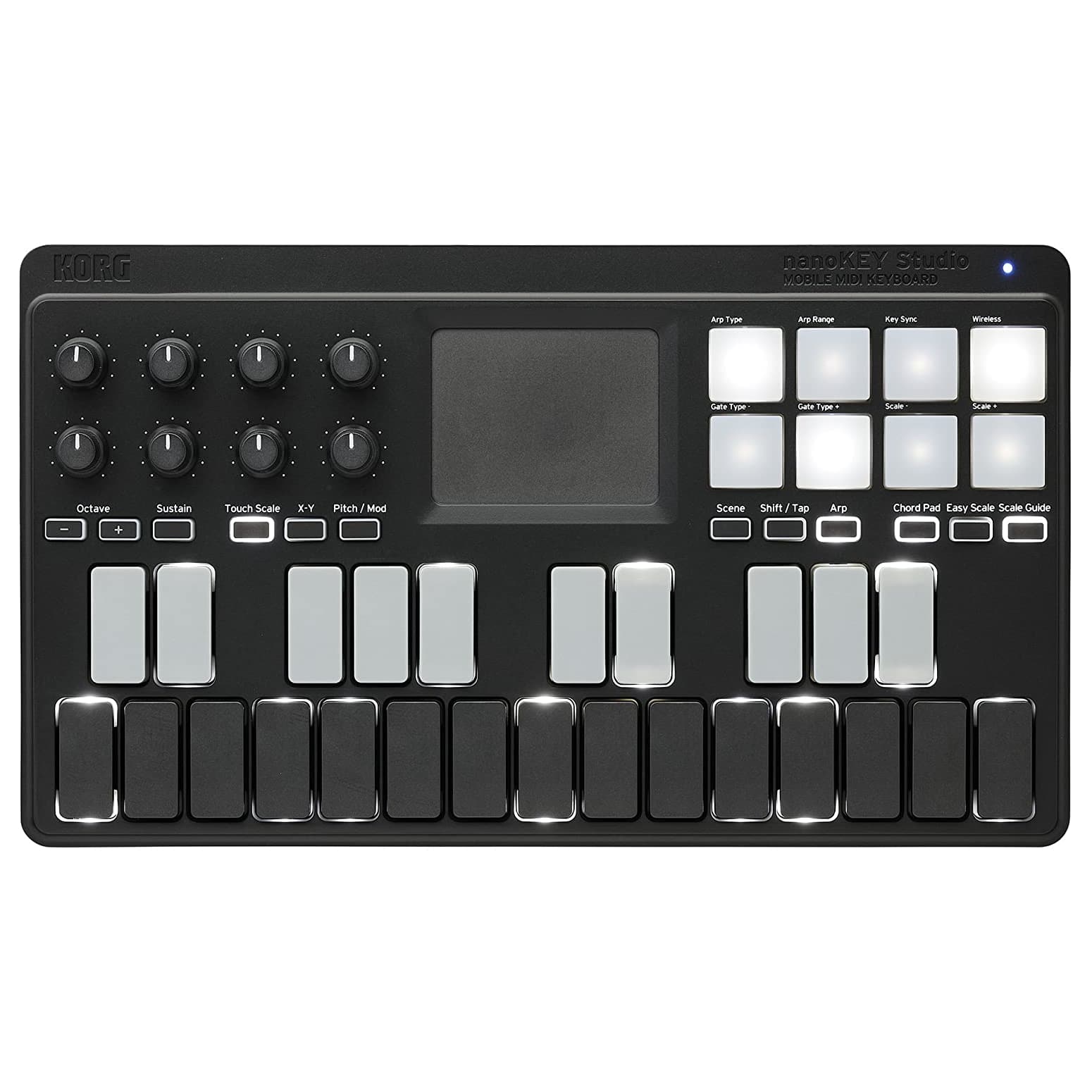 Good

The device as a whole is remarkable. Pads and keys feel great and responsive. If you are frequently on the go, you will be pleased that this works with USB and Bluetooth.
Bad

Although it uses Bluetooth technology, work still needs to be done on the connectivity performance.
The Korg Midi Controller (NANOKEY-ST) is a lovely option that is designed for the musician on the move. There are several useful features that you'll certainly be surprised to find here because of the small size of the model.
Right from the packaging, it is evident that this is no ordinary keyboard controller. There isn't a lot going on physically, but most of the excellent things about it lie under the hood. It is a lightweight option that is pretty easy to carry around. However, for such a small controller, the performance is pretty great.  Korg is known for making miniature musical equipment and has hit the mark once more with this option. The buttons here are small but backlit. This offers you excellent visibility even in low light conditions. Additionally, there are LEDs that animate movement that makes for a thrilling experience in the dark.
In use, the Korg Midi Controller (NANOKEY-ST) is one of the best in this category. It feels superb. The knobs and controls offer some of the best tactile feedback that we have experienced on a keyboard in this category. There is an X-Y pad too that will help you with mapping. The modes here also give you more out of the product.
Of all the physical features, apart from the compact size, the keys of the Korg Midi Controller (NANOKEY-ST) are probably my best feature. Although the keys are on a small surface, they do not feel cramped or flimsy. Playing different chords felt very comfortable as these keys are so responsive. The pads are also responsive and they feel incredible. With these pads, you can access up to eight different scenes.
The performance is also good. The programmable arpeggiator is handy and will serve you well.
Things to Consider
The MIDI controller comes in handy as a useful tool that can help you to produce music easily. In the section above, we considered ten of the best options on the market. These ten best MIDI keyboard for Logic Pro X will help to narrow your choices. In this section, we will now consider some of the parameters used in making the selection. By considering these also, you will be better equipped to make the correct buying choice.
What is the Logic Pro X and why is a MIDI controller required?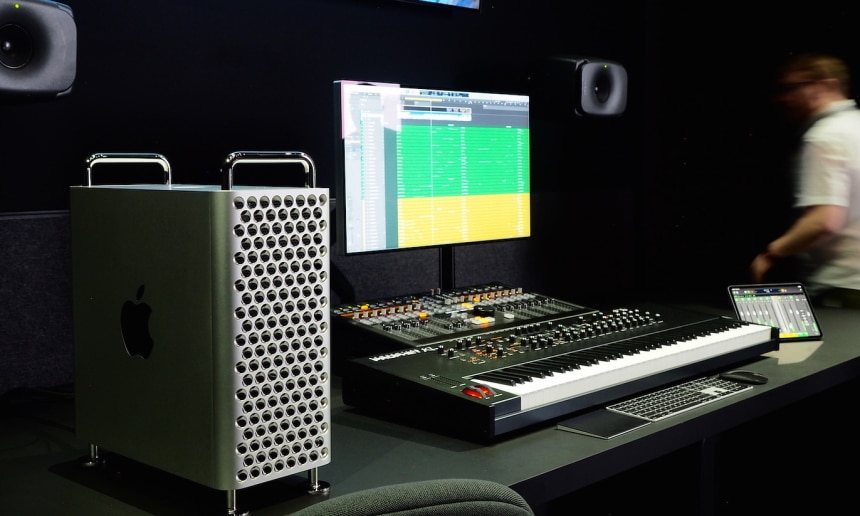 First, let us address an important part of this article – what is the Logic Pro X?
There are different software used by musicians and producers to make music. The Logic Pro X is one of these software. It is an excellent software that is used by different people, regardless of their skill level. Since it is very easy to use, even beginners can have a great time with it.
This software boasts of several features, but with a MIDI keyboard, you can enjoy even more features! Using a compatible keyboard will help you to get the maximum value out of the software. With this in mind, let us now see the important things to look out for when making a buying decision.
Features to consider
If you do not know the correct features to look out for when buying a MIDI keyboard, especially one that is compatible with the Logic Pro X software, you might end up wasting plenty of money on a device that will not serve its purpose.
So, let's see some of these vital parameters.
Number of Keys
When choosing a MIDI controller, the number of keys that it has is probably the most important feature to consider. MIDI controllers come with different number of keys. The smallest options come with 25 keys, for example, the AKAI Professional APC Key 25 has that number, others come with 61 keys, like the M-Audio Code 61, and others have up to 88 keys like the Native Instruments Komplete Kontrol S88 Mk2 Keyboard.
Most of the producers in the industry use units that have 49 or 61 keys as that strikes a balance between functionality and portability.
Choosing a model with 61 keys is a good decision, but is usually a personal one. If you choose an 88-key keyboard, chances are that you already have experience with playing an acoustic piano. If portability is your main consideration, though, we recommend that you go with models that have a small number of keys.
Key Features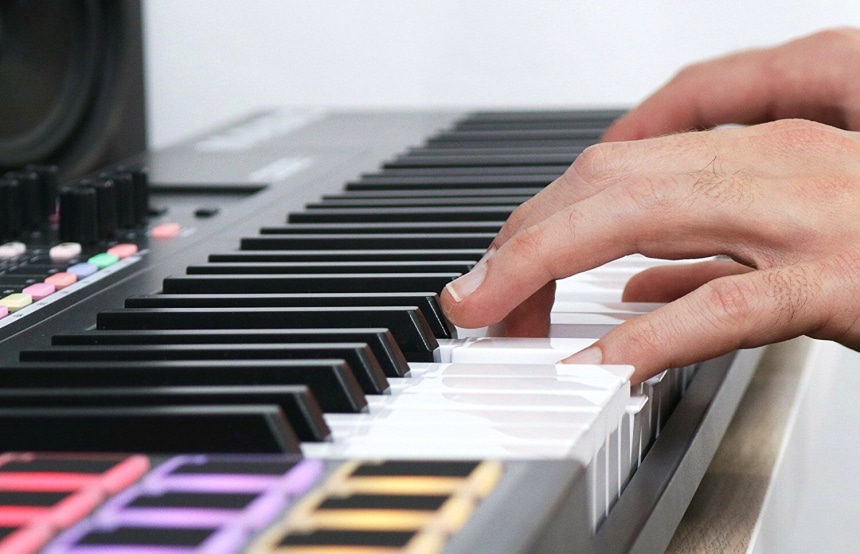 Apart from the number of keys, you should also consider the features of these keys. Some of them have fully-sized, fully-weighted keys that feel like you are playing a real piano. An example of that is the Native Instruments Komplete Kontrol S88 Mk2 Keyboard. If you aren't a professional player, though, that type of key can be intimidating and hard to master. There are other options that have semi-weighted keys like the Nektar Impact LX61+. A MIDI keyboard with that type of key is often much easier to learn and use.
Pads and Controllers
Although keys are great, pads and controllers also form an integral part of any MIDI keyboard. These crucial pieces must therefore be considered before making a purchase. Aside from the regular pads and controllers, we recommend that you choose a model with customizable controllers. This would make it easier for you to handle the equipment. An example of such a MIDI controller is the Akai Professional MPK Mini MKII. With the extra controllers found here, you can do different things like making beats and recording with minimal fuss.
Type of Software
Logic Pro X software is an excellent software that you will find useful. Some of the best options on the market come with this software or the mapping pre-installed in them. An example is the Nektar Impact LX61+.
Aside from Logic, there are other important software as well that allow you to get the best from the controller. Some of the popular software found in controllers include Ableton Live and Bitwig Studio. Either way, it is smart to ensure that your controller is compatible with all these different types of software.
Weight and Dimensions
If you want to be musically productive, you should be resigned to making music in the most unexpected places and at the most unexpected times. Thus, you must consider the portability of your controller or keyboard. If you are often on the go, you might want to consider an ultra-portable MIDI controller like the IK Multimedia iRig Keys MINI. If on the other hand you will be playing in the studio most of the time, you can opt for bigger options like the Nektar Panorama P6.
Ease of Use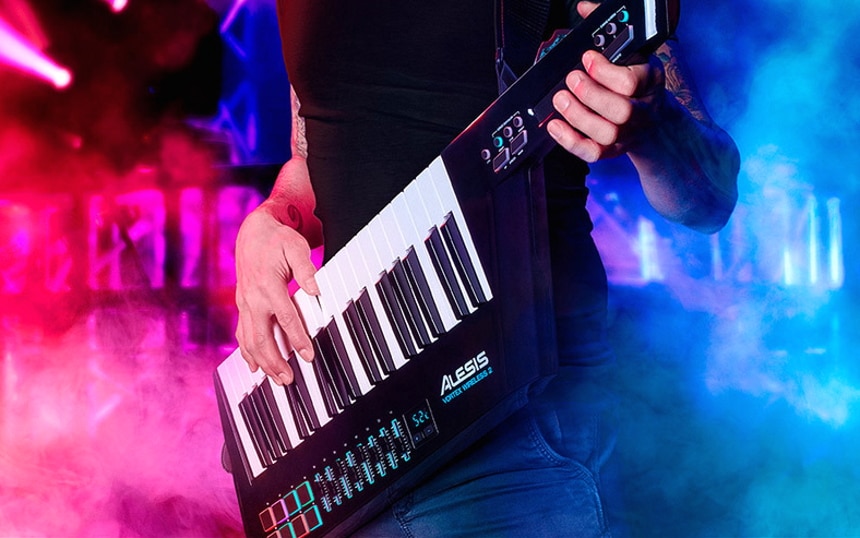 There are several factors that will determine how easy it would be for you to use the MIDI keyboard. One of such factors is the layout. Although it is possible to learn how to use any MIDI controller, some are easier to use than others.
Therefore, if you have the time, check out how the layout is planned. Do you feel comfortable with it? Would it be easy to use? And if you don't have time to try each MIDI controller out, reviews such as this will tell you about the ease of use of each product.
If you find the layout difficult, it will affect your workflow and how much you would enjoy using the controller.
Build Quality
Some products are simply built to be more durable than others. If your MIDI controller is going to sit on a spot all day long, then you might not be too bothered about the durability. However, if you will be moving around for some time with the product in tow, it is important that you consider the build. It is better to spend a little bit more now on a durable product than buying several poorly constructed products.
FAQ
What MIDI keyboard is the best for each playing experience level?
Are these models compatible with other software as well?
Yes! All of the models that we have considered so far on the roundup are also compatible with other types of software. You can use them, not only with Logic Pro X, but with other software like Ableton Live, MainStage, Nuendo, Bitwig Studio, and others.
What is the Logic Pro X compatibility?
Logic Pro X is compatible with different MIDI controllers. You can also use it with Apple products like the iPhone, iPad (as long as you have the Logic Remote), and MAC. Logic Pro X also works on PC.
Conclusion
Due to the plethora of features, the portability and sheer functionality, the Akai Professional MPK Mini MKII is our top choice. This unit is an excellent MIDI controller that works well with Logic Pro X. It has a robust, durable construction and offers plenty of features that make it a good choice whether you are an expert player or a beginner. Our value pick is the Nektar Impact LX61+.  This unit is packed with plenty of features and gives you expressive performance control that you might not find on more expensive units. It works with plenty of DAWs and works excellently with Apple's Logic Pro X software. And the budget option is the AKAI Professional APC Key 25. If you are going for a gig and do not want to take more than two controllers, this unit comes with features that will deliver all that you want.
We hope that this review of the best MIDI Keyboard for Logic Pro X will help you to choose the best option for your music production.
References
1.
Setting up External MIDI Instruments in Logic Part 1
Using Logic Pro's built-in software instruments and controlling them with an external USB controller is pretty straightforward, and many people work in Logic this way exclusively. But suppose you have a multi-timbral MIDI keyboard or drum machine with standard MID ports - how do you go about setting that up to work with Logic? In this tutorial, we'll show you how.
2.
How to Build and Customize Synths in Logic Pro X
If Logic Pro X is your DAW of choice, then you have carte-blanche access to very easy ways to both build and customize soft synths to your liking.