If you are looking for a piano that is functional, then you should definitely consider the Yamaha NP-12. The NP-12 comes with Graded Soft Technology (GST) that offers a gentle but weighted keyboard performance. The keys of this piano are soft and comfortable to touch. The great thing about this piano is that even though it needs to be powered by a 12V DC power supply, it can also work if you place 6 AA batteries in it.
Just like any other Yamaha piano, the NP-12 also comes with the Advanced Wave Memory Stereo Sampling. This lets you recreate instrumental stereo sounds. This model is also compatible with the Yamaha controller app, which allows you to control the piano easily. The piano comes with a simple and sleek user interface which makes your experience even better.
12
Budget Pick
YAMAHA P71
Features
Keys: 88, Graded Hammer Action
Polyphony: 64 notes
Presets: 10 voices
Speakers: (2) 4.7″
Amplifier: (2) 6W
Dimensions: 6″ x 52.25″ x 11.5″
More features: Dual mode; 4 Reverb types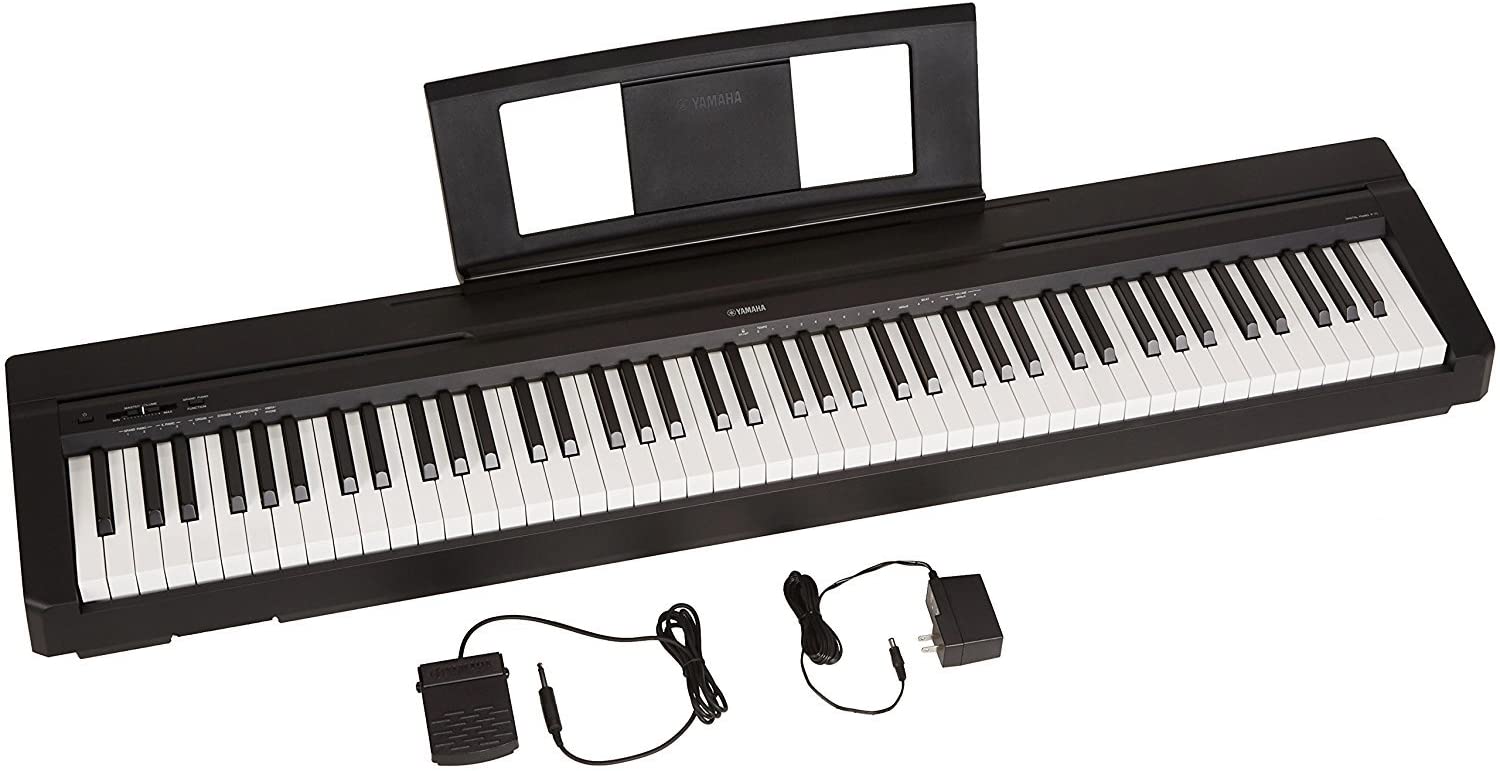 Good

The P-71 piano comes with stylish design that can make your interior look even more beautiful
The AVM stereo sample allows you to create unique sounds
The piano can have two microphones attached at the same time
Bad

This piano should come in more colors and designs so that you have a wide variety of options to choose from
Because of its wide size, the piano cannot be kept in small places which is something that you should consider before buying
If you are someone who is looking for a piano that is well-purposed for practical lessons and rehearsals, then you should consider the Yamaha P-71. The P-71 is a full-sized 88-key digital piano that comes with weighted keys. The piano offers 64 notes, 10 voice presets and covers an area of 6″ x 52.25″ x 11.5″. The P-71 comes with a keyboard that is realistic to touch and makes your musical experience even better.
The P-71 stands out from other Yamaha digital pianos with its simple-to-use control board. This feature allows you to change settings on the piano by simply pressing the button.  This button allows you to change voice, configure sound, change demo source, and so on. Apart from this the P-71 also comes with the AVM sampling technology which allows you to not only record but also store acoustic piano sounds.
Things to Consider
Picking the manufacturer that you trust is a solid first step towards your ideal digital piano, but what else should you look out for? In this buying guide, we list and explain the crucial features to take into account.
Why Yamaha?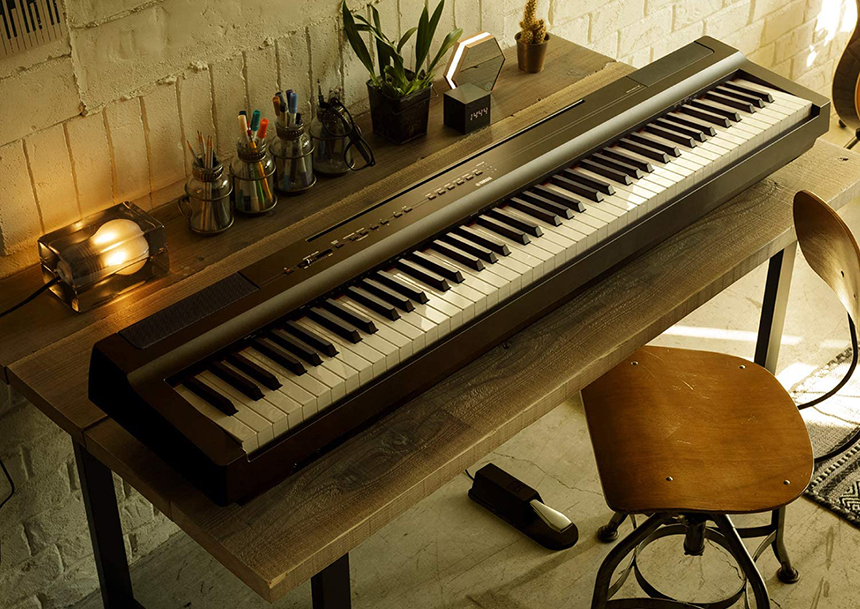 When it comes to choosing musical instruments, especially digital pianos, many music enthusiasts and music instructors opt for Yamaha. From offering the best sound quality to user-friendly instruments, there are many reasons why you should buy Yamaha. Here are some of those reasons.
Construction Quality
Unlike other music companies, Yamaha offers musical instruments that are made from the highest quality materials. When it comes to manufacturing, Yamaha makes no compromise to the quality of their instruments. In fact, their digital pianos come with a solid construction, as well as high sound quality. This is why Yamaha remains a top choice among many musicians.
Performance Quality
It is always important for a digital piano to offer the best key action and sound quality. This has a great impact on the overall performance of the piano. When it comes to performance quality, Yamaha products always deliver the most realistic sound among all other musical instruments. Yamaha also offers high-performing keys that are unlike any other keys available on the market.
Extra Features
Most people also prefer buying Yamaha digital pianos because they come with a lot of additional features that can further enhance your musical experience. Some digital pianos allow you to plug in external devices for a better experience. Some digital pianos can offer unique styles and designs that can add to your interior.
Distinctive Features of Yamaha Digital Pianos
Yamaha has been a leading name when it comes to digital pianos. Its digital pianos are unmatched in the industry due to their unique features. Here are some of the distinctive features that help Yamaha digital pianos stand out from other digital pianos in the market:
Sound Generation
When it comes to sound generation, Yamaha has made it its top priority to produce the best sound possible. With its range of digital pianos, Yamaha makes sure that each and every model delivers loud, high-quality sounds!
Sound Technologies
Yamaha has also equipped its digital pianos with various kinds of presets as well as offering the option of import sounds. This allows you to be extremely creative with your music, using various sound technologies. You can also apply different kinds of effects to enhance your music.
Key Action System Types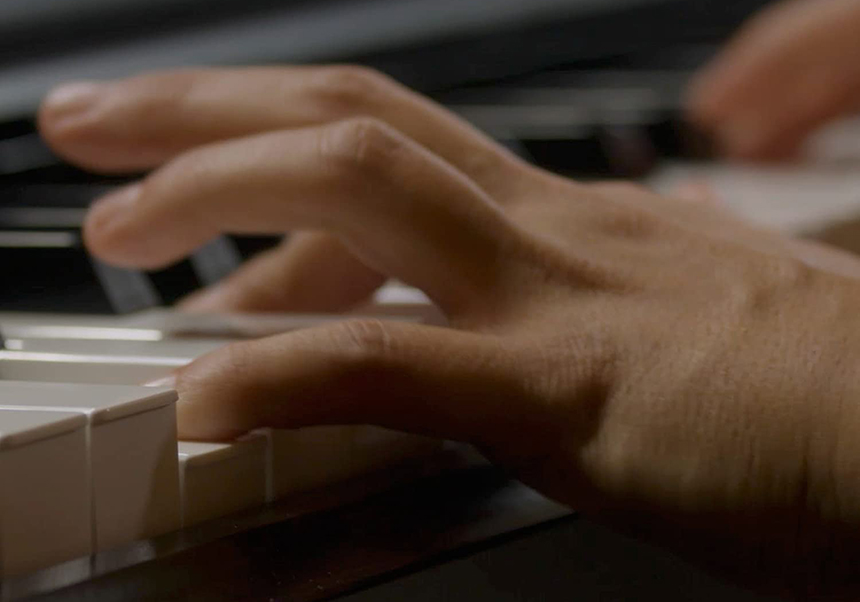 If there is one thing that makes Yamaha stand out, it is its Graded Hammer Action keys. Unlike weighted keys, these keys are more precise and sensitive to touch. These keys help produce music that is quite realistic to that of an acoustic piano.
Things to Consider Before You Buy a Yamaha Digital Piano
There are many things that you need to consider before buying a digital piano. Here are some of those features:
Keyboard
When it comes to digital pianos, you should make sure that you get a piano with the right kind of keyboard because it can make or break your experience. Unlike traditional pianos, digital pianos come with weighted keys that are easier to play. In this regard, Yamaha stands out with its Graded Action keys. All Yamaha products on our list come with these keys that are sensitive to touch.
The keys can easily sense the amount of pressure being exerted and play the sound accordingly. This gives you the option to play a wide variety of sounds.
Sound Quality
Another feature that you should consider is the sound quality of the digital piano. The sound quality of your piano makes a lot of difference in how your performance turns out to be. While looking at the sound quality, see if the Yamaha piano is offering features such as note decaying, sustenance, and so on. Ideally, the best sound quality would be the one that is closer to that of an acoustic piano. The number of polyphones that your piano offers also makes a lot of difference. Yamaha pianos in the Clavinova series offer the highest note polyphony i.e., 256.
Overall Design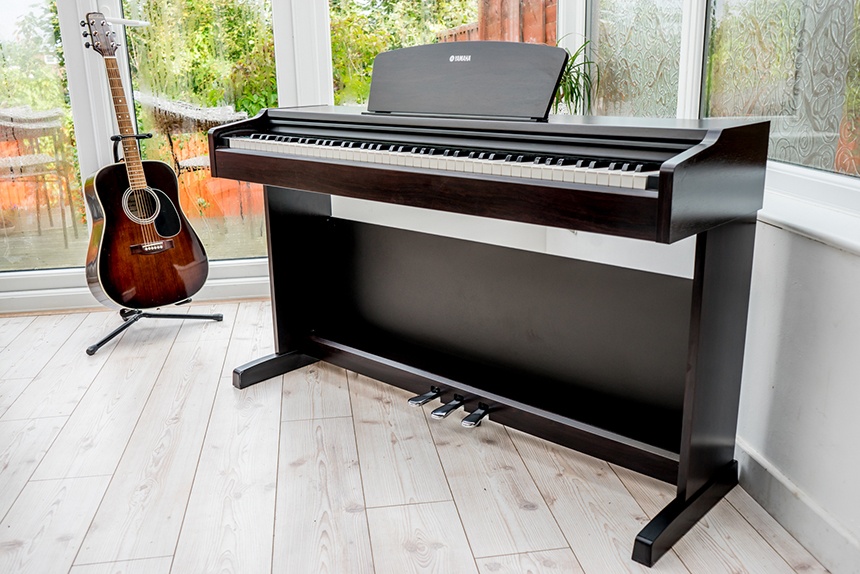 What's the point of buying a digital piano if it does not look good in your music room? This is why Yamaha makes no exception when it comes to their overall design. Available in a range of styles and designs, most Yamaha digital pianos come with a modern exterior that can go with any setting. Their contemporary design can also add a nice touch to your interior. You can buy Yamaha grandmaster pianos such as the Yamaha YDP144 Arius Series.
Controls and Ease of Use
It is also extremely important that you have good control over your keyboard. While keyboards can be quite complicated, Yamaha offers ease of use over your keyboard. It does not matter if you're just learning to handle the piano, or if you are a professional, the minimal interface makes it easy to use all Yamaha digital pianos. Our list also contains many beginner-friendly options such as the P45 or P125 as well as advanced options such as the Clavinova series. You can work through all the knobs and button settings of these pianos, with just a few instructions.
There are also many pianos in our list that are compatible with an online app that allows you to control the features of your piano from your iOS device.
Connectivity
Unlike other digital pianos, Yamaha offers numerous connectivity options for its digital pianos. These options include
USB to Host: This allows your computer to be connected to the keyboard for song transfer. The port can also be used as a MIDI controller that helps transfer MIDI data between your computer and the piano. This port, in particular, requires an A-B USB cable.
USB to Device: This port allows you to connect the keyboard to any USB flash drive. If you ever need to save the sound that you create, then you can easily make use of this port for the transfer.
Headphone: The keyboard allows you to connect headphones as well. This ¼ inch port can also be used to connect to any external sound system as well.
Microphone: Another wide port that allows you to connect the microphone to the keyboard for any kind of playback sound. This port often comes with a volume control option as well as other settings and effects.
AUX: This port helps connect the keyboard to an external audio device.
What's Included
Yamaha also adds some additional accessories along with its digital pianos. Some pianos come with a stand that allows you to place the keyboard easily. You will also find some Yamaha pianos that come with an additional footswitch that can add depth to your music. Depending upon the accessory, the price of your piano may also increase accordingly.
Price
It does not matter what piano you end up liking, if you do not have the money to buy it. Therefore, it is very important for the price of your piano to match the budget that you have. Although digital pianos are less expensive than traditional ones, you can still find them at a range of prices.
For budget-friendly options, you can opt for Yamaha P series pianos that cost less than $1,500. If you want mid-range pianos, they can cost around $2,000. There are also premium options that can go beyond $3,000.
FAQ
How long is the warranty on Yamaha digital pianos?
Having a warranty for any kind of product is extremely important since it gives you a sense of assurance. Any damage to the product can be repaired by the company during this time period. Yamaha digital pianos come with a warranty period of one year.
What is Graded Hammer Action?
Graded Hammer Action keys are an upgraded version of weighted keys. The bass keys are a bit heavier than weighted keys. The treble keys, however, have a much lighter touch. Digital pianos with Graded Hammer Action make a "click" sound whenever you play the keys.
What kinds of digital pianos are there? (upright, grand, stage)
Digital pianos come in many different types. These include:
Upright pianos are ones with a traditional design. These are pricier among all other digital pianos; however, they are also the closest to traditional pianos, in terms of sound.
Grand pianos are known for their sound precision. Their high-quality sound makes them stand out from other digital pianos.
Stage pianos, as the name suggests, are made to be used on the stage for performances. These pianos come with synthesizers that help enhance the sound.
What are the advantages of a digital piano over an acoustic one?
Here are some of the benefits of buying a digital piano:
Digital pianos require little to no maintenance as they are always in tune.
As compared to acoustic pianos, digital pianos are more affordable.
Digital pianos allow you to adjust the volume of the sound. You can even use headphones to hear your music more carefully.
Digital pianos come with more features such as recording options, preset sounds, and so on.
Digital pianos occupy less space.
What apps are there, compatible with Yamaha's digital pianos?
The great thing about Yamaha digital pianos is that they are compatible with several apps, which allow you to control the settings. Here are some of those apps:
Smart pianist
Sound controller
Flowkey
Piano Diary
My Music Recorder
Our verdict
When it comes to digital pianos, there is no one like Yamaha. Our article has covered some of the best Yamaha digital pianos available. According to our review, the best Yamaha digital piano would be the P125. Offering all functions and features in one, this piano can serve all your musical needs. However, if you are looking for a digital piano with the best value, then you might want to consider the Arius Series.
The Yamaha CP88 is one of the best stage pianos that you can find while the Yamaha DGX670 is one of the best arranger digital pianos. You can also go for a portable piano like the NP-12. Good luck!
References
1.
Yamaha Corporation - Global
Global website of Yamaha Corporation.
2.
7 things to consider when setting up a digital piano at home | MusicRadar
Take the fear out of setting up your digital piano with our handy tips and trick.