The keyboards of the VI25 have a split mode so that you can assign both areas to different MIDI channels. The transposition and the velocity curve can also be configured separately for both zones.
The pads on the two keyboards feel good, and their touch dynamics inspire creative work with drum samples. Also, they are suitable for several other purposes, e.g., as clip control for Cubase. They can send program changes, which can be very useful in live operation.
With its slim design, a practice-oriented concept, and solid workmanship, the device is a good all-rounder with a good price-to-performance ratio.
10
Best with RGB Pads
Novation Launchkey 49 MK2
Features
Keys: 49 velocity-sensitive
Pads: 16 velocity-sensitive RGB pads
Controllers: 8 knobs with navigation and control buttons, pitch bend and modulation wheels
Dimensions: 30.51 x 3.5 x 10.62 in.
Weight: 8.16 lbs.
More features: sustain pedal 1/4-inch jack socket, 3 characters LED display, USB powered, 3-year warranty

Good

The pads are now equipped with RGB colors, plus slight improvements to the InControl mode. It's one of the best MIDI keyboards for Cubase, with impressive versatility.
Bad

There is no aftertouch. On top of that, all MIDI CCs are assigned permanently.
Just like the first generation, the USB controller keyboard is available in three sizes of 25, 49, and 61 keys. So, there should be something for every user and every application. There are, however, no notable differences in terms of the controls. The Launchkey 49 MK2 has a pitch bend and modulation wheel, octave, and track buttons, including a numeric 3-character LED display. Nine faders and the associated button are also included, as well as eight potentiometers, 16 pads, a small transport section, and five function keys.
The 16 pads now have RGB colors, which is not only an eye-catcher. The pads can all be played with velocity, i.e., drum grooves and beats can be played very realistically. Additionally, the stroke is very successful, and despite the relatively small size of the pads of almost 2 x 2 cm, you can handle it well.
The housing of the Launchkey 49 MK2 is made of plastic. So, the keyboard weighs just 8 lbs. The dimensions are 30.51 x 3.5 x 10.62 inches. Without question, the Launchkeys are very good controller keyboards that can come up with good workmanship, a large area of ​​application, as well as MIDI and InControl mode.
Things to Consider
A MIDI keyboard for Cubase is a type of technology recently launched to provide certain advantages in the field of music creation. In this section, we'll give you some tips on how to choose the right MIDI keyboard for Cubase. Also, don't hesitate to check frequently asked questions after it.
Reasons to use a MIDI keyboard for Cubase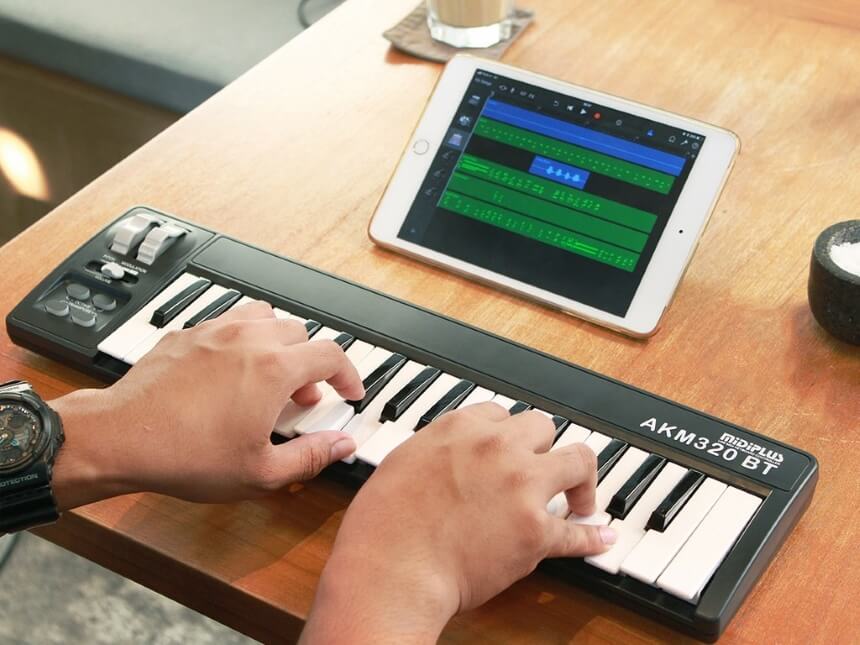 Admittedly, it is not a vital need in a home studio. You can do very well with the mouse and with your AZERTY keyboard. Its main advantage directly relates to your music.
Playing virtual instruments on the keyboard gives you a feeling of "live performance", of creation in the moment. On top of that, you are able to improvise and try new ideas while recording them on the fly.
It will also allow you to record your MIDI tracks with a more human feeling. Not everything will be super square, stuck on the grid, like when you enter your notes with the mouse.
How to get the best MIDI controller for Cubase
Before buying a MIDI keyboard for Cubase, it is important to have in mind the main criteria that might affect your experience. Indeed, if some features are undoubtedly a little secondary for most users, others are really crucial in making a choice. To put it simply, you need to answer a few questions before choosing a MIDI controller.
Keyboard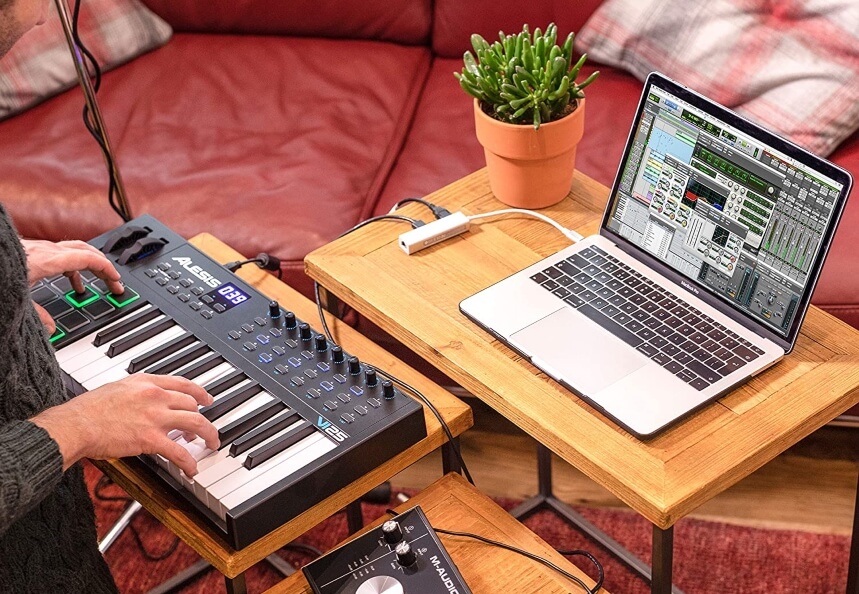 MIDI keyboards have between 25 and 88 keys, with all possible intermediaries. So, there are roughly 2 to 7 octaves.
25 keys: This choice is ideal if you do not have a lot of space or when using it on the go. Also, this type of format will prove especially useful for controlling synthesizers (virtual or analog) while playing with one hand. For example, the 25 keys will be enough to play bass lines on a synth. On the other hand, it is difficult to play very evolved melodies or realistic sample banks because 2 octaves will really limit you actions. The Alesis VI25 falls within this category.
32 to 49 keys: This is a very suitable format for the home studio, except that you really have room. With these 3 or 4 octaves, you can do a lot of things – especially if you mainly want to control synthesizers (software or hardware). The Arturia KeyLab 49 MKII is a great example here.
66 keys and more: This is rather oriented for professional use or if you want to play the piano while taking advantage of a large number of octaves available. If you have space and budget, that said, having a large keyboard will, of course, allow you to do all that smaller keyboards can do.
Pads
The pads are also used to enter the notes, just like the keys. What are then the difference? Their stroke is much shorter, and the feeling of playing with it is more of the order of "hitting" than of "support", which makes them ideal for entering notes of percussive elements like those of a drum kit, for example. Afterward, it's a bit like marshmallows cooked over a wood fire – it depends on taste. Some love it, while others don't even touch it. Besides, you can also enter drum elements with a regular keyboard. It's a matter of habit.
All of these options can be a plus in your workflow, depending on the style of music you want to do. For instance, the Akai Professional MPD218 is a excellent pick for making drum patterns.
For a first purchase (and if you don't do electro), we advise you to just focus on a simple keyboard at the start. You will thus avoid the hassle of configuring all these options, often a little less "plug and play" than a keyboard alone.
Controllers
MIDI keyboards are often equipped with other controller options like sliders (faders), knobs, or pads. If you need to move parameters "live" like volume or effects, you will need faders and knobs. This especially applies to genres of electro music. For example, you can adjust the volume of a track in real-time with the fader, such as seen on the Akai Professional MPK249, or open a low-pass filter with a potentiometer. Otherwise, if you don't have to make these settings "live," you can also move these values ​​afterward, thanks to the automation curves of your computer music software.
Connectivity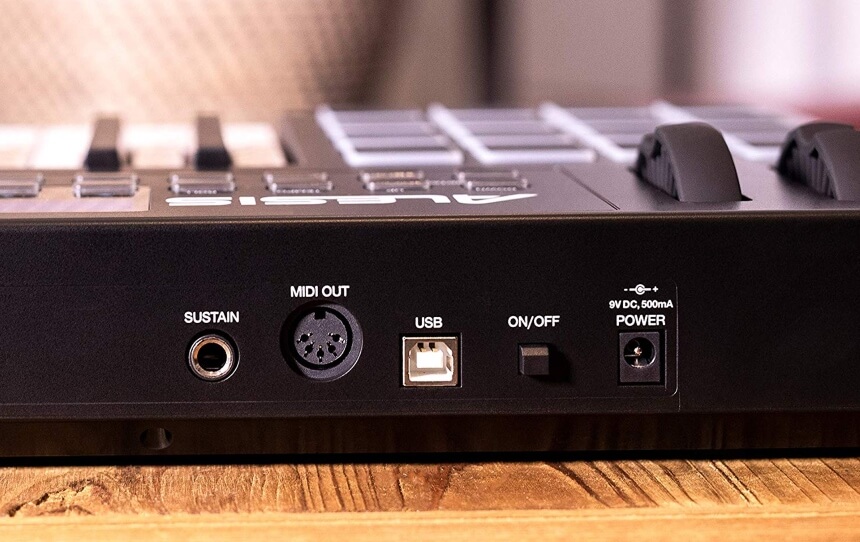 MIDI controllers can have MIDI or USB connections or both. With a USB connection, such as with the Akai Professional MPD218, you can connect the keyboard to your computer to control virtual instruments. It is impossible, on the other hand, to connect them directly to a hardware synthesizer (except passing, possibly, by an interface). With a MIDI connection, you can connect your keyboard directly to hardware synthesizers or your interface if, of course, it has a MIDI IN input.
Portability
The dimensions and weight of the controller is an important criterion, especially for travelers. Lightweight and compact models like the M-Audio Keystation 49 MK3 and the MIDIPLUS AKM320 weigh between 2 to 5 lbs and are easily transportable.
Additional features
What features do I need? Do you just need a keyboard? Would you like to be able to control the parameters of your instruments via potentiometers or control levels via faders? For instance, you can find models with transport buttons (play/stop/record) to control your DAW. Apart from that, some products offer you to trigger percussion samples with velocity-sensitive pads.
When you are in doubt about additional features, it is better to have too many features than not enough.
FAQ
How much do MIDI controllers cost?
MIDI controllers can be found at a price ranging from $40 to $700 or more. However, you can find good quality models such as the
Alesis VI25
or the
MIDIPLUS AKM320
for under $200.
Our verdict
Our Editor's Choice is the Akai Professional MPK249. In addition to its 16 pads, rotary knobs, and function keys, the AKAI MPK249 comes with velocity-sensitive and easily playable pads, all of which can be assigned several functions.
The Native InstrumentsKomplete Kontrol MK2 lacks the control of effect plugins to be really "complete". If you are looking for a controller keyboard to control sound generators, it is a harmonious combination of hardware and software.
Finally, the M-Audio Keystation 49 MK3 offers the best value for money out of the lot. The keys are touch-sensitive, and it comes with a compact design.
We hope that our guide helped you find a suitable unit for your needs so that you can enjoy the process of creating and mixing your own tracks!
References
1.
What Is a DAW? A Guide to Digital Audio Workstations - 2022 - MasterClass
In the age of digital music production, it's common for musicians to create audio recordings using digital audio workstation (DAW) software.