This is another mini USB midi keyboard under $200, which has been designed to work intuitively with NI. Native Instruments is a big name in the world of synthesizers and their virtual instruments are taking the world by storm, so it makes sense that they would release hardware, too.
This includes Ableton Live Lite, has an OLED display and knobs as well as keys. It even has the option to add a foot pedal, surprising for such a small model of keyboard.
You can use this with software that isn't Native Instruments. That means that you can assign the knobs and controllers to other things, but to get full, intuitive use out of it you really need to be using NI suites. That can mean an extra investment if you don't already own it.
6
Best for Ableton Live
Novation Launchkey 25 MK3
Features
Keys: 25, velocity-sensitive
Controls: pitch, modulation, octave up and down
Connectivity: five-pin MIDI out; USB B port; 1/4″ (6.35mm) sustain pedal in
Dimensions: 3.03 x 18.23 x 10.16 in
Weight: 4 lbs
Other features: 16 RGB backlit velocity-sensitive pads; 3 chord modes; software set included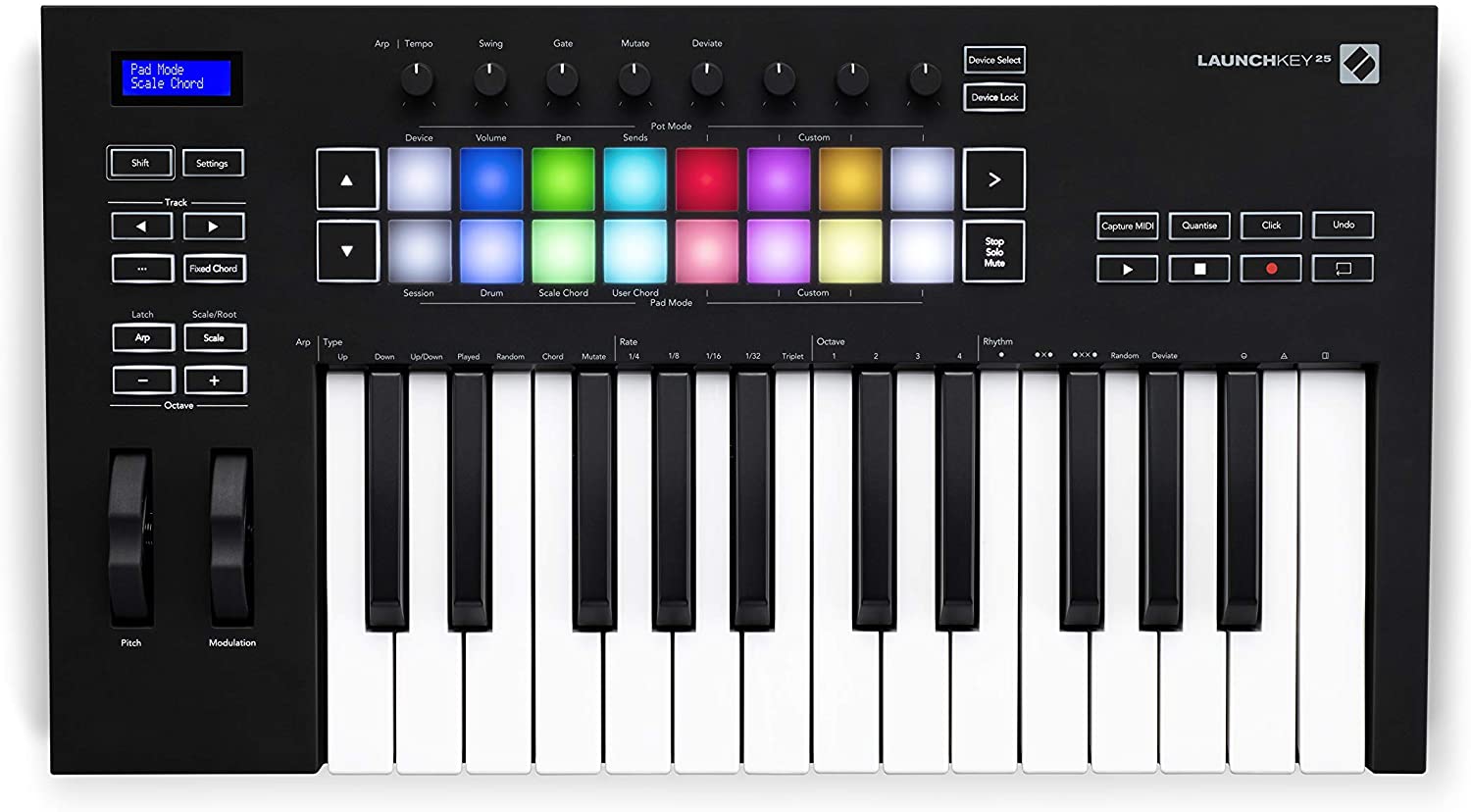 Good

The chord and scale modes are brilliant for those who don't have too much technical knowledge, they get you started in music composition.
Bad

It's not as small as some of the other 25-key models. It's not as great for putting in a backpack.
The Novation Launchkey 25 MK3 would be higher up on our list if it was a bit more lightweight, as it isn't quite as good for putting in a laptop bag. Honestly, there's not much weight in it, and the features are fantastic, too.
The three different chord modes make it easy to trigger chords, so you can quickly come up with song ideas or play live in front of people.
The keys and pads are backlit so you can see what you're doing at all points.
The compatibility with other equipment is great, too, and a MIDI output can be run to other hardware synths for control.
Like many of the other best midi keyboards under $200, it comes with software to get you started.
There's also an inventive "scale mode" which helps you to only play notes within a certain scale, so you're always in key and sounding great.
Things to Consider
There is an awful lot of choice when it comes to MIDI keyboards. These products have started to include more and more features as technology, specifically music technology, has grown a lot in recent years. If you are looking for a midi controller under $200, it is vital that you understand some of the features and functions, and what they mean for your decision. It could even be that your software or production style help inform the decision you make.
What to expect from a MIDI keyboard under $200?
$200 is a decent budget for a MIDI controller, especially if you don't want something that is full-sized, that will play like an 88-key piano would.
Every MIDI keyboard on this range should easily link to your music software and allow you to play melodies and chords, but some also let you control different parameters of virtual instruments and software.
Features to consider before you purchase a MIDI keyboard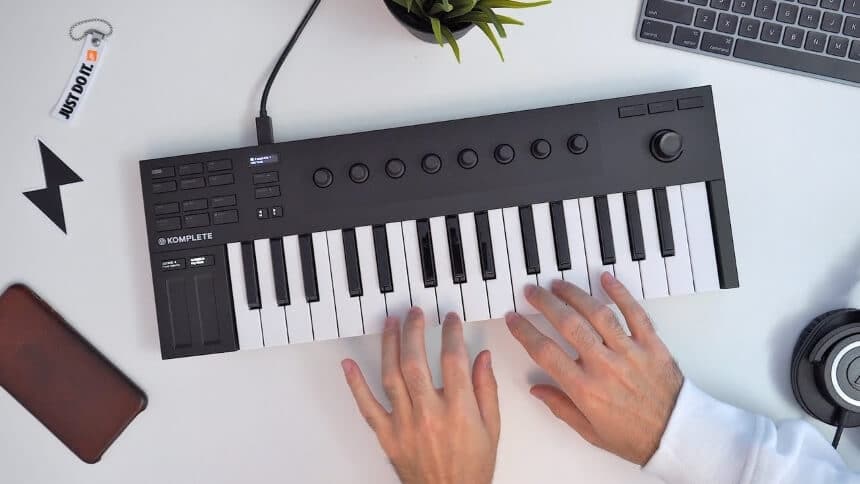 We dive into the main features you need to consider when looking to buy a MIDI keyboard below.
Controls sets and options
All MIDI keyboards will have keys. That's something of a given! However, the majority now also come with other options and control sets that you can use to control software. Pads are useful for drum sounds and sound effects, knobs can control volumes and filters, and faders can turn up and down different instruments or effects. All of this should be assignable within the software. You might just want a simple set of keys.
Keys
There are some standard sizes for MIDI keyboards:
25-key models are small and portable.
49-key models make it easier to play melodies and chord progressions with more range.
61-key models allow you to play with two hands more easily.
88-keys gives the full range of a piano.

Key action
The key "action" relates to how it feels when you play the keys. The synth action is the most common, this uses a spring for the keys to bounce back up. It also allows the keys to be velocity sensitive so the harder you hit, the more volume.
Semi-weighted combine weights with the springs for a more true-to-real-life feel, mimicking a piano.
Fully weighted or hammer action feels a lot like a piano, with tiny hammers triggering the notes, but it isn't the sort of feature you'll find in many budget keyboards. If you are used to this, for instance, if you play acoustic piano normally, the keys will feel different.
Connectivity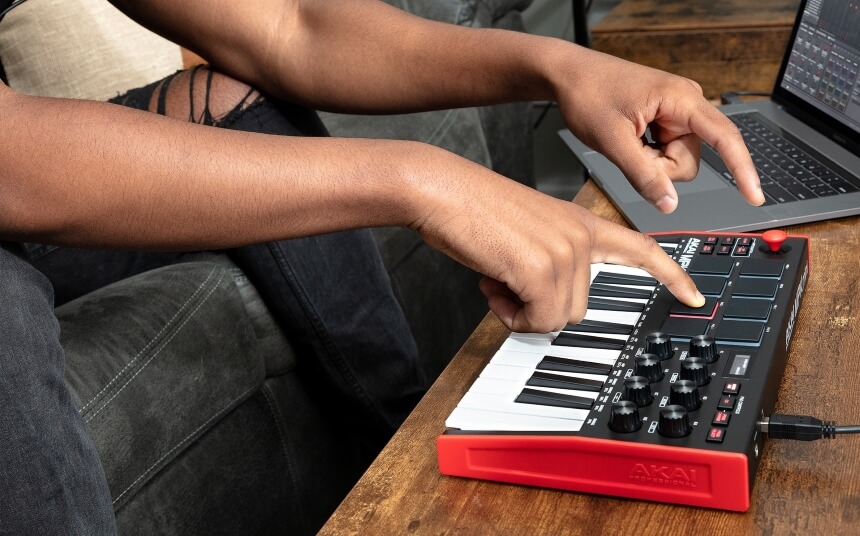 How can you connect the keyboard to your computer or other devices? The vast majority of keyboards have USB connection. USB-MIDI shouldn't need you to install any drivers in the modern age, so it is simple to set up.
Models like the M-Audio Keystation 61 MK3 also have MIDI outputs, meaning a specific MIDI cable can be run to other MIDI compatible hardware like synthesizers. Whether you need this will depend on the equipment you already have.
Dimensions and weight
This is a fairly self-explanatory feature. If you need a small keyboard then the dimensions and weight are definitely something you should check out in some detail. The Native Instruments Komplete Kontrol M32 weighs just 2.2 pounds. It's perfect for putting in a backpack.
Warranty
The warranty is always important when buying electronics. Many manufacturers will give you 12 months of protection should anything go wrong. This should enable you to get a refund or replacement, as long as you didn't mistreat the keyboard!
FAQ
What is aftertouch?
If a keyboard has aftertouch, it means that it has sensors which detect if you're still putting pressure on the keys after you have struck the key in the first instance. This means you can control more aspects of the sound and create different types of sustained sounds when you are playing virtual instruments. The sound of aftertouch is something you definitely get used to, and most synths include some form of aftertouch.
What DAW do I need for my MIDI keyboard?
Most DAWs will work with most modern MIDI keyboards. You need virtual instruments to control with your keyboard. Popular DAWs include Ableton Live, Logic (Mac Only) and ProTools, FL Studio is also growing in popularity.
What's the difference between a MIDI controller and hardware synthesizer?
A MIDI controller doesn't usually generate any sound at all on its own. A hardware synthesizer has everything you need to generate sound as well as control it, whereas a MIDI controller or keyboard just controls software synthesizers.
Our verdict
The AKAI Professional MPK Mini MK3 gets a strong rating of 9.9 out of 10 due to the fact it has an incredible amount of sounds included, and the fact that it has brilliant pads for use triggering drum sounds. It even has an arpeggiator.
The M-Audio Keystation 61 MK3 has semi-weighted keys and gives the same sort of feel as a digital or acoustic piano. We've rated it 9.7 out of 10, it's also one of the best MIDI keyboards under $200 if you want to use a mobile device, it works with iOS seamlessly.
The Alesis V49 has a rating of 9.6 out of 10. The 49-key size is a great middle ground, allowing you to play two-handed but still retaining an element of portability.
References
1.
How to understand the notes on a piano or MIDI keyboard | MusicRadar
Learn the layout and start playing