So, you have decided you want to give playing the piano a try? Traditional acoustic pianos are very large, heavy, and expensive. Luckily there are alternative options available, namely the digital piano or a keyboard. The main thing you need to decide now is should I buy a digital piano or a keyboard?
Do you even know what the difference between the two is? Both options are a great starting point for beginners, and each comes with its own set of pros and cons. It's perfectly acceptable to start piano lessons on a keyboard, and if you're new to playing, you may want to see how you progress before you upgrade to a digital or traditional piano. In this article, we will look at the key differences between the two, so you can make an informed decision on which one should you purchase?
What is a digital piano?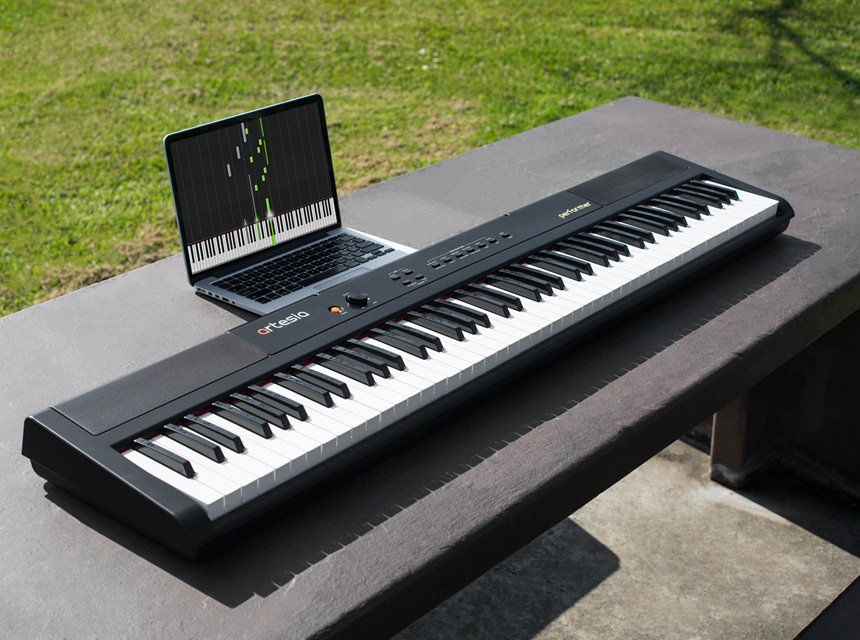 A digital piano is a musical instrument that was designed to replicate the acoustic piano. They come in a variety of sizes and can be moved around more easily than a traditional piano. The digital piano has 88 weighted keys. Playing it is very similar to playing the acoustic version. They use synthesized emulation of samples that have been recorded. These are then amplified through the built-in loudspeaker.
Digital pianos were designed to resemble traditional pianos but are slightly less heavy and cost a lot less. Another benefit is that a digital piano never has to be tuned. Because it's electronic, it can be connected to an amplifier. This will increase the volume level and is ideal when performing in front of a large crowd.
Top-of-the-range digital pianos have added features that give them the ability to emulate other sounds, such as pipe organs or Hammond organs. The digital piano doesn't have any strings, but Yamaha pianos feature hammers. These are not designed to hit the keys; instead, they capture the dynamics of how the key is pressed. This gives you the feeling that you're playing on a traditional acoustic piano.
According to The Washington Post Trusted Source Computers turn the piano roll around - The Washington Post You push a button on the box next to the piano in your living room and suddenly the instrument begins to play itself. The keys and pedals move as if a ghost were playing and live piano music comes out. www.washingtonpost.com , one of the innovations in music technology is the Yamaha Corp Disklavier, and it's said to virtually recreate the sound of a real piano only at a perfect pitch. It has the ability to record what is played and can detect exactly how hard a key has been pressed to produce the perfect tone.
Sound
A digital piano sounds very similar to an acoustic piano. In fact, if you were blindfolded and just heard the music, you would have a hard time telling the sounds apart. A digital piano sources the tone from recording and layering different acoustic piano sounds. The quality of the sound will depend on the make and model of the instrument. There are digital pianos for under $500 that are budget-friendly and have great sound quality.
Touch quality
A digital piano has weighted keys. This gives a similar feeling to playing an acoustic piano. The "action" has a heavier bass note and a lighter treble note. The keys are sometimes constructed from wood, synthetic ivory, or ebony.
Portability
Digital pianos come in a number of different sizes. They are much larger and heavier than keyboards and much more difficult to move around. Many types of digital pianos are built into wooden cases in order to resemble a traditional piano. It's difficult to move them from place to place.
What is a keyboard?
A keyboard has different features. It was designed to be portable, and it's much more affordable than its counterparts. Keyboards are light and can be moved from one location to another easily. They usually have between 61 and 76 keys and feature added sound effects such as a drum machine.
The tone of a keyboard can be changed at the touch of a button. This allows you to create a truly unique sound. Keyboards are perfect for playing worship music at your local church.
Sound
A keyboard has a unique sound that can be identified almost immediately. It sounds nothing like an acoustic piano, but they do come with a wide range of added features. They make their sound electronically. This means they require an amplifier and loudspeaker to work.
The sound starts as a series of digits, which gives it the name "digital instrument." It works a lot like your personal laptop by storing sounds and then playing them back. The difference is that a single sound corresponds to each number. When you push the key, the sound is played back at the recorded pitch to the corresponding note. This clever feature makes it easy to connect to your smartphone or laptop.
Add a drum machine to your music, or change the tone completely by simply touching a button. A keyboard gives you freedom of artistic expression and allows you to create a truly unique sound.
You also get MIDI Keyboards that allow you to make electronic music and a way to sequence music and play virtual instruments on your PC.
Touch quality
Most digital keyboards have unweighted keys and are almost always constructed from plastic. They are touch-sensitive and often referred to as velocity-sensitive keys. If you strike the keys with force, the sound will be sharper and louder, similar to how the keys would react on an acoustic piano.
If you are looking for a velocity-sensitive keyboard, the MIDIPLUS AKM320 USB MIDI keyboard allows you to control the pitch, modulation, and transpose function.
Portability
Keyboards were designed with portability in mind. They can easily be transported and don't take up much space. Some models use batteries as a power source and are small enough to be tucked under your arm. If you're looking for an entry-level keyboard, the AMAHA YPT260 61 keyboard was designed for beginners. It's user-friendly and provides advanced functionality that can be implemented as your level of skill increases.
What's the best choice for beginners?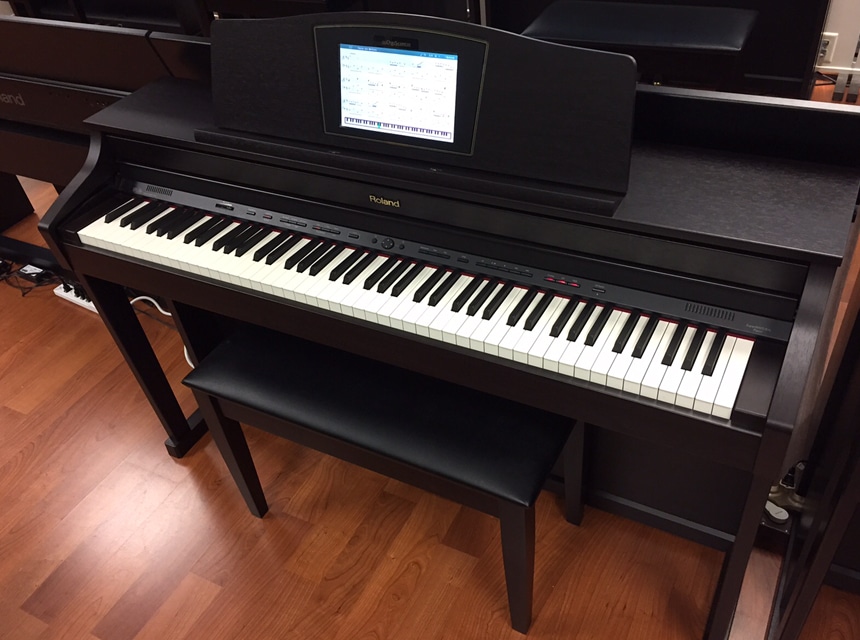 If you're a beginner or on a tight budget, and looking for an authentic playing sound or playing experience, then you can't go wrong with purchasing a digital piano. If you want to buy something for your children or only want to play casually, then a keyboard would be a better option.
Digital pianos also take up a lot of space, so keep that in mind if you don't have much room available. If you want an affordable way to make music, there are digital pianos under $300.
Did you know that music can be beneficial for your health? According to Harvard University Trusted Source Music and health - Harvard Health Researchers are exploring the many ways in which music may influence health, from stress relief to athletic performance. www.health.harvard.edu , the human brain is hard-wired to identify music as opposed to other noises.
Final thoughts
Both digital pianos and keyboards have different benefits, so choosing between them will depend on what you require from the instrument. Another important factor to consider is the price. Even the most high-tech keyboard will still cost you less than a digital piano. An acoustic piano is the most expensive option available.
Digital instruments are far easier to maintain. They never need to be tuned and are generally much more affordable. The type you decide upon will depend on how picky you are on sound quality and what you expect from the instrument. We hope the comparison on digital piano vs keyboard helped you with your decision.
References
1.
Computers turn the piano roll around - The Washington Post
You push a button on the box next to the piano in your living room and suddenly the instrument begins to play itself. The keys and pedals move as if a ghost were playing and live piano music comes out.
2.
Music and health - Harvard Health
Researchers are exploring the many ways in which music may influence health, from stress relief to athletic performance.