The MPK 261 is supplied as a bundle with the software instruments: SONiVOX Eighty-Eight Ensemble (Grand Piano), SONiVOX Twist (Spectral Morphing Synthesizer), and the Hybrid 3 synthesizer from AIR Music Tech. The Akai MPK 261 is a worthy control center for every professional DAW workstation. The robust device impresses with its outstanding keyboard, the usual good drum pads, and high-quality control elements across the board.
The MPK 261 is an ergonomically sophisticated product that can be operated logically. Although you almost get the MPK 261 for free when you consider the bundled software, for users who are already well-positioned in terms of software, the bundle is not necessarily the deciding factor for purchase, and the price for a 61-key keyboard without internal sound generation is comparatively high.
10
Nektar IMPACT LX88+
Features
Keys: 88 velocity-sensitive, semi-weighted
Pads: 8 hyper-sensitive, backlit
Controllers: 9 faders, 9 LED buttons, 8 pots, 10 additional buttons, pitch bend, and mod wheels
Dimensions: 50.25 x 11 x 3.5 in.
Weight: 18 lbs.
More features: Nektar DAW integration, 5 user presets, Mac, PC, and iOS compatible

Good

We've included the LX88+ because it's a comprehensive and powerful controller keyboard. It can also be used as a pure MIDI keyboard thanks to the MIDI socket and the connection for an optional power supply unit.
Bad

The software compatibility could be better. Although you can use it with FL Studio, the controllers of the LX + series do not offer sufficient support for the Ableton Live and Pro Tools.
A unique feature of the Nektar controller is the quick and easy integration into various DAWs. The manufacturer has developed its control protocols for the common DAWs, which enables operation according to the plug and play feature.
With the Nektar LX88+, you get a reliable and versatile controller keyboard with 88 lightly weighted keys. With ready-made templates and mappings, the LX88 + allows you to control 11 popular DAWs without a complicated setup. Preconfigured mappings are also available for many software instruments. Manual assignments can also be made and saved in five users presets. Compared to its predecessor, the lighting of the buttons and pads has been upgraded, and some new functions for controlling software synthesizers and clip-based DAWs have been added.
Things to Consider
Although they look like pianos or synthesizers, MIDI keyboards are different. They are just responsible for transmitting MIDI signals to computers to write and create music. One of the most common DAWs used for that is Fruity Loops. Since not all products can offer a top-quality user experience, we will put you through the process of getting the right master keyboard in this buying guide.
Why you should go for a MIDI controller for FL Studio
While it's possible to use just any controller for the DAW, you'll discover that the turn around time for your music production will be longer. Meanwhile, a MIDI keyboard for Fruity Loops allows you to control the sound creation software and other instrument connected via MIDI effectively. Apart from being easy to configure, the software is easily-mapped to the keyboard. And you wouldn't have to be a professional musician to connect and use the MIDI keyboard.
Things to consider before getting a MIDI keyboard for FL Studio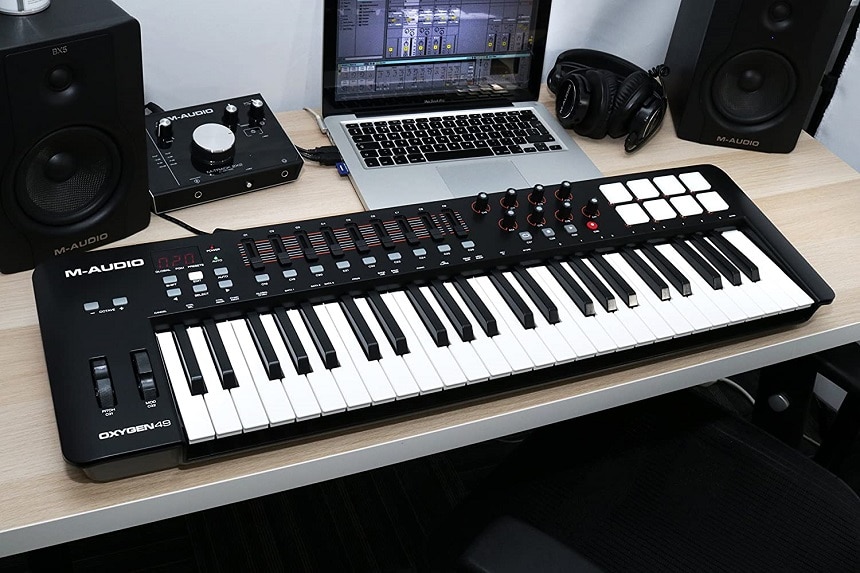 If you are unsure of how to choose the right model, the following criteria will help you.
Keys
There are different types of MIDI keyboards:
25-key MIDI keyboard: These are the smallest midi keyboards you can find. Generally light and easy to transport, this type of instrument is more suitable for mobile use. The Alesis V25 and the Korg NanoKey2 are good examples of 25-key MIDI keyboards.
49-key MIDI keyboard: A category above 25 keys, 49-key keyboards offer you more possibilities and features than their little brothers while still being relatively easy to carry.
61-key MIDI keyboard: We are now entering the studio category. A 61-key MIDI keyboard like that of the Akai Professional MPK261 lets you express your musical potential with greater freedom. The keys are generally of better quality than those of smaller keyboards.
76-key MIDI keyboard: 76 keys are enough to play what the soul dictates to you. These keyboards are mostly equipped with hammer mechanics for more natural playing.
88-key MIDI keyboard: The best of the best! The 88 keys will offer you a vast field of possibilities. They are incredibly well-designed keyboards with a host of features.
Pads
Through the MIDI keyboard, you will be able to create every single component of melody and rhythm. For this reason, some keyboards include drum PADs to set the rhythmic base of your melody.
Since the commands are customizable, you can use them to start preset bases in a loop automatically.
Extra controls
Taking a quick look at the models on the market, in addition to the black and white keys, MIDI keyboards have numerous other controls in the form of keys, sliders, knobs, and pads. Knowing its function and knowing how to distinguish its usefulness is essential for recognizing the value of a MIDI keyboard. So let's take a closer look at the extra controls we might need.
Knobs: Immediately above the space for the keys, you can find various knobs. These can mainly have three functions: to adjust the output volumes, the various frequencies of the signal, or to modulate the signal of a sample you are playing, for example, a synth. This type of command is, in many cases, customizable through the music software you are using.
Command keys: You can find various types of command keys that can be used for various purposes. The most common keys are those used to control the playback of a track: to Stop, Play, Loop (for the repetition of a segment of the track), rewind or advance the unwinding of the track, and much more. These commands allow you to control the software directly from the MIDI keyboard, without interfacing with the computer.
Among the other useful keys are the two command keys to go up or down an octave and a directional keypad to have full control of the software in use.
OS compatibility
Before buying the MIDI keyboard, check the compatibility profile of the keyboard with the computer system in your possession. Ensure that the product is compatible, for example, with an iOS system (i.e., the one present on Apple devices), Microsoft, and/or Linux. For instance, the Nektar Impact LX88+ allows you to connect it to the various OS, which takes its functionality to the next level.
A wider range of compatibility will allow you to use the keyboard on other computers without having to resort to new purchases later.
Inputs and outputs
Let's start by taking into consideration the various types of inputs and outputs available on MIDI keyboards, explaining their functions and what they are for.
USB: One type of output port that you absolutely won't want to do without, speaking of MIDI keyboards, is USB. This type of connection, present in most keyboards on the market, is mainly used for connection to computers and DAWs. Normally, MIDI keyboards have a micro USB output, and a special cable is supplied to connect them to your computer.
MIDI in and out: A MIDI keyboard should have at least one MIDI format port to connect to other devices. In this case, we distinguish three formats, i.e., input, output, or throughput. These have three distinct functions: the first is used to receive the midi signal, the output is for the emission of the signal, while the third type is used to convey a MIDI signal through two devices.
Sustain input: The sustain input is used to connect a pedal, which is used to prolong the played note. This accessory can be very useful, especially if you plan to play live. With this pedal, you can extend a note while keeping your hands free. For instance, the Arturia MiniLab MkII has this feature that adds versatility.
Portability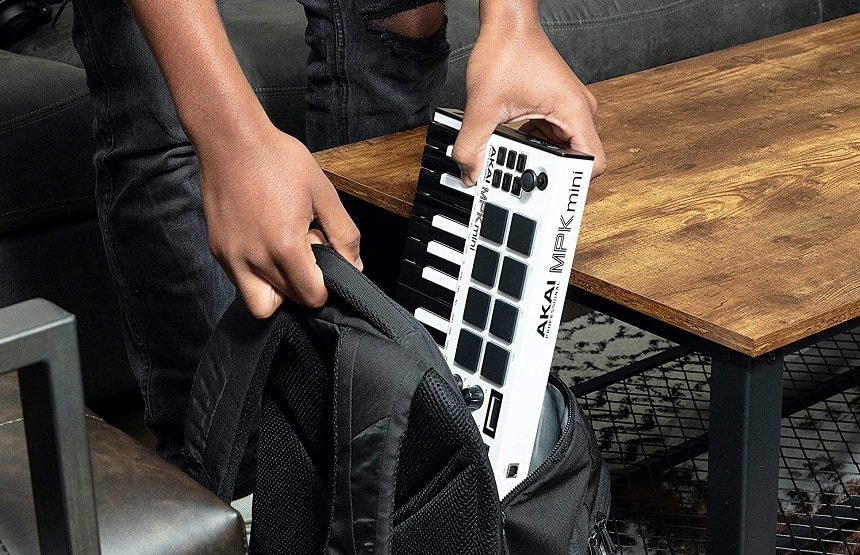 Are you an experienced pianist? Or do you just want a control surface to trigger the sounds of your DAW? Depending on the response, you can choose a larger or smaller MIDI keyboard in terms of keys. Keyboards with more keys generally offer a better quality touch that allows you to better express your playing.
A lightweight device is much more portable and convenient for people who like to use their instruments everywhere. Because if it is light and compact enough, it will not be a problem when you are on the move.
Also, be sure that your master keyboard is supplied with a carrying device that will adapt to its shape.
FAQ
Can I find a pre-configured MIDI keyboard for FL Studio?
Yes, FL Studio comes pre-configured to work with select custom controllers. Fruity Loops supports MIDI and USB controllers and keyboards with MIDI outputs. The good thing about these keyboards is that you can also use other DAWs with them.
How much do MIDI controllers for FL Studio cost?
You can find MIDI controllers in three different price ranges. Entry-level models, like the
MIDIPLUS AKM320
, cost between $40 and $90. Here, you can find basic products, with keyboards ranging from 25 to 49 keys. By spending between $100 and $300, it is possible to find medium-range products that are of excellent quality. They have an extension that can reach 8 octaves with various functions available. High-end models have a price that goes beyond $450 up to $2000.
Which model is the best for musicians on the go?
The best models for musicians on the go are those which combine professional features and functionality in a compact board. The model considered best for traveling is the
Novation Launchkey Mini MK2
. This controller has a compact dimension of just 15 x 8.7 x 3.1 inches and a weight of just 1.54 lbs.
Our verdict
Our Editor's Choice is the Akai Professional MPK Mini MK3. It's a portable master keyboard, which is equipped with an impressive number of controls. Also, it doesn't require any software driver or external power adapter for its operation. It has plug-and-play functionality and is easily our choice of the best MIDI keyboard for FL Studio.
The best 25-key controller is the Arturia MiniLab MkII. This is an excellent keyboard to get you started in computer music. The big plus here is that Arturia offers you for purchase a library with a total of 500 sounds!
The best for professionals is the Alesis V25. Alesis has 8 pads designed on the V25 to the left of the keyboard. These are velocity-sensitive and can light up in the colors yellow, red, green, and blue.
References
1.
How FL Studio changed electronic music forever | DJMag.com
How an adult version of Tetris kickstarted multiple musical revolutions 
2.
MIDI Setup
Connect and install your keyboard/controller/synth in Windows / macOS