MIDI keyboards and synthesizers Trusted Source The Rise of the Synths review – the world's most nostalgic music scene | Music documentary | The Guardian This documentary exploring the 80s-obsessed synthwave sound has admirable production values, but trades deep analysis for platitudes and boring aside www.theguardian.com have become popular tools for both professional and amateur musicians. It helps music producers create and mix sounds. However, if you are seeing the MIDI keyboard and the synthesizer together for the first time, you may likely confuse one for the other due to the physical similarities between both musical instruments.
Although the MIDI keyboard vs synthesizer may have some similarities, they have some huge differences. This is why it is essential to know what these differences are if you're venturing into music production and creation. Here is all you need to know about MIDI Keyboard and the Synthesizer.
What is a MIDI keyboard?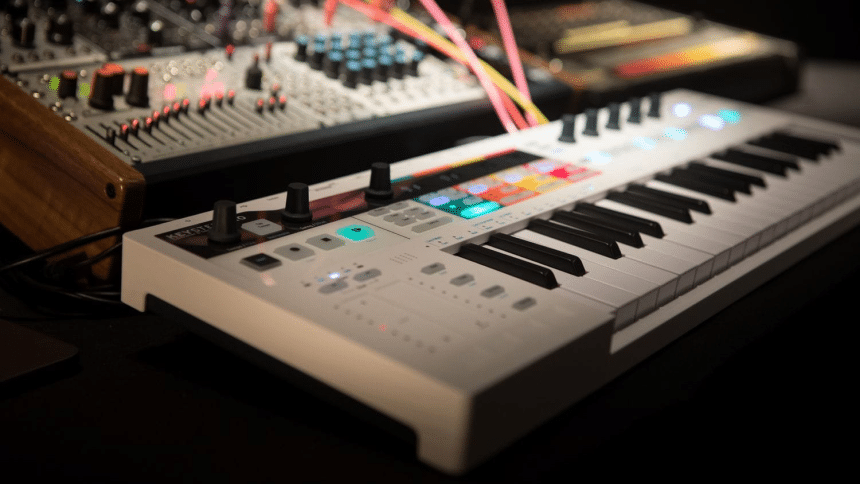 A MIDI Keyboard is an electronic musical instrument designed like a piano but with more functional accessories like wheelers, sliders, knobs, and buttons that makes it act as a controller. The MIDI keyboard works by transmitting MIDI data to your computer. The latter interprets the data and produces back the sound you sent.
Your MIDI Keyboard has several sections assigned to perform different functions, such as the drum pads, flutes, etc. You can also change the tone, modulate the sound and cause some musical loops with a MIDI keyboard. All of these can enhance your musical production and allow for creativity display in your music.
However, it is essential to note here that a midi keyboard cannot make an audio sound by itself, except it is connected with other external musical instruments like your computer or a synthesizer. Technically, the midi keyboard is only used to control and manipulate sounds.
Sound
You need to know how a sampler works to assign your sound to a MIDI keyboard. So, what does a sampler do? A sampler is an instrument that helps you playback a recorded sound when you press a key.
You can have access to a lot of recorded sounds. These recorded sounds are referred to as samples. You can then download and save a sample to your MIDI keyboard and map it to your desired keys. You may want to download the sound in a way format.
The next step is to edit your downloaded sound file. Basically, you may need to edit the beginning and the ending of the sound file. This way, you can easily eliminate silence, clicks, and pops at the beginning and end of your sound file.
Once you're done editing, you can then name the samples and save them appropriately. Don't forget to export and save your file as an individual audio file.
Controls
As a controller, your MIDI keyboard should give you a lot of control. MIDI keyboards usually come with a lot of buttons and pads that make this control possible. The most obvious control you will see is the piano-designed pads. Then, there is the knob, the sliders, otherwise known as the faders, and the wheels. For the sake of this article, we will be concentrating on pads and knobs as part of the MIDI keyboard controller.
Pads – The pad is crucial as it triggers the keyboard shortcuts. It is even more important if you are using Sketch software, for instance. It can be used to copy and paste, group and ungroup and even export music files. In fact, your pad can even record the velocity of a key strike.
Knobs – Knobs are necessary accessories for your audio editing. For instance, if you use a software app like a sketch, the knobs can control some of your incremental properties such as scaling, rotation, or nudging.
Advantages
Having a MIDI keyboard has several advantages. With the numerous knobs, sliders, and pads, you literarily have complete control over your music, and you can have an enhanced smooth recording experience. Some of the advantages you get to enjoy with your MIDI keyboard include:
The MIDI keyboard allows you to play your music in a band. It can cover for you even if a team member of the band is not available. With the MIDI keyboard, you can't be stranded in a band. It is equally very useful in a live performance because of the many features it has.
You can compose your own music
With your MIDI keyboard, you can compose your own music and replay it repeatedly until you get the perfect sound or blend. You have the chance to mix keys, instruments, etc. You can also adjust, scale, and fade your music. That way, you can work on your music till it becomes the sounds and melodies you heard in your head. The possibilities are limitless!
Access to different instruments
Your MIDI Keyboard gives you access to different instruments at the same time. Not only can you control all these instruments, but you can also determine the intensity and velocity with which each would sound. What's more, you can also define how long each of those sounds will play.
Disadvantages
The disadvantages are not so much and may even be better referred to as limitations rather than disadvantages. Most of these limitations are usually a consequence of not getting a quality MIDI keyboard.
If you get a substandard or cheap MIDI keyboard, most of the control knobs slides, wheels, and drum pads may not be there, and this can limit the effectiveness of the keyboard and reduce the quality of your results.
What is a synthesizer?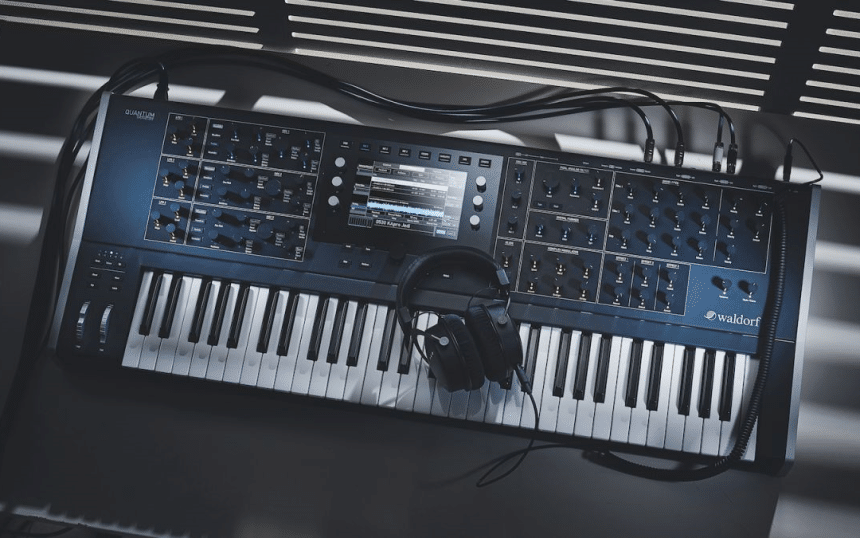 The word synthesize means to create something new out of existing pieces. So an electronic synthesizer is simply a musical gadget that can make new music by putting together pieces of old music.
In other words, the synthesizer is an electronic musical instrument that produces or reproduces sounds of instruments. You can operate it with the use of the keyboard. It uses the subtractive synthesis and the additive synthesis method by modulating different frequency signals.
Additive synthesis means when a lot of sine waves, square waves, and sawtooth waves are added together to create a definitive sound. On the other hand, subtractive synthesis filters out and removes frequencies from the sound waves.
Sound
The synthesizer generates different sound waves of diverse shapes. It can produce more than a sound tone at a time to produce fundamental frequencies. It can also change the volume of the sound produced to create some ADSR envelope shapes.
The synthesizer has different oscillators that can generate different waves of different shapes, such as the sine waves, the square waves, the triangular waves, and the sawtooth waves. It then joins the other waves to create a rather complex sound from simple sounds.
Controls
A synthesizer is controlled by the sequencers, the computer software all through the MIDI keyboard. The controls may be built into the synthesizer or may be linked through a USB.
You can also have some control over your sound through the keyboard function. It can give some sound velocity. Aside from this, the ribbon controller helps the finger movement. It enhances the sound of the fingers when it touches a sensitive surface.
The wind controller is also another control accessory you'll find on a synthesizer. Other controllers include electronic drum pads, touch plates, touchscreen devices, and finger pads.
Advantages
You can use your hands and choose your sounds
Synthesizers allow you the advantage of using your hands to play and press the knobs and pads and choose your sound. You have the freedom to determine how long or slow a key will sound. A good example is the Korg Minilogue XD synthesizer. With its four voices polyphonic analog synthesis, this synth gives you a lot of freedom to choose your sound.
Besides, synthesizers are also used to create some of the best new and refreshing sounds you'll ever hear. Also known as Bass Synths, this tool is your best bet if you are looking for some fresh dimensions and sounds.
Depending on your budget and the model you buy, your synthesizers don't have to be expensive to do the needed work. Unlike a MIDI Keyboard where you have to buy a good and quality MIDI keyboard to enjoy all the benefits, with a synth, you can buy a good yet not so expensive synth and still enjoy all the benefits.
Allows you to be creative
Using a synthesizer allows you to get creative. You can create sounds from scratch or make new sounds from prerecorded sounds. You have the flexibility to create and enjoy your own creativity with a synthesizer. For instance, you can enjoy top-notch filter-modulation effects that expose your creativity with the Novation bass station II.

Disadvantages
It might stop working if you upgrade the software
As good as this tool is, there is a risk involved. If you install unknown software or you upgrade the software, you may unknowingly change the settings. Unless you are familiar with the new settings, it may mean that your synthesizer will stop working.
What to choose?
The looks of both the MIDI keyboard and the synthesizer may be close. Yet, they are different and would function for various purposes. Nonetheless, you can easily substitute one for the other in situations when you can't afford the two.
So, if you need to make a choice between the midi keyboard and the synthesizer, you would have to consider different factors, such as the purpose and maybe mobility, to know which to choose. The purpose here means what you want to use it for. While a synthesizer can help you make new music/sounds, record and replay old music, the MIDI keyboard can help you learn how to play the piano, perform in a live performance, etc. So, it really depends on you and what you need.
Final thoughts
Both the MIDI keyboard and the Synthesizers are electronic musical instruments that you can use to make your music better. If you are a beginner and want to learn how to play the piano, you can choose the MIDI keyboard.
However, if you are looking forward to learning a lot more than the keyboard, you can choose the synthesizer. With a synthesizer, you can create, play and enjoy multiple sound instruments- both acoustic and non-acoustic.
You can also use the synthesizer for live performance if you want to get a full orchestral feel. In any case, when considering a MIDI Keyboard vs synthesizer, the most important thing is to remember that the goal is to make better music or sounds. So, ultimately, you can go for the one that will help you achieve that.
References
1.
The Rise of the Synths review – the world
This documentary exploring the 80s-obsessed synthwave sound has admirable production values, but trades deep analysis for platitudes and boring aside