Arturia released the famous 88MKII in 2019, and it has gotten rave reviews since then. It's basically a remake of the popular Keylab essential, which was a top preference for many because of its exceptionally durable and road-ready build. The MKII is pretty much the same and much more. It is a hybrid synth with a piano feel as its core USP.
The Arturia Keylab 88 MKII is a full-size keyboard and a perfect central controller for your setup if you score in DAW. It offers an impeccable workflow enhancement and advanced software integration on its DAW command center. You will be able to integrate your favorite analog synths with the keyboard through the onboard CV/Gate connectivity. In this Arturia Keylab 88 MKII Review, we have the features and capabilities of the unit explained in great detail. Read on to find out if it's a worthy buy for you.
Specifications
| | |
| --- | --- |
| Type | Keyboard Controller |
| Number of Keys | 88 |
| Type of Keys | Weighted, Fatar TP/100LR Keybed |
| Velocity Sensitive | Yes |
| Aftertouch | Yes |
| Controls | 16 pads, pitch bend, mod wheel |
| Encoders | 9 |
| Faders | 9 |
| MIDI I/O | In/Out/USB |
| Other I/O | USB type B; CV; Pitch out, Gate out, Mod 1, Mod 2, CV in |
| Software | Ableton Live Lite, Analog Lab Software |
| OS Requirements | Mac OS X 10.11 or later, Windows 7 SP1 or later, 64-bit |
| Power Supply | USB bus power, 9-12V DC |
| Dimensions | 4.4" x 50.9" x 12.7" |
| Weight | 32.4 lbs. |
Review
The 88 MKII is a top-tier 88-key MIDI keyboard with superior build quality. It has a unique key-action, perhaps the best you can find on the market. It is not a novice device as the cost may be a bit offsetting. If you know what you are getting into, then the price point wouldn't be a hindrance to you because the unit delivers what it promises. Here are some of the key features that justify its premium price tag:
Overall performance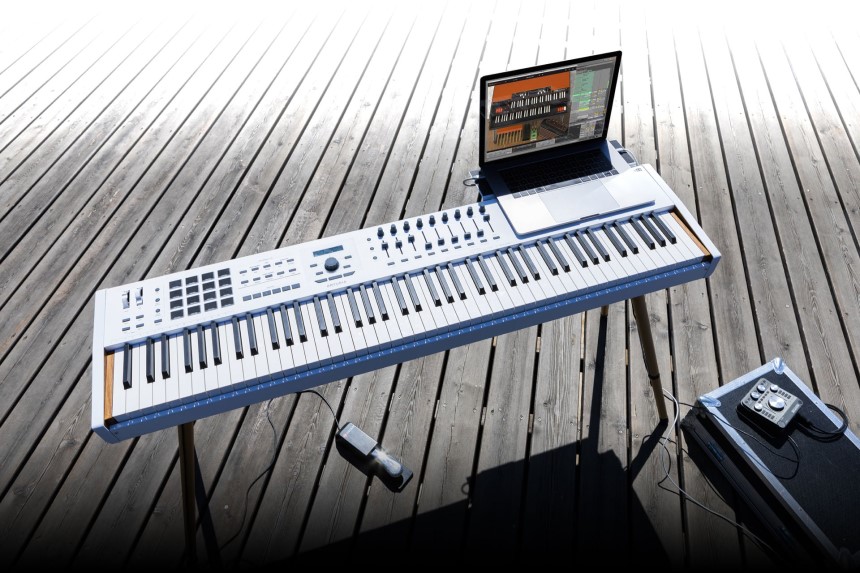 The 88 MKII offers unmatched performance thanks to the multiple incredible features it comes with. To begin with, the Keys are some of the finest you can get on a MIDI keyboard. They are hammer graded and feel pretty much like a piano. The pads are also pretty impressive. They are highly responsive and play really well. You will be able to get great dynamics across the board on the drum very easily, which is a rare thing with many other non-responsive drum pads out there.
Another win for Arturia with this unit is the high-quality faders. They feel firm and move nicely without feeling like they are about to break. The rotary encoders are equally firm. You feel their quality the moment you touch them.
Overall, the Arturia Keylab 88 MKII is simply one of the best 88 key MIDI controllers that money can buy. Its solid set of features distinguish it from all the other options within its range.
Design and look
For an 88-Key MIDI keyboard, the MKII's design is quite perfect. The design is very similar to that of the original 88 Keylab. There are few differences, though; like the pads are on the left side as opposed to the right, and the mod wheels and pitch bend are white in color as opposed to black.
The keyboard is incredibly lightweight compared to others in its range. It weighs a mere 32.4 pounds which is manageable if you plan to move around with the unit.
It has everything laid out in a neat and straightforward manner. It has 16 pads with the switch on the left side, 10 assignable buttons for parameters, 9 faders, 9 rotary encoders, and a pitch bend. It also comes with a mod-wheel and transport controls. The assignable buttons and faders are conveniently laid out to allow seamless DAW integration. The overall design of the keyboard allows you to work from it directly with all of the major DAWs.
Keyboard
This is where the MKII 88 shines. The keyboard is Arturia's biggest keyboard, and it has the same layout as the popular 49 and 61-key models. However, it distinguishes itself from its peers with its hammer action keys by Fatar. They add a mechanical feel that is very close to a real piano.
The keys have an impressive spring action, and their weight feels okay. Their touch may be a little heavy, but it's nothing if you are used to playing heavy pianos. Key feel is very subjective. What works for you may not work for someone else, but the hammer action keys should work for anyone because their expression comes out naturally.
Aftertouch
This is one of the top ways of adding more expression to your work. Keyboards with weighted keyboards barely come with an aftertouch. It is a nice feature to have on the Keylab 88 MKII since you will use it with virtual instruments. You can assign aftertouch to various parameters, including stabs, pads, and polysynth, depending on the software you are using.
Controls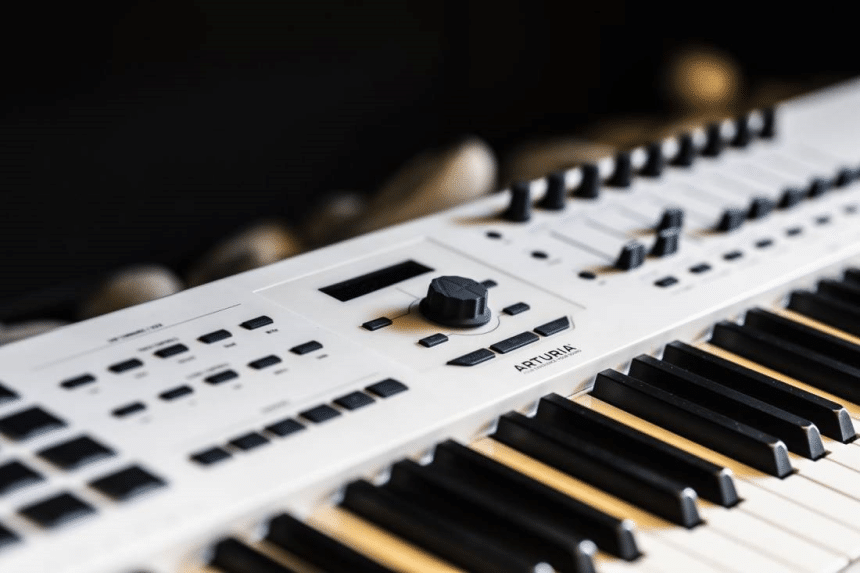 The Arturia Keylab 88 MKII has got myriad control features. The first controls you will encounter on the unit are the pitch and modulation wheels on the right. The pitch wheel changes the pitch of the notes in the synthesizer, while the modulation wheels give you total control of the different sound elements. If you want to set the amount of vibrato, tremolo, or filter, you use the modulation wheels.
The next set of controls is the 16 vibrantly backlit pads. They control the unit's functions via DAW. They also allow you to map certain functions of the controller. You can also use the pads as finger drums.
After the pads, on the right, is the transport control section. It consists of 6 buttons: rewind, forward, play, stop, loop and record.
Just above the transport controls section, you are provided with unique DAW controls termed the DAW controls/user that change based on the DAW you are using. The 88 MKII features multiple magnetic overlays for this section that you can easily attach to understand and use according to your DAW's settings.
Next is a screen and main encoder knob, which you can use for different functions. Immediately on the right, you have 9 knobs and 9 faders. Just below the faders are 9 buttons that you use to select tracks or different categories in the analog lab software.
Connectivity
This is another area where the Arturia Keylab 88 MKII shines. It features 4 CV outputs and 1 CV input. This is pure bliss for anyone who uses analog gear. Besides the CV ins/outs, there are 5-Pin MIDI in/out 3 AUX pedal jacks sustain and expression. Not so many controllers come with such connectivity to your external hardware.
DAW integration
A single glance at the Arturia Keylab 88 MKII is enough to tell you that the controller has got a huge potential for integration. It comes with a lot of assignable controls, though industry experts argue that controls are not enough for tedious integration processes.
The 88 MKII allows you prompt access to transport controls without using the mouse and auto-maps to virtually all the popular DAWs. If you come across something that isn't mapping automatically, you can easily MIDI assign as you go.
The controller unleashes its real power when you start to use the Arturia software instruments. All of the controls come already mapped to work well with each instrument in the Analog software. You will feel as if you are using the hardware synth, which is pretty fun.
What's more, as mentioned before, Arturia provides magnetic overlays that allow you to custom set your controller for popular DAWs.
Software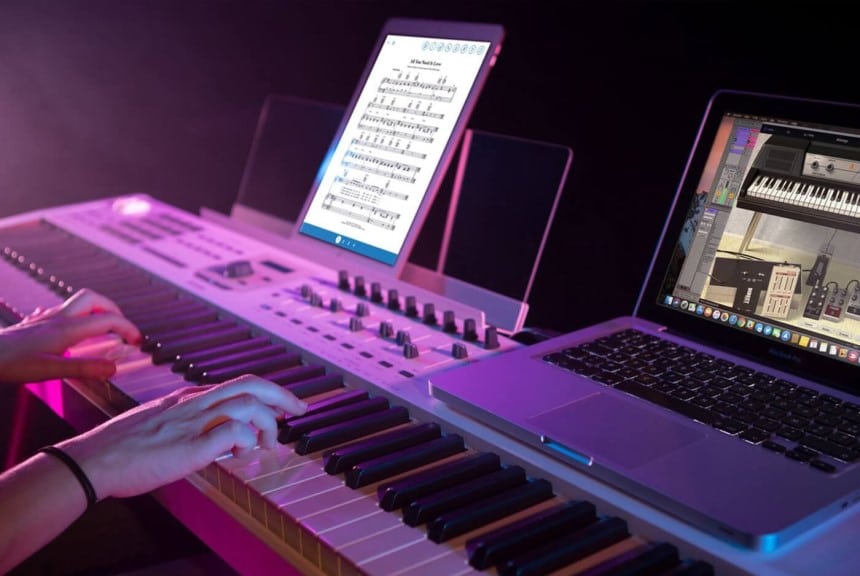 Arturia comes second to none in terms of software bundles. It doesn't offer the widest range, but you get the perfect one for the controller. The Arturia Keylab 88 MKII comes with a copy of the Ableton Live Lite and Arturia's Analog Lab. If you are an electronic music producer, you will make the most out of the popular Ableton Live Lite. Ableton is one of the most acclaimed DAWs Trusted Source Most Popular DAW Software – Which DAW Do Most Producers Use? – Musicians HQ It wasn't too long ago that this was a significant barrier to wannabe music producers, you needed to hire a studio and have lots of… musicianshq.com by most music-producing experts. After you have installed the software, it will only take you a minute to fully integrate it.
Keep in mind that you get a full copy of Analog lab, which is one of the best collections you can ever get for free. It includes up to 6500 modern and vintage keyboard or synth sounds that are already mapped to the controller.
Build quality
The Arturia Keylab 88 MKII boasts a solid build quality and is incredibly durable like its predecessor. Its rugged build is one of the aspects that set it apart from other controllers within its range. When you lift it for the first time, you will realize it's a bit heavier than most pianos. It also looks very robust, thanks to the strong aluminum chassis and the wooden side panels used to make it.
In all honesty, the unit feels like a tank. You can punch the keys and pads without worrying about breaking them. Even the inputs, mod/pitch wheels, sliders, and buttons feel pretty solid. The sliders, in particular, are relatively sturdy. Sliders are usually considered to be very weak on controllers and highly prone to damage in transit.
Dimensions and weight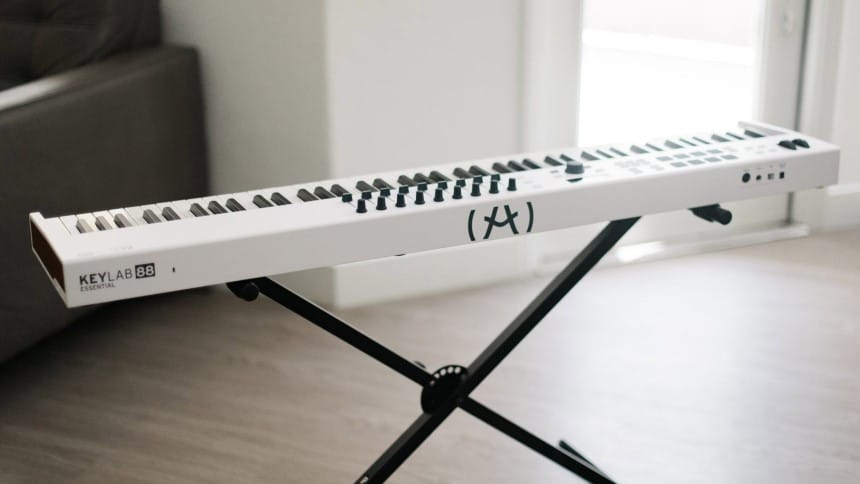 The Arturia Keylab 88 MKII is 4.4 inches tall, 50.9 inches wide, and 12.7 inches deep. The size is nearly as big as a piano but easily portable. As for weight, it comes in at 32.4 pounds, which is also quite manageable. Although it's not the best lightweight controller out there, it is one of the most durable. The high-quality materials used in its construction justify its moderate weight.
Price
The Keylab 88 MKII offers a big bang for your buck. It is a bit pricey compared to other high-end peers but is worth every single penny it costs. It is made for serious pianists or musicians looking for high-end professional production and performance-oriented keyboard controller. If you are a beginner, you may want to look elsewhere for a more suitable option with a fairer price point.
As of October 2021, the unit goes for 999 dollars. This price isn't too far-fetched considering the dramatic workflow improvements and enhanced software integration via the DAW command center offered by the unit.
On-stage setup
If you are looking to play just one instrument or a few virtual instruments, then you'd be better off getting a cheaper controller. It wouldn't have all the fancy features the Keylab 88 MKII comes with, but there's no sense in paying for them, yet you won't use them.
The Keylab 88 MKII is the ultimate controller you can get for the perfect stage setup that needs to be able to utilize and manipulate a lot of software accurately and quickly. It comes with a laptop and music stand that any modern musician would find super-convenient.
PROS
CONS

Highly responsive and less noisy hammer-action keys
Great connectivity allows connection to multiple external hardware
Convenient laptop and music stand
It has aftertouch
Easy integration to popular DAWs
Superior build quality
Great software bundle
Lots of assignable controls
Easily portable

Premium price point
The display could be a bit larger
Conclusion
From this Arturia Keylab 88 MKII Review, it is quite clear that it is hard to pinpoint areas that need improvement on the controller. It is the perfect controller for any professional musician or anyone looking to produce high-quality music. You would have to dig deep into your pockets for it, but its build quality, connectivity, and easy integration to popular DAWs make it a worthy buy. Performers or producers who create music on the daily basis should consider this controller their prime option because it is all about workflow and is built with them in mind.
References
1.
Most Popular DAW Software – Which DAW Do Most Producers Use? – Musicians HQ
It wasn't too long ago that this was a significant barrier to wannabe music producers, you needed to hire a studio and have lots of…