1
Editor's Choice
Alesis Melody 61 MKII
Features
Number of keys: 61
Type of keys: lightweight
Number of timbers: 300
Power: AA batteries x 6
Dimensions: 12.4 x 37.4 x 4.1 inches
Weight: 11 lbs
Warranty: 1-year limited
More features: 40 built-in demo songs, dual and split modes, all accessories included, 2 months free live videos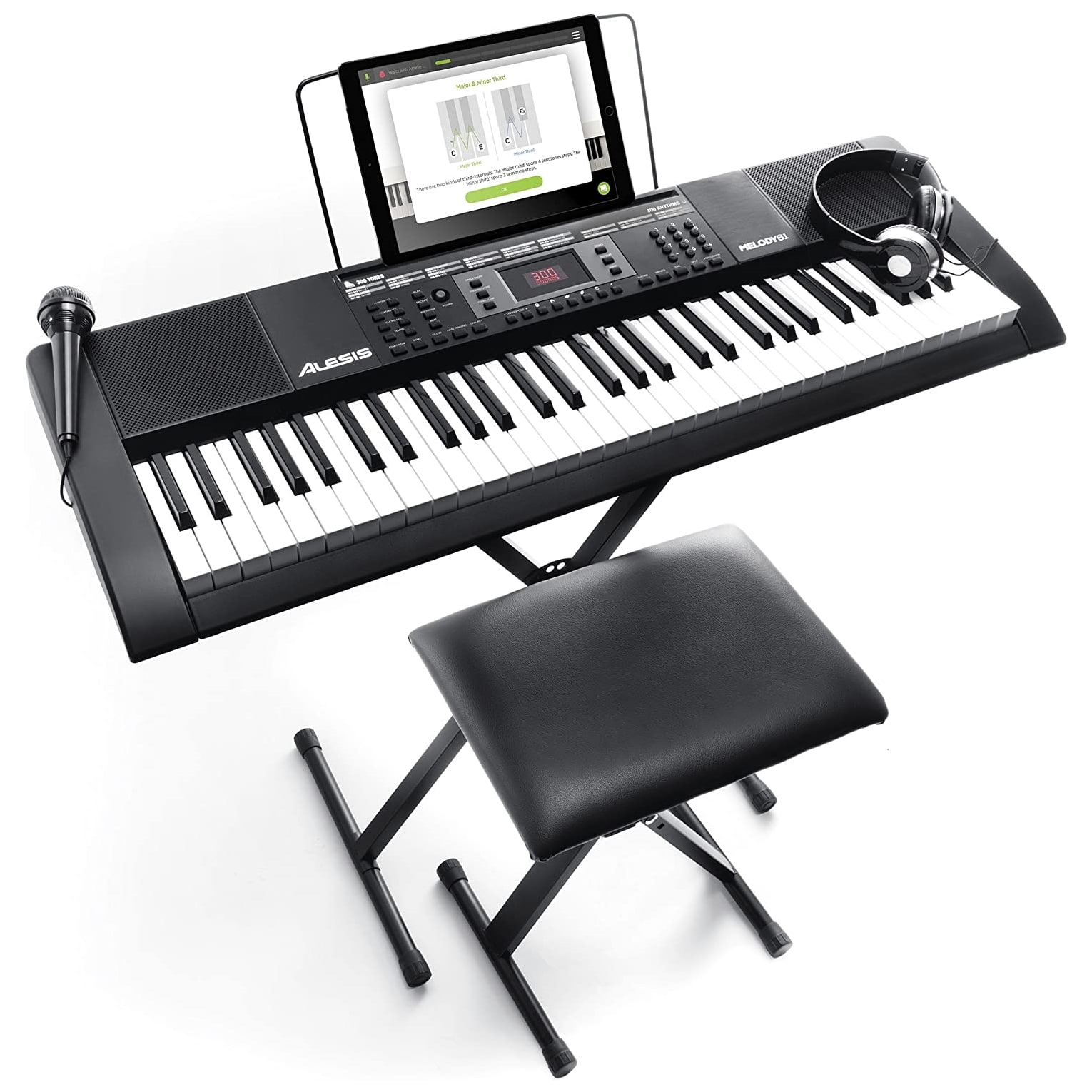 Good

The Alesis Melody 61 MKII is a portable, easy to use digital piano that comes with plenty of educational features.
Bad

It comes with just 61 keys which is cool for beginners but will likely be inadequate for professional or serious musicians.
The first model on this list, and the overall best option from our testing and research, is the Alesis Melody 61 MKII. Alesis is one of the most popular manufacturers of musical instruments on the market today, and the Alesis Melody 61 MKII comes with plenty of useful features that make it an excellent pick. If you are looking for a portable unit then you will have a grand time with this model. While it comes at a relatively cheap price, you will discover that it has almost everything you could ever want from a digital piano.
Let us know consider the top features of this excellent model. First, the Alesis Melody 61 MKII comes with recording and playback function. One of the features that set digital pianos apart from other types of pianos is the ability to record and playback the recording, and the Alesis Melody 61 MKII is no exception. With just the push of a button, you can start recording your music. Aside from that, we also love that it comes fitted with a microphone. This features makes it the perfect companion for any musician. The microphone feature is easy to use. All that is required from you is to plug the microphone into the piano and press the recording button. This doubles as the playback option as you can listen to yourself after making music.
One of the best things about the digital instruments from Alesis is that they all come with educational features. This makes them to be an excellent option if you are a beginner. The Alesis Melody 61 MKII comes pre-loaded with up to forty demo songs and over 300 accompaniment tunes. Therefore, you can get started on playing as soon as the product is out of the box. That is not all. This digital piano also offers you a three month subscription to the very useful and educative Skoove tutorials. This will help you get the hang of the piano and get you playing tunes in no time. The online tool contains plenty of music across genres.
Another thing that makes the Alesis Melody 61 MKII an excellent model is that it is flexible and easy to move around. It weighs just 8.7 pounds, which is light enough for you to carry it around without plenty of hassle. Additionally, the model comes with a foldable bench and stand.
2
Budget Pick
Tencoz Digital Music Piano Keyboard
Features
Number of keys: 61
Type of keys: n/a
Number of timbers: 16
Power: DC adapter
Dimensions: 25.9 x 7.5 x 2.8 inches
Weight: 2.84 lbs
Warranty: 1.5-year limited
More features: 8 kinds of percussion instrument recording, 10 kinds of rhythm, 6 demos, for kids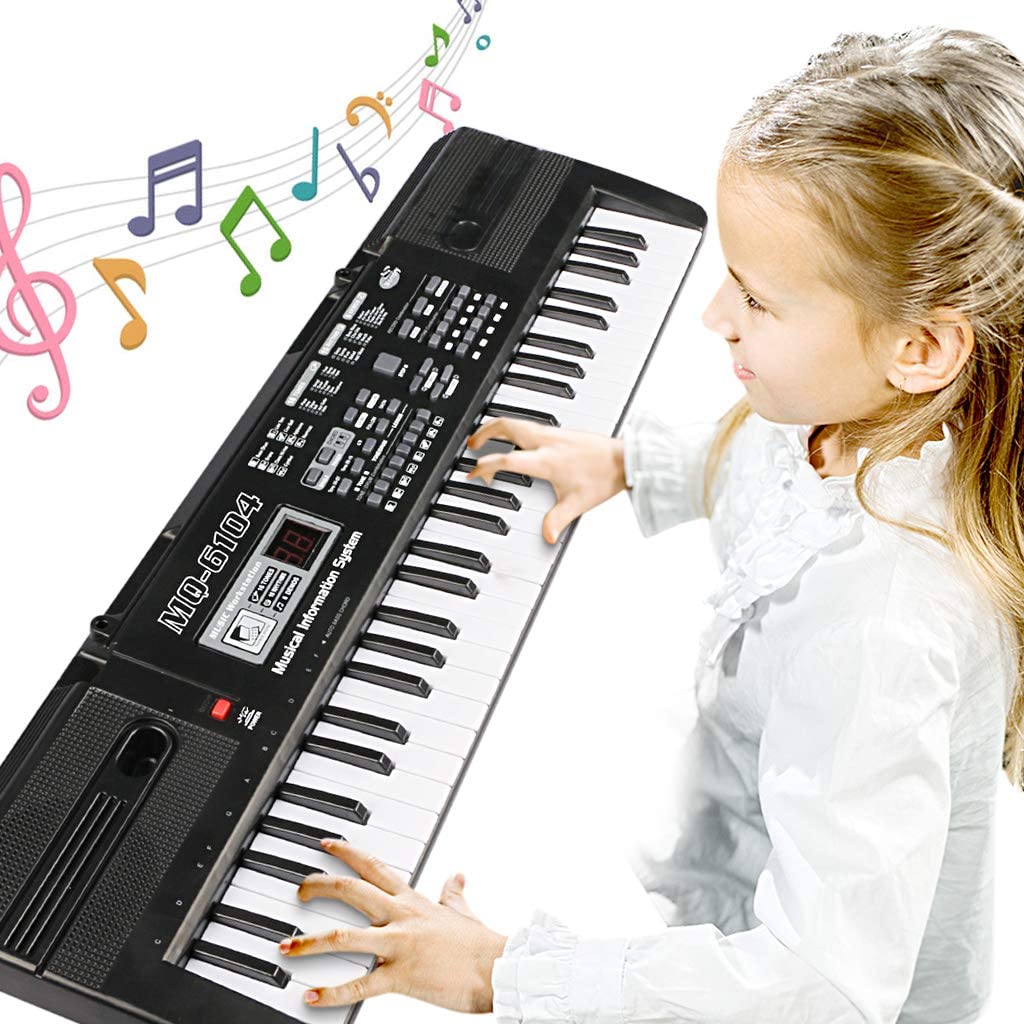 Check price
Good

The Tencoz Digital Music Piano Keyboard serves as a good introduction to the world of playing music. It is portable, easy to use, and very affordable too.
Bad

Well, it is a very simple digital piano that is best suited to children and complete novices. It doesn't come with learning software or tutorials to help you learn how to play.
While all of the digital pianos on this roundup come at a low price, the Tencoz Digital Music Piano Keyboard is our budget pick. This piano is very affordable, and similar to the models we have reviewed so far, also comes as an entry level piano that is superb for beginners and children. It comes as a 61 key piano, which might not appeal to professional players, but would be excellent for those just learning to play. The reduced number of keys also means that you have a unit that is compact and portable.
Part of the appeal of this unit, aside from the attractive price, is that you get some features found only in more expensive models. Take for instance, the recording and playback functions. These allow you to play and record your music.
The build of the Tencoz Digital Music Piano Keyboard also means that it is a top rated model. The construction is free of any dangerous chemicals and toxins and the plastic used is friendly on the environment. There are several in built sound here, although it isn't as rich as those found in the units we have reviewed above. The Tencoz Digital Music Piano Keyboard comes with just eight percussion instruments recording, ten rhythms, 16 timbres, and six demos. While these are cool, they are limited.
The external microphone included is one of the several accessories that accompany the Tencoz Digital Music Piano Keyboard.
The Tencoz Digital Music Piano Keyboard is an absolutely delightful way of learning how to play and your kids will love using it. It is completely portable and can be carried around with plenty of ease. The playback function means you can play back your work , make improvements, and get better. There is also a demo mode that will even make you more inspired as you play. With the eight musical sounds to choose from, you kid will enjoy playing on this piano. Additionally, there are keys that correspond to music tones and help your kid get all the knowledge needed to play as well as having fun.
Due to the portable size, you can easily put it away when you aren't using it. It is battery-powered, which makes it even easier to use on the go. And there are power saving features that come in handy when you aren't playing the device. One of the best things that it has which will be great for your kids, is the sound mat.