The Garagekey MIDI keyboard is compact, cheap, and has the functionality to deliver as a beginner keyboard controller.
Arguably one of the most miniature keyboards at this classification, the Garagekey MIDI keyboard was designed and constructed with a greater emphasis on compactness than functionality. As such, where lightweight is enough to be easily transported, it doesn't have the range of features to interest professional or semi-professional creators.
5
Best Value
i2 USB MIDI Controller
Features
Scale mode: 1
Item dimensions (in): 27.4 × 10.39 × 4.17
Weight (lbs): 6.25
Warranty: 1 year
Other features: USB, free Miditech software bundle

Good

For starters, we really found the modulation wheel 8 controllers to be really effective. Unlike the other keyboards reviewed here, it has weighted keys that are more similar to what you might have experienced with a piano. It was also quite easy to plug into other devices and is compatible with both Windows and iOS. This connectivity plays into the general function quite nicely, considering that users would also have access to a free miditech software bundle available for downloads online.
Bad

This keyboard has backlit LED buttons for better visibility and an electronic display as well for easy usage, but all of this and some of its other features contribute to it being heavier than all other keyboards on our list. Beyond that, a major reason for complaints might be the fact that the keyboard doesn't come with an instruction manual, which we found odd. An instruction manual and compatibility with the more popular software available would make this keyboard controller significantly better.
The i2 USB MIDI controller is that keyboard within every classification that strives to give a better value for money than its more sophisticated neighbors.
As such, compared to the Garagekey reviewed above, it is about 2.5 times more expensive but would be arguably more valuable to users who are best positioned to take advantage of the features and functions it offers.
Things to Consider
If you are composing and creating music with a DAW (Digital Audio Workstation) software and virtual instrument plug-ins, you need a MIDI keyboard controller to complete your setup. However, while you might want to get any keyboard controller and get down to the business of creating content, you might find there are many options available.
Our aim here is to help you sort through all the options and find the best 37 key MIDI controller for your situation. In case you're wondering why we specified 37 key, we did so because that is just the right size to facilitate playing with two hands. So, let's get down to knowing all we need to.
What to expect from 37 key MIDI Controller?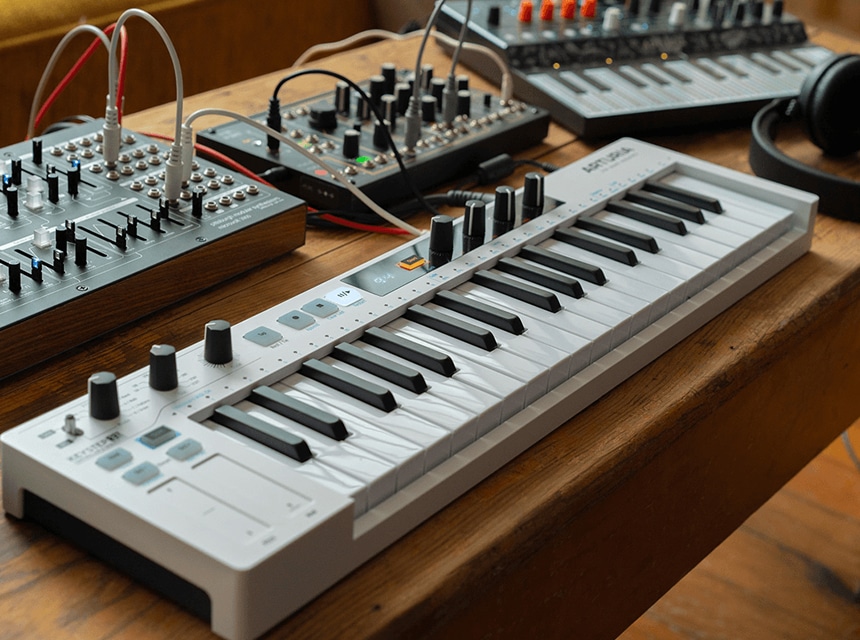 The idea behind making a MIDI controller Trusted Source A Beginner's Guide To MIDI: What Is It? How Does It Work? – Musicians HQ MIDI is a word you will see thrown around a lot when reading about recording music at home. musicianshq.com with 37 keys is to provide composers and producers with a portable controller that could deliver just as well. This is why there are variations in the functionality of controllers even at this size; hence, the expectations in terms of functions might differ.
Some people might require a sophisticated 37 key controller capable of high-end production, while others might want a beginner-friendly controller to help them get familiar with recording and producing music. Regardless of the specific goal of purchasing a MIDI controller, we have reviewed some of the best brands and models on the market and come up with our best picks for certain categories of users.
Features to consider
Regardless of expectations, though, there are certain criteria by which every 37 key MIDI controller could be judged. Some of these criteria might not be met by every single product, and some products might be suitable by every metric; the level of suitability would be determined by the situations they are to be used in and the features they possess.
We will be looking at some of the most important features to be considered when picking out a 37 key MIDI controller to purchase.
Scale mode
Different keyboards could come with scale Trusted Source scale | Definition, Music Theory, & Types | Britannica Scale, in music, any graduated sequence of notes, tones, or intervals dividing an octave. www.britannica.com modes depending on their design and the preference of the manufacturer. However, it isn't widespread to see many keyboards within the 37 key classifications come with more than 1 or 2 scale modes.
This rarity makes the Arturia KeyStep and its five-scale modes all the more spectacular.  The KeyStep even allows users to use a scale defined by them. In comparison, none of the other keyboard MIDI controllers on our list have more than one scale mode.
Item dimensions and weight
A big reason for the production of keyboard controllers with 37 keys or less is to create a more compact product that could be easily transported or adapted to serve the needs of musicians on the road. As such, the dimensions of the controller are important to potential buyers because they indicate just how much space it would be taking. On the other hand, the weight would influence the portability as no one wants to be lugging a 20 or 15-pound monster everywhere they go.
That said, if the size is the most significant factor affecting your purchase, the smallest keyboard controller on our list is the Garagekey MIDI keyboard. However, it should be noted that the limited functionality on the Garagekey is more a function of its price than its size. As such, there would be other similarly built controllers with more functionality.
Material
The material from which a product or instrument is made is usually critical to the durability, and the same goes for keyboard controllers. However, this need for durability has to be balanced by the need for a lighter build.
As such, all of the controllers on our list are made majorly from plastic, but they stay durable enough not to require constant repair work or damage upon light impact.
Warranty
In the modern world, many purchases usually have an accompanying warranty policy to serve customers in the event better that their purchase comes with some unintentional manufacturing defect. This is even more important for products, such as the keyboard controllers on our list, which have a lighter build or are more susceptible to damage on impact.
Not to worry though, all of the keyboard controllers reviewed above have warranty policies of 1 year. Chances are you wouldn't get to use the warranty, though, because the manufacturers of our picks are not known for making substandard products.
Price
Price is usually a significant indicator of overall value though this isn't always the case. Furthermore, true value would depend on just how much a user would appreciate the product (or, in this case, the instrument). For instance, a cheaper keyboard controller such as the Garagekey MIDI keyboard might be of more value to a beginner than the Arturia KeyStep because a beginner is likely to consider the KeyStep overpriced when he doesn't have the knowledge or skill to unlock its functionality.
Regardless of the price, though, if the value for money spent is your actual target, the i2 USB MIDI controller is for you.
Other features
Besides the popular features that customers look out for, more seasoned eyes are always looking for bargains. Some of these might include controllers with more connectivity options to other devices, controllers with velocity-sensitive touch, or even those that come with free software or are compatible with a wide variety of DAW software.
For instance, the Novation Launchkey comes with free software, including the Ableton Live 10 Lite, while the Korg Keyboard Amplifier is designed to be compatible with all computer-based music software. As such, both would be bargains for anyone looking for versatility in that direction.
Included components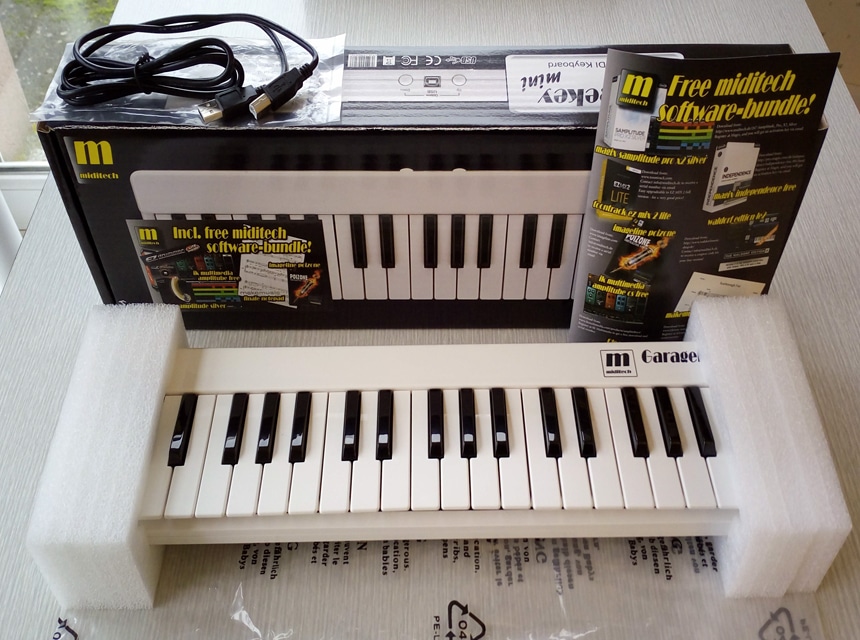 The MIDI controller features that we have outlined in this buying guide do not magically come to be but have components within the construction that make them function as they do. Some of these include:

Sound module
Buttons, wheels (such as a modulation wheel), faders (like in the i2 USB MIDI controller), and knobs
A hardware instrument with MIDI capability (in this case, a keyboard)
Keys
FAQ
What do I need for perfect sound on my 37 key MIDI Controller?
The quality of sound you'd get from your 37-key MIDI controller would depend on the build and functionality of your controller. However, if you are looking for tips on how to improve and use your controller optimally, consider fine-tuning your virtual instruments, experimenting with different ideas and sounds, and practice mixing with live instruments as well.
What is Ableton live? Is it necessary to have this software?
Ableton live is top-rated software that provides a wide variety of sounds, instruments, and effects to aid music-making and live performances. There are not many DAW software on the level of the Ableton, and if you are not into producing or managing live performances, you can opt for another DAW software. However, if you want the quality, you could simply opt for any of the available versions.
Our verdict
The Arturia KeyStep is the most functional 37 key MIDI controller on our list, and it takes its rightful place as the Editor's choice. Though it might not be as sophisticated as the KeyStep pro, it would still do musical wonders in the hand of any professional.
The premium pick of our review is one that is capable of doing more than most for its size and is spectacular in its versatility. The Novation Launchkey mainly works superbly with Ableton live 10, granting users access to more advanced control than they would with many other 37 key MIDI controllers.
What the Korg keyboard amplifier lacks in overall function and sophistication, it makes up for improved connectivity and a compatibility with music software unrivaled by any other keyboard controller on our list. It also comes with a lot of free software for users.
The Garagekey MIDI keyboard is the most compact controller that we have reviewed. However, it doesn't compare very well with the other keyboard controllers on our list in terms of functionality. That said, it would still be a good keyboard controller to help beginners get more accustomed to the basics of music-making.
The i2 USB MIDI controller is that keyboard within every classification that strives to give a better value for money than its more sophisticated neighbors. Maybe that's why despite the overall lack of sophistication compared to the top-ranked controllers on our list, it's the only one that is designed with weighted keys.
References
1.
A Beginner's Guide To MIDI: What Is It? How Does It Work? – Musicians HQ
MIDI is a word you will see thrown around a lot when reading about recording music at home.
2.
scale | Definition, Music Theory, & Types | Britannica
Scale, in music, any graduated sequence of notes, tones, or intervals dividing an octave.