The Yamaha P-125 belongs to the P series, which is way more advanced than its predecessors. However, it comes with the same Graded Hammer key action as the other Yamaha models. The P125 uses samples of the CFIIIS9 concert by Yamaha to create some thrilling sounds.
Unlike the other products that we reviewed, this keyboard has a 192 voice polyphony and 4 speakers of 14W. It also features a 2 track MIDI recorder, line out jacks and split mode, which allows you to play a different sound on either half of the keyboard. To add on to that, the Yamaha P-125 offers its users smart compatibility with its Yamaha owned app, Smart Pianist.
A great feature of this keyboard is its USB connectivity. This means that with MIDI and audio transfer you would only need a single cable to connect to your production software. There are up to 14 buttons located on the front of the keyboard with LED indicators to show which function is currently being used. Besides that, it comes with a stereophonic optimizer feature, which basically alters the sound to make it appear more real and engaging.
5
Best for Beginners
Casio Privia PX-770
Features
Keys: 88
Sounds: 19+
Dimensions: 53.4 x 11.75 x 32.8 in
Weight: 69.4 lbs
Warranty: 1-year limited
More features: weighted hammer-action keys, stereo speaker system, recording system, USB connection, app-compatible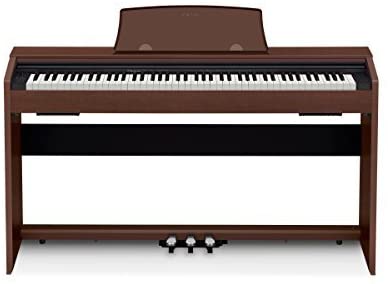 Good

The simple nature of this worship keyboard makes it suitable for teaching the gospel.
Bad

Requires two people to assemble
The PX-770 is yet another addition to Casio's Privia range. Along with its great features, it is also their most affordable digital piano so far. The cabinet has a well finished wooden texture and a minimalistic compact design. Comes with three pedals and a triple sensor hammer action keyboard. The keytops here are also plated with ivory and ebony.
This model incorporates Casio's Air Sound Source, which features increased memory capacity. This in turn allows for better samples and an even more accurate sound. It also features a 128-voice polyphony and a total 19 sounds to play. Besides that, Casio fitted a new sampled Grand Piano tone.
Other effects such as reverb and chorus have different settings that you can use to add tone and pitch variations. The Casio PX-770 has 2x12cm speakers with 2x8W amplifiers, producing enough sound to play casually but not for live performances. It has a concert play feature that lets you play along a recording of a live performance, which is a bonus for church settings.
Things to Consider
Buying a keyboard can be quite a challenge, whether you are making the purchase online or at a physical store. The market is currently full of many brands, all promising to deliver unmatched quality. To make this selecting process faster and easier, you need to understand what is important to consider when buying a church keyboard. What unique features will you need more of, particularly in worship, as compared to other types of music genres.
How keyboard for church differs from the rest
When selecting a keyboard for church, you need to remember that this is a live setting. The type of keyboard you select should have the relevant features for live, outdoor play. The quality of sound from a church keyboard differs from your regular use keyboard because of the hall-like set up of the church building. Different settings have to be applied to make the sound richer and fuller. Church keyboards have weighted keys that are more in resemblance to the acoustic piano.
Tips for worship keyboard users
Not everyone is a professional at playing the keyboard. Whether you are a novice or have some few years under your belt, there are some tips you should consider when using your keyboard. These include;
Be willing to explore the many different sounds on the keyboard. You can try out piano or electric piano patches or use the already inbuilt effects to give the song a better feel.
Padding is also a great addition when playing worship. Even on the simplest chords, playing pads will create a warm musical cohesiveness that is very important during worship.
Another great tip to keep in mind is less is more when it comes to worship. Sparse and clean playing creates a more inspiring and powerful effect on the congregation than the extra busy playing.
To give the sound more ambiguity and space in the room, you can replace the full triads (1,3,5) with the sus2 chords (1,2,5)
Features to consider while buying the best keyboard for worship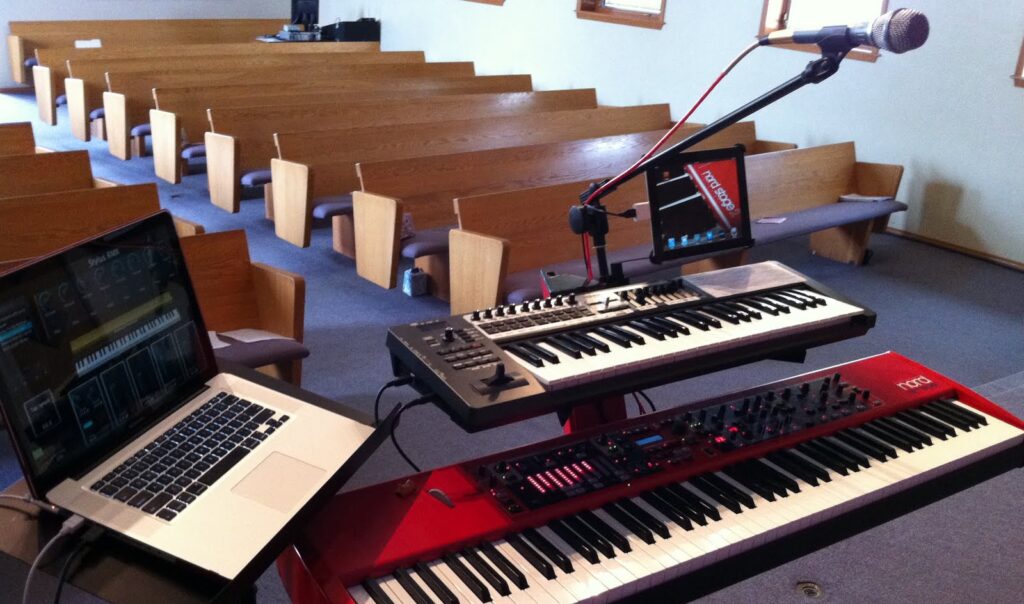 You should not just buy the first keyboard for worship that you find. Here are some important features to consider before you remove your credit card.
Keys
There is a vast range of keyboards with different numbers of keys ranging from 25 to 88, like the acoustic piano. The number of keys you have on your keyboard will depend on the available physical space and the type of music being played. We recommend choosing a keyboard with at least 88 keys for the best quality sound.
There are also different types of keyboards when you look at the keyboard's response to touch. Each type of action provides a different feel for instance weighted, hammer action and semi weighted. The weighted and semi-weighted keyboards have a similar response with the traditional acoustic piano. Church keyboards with hammer action employ actual mechanical hammers to enhance the keys' response. The CP88 and the Roland RD-2000 are made with this key action technology.
Pricing
The pricing is another important factor to take into consideration. You want a keyboard for church worship that fits within your budget and/or saves you from extra charges. Basically a keyboard that incorporates many features into it so you do not have to purchase many external accessories. The price of the keyboard largely depends on how close in resemblance it is to the acoustic piano. Also, the more expensive it is means higher quality samples and speaker systems. From the examples highlighted here, the Casio is the most affordable but it has the least features.
Portability
For a church keyboard, whether or not it should be portable is unique to every situation. If portability is required, the best option will be the Yamaha CP88. Reason being, it lacks the internal speakers and is therefore very light in weight. It is much more convenient when you have to host outdoor church events and programs. In case there will be no need for movement, the rest of the models can be considered.
Connections
Most keyboards on the market currently can be connected to computers, laptops and smartphones. This gives the player access to added features like cloud storage, recording and music collaborations. The connections could be through USB, MIDI, mLAN or any other interface whether external or in-built.  As you are playing live in church, you would also want to consider a keyboard with audio inputs and outputs to connect to mixers and external amplifiers.
Sounds
When buying a keyboard for worship, you are looking for a keyboard with rich and full high-quality sounds. The best keyboard for worship offers maximum polyphony, which is the highest number of individual notes it can produce at one time. Most range between 64 and 128, however, the best polyphony is 128. It would also be wise to choose one with a broad range of melodic and rhythmic instruments, as well as effects such as reverb, delay and chorus. For instance, the Yamaha CP88 and the Roland RD-2000 both have a 128-voice polyphony.
Dual or split voice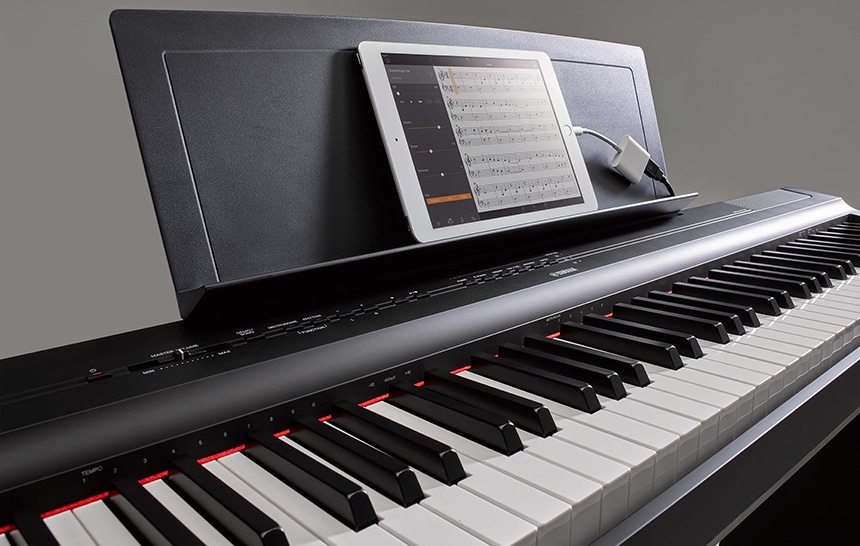 A good church keyboard comes with the Dual and Split Voice feature. In dual voice mode, the entire keyboard plays similar sounds on either side. Most of the keyboards on the market offer a dual voice feature. The split voice effect, on the other hand, enables you to play one voice on one half of the keyboard, and a different voice on the other half. The split voice mode comes in handy if you would like to integrate two songs or to change songs without any stops. YAMAHA P125 comes with this split mode to allow you to listen to two different sounds.
Software
There are two main types of keyboards. These include standalone keyboards for worships with built-in sounds and midi controllers that use software hosted on your laptop. If you would like a quick plug-and-play instrument then you should go with a standalone keyboard. However, if you would like to get a keyboard with a wider range of sounds then you can use one with software. You can then use the software to create more sounds from your computer. Some keyboards like the YAMAHA P125 come with an integrated app to improve how you work with the keyboard.
Recording feature
A keyboard with an in-built recorder allows you to record the audio output and save it on an external drive. The recording is frequently in mp3 or WAV format thus you won't need any special software to playback the recording externally. You can use this feature to record worship or practice sessions and use it to become a better worship player. Be careful not to purchase a keyboard that lacks this feature in case you would need to use it. The Casio PX-770 for instance, lacks this audio recording feature.
Velocity Sensitivity
When selecting a keyboard for worship, ensure to look out for the Velocity Sensitivity feature. It gives variations in volume and attack based on how hard you press the keys. This is an important feature during worship to evoke emotions and set the right mood to worship. Keyboards with the hammer action make most use of this feature, including the Yamaha CP88, the Roland RD-2000, the KORG SP280BK and the Yamaha P125.
Extra features and accessories
For church keyboards, some accessories like the stands, stools, cases and replacement power adapters are actually of major use. A good quality case or cover will keep the keyboard dust free and in good condition. For instance, the KORG SP280BK keyboard comes with its own cover to protect against dust. Sustain pedals are also a good buy in order to make most use of the church digital piano. You can find these on the Casio PX-770.
FAQ
Are keyboards with weighted keys better for church worship?
Yes. Weighted keys are made to closely resemble the traditional acoustic piano keys. Little hammers have been added under each key to create the resistance. The length of keys is much longer in the weighted keys' keyboards, which pull back the pivot point, making it way easier to play up the keys. For this reason, weighted keys are the best in helping develop fine finger strength and technique. When it comes to worship, weighted keys are the better option due to the quality of sound they produce. They also have a volume sensitivity feature that directly relates the amount of force applied on the key to the volume of sound produced. This is particularly useful in worship to prevent a monotonous tone.
How durable are church keyboards?
While digital church keyboards can last for years, they are still far off in comparison to the acoustic pianos which can last for decades. They are susceptible to breaking, wear and tear. With the rapidly advancing research and technology, improved versions of keyboards are always being launched. For this reason, these digital keyboards for worship become obsolete quickly. That is one main contributing factor to their relatively short durability as compared to the traditional acoustic pianos.
Our verdict
Our first pick for the best Keyboard for Worship is the Yamaha CP88. This beautiful piece uses natural wood keys designed with the weighted hammer action. The keys are made with triple sensor technology and an incredible 128 voice polyphony. It comes with no internal speakers so is conveniently light to move around with.
Second on our list would have to be the Roland RD-2000. It boasts of the highest number of sounds on the list, at 1100 sounds. The keys are also weighted and it is compatible with your USB card. This Roland is equipped with LED status indicators and all the important knobs and accessories are set up front for ease of access too.
Our best value pick is the KORG SP280BK. It has a very stylish design with a newly introduced folding metal that's easy to attach. It also has a sampled grand piano sound to it, which is highly advantageous in a church keyboard. Aside from being affordable, it is relatively light in weight and includes a damper pedal.
References
1.
6 Important Differences Between Performance Music And W... | Pivot | A Blog by Karl Vaters
In performance, the focus is on the musicians. In worship, the focus is on Jesus.
2.
12 Keys to Improving Worship Keyboards
How to grow your keys in your worship services.
3.
Keyboards In Worship | Technologies for Worship Magazine
So you're playing keyboards for your worship band this Sunday! Here are some proven steps and practices to help you do a great job.