The Donner DeP-20 digital keyboard is designed to transform your piano experience. The keyboard has 88 full-sized hammer action keys that make your experience very similar to a grand piano player. The weighted keys are designed to give you the best keyboard experience where the instrument's sound is totally dependent on your level of expertise. Indeed, it is the keyboard for those who wish to graduate to become grand piano players.
This keyboard boasts of having 238 voices and 128 polyphony notes. These features help make the keyboard produce vivid sounds and tunes of different instruments such as guitars and drums. The Reverb feature will further ensure that your music prowess improves with every lesson. To ensure you get the very best as far as your piano experience goes, the manufacturer has included 100 demo songs, a double keyboard and a sustain pedal.
With a weight of 25.5 pounds and overall dimensions of 56.7 x 13.8 x 9.45 inches, this keyboard is easy to carry around and won't take up all the available space. As for the keyboard's connectivity, the manufacturer has included a USB A and B ports, and MIDI option. You will also get to enjoy the ¼ jack output and the high-quality inbuilt speakers.
9
Les Ailes de la Voix
Features
Number of keys: 88
Dimensions: 52.5 x 12.2 x 30.1 in
Weight: 96 lbs
Warranty: not specified
Keys type: semi-weighted
More features: three pedals, music stand, USB connection, recording function, 480 tones, 200 rhythms, 80 songs, LCD screen, 64 polyphony voices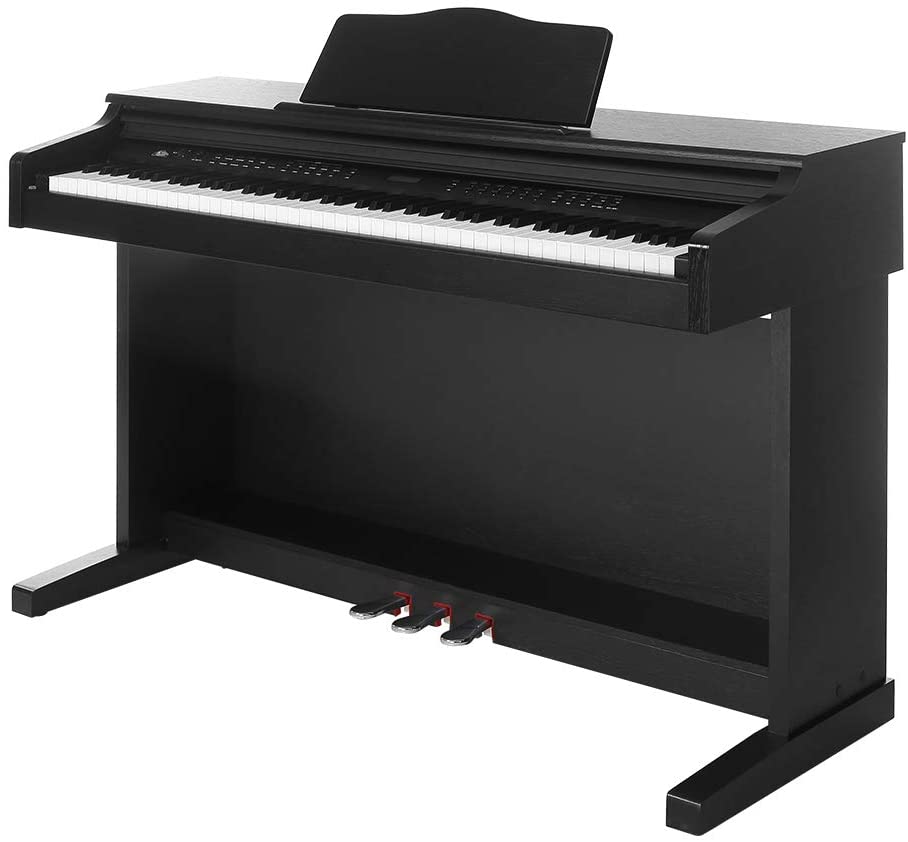 Good

  The manufacturer of this keyboard has gone an extra mile to include a plethora of accessories such as headphones, score clip, piano paste, learning night light, polishing cloth and a power adapter. The number of tones and voice included is of big convenience too.
Bad

There is nothing not to like about this keyboard. But we can point out that the stand might not be ideal for tall guys.
The Les Ailes de la Voix keyboard has been designed by the best. The black and white cheap digital keyboard boasts of 88 semi-weighted keys. The piano embraces digitization sampling, which offers the player and the audience spectacular vivid acoustic experience. With three metal pedals; soft pedal, sustain pedal, rear sustain pedal the player can deliver sustained notes and gain a partial damper effect.
This keyboard comes with 480 tones and 64 polyphony notes, making it one of the best in the market. Also included in the keyboard are 200 rhythms, and preset 80 songs. The multi-tone selection mode, sound adjustment feature and the metronome function accentuate the keyboard's appeal.
The manufacturer of this digital keyboard has invested in it to ensure that you get the best value for your money. There is the USB/MIDI port, headphone jack, and a cool pair of headphones for excellent connectivity. It is not the lightest nor the smallest keyboard out there at a weight of 96 pounds and measuring 52.5 x 12.2 x 30.1 inches. However, this makes it an ideal instrument to have in your studio or home.
Things to Consider
When it comes to buying a digital keyboard that costs less than 500 bucks, you should be a little bit more attentive to what features such a keyboard has to offer. In our guide, we have described the different leading digital keyboards. We are now going to explore the numerous features that you must consider as a buyer. We have further looked at a few FAQs that tend to bother many keyboard enthusiasts.
What to expect from a cheap digital piano?
Things might be tight, and your ability to afford plush stuff is dwindling. This may force you to consider buying a cheap digital piano. While there is nothing wrong with buying a cheap piano, it is essential that you first note that it is not a great idea to go for the cheapest option. We suggest that you first establish your musical needs before venturing out to shop for this instrument. Once you know what features are more important to you, you will be better positioned to trade some features for others in a keyboard. This way, you will end up with a cheap keyboard that works for you.
A cheap digital keyboard should offer you some basics, though. For starters, your keyboard should have at least 61 keys. It doesn't matter whether the keys are weighted or not, the quality of the sound that such a keyboard produces is directly dependent on the number of keys present. There numerous pianos with 88 fully weighted keys, though. A cheap piano should afford you USB connectivity, but a good number of them come with MIDI connectivity too. You should expect the piano to have polyphony notes, metronome, and have layer and split mode. Portability should also be a factor to consider.
Tips for electric piano beginner players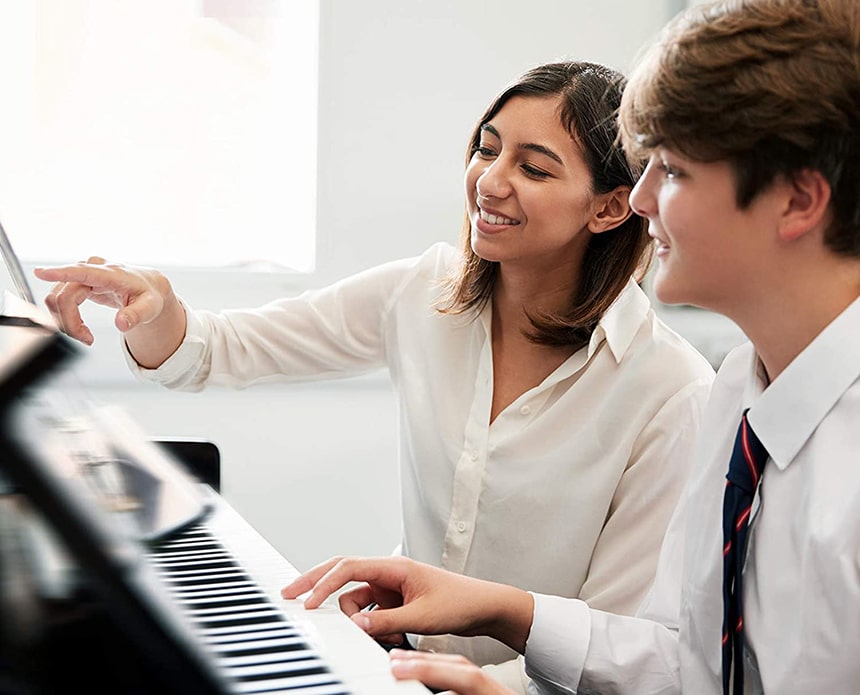 You simply can't buy a keyboard and expect to be a master in a day. For this reason, you must be ready to learn the basics and then do a lot of practice to perfect your performance. When you invest in a digital piano, some of the basic things to do are learning the equipment, understanding the pattern, learning the chords, and practicing the hand dynamics. In short, there is a lot that you should do before you can reach the pro stage. However, you can shorten the route to becoming an accomplished pianist by following some of the following tips. These tips include;
Believe that you can succeed
Be patient and avoid becoming frustrated
Practice, practice, and practice again
Learn from your mistakes
Go for piano lessons
Let us take a random song and try to play it. Let us pick 'All of Me' by John Legend. This song involves some fundamental steps yet the melody is captivating. All you need to do is to play each line twice. You will need both your right and left hands. Your right hand should press two keys while the left will press a single key.

Simultaneously, press F flat with your left hand and with the right-hand press F, C.
Secondly, use your left hand to press C sharp and the right-hand press C sharp and F
Continue by pressing G sharp with the left and with the right go for C and D sharp
Finally, with the left press D sharp and with the right press A sharp and D sharp.
How to pick the best digital piano under $500
When picking the right digital piano that will help you achieve your musical goals, it is imperative that you first determine vital features that your keyboard must come adorned with. Some factors, such as your level of expertise and our budget, must also be considered to get the best digital piano that money can buy. Here are some key factors to consider;
Number of keys
Usually, a digital piano will come with 88 keys. However, you will find pianos with lesser keys such as the Casio Casiotone CT-S300 and the Roland GO:KEYS GO-61K which come with 61 keys. The lower the number of keys on your piano, the fewer the octaves you get to enjoy. However, the 61 key piano is ideal for a beginner.
Key type
When buying a digital piano, you should consider the type of keys it comes with. The acoustic pianos are equipped with hammer action keys. This means a hammer will strike the strings in the piano hence making the intended sound or note. For the weighted keys, there is some weight placed underneath the keys hence making it well regulated. The keys tend to spring back quickly and fast, making such a piano ideal when you are playing keys fast. Professional pianists prefer weighted pianos. Semi-weighted keys use weights and springs. Though they may be a lot easier to press, the keys tend to be sluggish when returning to the default position. While weighted keys are beneficial for building finger strength, the non-weighted pianos offer precision and are suitable for rhythmic playing.
Dimensions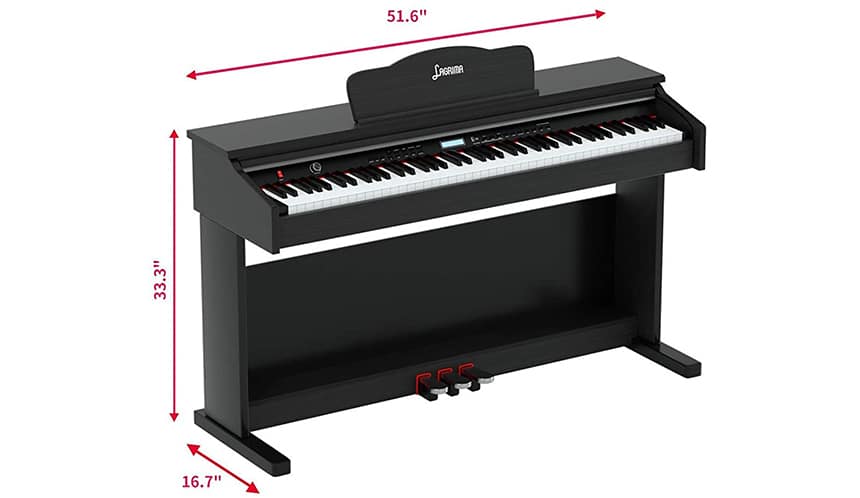 Your best digital piano dimensions are important because they determine the amount of space you should have for the instrument. Unlike the acoustic pianos, digital pianos are generally smaller and are easily portable. You will find the featured pianos come with a length of between 34 and 60 inches. Yamaha P71 boasts of a 58-inch length while Roland GO:KEYS GO-61K has a length of 34 inches.
Sound quality
When it comes to the piano's sound quality, you must pay close attention because this is where your music is made or broken. When you play your tunes, the speakers will let you know how well or poorly you are doing. If the speakers are of low quality, it might be difficult to know whether you are doing fine or bad. The sound amplification should also be impeccable to allow you to produce crisp music. Some of the pianos come with 1/8″ and 1/4 "jack ports for headphone connection.
Controls
Your piano can come with a layer or split mode. These features allow you to teach or be taught using the same keyboard. These features also make it possible for two people to play a song using the same keyboard. The other control features to consider include metronome, octave shifting and reverb feature which can be found in the Alesis Virtue piano.
Pedals
Piano pedals are usually foot-operated levers that are located at the base of a piano. They are designed so that they alter the piano's sound in several ways. In the featured pianos above, you will find that three pedals are the standard number. These pedals that usually start from the left end are soft pedal, sostenuto pedal and the sustaining pedal, also called damper pedal. You will find some of the featured pianos don't have a sostenuto pedal but a muting or silent pedal instead.
Connections
As for connectivity, the most common is the USB port. Sending your MIDI data to your computer should easily be done using a USB cable. As you may have noticed, there are two types of USB connectors; Type A and B. The Type A USB which is also called USB to device directly connects your piano to external memory storage devices. The Type B USB, also known as the USB to Host connector, is meant to link the piano to computers. Some pianos such as the Roland GO:KEYS GO-61K affords the user Bluetooth connectivity.
Guarantee
The guarantee offered by the seller or the manufacturer of a piano goes a long way at reassuring you of the product's eligibility or genuineness. Of course, the more extended the warranty, the better it is for the buyer. Therefore, you will find both Yamaha pianos boast of a 3-year warranty as is the case with the Korg EK-50. You may be forced to become skeptical about the LAGRIMA LG-8830, as the warranty information is not readily available.
Accessories and extra features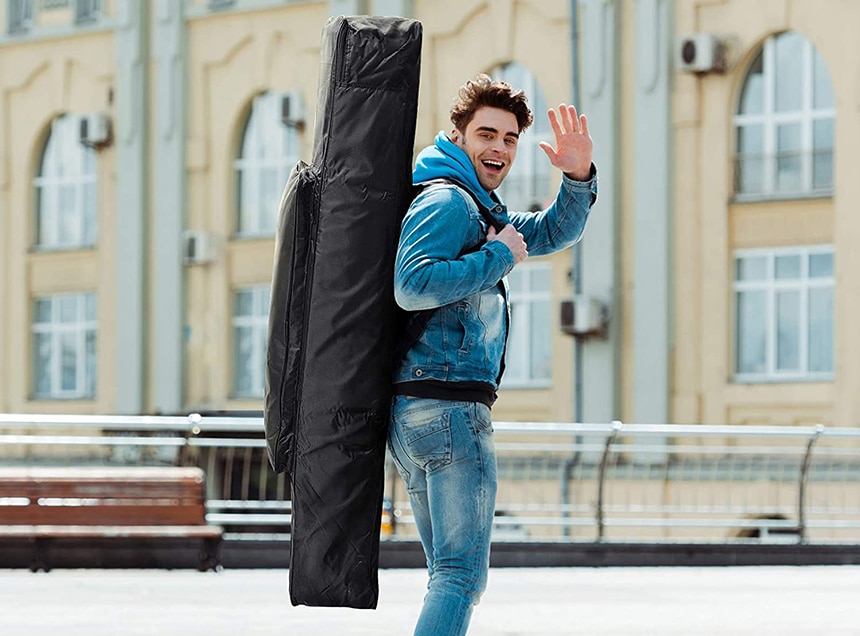 The accessories or the extra features that a certain piano comes bearing might very well influence your buying decision. In this review, you will find pianos with extras such as headphones, piano paste, polishing cloth and power adapters. The Les Ailes de la Voix offers you a cool pair of headphones among other accessories.
FAQ
Which is the best cheap piano keyboard for worship?
When it comes to worship, good worship tunes that will make your soul reverberate, the Yamaha P71 is definitely the digital piano to go for. Though the
Alesis Virtue
and the
LAGRIMA LG-8830
will certainly not disappoint, the
P71
stands out with its cool features. This piano comes with a sustain pedal and uses the mains power is designed to produce the greatest tunes you can think of. Besides having high-quality speakers, the piano boasts of 88 weighted keys and contains 10 different sounds. It is slim and can be connected to a computer using the type B USB.
What is the best beginner electric piano under $500?
Even though different digital pianos offer you different experiences, the
LAGRIMA LG-8830
keyboard is best suited for beginners. With its 88 weighted keys, this instrument affords you USB connection, 200 rhythms and 80 demo songs to help you learn the ropes. Though a bit heavy, it is an excellent investment as you can quickly graduate from playing it on to the acoustic piano.
Are cheap electric pianos fit for being used in schools?
Yes, they are suitable for use in schools. Many of the featured pianos come with layer and or split modes which allow a teacher to teach a student. The electric pianos are easier to learn, and a student will have an easier time when they want to start playing the grand piano.
Our verdict
Our editor's choice is the Yamaha P71 piano. This piano distinguishes itself from the rest by having 88 fully weighted keys. The piano boasts of dual-mode, sustain pedal, sheet holder and 64 different polyphony notes. Its light and this makes it an easy instrument that you can carry wherever you are going.
The Alesis Virtue piano takes second place. This piano affords you 61 semi-weighted keys. It will become your best digital piano under 5000 simply because it comes with 60 built-in songs, 400 tones, an LCD screen and a whole array of cool features. It is lightweight, and this makes it an even easier piano to carry than the P71.
For the best value digital piano, the Casio Casionote CT-S300 definitely captures the crown. This piano will give you 88 non-weighted keys. Besides going for a very competitive price, the piano comes loaded with a plethora of extra features, including an LCD screen. The 30W speakers will help you produce the most realistic sounds.
References
1.
Roland - Digital pianos FAQ
Digital pianos FAQ
2.
How to make almost any digital piano sound like the real thing
You can make almost any digital piano sound like a real grand piano, such as a Steinway or Bosendorfer, by using great VST software.
3.
Digital Piano vs Acoustic Piano: What's The Difference?
Music Gateway battle it out between digital piano vs acoustic piano. Check it out to learn more about which is best for a beginner!