Are you a live performer? Then the Roland VR-730 is the right keyboard for you. It is particularly designed for gigs and comes with plenty of features to support you on the stage.
It is unique on this list as it comes with 73 keys. While this isn't the full 88 keyboard that can be found on other options and the acoustic piano, it is sufficient for playing songs that you want.
The design is quite nice because there are no protruding keys or stuff that might cause a snag while playing. The keys are semi-weighted, which is quite excellent if you prefer the feel of such keys. If you are looking to learn how to play fully-weighted keys, though, you should look for something else.
Next, the Roland VR-730 has more than 250 sounds, which are each marvelous. The sound engine is decent, and the unit has 128-note polyphony. You can also customize the sounds via the companion app.
9
Best Multifunctional
Roland FA-06
Features
Keyboard: 61 keys with velocity
Polyphony: 128 voices
Tones: SuperNATURAL Acoustic, SuperNATURAL Synth, SuperNATURAL Drum Kit, PCM Synth, PCM Drum Kit
Dimensions: 39-11/16″ x 11-13/16″ x 4″
Weight: 12 lbs. 10 oz.
 More features: multiple effects, 16-track MIDI sequencer, 5-inch LCD screen, 2 wave expansion slots, headphones jack, USB

Good

 It comes with a formidable sound engine, durable parts, and lovely velocity-sensitive keys.
Bad

A few people say that they wished it had more knobs and sliders.
Since we are talking about Roland keyboards, you should be well aware that this is one of the most popular manufacturers of musical equipment on the market today.
The Fantom series from the brand has been around for a while now, and it has proven to be one of the best lineups from the brand. The Roland FA-06 is one of the best options that you'll find on the market. It comes with several features, including a change in design.
Weighing 12.6 pounds, this is one of the lightest options we have found. It is much lighter than other keyboards on the market. The weight is more remarkable when you realize that it comes with full functions.
The keyboard has 61 unweighted keys that boast of velocity sensitivity. But it doesn't have an aftertouch. Using the keyboard is quite pleasant as the keys are very responsive and solid.
Under the hood is a 128-note polyphonic engine that is responsible for the impressive sounds from the unit. It comes complete with several incredible tones. There are sound modifiers and effects as well that contribute to the overall quality of this affordable keyboard.
Things to Consider
Digital pianos have become more popular than ever before. Therefore, you might be thinking of getting in on a piece of the action. In the section above, we considered some of the best Roland keyboards that you will find on the market right now. Well, by providing you with that list of the best models, we help you to narrow down your choices. In this section, we now discuss the important factors to keep in mind when you are buying a Roland keyboard.
Advantages of Roland keyboards
As you already know, Roland keyboards offer exceptional functionality. In this section, we consider some of the most impressive reasons to go for one of these products.
Portability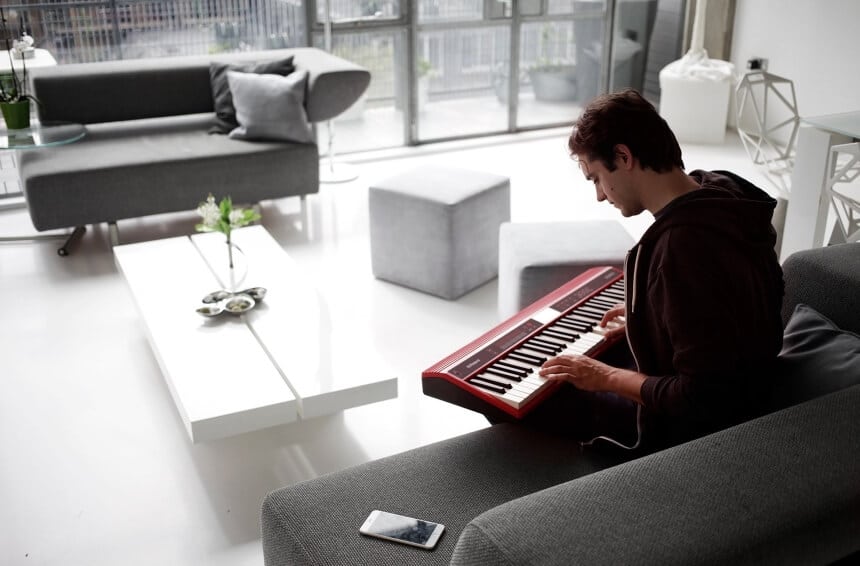 One of the best advantages of having this keyboard is that they are very convenient and portable. If you compare them to acoustic models that come with a cabinet, these often come in a heavy design. Well, Roland keyboards are lightweight and easy to carry around. They offer much better portability. If you often hit the road with your keyboard, you will find these products very useful and handy.
Cost
Some keyboards are quite expensive, especially if you are looking to buy a high-quality model. The advantage of the Roland keyboards is that they often come at a much lower price, especially when compared to your typical acoustic piano. Also, they don't require as much maintenance. With digital pianos like the Roland keyboard, you don't have to tune them.
Versatility
Roland keyboards are very versatile. While cheaper keyboards have a narrower range depending on the brand, Roland keyboards are much better in this regard. They are easy to control and give you a wider range of performance.
Additionally, with the Roland keyboard, it is possible to practice silently, something members of your household will likely appreciate.
Roland keyboards have extensive sound and come with the ability to play different instruments.
Recorder
The Roland keyboard has the ability to let you record your playing. If you are a beginner, the ability to playback is invaluable and can certainly help you to get better at playing. You can note your progress and see where you need to make adjustments. The Roland GO-61K comes with a recorder.
Connectivity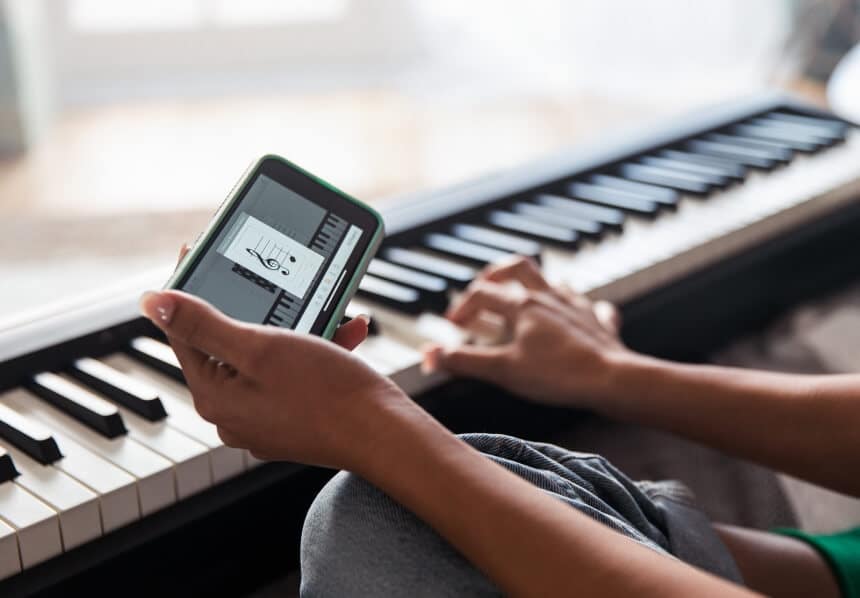 Another factor that sets Roland keyboards and other digital keyboards is connectivity. This brand offers plenty of connectivity options. You can connect it through USB, Bluetooth, and can transfer files to other devices. A great example here is the Roland FP-30-BK.
Learning tools
A great thing about digital keyboards is that some of them come with learning tools. These tools range from exercises to metronomes and access to different resources online.
All of these, when combined, make it clear that an electric piano or keyboard is better for some people than a regular acoustic keyboard. The Roland GO-61P-A comes with useful learning tools.
Features to consider when searching for the best Roland digital piano
Since there is a large number of models that you can find on the market today, it is important to know the features to check so that you can find the best option. Here are the key considerations.
Skill level
Before you decide to buy any model, it is key that you look at the features and the capabilities of the unit as well as your ability.
If you are a newbie, you will be best served by a budget model that has a nice list of features that you can easily use. As you get better, you can then start thinking of getting a more expensive or advanced model.
If you are an experienced player, the features that you'd want from your Roland keyboard would be more advanced. For instance, you might think about stuff like touch response and velocity sensitivity.
Number of keys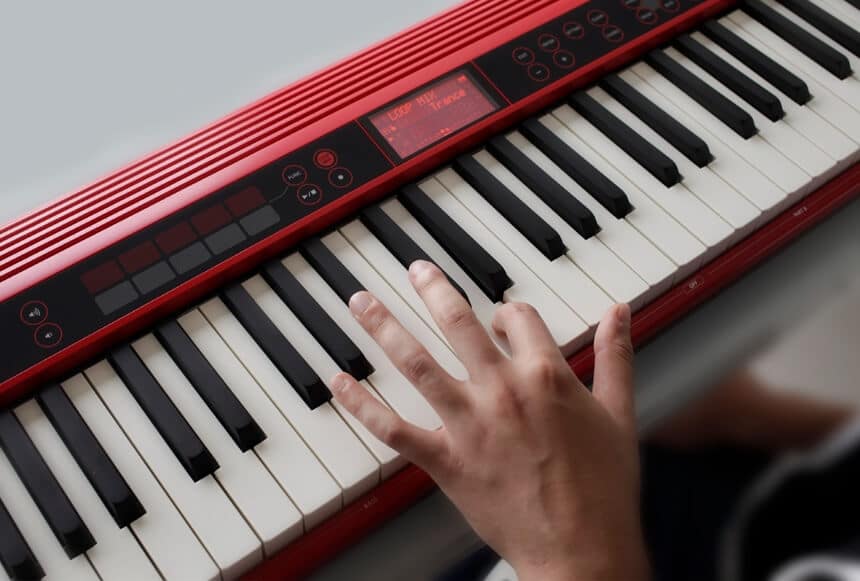 There are several keyboard sizes that you can choose from. These range from the 88 keys to 61 and 76 keys. Some are even smaller and offer 25 and 49 keys. So, which should you choose? Well, it depends on the purpose of the keyboard.
If you are just starting out, then a lower number of keys on your keyboard will be enough for you. As such, we recommend 61, like seen with the Roland FA-06, or 75-key digital pianos.
On the other hand, if you are performing live or want the best from your keyboard, then the 88 key keyboard is a good choice. An example is the Roland RD-2000.
Action and touch response
There are several features that differentiate electric keyboards like Roland from the cheaper options. One of these is the action and touch response of the keys. Just like the acoustic keyboard has resistant keys that contain wooden hammers that strike against the piano to produce sound, you can find that imitation here. If you have been playing on an acoustic piano, then you might be rightly concerned about the action of the keyboard's keys.
There are weighted, semi-weighted, and non-weighted keys. To get the response as that of a regular piano, you should go for weighted and semi-weighted keys. This type of keyboard has a small hammer action that stimulates the response of an acoustic piano.
The best options are fully weighted keys like with the Roland FP-30-BK. These feel superb and almost exactly like the keys on an acoustic piano.
Apart from the action, another thing to look out for is the touch sensitivity of the keys. The best options on the market come with this feature. Touch sensitivity means that the volume of the keyboard increases or decreases based on the amount of force that is applied to the keys. Some of the models that we have included here come with this feature.
Sound quality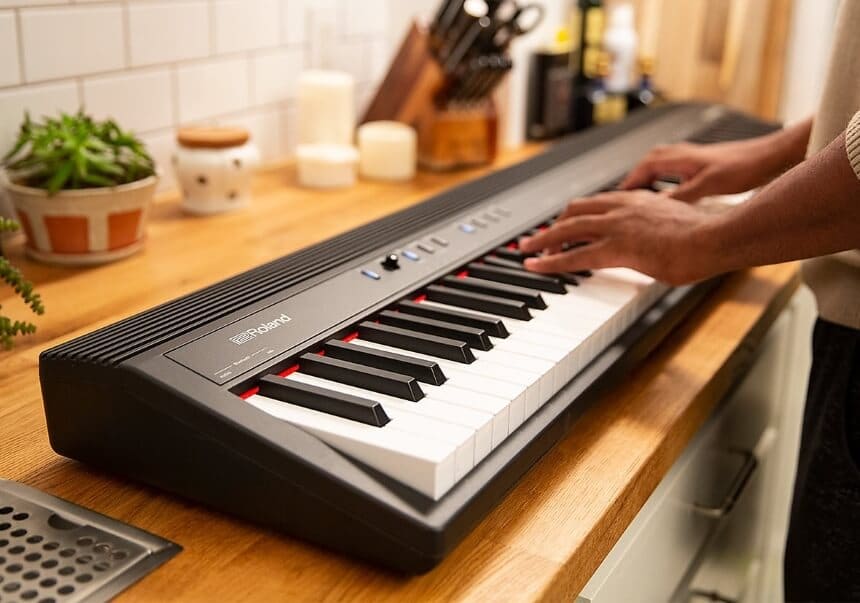 While the keys feel and other features that we have considered so far affect your experience, the sound quality is another factor that is super important.
These models employ technology to reproduce the sounds from an acoustic piano or other instruments. The sound quality largely depends on the quality of build and electronics used.
The major factor that affects the sound quality of the digital piano is digital memory. The higher digital memory means that there are more samples for the product to draw from. This, in turn, will improve the quality of sound from the unit. Apart from that, the quality of the amps and speakers will affect how good the keyboard sounds.
Polyphony
As you check out the market looking for the best Roland keyboard, one of the things that you find is that many of them specifying is polyphony. Well, what is this, and why is it important?
Polyphony is the number of individual tones that the keyboard can produce at the same time. The typical product comes with 32-note polyphony. In our opinion, the higher the polyphony number is, the better for your music will be. That is why it is great to have models that have up to 64-polyphony or even more. Some of the best options on the market can even offer up to 128 note polyphony.
Tones and sound
The typical Roland keyboard comes with the ability to play different sounds. Pianos today have the ability to play hundreds of sound samples from a variety of instruments. If you are looking to produce music, the ability to choose from hundreds of tones and sounds comes in very handy. You can tweak the effects to good use, creating unique sounds. With more tone and sounds, you'll discover that you'll enjoy playing more.
Digital sampling
To imitate the sound of an acoustic piano or some other instrument, digital keyboards have samples that have been recorded from an actual instrument. Well, as might be expected, this is no small feat. It takes plenty of effort and time to get all of the samples from real instruments. It will also require that the piano comes with enough memory to accommodate all the samples.
To that end, digital sampling is arguably the most important feature to consider when making a purchase. This factor also affects not just the sound quality of the keyboard but also the price.
Learning tools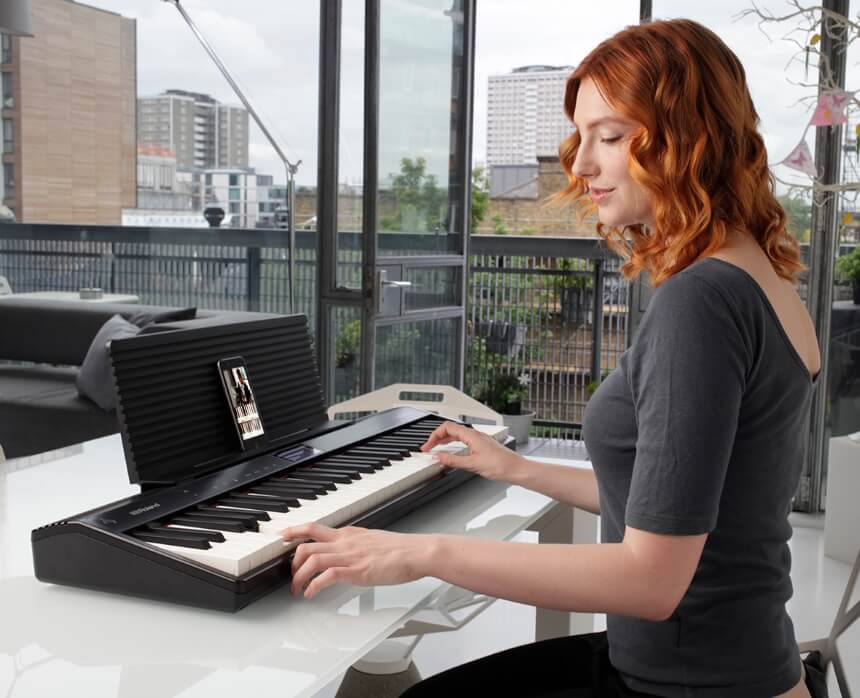 One of the reasons why we love the electric keyboard is that several models come with learning tools. These tools range from notes to online courses and so on. By following these, you can learn how to play the keyboard and get much better at playing.
Some models make learning fun as they might come with displays that show the notes that are played. You can find products with backlit keys that light up depending on what you press. Also, other units can even be sectioned off in two, so the teacher and student can play from the same keyboard simultaneously.
Speakers
Are you looking to use the piano at home? If so, you will require a keyboard that comes with the right amplifiers and speakers. Armed with these, your music would be delightful.
Some options have other connectivity options like the ability to hookup to headphones or your computer. An example is the Roland FA-06.
Dimensions
Another important consideration is the size of the unit. You should compare the dimensions of the keyboard with the dimension of the space you plan to use. You should also check stuff like the keyboard height.
In addition to the size of the unit, you also need to check how easy it would be for the keyboard to be broken down into easily transportable sizes. This is especially important if you are often on the move and prefer to have the keyboard along with you. The Roland GO-61P-A is the lightest option we reviewed.
Accessories
Another thing to consider is the accessories. The accessories that your keyboard would require depend on what you plan to use the piano for. Some of them come in the package, and you should find out what is coming with the keyboard before you make a purchase.
Some of the accessories that you might find very useful include stands and seats, cables, covers, and others. Check out the accessories that will come with your keyboard before you buy it.
FAQ
How do weighted keys on a Roland digital piano affect my playing and learning experience?
Playing on a keyboard with weighted keys is great because it recreates the feel of a real piano. It gives you a realistic experience. Additionally, it makes it possible for you to play the actual piano without feeling strange or confused. Thus, there should
not be much difference between learning to play an acoustic piano or a digital keyboard. At the same time, if you are a beginner, you might want to consider keyboards that lack weighted keys because they are much cheaper.
Can I record my own tracks with Roland keyboards?
Yes, you can. Roland keyboards come with the ability to record. Therefore, you can make your song and playback them to monitor your progress. It also allows you to transfer your files to other devices. If you wish that your instrument lacks some sounds, you can check the manual and see if you can download new tones from the official website. This might make your experience much more enjoyable.
How much do Roland digital pianos cost?
As with other musical instruments, Roland digital pianos come in a variety of prices. For example, the
Roland GO-61K
costs way less than $500. Others are more expensive. For instance, the
Roland RD-2000
can be purchased for more than $2000. Other options can be found in-between, so you can get one that suits your needs and budget easily!
Our verdict
For budget shoppers, the Roland GO-61K offers excellent value for the price. Although it is affordable, the features make it a great first keyboard for any beginner. It is portable, lightweight, and durable.
Lastly, the Roland RD-2000 might be expensive as the premium pick, but the benefits make it worth the cost. It comes with a premium design and excellent sound.
These are just two of the best Roland keyboards that we reviewed. Go through our list to find the best one for you!
References
1.
Roland Corporation - Wikipedia
Roland Corporation is a Japanese manufacturer of electronic musical instruments, electronic equipment and software. It was founded by Ikutaro Kakehashi in Osaka on April 18, 1972.
2.
6 Ways Keyboard Workstations Help Your Creativity - Roland U.S. Blog
The new FA-06 and FA-08 Music Workstation by Roland allow you to get musical ideas down quickly and easily. Here are 6 ways to improve your music workflow.