The Yamaha PSRSX900 is one of the best arranger workstations available on the market today. It features a 61-note synth keyboard with 4 selectable velocity curves, Multi Pads Creator (4 pads, 329 banks), AWM (Advanced Wave Memory) Stereo Sampling, and 128-note polyphony. Additionally, it has 1337 Voices + 56 Drum/SFX Kits + 480 XG Voices, 525 Styles, including 463 Pro, 46 Session, 6 Free Play, and 10 DJ. Finally, it has a 7″ TFT Wide VGA LCD color touchscreen that gives you immediate access to Voice and Style assignments, features, and settings. If you're looking for a top-of-the-line keyboard workstation, the Yamaha PSRSX900 is a great option to consider.
The Yamaha PSR SX900 is the Yamaha PSR SX700's bigger sister. It has a 4GB internal memory while the SX700 has 1GB internal memory. It also has a Chord Looper which is not available on the eSX700. As for the USB ports, the SX900 has 2 while the SX700 only has one. Finally, the SX900 has 351 more voices making it the far superior workstation and worth paying extra for.
9
Best Value
Casio WK-6600
Features
Sound Engine: not specified
Analog/Digital: not specified
Number of Keys: 76
Type of Keys: synth action
Polyphony: 48 notes

Good

Workstation has 600 total onboard Tones, 180 Rhythms, and Reverb plus Chorus Digital Effects-USB MIDI for connection to a computer or iPad (driver required for computer)
Layer/Split Modes for Combining and Separating Sounds
Pitch Bend/Modulation Wheel and SD Card Slot for Data Storage
The quality is very high for such an affordable price
Bad

Casio does not include a power supply with this keyboard, so you'll need to buy one separately
There is no sustain pedal input (although you can buy a separate USB
The Casio WK-6600 is a great value for money keyboard workstation. It has 76 piano-style keys and a pitch bend wheel, making it perfect for live performances or studio recordings. The WK-6600 also comes with 700 sounds, 210 rhythms, and 100 DSP effects, making it one of the most versatile keyboard workstations on the market. Additionally, the WK-6600 features a 16-track sequencer, arpeggiator, and 32-channel mixer, making it perfect for both live and studio use. Finally, the WK-6600 includes an Audio in Terminal, allowing you to jam along with your favorite tunes.
The Casio WK-6600 is a slightly improved Casio WK6500. You cannot go wrong with either, but the WK-6000 is the better pick. While the WK-6500 has 670 built-in tones, the WK 6600 has 700 tones. The latter also has 10 more preset rhythms and accompaniments at 210. They are both quite affordable workstations, but we are inclined to recommend the WK6600 for the few extras.
Things to Consider
If you're a musician who wants to create electronic music, then you'll need a keyboard workstation. These keyboards are designed for making music with sounds that are produced electronically. There are many things to consider when purchasing a keyboard workstation, such as the type of music you want to produce, the number of keys you need, the features you need, the size and weight of the keyboard, and your budget.
Type of Music
One of the first things to consider is the type of music you want to produce. Do you want to create dance music, hip-hop, pop, or something else? Different keyboard workstations are better suited for different genres of music. If you're not sure what type of music you want to make, then it's a good idea to purchase a keyboard that is versatile and can be used for many different types of music. Check out our comprehensive guide for best keyboards for making beats.
Weighted or Unweighted Keys
Weighted or unweighted keys is one of the first things you should consider when purchasing a keyboard workstation. Weighted keys are designed to mimic the feel of a real piano. They're heavier than unweighted keys, and they resist your fingers as you play. This can make it easier to develop proper technique, and it can also help you play with more expression. Unweighted keys are lighter, and they don't have the same resistance. This can make them easier to play, but some people find that they don't respond as well to dynamics.
Number of Keys
The next thing to consider is the number of keys you need. Keyboards come in several different sizes, from 25 keys up to 88 keys. If you're just starting out, then you may not need a keyboard with a lot of keys. However, if you're an experienced musician, then you'll probably want a keyboard with more keys so you can have more range.
Polyphony
Polyphony refers to the number of notes that a keyboard workstation can produce at one time. Most keyboards have at least 32 polyphony – meaning they can produce 32 notes simultaneously. Some have 64 or even 128 polyphony. If you plan on using a lot of complex sounds and layering them together, you'll want a keyboard with high polyphony. Otherwise, 32 should be plenty.
Sounds and Effects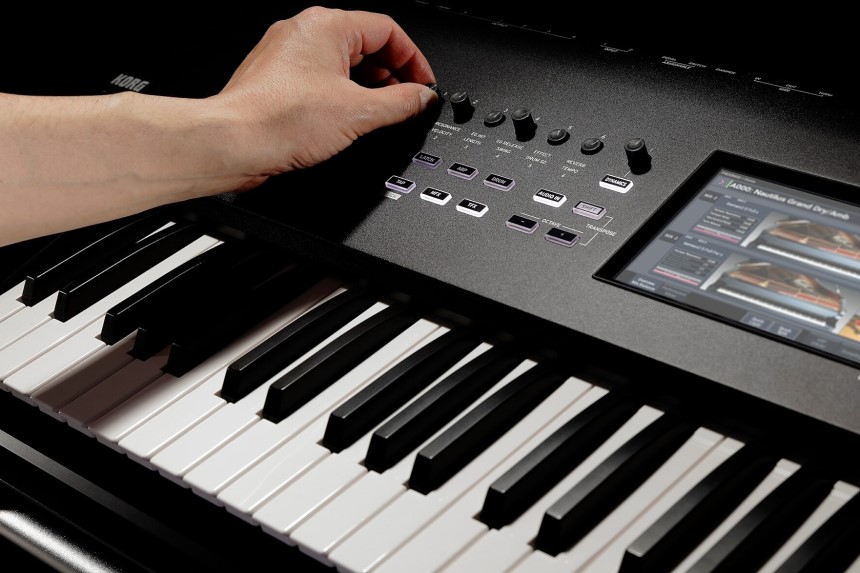 Keyboard workstations usually come with a variety of built-in sounds and effects. The number of sounds varies from model to model, but most workstations have hundreds – if not thousands – of different sounds. These include everything from pianos and guitars to drums and synthesizers. You can also usually find a variety of effects, such as reverb, delay, and chorus.
Some keyboard workstations also come with software that allows you to create your own sounds or edit the existing ones. This can be a helpful feature if you're looking for something specific, or if you want to experiment with sound design. Not all keyboard workstations have this feature, but it's something to keep in mind if you're interested in it.
Special Features
Another thing to consider is the features you need. Keyboards come with a variety of different features, such as built-in speakers, different types of sounds, and different ways to connect to other devices. If you're not sure what features you need, then it's a good idea to read reviews of keyboard workstations to see what other people are saying.
MIDI and CV/Gate Connectivity
MIDI and CV/Gate connectivity is an important feature of keyboard workstations. This allows the user to connect their keyboard to other MIDI devices, such as sound modules, sequencers, and computers. CV/Gate connectivity allows the user to control other analog synthesizers with their keyboard. This is a great feature for those who want to create complex polyphonic sounds.
Size and Weight
The next thing to consider is the size and weight of the keyboard. Some keyboards are very large and heavy, while others are small and portable. If you're going to be traveling with your keyboard, then you'll want to make sure it's not too heavy or bulky.
Pedal Inputs
Most keyboard workstations have some form of pedal input, which allows the player to control various functions of the instrument. Pedal inputs can be used to sustain notes, control the volume, or alter the timbre of the sound. Some keyboard workstations also have a pitch bend wheel, which allows the player to change the pitch of notes while they are being played.
Touch Sensitivity
Touch sensitivity refers to how the keys respond to your playing. Some keyboards have dynamic touch, which means that the harder you play, the louder the sound will be. This can be helpful for adding expression to your playing. Other keyboards have velocity-sensitive keys, which means that they register different levels of velocity (or speed) when you hit them. This can also be helpful for making your playing sound more expressive.
Memory
Some keyboard workstations come with built-in memory, which allows you to store sounds, effects, and other data on the workstation itself. This can be helpful if you want to keep your settings separate from other devices – such as computers or MIDI controllers. Some keyboard workstations also have the ability to expand their memory via SD cards or other means.
If you plan on using a lot of different sounds or storing a lot of data, you'll want a keyboard workstation with plenty of memory. Otherwise, you might not need as much.
Brand
There are many brands of keyboard workstations on the market today. Some of the more popular brands include Yamaha, Korg, and Roland. Each brand has its own unique features and benefits that make it stand out from the rest. When choosing a keyboard workstation, it is important to consider what you need and want from the device. Doing your research ahead of time will help you make the best decision for your specific needs.
Yamaha is a Japanese company that has been manufacturing musical instruments for over 100 years. The company offers a wide range of keyboard workstations, each with its own unique features. Yamaha keyboards are known for their durability and quality sound. Many professional musicians prefer Yamaha keyboard workstations for their stage performances. Check out our comprehensive guide for best Yamaha digital pianos to know more about this brand.
Korg is another popular brand of keyboard workstation. Korg keyboards are known for their innovative design and excellent sound quality. The company offers a variety of models to suit different budgets and needs.
Roland is a French company that has been making musical instruments for over 50 years. Roland keyboard workstations are known for their versatility and high-quality sound. The company offers a wide range of models, each with its own unique features. Roland keyboard workstations are a good choice for both beginners and professionals. Check out our comprehensive guide for best Roland keyboards.
Budget
The last thing to consider is your budget. Keyboards can range in price from a few hundred dollars up to several thousand dollars. If you're just starting out, then you may want to purchase a cheaper keyboard. However, if you're an experienced musician, then you'll probably want to invest in a more expensive keyboard that has more features and better quality.
How do Keyboard Workstations Differ from Other Types of Electronic Musical Instruments?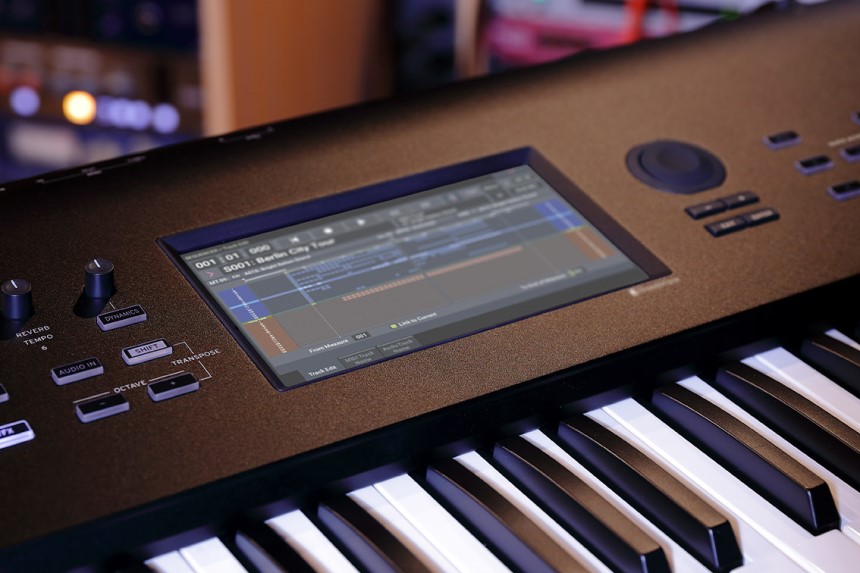 Keyboard workstations typically have a built-in computer music sequencer, which allows users to record and edit their performance. They also usually have a larger number of keys than other electronic musical instruments, making them better suited for playing complex melodies and chords. In addition, keyboard workstations often come with a range of software programs that allow users to create and manipulate sounds, as well as to control other devices such as MIDI controllers and sound modules.
Benefits of Using Keyboard Workstations
There are many benefits to using a keyboard workstation. First, they can help you keep your hands in the proper position while working. This can help prevent carpal tunnel syndrome and other repetitive motion injuries.
Second, keyboard workstations can help you stay more organized. By having all of your tools and materials within reach, you can avoid wasting time searching for things.
Third, keyboard workstations can improve your posture. By sitting up straighter, you can reduce back pain and fatigue.
Fourth, keyboard workstations can increase your productivity. When you have everything you need at your fingertips, you can work more quickly and efficiently.
Finally, keyboard workstations can make your workspace more comfortable. By customizing your workspace to fit your needs, you can reduce stress and increase your enjoyment of your work.
FAQ
Are the sounds high enough quality to play at a live gig?
Keyboard workstations are designed to give you the best possible sound quality for your performances. Many of them come with built-in speakers that will provide you with clear, powerful sound. Additionally, most keyboard workstations have multiple outputs so you can connect them to a PA system for even greater sound reinforcement.
What is the difference between the Yamaha Ps-rsx700 and the-Dgx-660 keyboard workstations?
The Yamaha PSR-SX700 is a 76-key workstation that features advanced content creation capabilities. The Yamaha DGX-660 is an 88-key digital piano that offers an authentic grand piano experience. Both keyboard workstations are equipped with powerful processors and a variety of high-quality voices and styles. However, the PSR-SX700 has more polyphony (128 vs 64) and comes with over 1700 Voices and 550 Styles. It also has an external storage option via a USB flash drive, while the DGX-660 does not. Finally, the PSR-SX700 has a larger color LCD display (7″ vs 6.3″). If you're looking for a keyboard workstation with more features and voices, the PSR-SX700 is the better option. If you're primarily interested in an authentic grand piano experience, then the DGX-660 would be a better choice.
Is there a specific software or do I have to use one for recording live performance on a PC?
There is a wide variety of recording software available, and the best one for you will depend on your specific needs. If you are looking for something specifically designed for keyboard workstations, there are a few options available. One popular option is Cubase from Steinberg, which offers excellent support for keyboards and other MIDI devices. Another option is Ableton Live, which is also very popular among electronic musicians. Whatever software you choose, make sure that it is compatible with your keyboard workstation so that you can take full advantage of its features.
Which type of keyboard workstation is the best to buy for a child?
There is no definitive answer to this question, as it depends on the child's age, interests, and skill level. However, some factors to consider when making a purchase include the size of the keyboard (so it is not too big or small for the child), the number of keys (too many keys can be overwhelming for a child just starting out), and whether the keyboard has special features such as pre-recorded sounds or built-in games. In general, simple is better when first starting out. As the child becomes more skilled, they can then move on to a more advanced model.
Our verdict
The Roland FANTOM-8 is a stunning keyboard workstation for modern musicians. It has a fast and fluid workflow, a great sound set, and plenty of expansion options. It's also aftertouch-sensitive and has a progressive hammer-action keybed with escapement for a realistic playing experience. If you're looking for a keyboard workstation that will help you take your music to the next level, the Roland FANTOM-8 is a perfect choice.
The Korg Kross 2-61-MB 61 is a great keyboard workstation that is perfect for any musician. It is lightweight and portable, making it easy to take with you on the go. The built-in speakers are a nice touch, and the touchscreen display is helpful for editing sounds and adjusting settings. If you are looking for a keyboard workstation that can do it all, the Korg Kross 2-61-MB 61 is a perfect choice.
The Kurzweil K2700 88 is a great keyboard for both professional and amateur musicians alike. It is a versatile keyboard that can be used for a variety of musical styles. The keyboard has 88 keys, which is the standard size for a piano. The keyboard also has a number of other features that make it ideal for use in a studio or live setting, such as pitch and mod wheels and MIDI connectivity. The keyboard is also relatively affordable, making it a good option for budget-conscious musicians.
References
1.
Music workstation - Wikipedia
A music workstation is an electronic musical instrument providing the facilities of: - a sound module, - a music sequencer and - (usually) a musical keyboard. It enables a musician to compose electronic music using just one piece of equipment.
2.
6 Ways Keyboard Workstations Help Your Creativity - Roland U.S. Blog
The new FA-06 and FA-08 Music Workstation by Roland allow you to get musical ideas down quickly and easily. Here are 6 ways to improve your music workflow.