As a pianist or a learner, you will come across different genres of music. It is essential to learn the basics of most of them, even if you will stick to one later. Piano rock, in particular, is an excellent way to start. So, even with your basic skills, you can get through them and have fun while learning.
Before you go ahead to try your favorite rock song, go slow. This is because you could become frustrated by the complexities of those rock songs. Fortunately, most popular rock songs are easy to learn and play. But, of course, it helps to have a proper piano to start with. You can find good digital pianos under 500 with great sound. For instance, the YAMAHA P71 and Alesis Recital are both under $500 88-key digital pianos that offer great value and features for both beginners and experts.
This article provides a list of easy piano rock songs for you to learn. If you are just starting to master the piano, these exercises are perfect for you.
10 Easy Piano Rock Songs for Beginners
Apart from impressing friends or guests as the rockstar on a beautiful digital piano, piano rock songs will teach you essential left-hand accompaniment. You need this skill to play songs, even in other genres. If you want to master your left-hand accompaniment, what better time to do it than while playing your favorite rock Trusted Source Rock music - Wikipedia Rock music is a broad genre of popular music that originated as "rock and roll" in the United States in the late 1940s and early 1950s, developing into a range of different styles in the mid-1960s and later, particularly in the United States and the United Kingdom. It has its roots in 1940s and 1950s rock and roll, a style that drew directly from the blues and rhythm and blues genres of African-American music and from country music. Rock music also drew strongly from a number of other genres such as electric blues and folk, and incorporated influences from jazz, classical, and other musical styles. en.wikipedia.org songs? Let's begin.
Don't Stop Believin' – Journey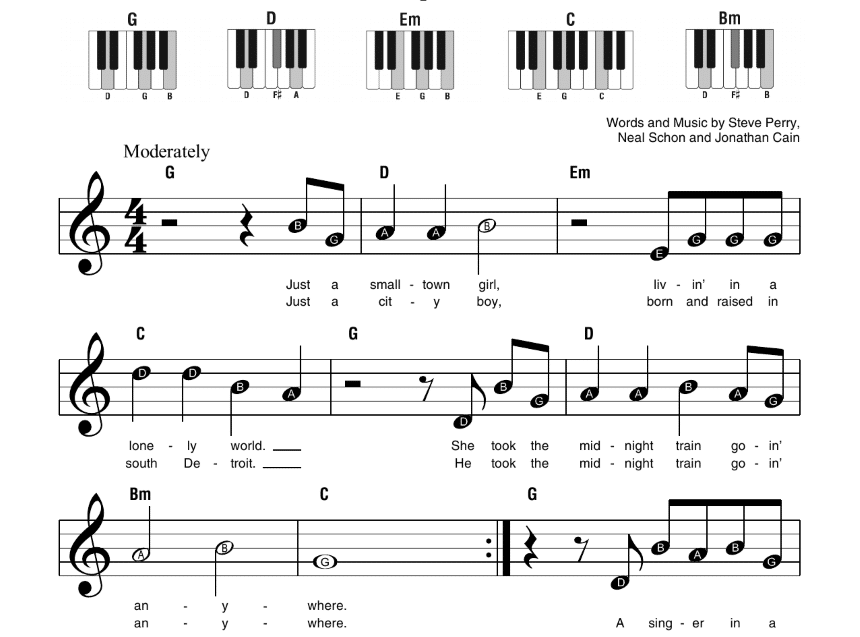 You might remember this song from the first season of Glee Trusted Source Glee (TV series) - Wikipedia Glee (stylized as glee) is an American musical comedy-drama television series that aired on the Fox network in the United States from May 19, 2009, to March 20, 2015. It centers on the glee club called the New Directions at the fictional William McKinley High School which competes as a show choir while its disparate members deal with social issues, especially regarding sexuality, race, family, teen relationships and teamwork. en.wikipedia.org , the musical. Suppose you agree that it's a great song. In that case, you will understand why there are several cover versions, including piano rock versions. So, when you are looking, be sure to get a rock piano version.
The song itself is pretty easy to play, especially on a digital piano. Its chord progression has chords you would already be familiar with as a beginner. So it goes, E major, then B major, C# minor, and A minor.
This piece will test and strengthen your ability since you will use both your left and right hand almost equally. You should not be intimidated if you don't get it right on the first try. It will take some practice, primarily because you are not used to playing songs like this. You should also pay attention to the hand positions. If you get this right, the melody and chords will flow along much more effortlessly.
Let It Be – Beatles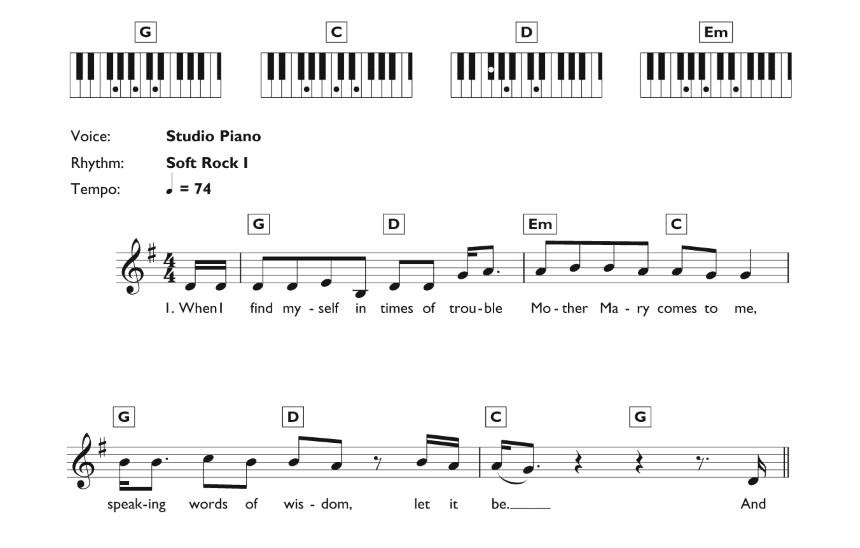 Yes, the Beatles have rock music. If you were born before the '90s or liked songs from that period, you probably already know these songs. So, playing them won't be too hard. Let It Be is a beautiful classic that is pretty easy to play on the piano. The same rhythm flows through the entire song, so beginners like you can easily pick up the melody. This ballad is divided into verses and a chorus.
The chord progression for the verses is C major, G major, A minor, and F major. The chorus starts off with A minor, G major, F major, C major, then goes on to a C major, G major, F major, and C major. The rhythm of this song is similar to Hey Jude, also by the Beatles. Although the chord progression is different, you would learn to play if you tried different chord progressions for similar rhythms.
Piano man – Billy Joel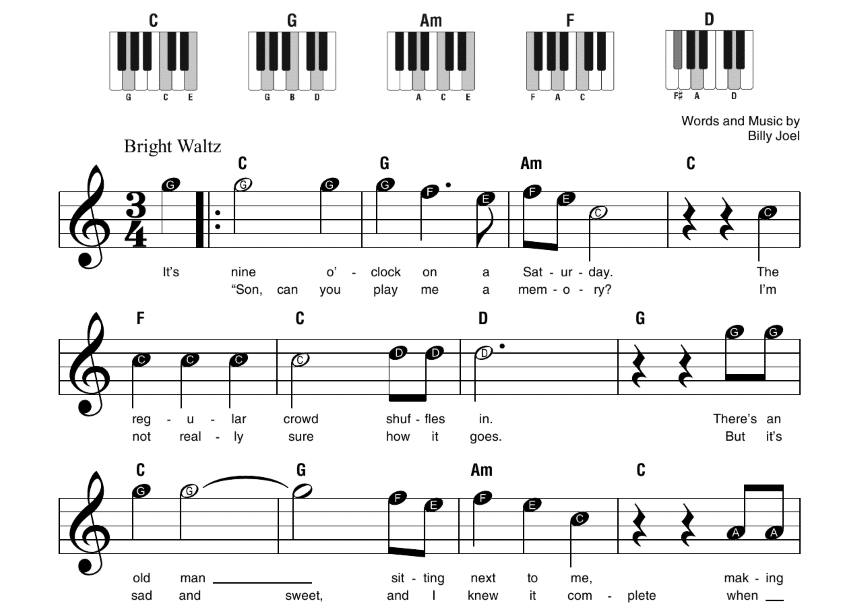 There is a little background story that might interest you here. The singer Billy Joel was known to say that Piano man is his least favorite song. However, lots of people like to play this number because of how fun and unique it is. So, if you try it out as a beginner, don't get much grasp of it, do not be discouraged. What you need to acquire from each piece is a skill and mastery of the art itself.
Piano man might not seem like much of a rock song, but it is a pretty good start. The chord progression is pretty much the same throughout the entire piece, except for the interlude. The main song goes C major, G major, F major, C major, F major, C major, D major 7, and G major. The progression for the interlude is A minor, D major 7, A minor, D major 7, G major, F major, C major, and G major 7. As you can already tell, the chords on the interlude are not as simple as the top song. However, with regular practice, you will be able to play it nicely.
Sweet Home Alabama – Lynyrd Skynyrd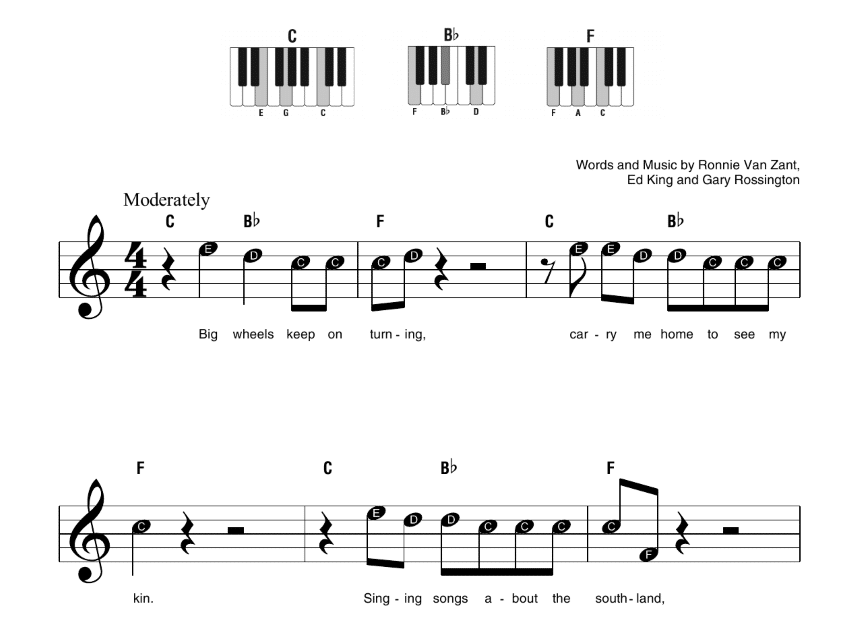 This is an iconic song that's also easy to play on a keyboard. The key of the song is G major. Now, this particular piano rock song requires some patience, and you can be sure that it will pay off. It will help you to practice right-hand leads and bass patterns for your left hand. This song is a good choice for beginners because you don't have to move your hand very far in quick succession. In fact, your hand can maintain the same position almost throughout.
The chord progression is also simple because it is a three-chord progression. You will also learn how to transition smoothly between chords.
Rocketman – Elton John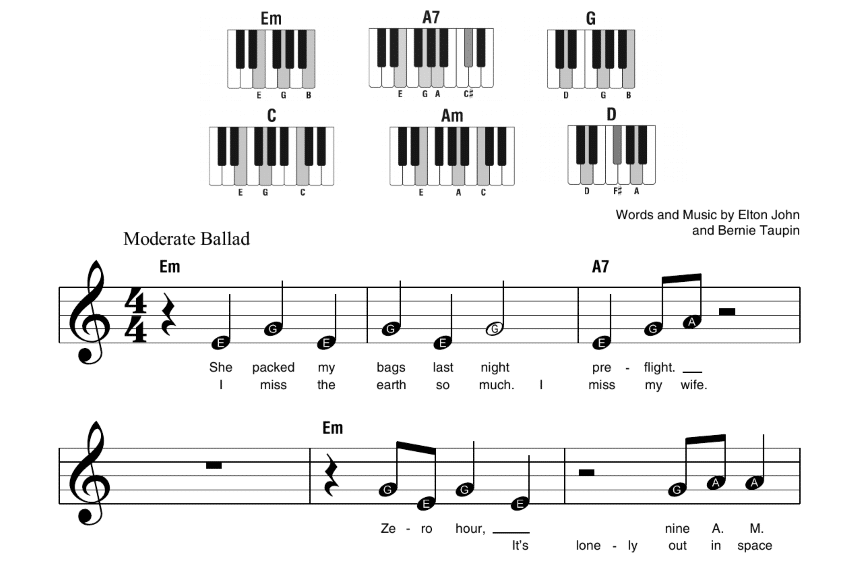 Rocketman was composed by both Bernie Taupin and Elton John. It debuted on Elton's album Honky Chateau in 1972 before it became a hit single. The song is widespread, even in recent times, so you may have heard it. There are a few dynamics to it, so you must pay close attention. It helps if you already know or learn the song. That way, you can hum along and slow down when you get the rhythm wrong.
It's also OK to pick a tempo you are comfortable with. You can increase or soften it at your convenience as you go along. You should never forget that the aim is not to play a particular song perfectly but to master the techniques to learn other songs. Counting as you go along can also help you stay in tune.
Eye of the Tiger – Survivor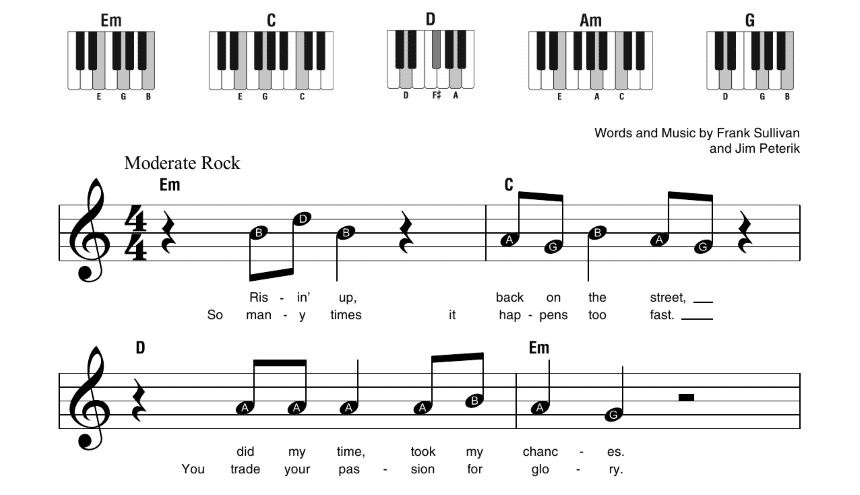 Remember Rocky III? This was the theme song for the film. The song was originally part of Survivors' 1982 album. It held the first spot on the Billboard Hot 100 Chart for six straight weeks while the band won a Grammy for its performance.
Now, this is a rock song, so your intro must be very sharp. In addition, your sound would be better with an arranger keyboard to provide you with various sounds and styles for pieces like these.
You don't need to love rock music to be able to play it. You just need all the right notes and accompaniments. Once you have mastered the intro as a precise and sharp opening, you can proceed to the rest of the song, which is relatively simple. Your right hand plays most of the melody while your left hand will play the same position through the music.
Tears in Heaven – Eric Clapton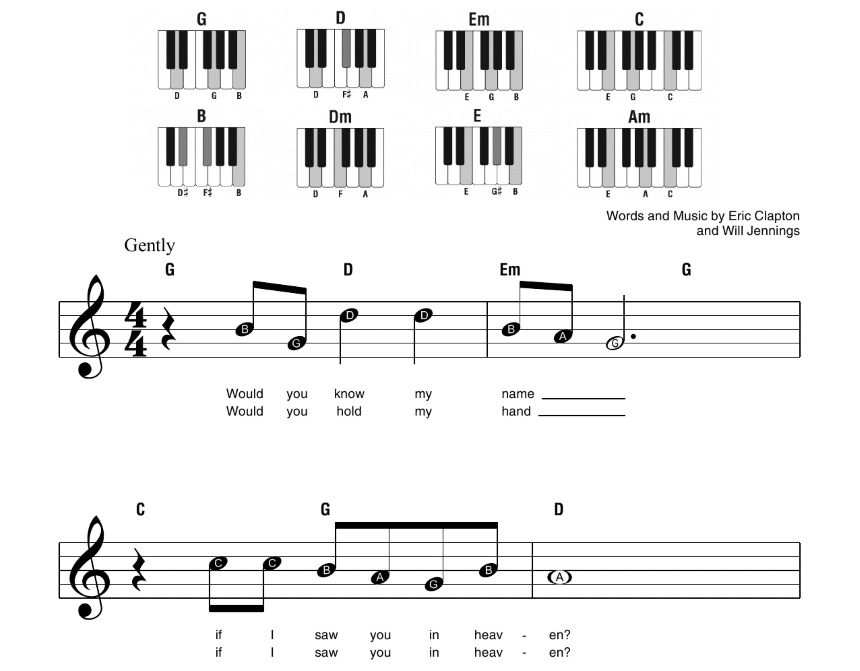 Tears in Heaven is another emotional song. Eric Clapton wrote this song after he lost his son, so as you may have guessed, it is a sad song. At the same time, you can practice it anywhere you like, you should be careful while playing it for people. It could make people unhappy, thoughtful. But, of course, it's a great song if the mood is one of remembrance. The notes can help people to think back on loving memories of loss.
The intro's chord progression is A, E, or G#, F$ minor, A or E, D or F#, E7sus4, and A. Once you know what these notes are, it's easy to try them out. For instance, the E7sus4 is a four-note chord. Here you have a suspended seventh chord, and the third is replaced with a perfect four. So, the four notes in this chord are in notes E, A, B, and D. The pattern for the chorus is A, E, F# minor, and an A or E.
This song contains sustained notes and sevens, which is essential for beginners to learn. So, don't shy away from it.
Bohemian Rhapsody – Queen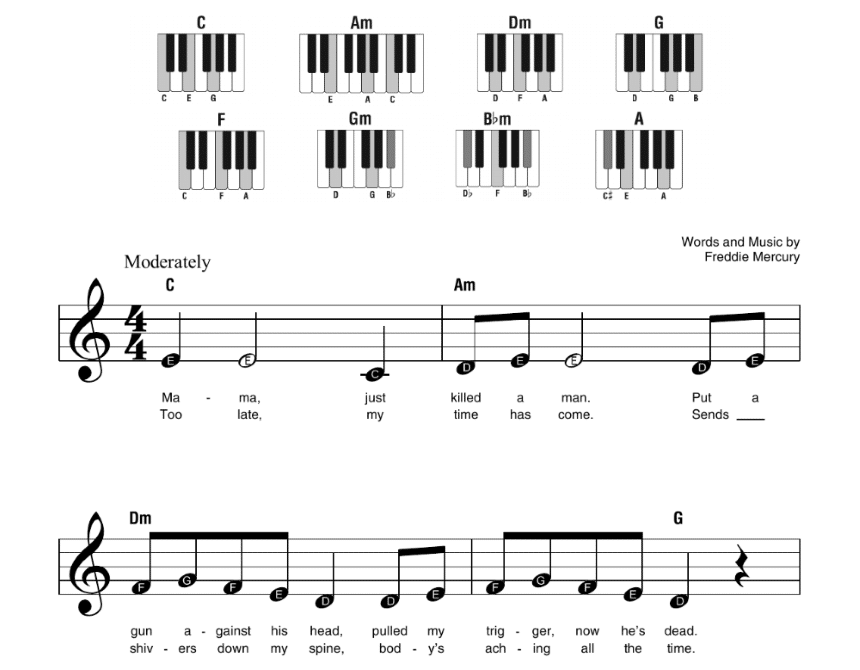 Queen is a band that most piano players are familiar with. This is because they have quite a couple of impressive rock piano songs. Although the structure in this song is not as easy as some others on this list, it's good that you try your hands on it.
Bohemian Rhapsody is a beautiful masterpiece that will introduce you to textures you probably are not familiar with. It is considered the best song by the band Queens and with good reason. According to news reports Trusted Source Bohemian Rhapsody is still the favourite Queen song - four decades on The groundbreaking 1975 smash – which is six minutes long – topped a poll of 2,000 adults despite competition from an impressive back catalogue of the band's hit singles. It racked up a staggering 48 per cent of the vote, beating sporting anthem We Are the Champions into second place with just 19 per cent. www.the-sun.com , Bohemian Rhapsody topped the charts for nine weeks. Again, it topped the charts for five weeks after the lead singer, Freddie Mercury, died. It holds the position of the UK's 3rd best-selling single of all time, and it inspired the movie 'Bohemian Rhapsody.'
There are a couple of key changes in this song. First, as a beginner, it is OK to break pieces into sections that you can handle one at a time. This way, you can master different parts of it without being overwhelmed by a complex song. So, if you find the whole of this song difficult, you can divide it into parts, learn those parts individually and loop each piece as you go along. It also helps to listen to the song alongside sheet music. It will help you to appreciate the different sounds and melodies in each artist's production. Overall, it's a good experience for beginners to rock music.
November Rain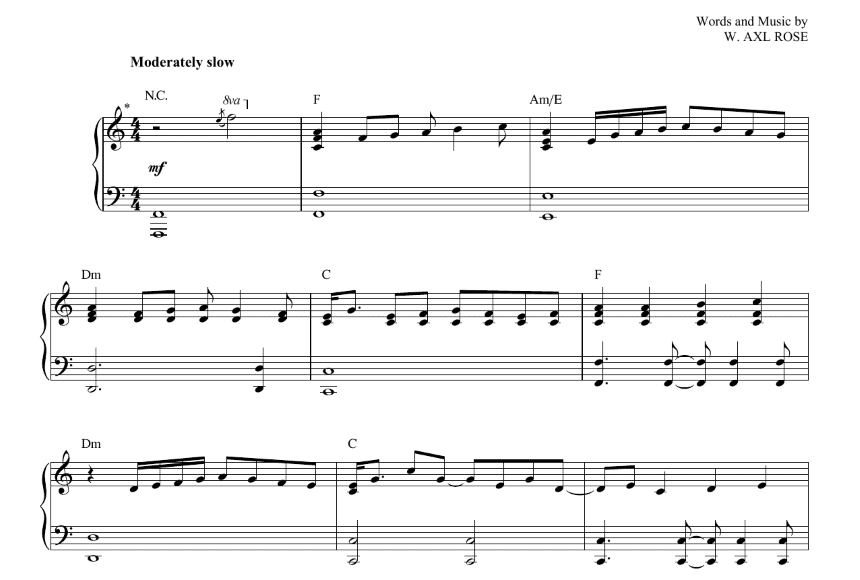 This is a song performed by the band Guns N' Roses. According to most reports Trusted Source ON THE RECORD: Brad Paisley and Guns N' Roses song 'November Rain' | Arts & Music | rapidcityjournal.com "You'll Never Leave Harlan Alive" was written by Darrell Scott, a singer-songwriter who was born in 1959 in London, Kentucky, a town less than 100 miles northwest of Harlan, Kentucky. The names you cited in your question are all original to Scott's lyrics, so they are not ones that Paisley changed or added. We learned that Katahrins Mountain, located in Harlan County, is also known as Black Mountain, and is the highest mountain peak in the commonwealth of Kentucky. rapidcityjournal.com , November rain is one of the longest Top Ten hits ever made. It also contains the most extended guitar solo on the Top Ten hit. Fantastic, right?
Again, fans of 90s music will be familiar with this song. But you shouldn't be worried if it doesn't sound simple enough for you; it really isn't complicated. The song has four chords for the most part. Afterward, there's a fundamental change, and rock energy really shows.
The chord progression goes F, A minor, D minor, and C. The second half of the song is better suited to a guitar, but you don't have to skip over it if you don't have a guitarist. An arranger keyboard will help you create a good sound to play it all together.
Imagine – John Lennon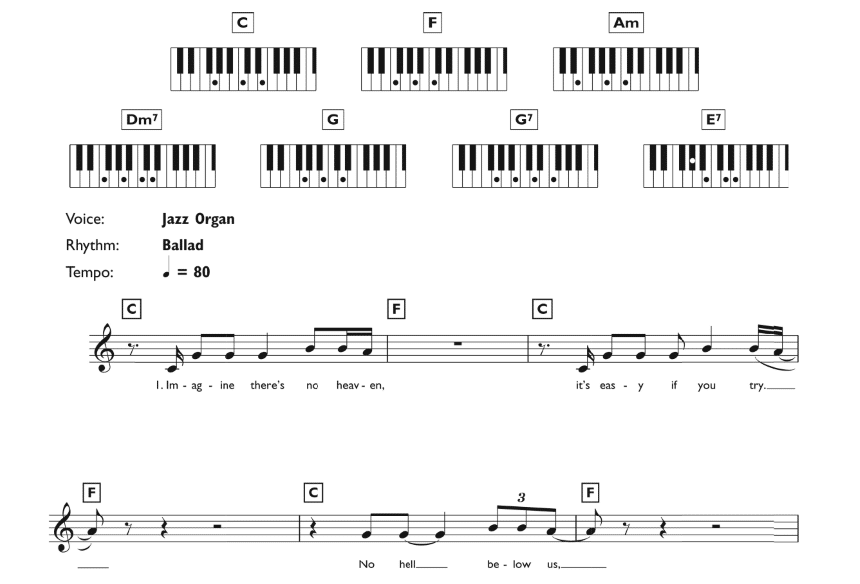 John Lennon's Imagine is one of the simple rock piano songs you can work with as a beginner. It is in C major and does not require any black keys. This means that you can quickly learn and practice transitions within C major since you will be using only the white keys. Playing this song will introduce you to necessary yet straightforward techniques for being a great pianist. If you want to familiarize yourself with the basic techniques for playing complex songs on the piano, pay attention to these simple songs.
You should note that the chorus in Imagine is in E major, and it involves one accidental. However, the transition from C major to E major is not very difficult, even for beginners. Apart from being good practice, this song will draw attention wherever you play it. It's a beautiful way to enjoy music.
Final Thoughts
Piano rock songs are suitable for beginners because they have a balance. They are not too simple, like pop songs. But they are also not as complex as classical music. So, you can pick up on practical techniques that may be absent in pop songs.
If you are a piano beginner, it is unlikely that you would play any of these piano rock songs perfectly on your first try. Although these are simple songs, they take time and practice for perfection. So, keep trying. Among other things, playing will help you to improve your skill as you proceed to different songs. Remember, mastering the piano will take lots of dedication and learning. Do not be intimidated if your favorite songs are complex. When you try out the simple ones, you can move up steadily.