For quite a few years, the staple in many professional studios, projects, and numerous live rigs is the Roland Fantom Series. It has also been around in different incarnations and is an integral part of music and music production. It was designed to work without a computer, which means you can produce music with both audio tracks and MIDI. However, the new FA series takes a new turn. The latest series has loads of amazing features to unlock, many sound options at bay, an onboard sampler, and other specialties. It can also be integrated with a computer.
Although some of the fantom series were preserved, the experience with the FA series is to die for. There are two workstations worth mentioning; the FA-06 and the FA-08. The Roland FA-08 is bigger and has an eighty-eight note keyboard, while FA-06 has fewer notes and is smaller. But in this review, we would focus more on the 06 than the 08.
Specifications
| | |
| --- | --- |
| KEYBOARD | 61 keys with velocity |
| POLYPHONY | 128 voices |
| TONES | 128 voices SuperNATURAL Acoustic, SuperNATURAL Synth, SuperNATURAL Drum Kit, PCM Synth, PCM Drum Kit |
| Dimensions (in.) | 39-11/16″ x 11-13/16″ x 4″ |
| Weight (lbs.) | 12.6 lbs |
| Warranty | 1 year |
This product's also been included into these rankings:
Review
Roland FA-06 is the smallest of the two Roland FA series with 61 velocity-sensitive keynotes. The keyboard workstation was designed and created to maximize creative music flow. There are over 2000 sounds or tones from the Integra-7 sound compartment, and they include SuperNATURAL Acoustic, SuperNATURAL Synth, SuperNATURAL Drum Kit, PCM Synth, and PCM Drum Kit. More sounds can also be downloaded through interval wave sound expansion slots and Roland's Axial website.
Finally, the Roland FA-06 has a 16-track sequencer with non-stop loop recording. This makes it simple and less difficult to create music in no time. It also makes it easy to export sequencer tracks to a chord memory or SD card storage as either MIDI data, multitrack audio, or a complete stereo mix. The Roland FA-06 is a lot of things, and these features make it an intuitive workstation for creative users both in the studio and on the go. Below are more details on the keyboard's features.
Overall performance and design

Roland's FA-06 electric keyboard isn't the first keyboard workstation to be developed, but it sure is evolving into one of the best. It can support any kind of music, and it is packed with a massive sound collection and onboard sampling with 0 load time for instant audio playback from 16 backlit pads. In short, Roland FA-06 takes the work out of the music workstation.
It is made for both live stage performances and the studio. It has a built-in studio interface and a USB port that makes connecting to your digital audio workstation (DAW) Trusted Source The best DAWs 2021: the best digital audio workstations for PC and Mac | MusicRadar Best of 2021: We round-up the best music production software package. www.musicradar.com relatively easy. It is also very simple to navigate through, use and maintain.
The Roland FA-06 keyboard has a real classy look and a fine black finish on the plastic material it is made from. It also has a big LCD screen. It is tagged as a portable keyboard with its weight at 12.61lbs and its measurement at 39-11/16″ x 11-13/16″ x 4″. It has 128 polyphonic voices, a sequencer, sampler, 16-channel multi-timbral setup, and recording.
It also comes with 2000 sounds from the Integra-7 unit and has different selections from the following sections; piano, synths, bass, organs, or strings. There are also good kit selections from rock to dance or percussion. There are also more eccentric options with great quality.
There are about 67 sound effects, and they can be edited on the previously mentioned multi-timbral setup. The keys and buttons make it easy to navigate through, such as the shift key and some soft keys. It is velocity-sensitive, has an unweighted 61-key synth, and has no aftertouch. Here are individual explanations of each of the keyboard's components.
Keyboard
The keyboard is an unweighted 61-key synth keyboard with velocity sensitivity but with no aftertouch. Its bigger brother – the FA-08, has this feature (but we are all about 06 in this review). The FA interface looks a bit more dated than the other makes on the surface.
The keyboard also has many buttons and keys, such as soft keys and the shift key, to help navigation easier. There is also a large LCD screen that is controlled with some peer buttons on its right. The values will change with either the rotation of a dial or button increment and decrement. Sadly, the keyboard is not touch screen.
Polyphony
The Roland FA-06 has a 128-note polyphonic synth engine with 16 full channel multi-timbral setups. This is like the sound engine of the keyboard. The sound library of the workstation (that's onboard) is gotten from the Integra-7 module. It is also made up of the complete XV-5080 sound set.
The different tones (will get to that in a bit), including all the SuperNATURAL synth sounds, some of the drum sounds, a careful selection from the SuperNATURAL Acoustic, are arranged into many tones counting to 2000+. With a preview button (available on the keyboard), each phrase can be listened to. This would help to draft out how the sound would be used.
Tones
These can also be referred to as the sounds, and there are two of them – the PCM (waveform-based) and SuperNatural Synth sound types of Drum Kit and Synth. There is also a SuperNatural Acoustic sound, making it a total of 5 great tones. These types produce a large number (about 2000+) of imaginary, synthetic, and realtones. And you don't have to settle for these tones; you can add more using Roland's Axial website.
The tone is organized in sections of ten, and it begins with the percussion, then to the piano, organ, the bass, the pads, and on like that. The tones are also organized in-studio sets of 16 different parts. Every single piece has a tone, and they create beautiful music when used in the sequencer (we will get to that in upcoming sections).
Dimensions and weight
Roland FA-06 keyboard is tagged as a portable keyboard because of its relatively small size and weight. Its dimension in inches is 39-11/16″ × 11-13/16″ × 4″. In cm, it measures 108cm × 30cm × 11cm. However, when it comes to live performances, the size is not the best choice. Besides, the Roland FA-06 keyboard is made from plastic; therefore, it doesn't weigh a lot at all. It weighs about 5.7kg which is about 12.6 lbs.
Ways of using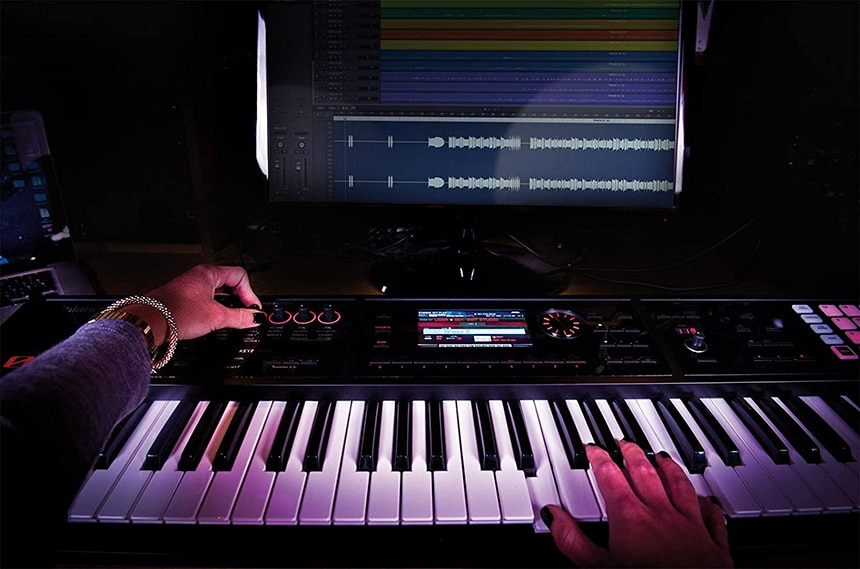 The Roland FA-06 electronic keyboard workstation can be used with many of the computer-based DAWs we have today. However, you would need to install a USB driver to use this feature. You can enable DAW control mode on the keyboard, and this allows you to control the transport (such as Rewind, Fast Forward, Stop, or Play) orders.
Using Roland FA-06 for DAW Control Mode
The keyboard can also ask you if you would like to turn it on automatically when you connect a USB cable to your computer. To do this, first tap on the 'DAW Control button. When the light around the button lights up, then it's on. To turn it on automatically, i.e., affirm the option to turn it on, tap on the #6 'OK' button.
Next, drag your cursor to 'CONTROL MAP' so that you can select the DAW software using the dial on the keyboard. Then, use the buttons on the cursor (left and right) to select the tab that says 'Controller.' Finally, if you are recording with a computer-based application, turn off the local switch.
Using a computer with DAW Control Mode on Roland FA-06
First, set up your computer and get it ready to connect. Locate the DAW software on your computer and launch it. Inside the software, open the file that you want to control. Also, confirm that Roland FA-06 is the selected MIDI input and output device.
Ease of maintenance
It is pretty easy to maintain and keep a Roland keyboard. The design of the workstation does not allow for the entrapment of dust specks or molds. The material is also lightweight and relatively durable. To clean your keyboard, what is needed is to use a soft cloth to wipe the body clean.
Users are also to refrain from applying water directly onto the keyboard. It is an electrical device and could therefore get damaged with the direct introduction of water. Finally, to increase the keyboard's durability, it is best to clean the keyboard every week (depending on the frequency of use). These steps make the keyboard easy to maintain.
Warranty
There is a one-year warranty on every Roland FA series. Hence the FA-06 also has a one-year warranty. You can be sure of quality assurance when you buy the Roland Keyboard. This is because the company has a lot of confidence in its products and their durability. Besides, you can always return the product as long as the warranty is on.
Price tag
The Roland FA-06 is surprisingly not expensive, which makes it a good deal. A solid FA-06 keyboard costs about $350 and below. Depending on where you're buying from, some other e-commerce stores could sell for cheaper or costlier. Either way, this version doesn't cost as much as the other Roland keyboard series.
Other features
Aside from the tones, polyphony, the number of keynotes on the keyboard, there are some other features unique to this model, and we will mention them in this Roland FA-06 electric keyboard review. They include the sampler, sequencer, effects, and the USB Port.
Sampler
The Roland FA-06 sampler uses the buttons on the keyboard consisting of 16 pads for triggering. It is based on Roland's SP-404SX. With the sampler, anyone can sample anything that is being played by the keyboard automatically. You can also test it from external devices. You would have to plug the keyboard into the external device (e.g., a guitar or a microphone) to do this.
The Roland FA-06 sampler is quite easy to use. All you need to do is tap on the button for sampling, and the lights on the pads will be turned on. Next, you would need to select any of the pads as your destination, tap on 'start,' and that is all there is to it. It would begin to sample. You can then access the sampled audio in or keyboard on the selected pad (the destination you clicked on).
Why this feature? It is a great feature to have for live performances. For creative results, you can mix some DJ performance tools with the sampled audio to create a better outcome before relaxing back to the original audio.
Sequencer
The sequencer is another feature that makes the Roland FA-06 a really great workstation for your gigs, concerts, and performances. However, some Roland FA-06 electric keyboard reviews would argue that the Roland Fantom series is better in this category, but that is not without reason. The Fantom series might beat FA-06 here because, in the Fantom series, your DAW is doing a lot of work. While the FA-06 is designed for only when a player/user gets inspired and wants to get the work done fast.
How to use the sequencer: Trusted Source What is sequencer? - Definition from WhatIs.com The MIDI sequencer allows the user to record and edit a musical performance without using an audio-based input source. whatis.techtarget.com begin by getting the studio Set together – the one that contains all 16 of your song parts. Then tap on Shift+4. After this, you should see 8 of these show up on the screen of the keyboard at a time. You can go through each song's parts/sounds/tones, then pick and audition which ones fit best into the part. In addition to this, you can reach some other components like volume, key range, and even the EQ of the song part.
The next step after this is to press the button for the sequencer. And this time, the 16 parts would appear all at once. And just like your DAW, tap on 'record,' and the tracks would be recorded. The cursors are there to help with building up the song. The 'Enter' button would change the sound on each track by referring you to the FA-06's list of tones to select.
Effects
In the studio set, each of the 16 parts has its own multi-effect. The multi-effect lists consist of 67 different effects, comprising 23 combinations (overdrive into chorus or distortion into delay) and 44 individual effects (such as chorus, distortion, delay, or overdrive). One can level and tweak sounds (drum, synth, or acoustic) to taste with these effects. The TFX and master EQ, reverb effects, and global chorus include DJFX Loopers and BPM, Vinyl Sim, Radio Tuning, Bit Crush, and Slicer.
USB Port
This is a big selling point for FA-06 in every Roland FA-06 electric keyboard review. The keyboard can act as a DAW controller and a USB interface. So, how do you set a Roland FA-06 through a USB? First, you connect the USB – the workstation would immediately recognize a computer system as soon as it is connected. Click on Logic, Cubase, or Sonar on-screen.
PROS
CONS

It can be used both in a DAW setup or on the road
Broad range of sounds
Compatible with Roland Axial Website
The synth sounds are excellent, with plenty of leads, and analog synth emulations
You can export tracks directly to a sequencer
USB port
It's a good scratchpad for ideas
It is Portable

Not enough knobs and sliders
The plastic used to design it is not a solid material.
No aftertouch
Requires external power supply.
As a controller, the FA-06 is rather too big
Lack of weighted keyboard makes it unsuitable for live piano playing.
Conclusion
Roland FA-06 is not the only keyboard created by Roland, in fact, there are many others, as we've mentioned in the review above. Nonetheless, the Roland FA-06 model has made its mark by providing a solution for those who need real focus to keep being inspired. As it continues to evolve, it births an unmatched level of creative freedom in every playing station. That's why this Roland FA-06 Review is dedicated to showing the features and specifications of the workstation. Despite some of its setbacks and limitations, the Roland FA-06 still rocks in many areas.
References
1.
The best DAWs 2021: the best digital audio workstations for PC and Mac | MusicRadar
Best of 2021: We round-up the best music production software package.
2.
What is sequencer? - Definition from WhatIs.com
The MIDI sequencer allows the user to record and edit a musical performance without using an audio-based input source.