While the Kawai ES110 Digital Piano is a budget-friendly model, but it offers a lot of value for money, making it an ideal fit for beginners. It comes with about 19 voices, out of which eight are acoustic piano sounds. For improved realism over the dynamic variety of samples, the piano also comes with the company's patented Harmonic imaging technology. This technology is designed to help the piano produce the most realistic recreation of a real grand piano.
Furthermore, the piano has an extremely responsive action, thanks to the company's newly-designed Responsive Hammer Compact action. Onboard are 100 various drum rhythms to facilitate practice, and to aid wireless communication and connectivity with Android and iOS devices, the instrument comes with MIDI over Bluetooth. On top of that, the instrument features the company's Virtual Technician application, which helps to tweak advanced parameters like touch response and temperament.
6
Kawai KDP110
Features
Keys: 88; grade-weighted
Polyphony: 192-note
of sounds: 15 voices
Output power: 40W
Dimensions: 53.5 x 16 x 33.5 inches
More features: premium rosewood finish; built-in lesson songs; USB-MIDI port and standard MIDI In/Out jacks; Bluetooth connectivity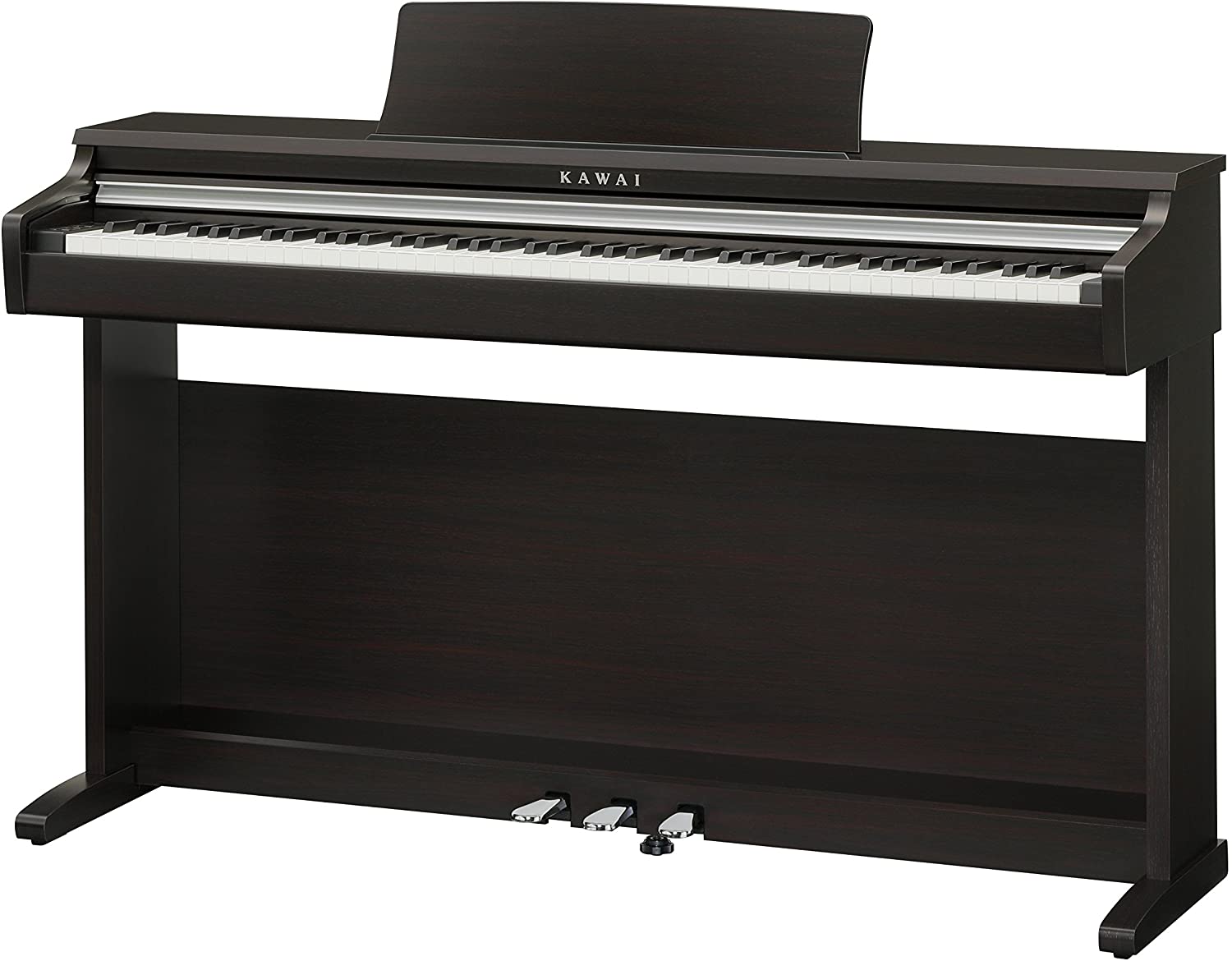 Good

The quality of the keyboard action is first-rate; light, and very fast. The sampled piano sounds are very good, and adjustments can be made to the pianos, including damper resonance, reverb, brilliance, and touch sensitivity. The piano sounds are refined and highly adjustable, even though the user interface and functions are minimal.
Bad

The board does not remember your settings after being turned off, which is inconvenient.
The Kawai KDP110 Digital Piano, with a power output of 40 watts, is the most powerful piano on this list. The powerful operation apart though, this piano has a lot going on for it, and we love to see it. In terms of appearance, it is very sophisticated, especially with its premium rosewood finish. On top of that, it has a compact design, so you can easily transport it or move it from one place to another.
Like other top models, this one also has the Harmonic Imaging Sound Technology, which allows it to produce sounds of the highest-quality – just like a real grand piano. To allow you to connect with smartphones and other musical devices, the digital piano comes with great connectivity options, like Bluetooth connectivity, standard MIDI In/Out jacks, and a USB-MIDI port.
Things to Consider
To buy the best Kawai digital piano for your needs, you must be fully enlightened about Kawai as a brand. To help you in that regard, we have put this comprehensive buying guide together.
Why Kawai?
There are many reasons why you may need to choose Kawai. The company was established in Japan in 1927, which makes them one of the most experienced companies in the industry. Since its inception, the company has been made a name for itself when it comes to the manufacturing of high-quality handcrafted acoustic pianos. Recently, they have garnered some reputation for producing premium-quality digital pianos as well. Then it's not a surprise that the Kawai brand keeps increasing in popularity on a daily basis.
To guarantee an immaculate response and sound quality whenever you are playing, the manufacturer uses their patented Harmonic Imaging technology, which allows their digital piano to sound exactly like a real, grand piano. On the keyboard, every note can give you about 128 dissimilar tonal options, based on how hard the key is pressed. In addition to this, the company's digital pianos are known for their Responsive Hammer keyboard action, which enables you to play with unbelievable expression.
Features to consider when choosing a Kawai keyboard

While Kawai never misses as a brand, their digital pianos are not made the same, so you still need to be careful when choosing a model that fits your needs. Below are some top considerations you must make before heading to the market.
Keys features
A piano's keys refer to the amount of weight the keyboard has and its responsiveness. While it's almost impossible for a digital piano key to perfectly imitates the resistance of acoustic piano keys, there are many excellent digital pianos with extremely accurate key actions.
During your shopping, find a digital piano with a hammer effect keyboard or counterbalanced keyboard, like the Kawai ES100 Digital Piano. There's the graduated keyboard too, which offers a little more realism. There are also some pianos that enable you to adjust the keys' responsiveness to your preference, which is a huge plus. Ideally, a beginner pianist should use an 88-weighted keys keyboard, like the ones reviewed here.
Polyphony
Basically, polyphony refers to the number of notes a player can play simultaneously without experiencing an early cut-off. Needless to say, you want the ability to express yourself with no limitations of some notes cutting off prematurely. To achieve this, your digital piano must have enough polyphony.
As long as your Kawai digital piano has 64 notes of polyphony at least, you are good, no matter the piece you are performing. Entry-level pianos usually come with lower polyphony, which in most cases, is enough for beginners. Generally, you don't need to be really bothered about this feature, except if you are intending to play along backing tracks or layer many sounds over each other.
Sounds
While this probably sounds like a no-brainer, you must consider the sound of your preferred digital piano. Here, there are many factors you must consider, which include the internal sound library and speakers. Of course, the speakers are your piano's main sound output, and you are likely to be relying on them when you are playing.
Therefore, you need to make sure that they are sufficiently audible and of quality enough to fit your needs. Of course, headphones are a decent alternative, but external or internal speakers are compulsory if your performance will be in front of friends and family.
Most digital pianos usually come with more than a couple of sounds. Often the sounds they come with are not only piano sounds. Many models are packed with dozens and hundreds of different sounds, which include organs, strings, harpsichords, clavinets, and pianos, to mention a few.
Of course, most people tend to focus on piano sounds, which is normal. However, you can spice your performance up by exploring various instruments sounds, and genres.
Dimensions and weight
You need to consider the dimensions and weight of the Kawai digital piano you are looking at. This usually comes down to why you need a digital piano. If you want it for your home, then you wouldn't go wrong with a heavy-weight model, especially if you have enough room in your home. However, if you are likely to be traveling with it, we advise you to choose a portable model, like the Kawai ES110 Digital Piano.
Primarily, the digital piano comes in four styles – vertical, portable, contemporary, and stage. Vertical pianos are the most identical to the acoustic piano in terms of looks, with their speakers also located in the case of the stand. Contemporary pianos look more like a regular keyboard and less like a real piano. Stage and portable pianos are usually easy to carry and are known for delivering stronger sounds for artists who want more volume.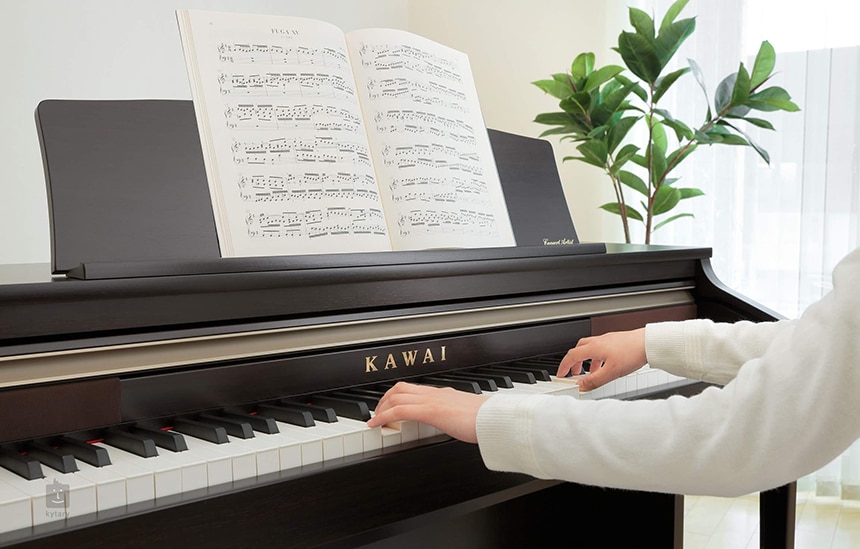 As you'd expect, each style has its own pros and cons, but it's important to be sure about what you want out of a piano before choosing any of the styles. The stage pianos are specifically designed for professionals as they need a louder sound and have to carry and transport them all the time.
MIDI Connectivity
Nowadays, MIDI has turned into a vital cog of the music industry, and it's even more important than most people can imagine. It has created opportunities and pathways where they were none. Therefore, we would advise you to choose a model with MIDI connectivity if you are in the market for a digital piano for music creation. This will enable you to pair your preferred Digital Audio Workstation (DAW) to your digital piano, so you'd be able to record yourself while playing. You will also greatly benefit from the thousands of plug-ins readily available.
This opens you up to a new dimension of creativity since plug-ins enable you to utilize millions of premium-quality sounds. Your digital piano can also be used as a controller for MIDI. Some keys will have to be linked to a drum machine, which will allow you to produce your own drum loops and beats. Nonetheless, it's always a great idea check as some beginner models don't come with this feature.
You should also check for other connectivity options, like a USB port and Bluetooth, so you'd be able to connect your piano with all sorts of audio devices. Some models even allow you to transfer music to many other devices and computers with the aid of flash memory cards.
If a stand and pedals are included
Since digital pianos are often expensive, you are advised to go with an option that has many add-ons. When we say add-ons, it means the things included in your purchase. For example, when you buy some digital pianos, you get sustain pedals for free. This means you don't need to spend more money on getting a sustain pedal, which makes a lot of economic sense. Other models even come with their inbuilt stands, which makes sense for you as the buyer. When shopping, find a model that comes with important accessories.
Other features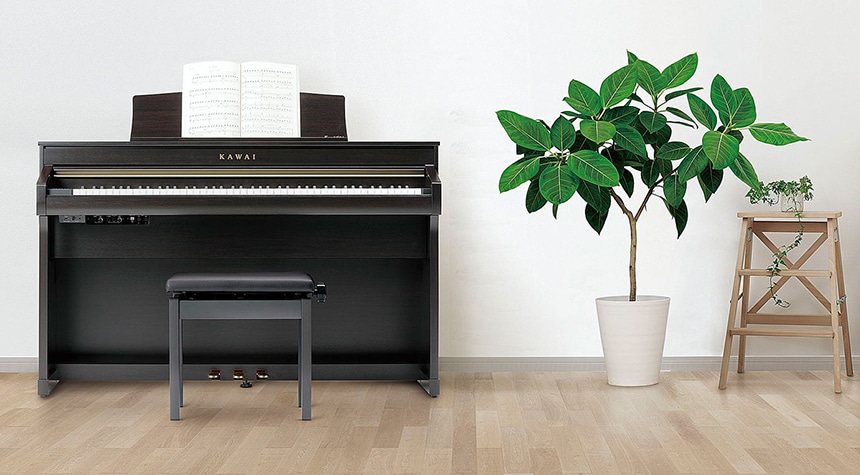 Regardless of what your budget is, you need to make sure that the instrument you are buying offers real value for money. For this, you have to consider the extra features available on the instrument as these will enable you to decide if it's really worth the money.
For instance, live musicians will love the option to switch between various sounds as fast as possible while performing, whereas a beginner will benefit greatly from a "lesson model" feature as it will help them to improve their skills.
Other features you should look for include the recording and playback feature. This is often helpful when you are looking to monitor your development or just capture a moment of inspiration. Also, you may want to check if your preferred digital piano can be connected to applications or if they have built-in apps.
FAQ
Which Kawai piano is suitable for beginners?
If you are a beginner that's looking for your first digital piano, the
Kawai ES110 Digital Piano
might be a good place to start. Most beginners tend to start with an inexpensive model, and this option is affordable enough. Not only that, but it also offers a lot of value for money, making it a perfect fit for beginners.
Can I connect my Kawai keyboard to a computer or MIDI-compatible devices?
Of course, yes. Just ensure your Kawai digital piano comes with relevant MIDI options like the USB-MIDI port and standard MIDI In/Out jacks. Most of the Kawai pianos on our list can be connected to a computer or MIDI-compatible devices.
How loud are Kawai pianos? Can the sound be even more amplified (for a concert, for instance)?
Kawai pianos are loud enough. Characteristically, they often have good sound quality and volume, but if you are looking to amplify them, there's no way to do this.
Our verdict
Kawai is a company that produces many high-quality pianos, but each one is different in terms of specifications and features. Therefore, some models will be more ideal for your needs than others. The Kawai KDP120 is an affordable and enjoyable digital piano that will help you feel at home with its responsiveness. There's no doubt that you'll have a great time with it because it comes fully loaded with different kinds of features you can explore to be creative with, and the Shigeru Kawai SK-EX concert grand sound it mimics helps it produce a rich, warm tone.
Examples of such models are the Kawai MP11SE Digital Piano and the Kawai CA49 Digital Piano, which take the second and third spots on our list respectively. Like the editor's pick, both models are also highly adjustable and easy to operate. Plus, both models also come with multiple connectivity options, allowing hassle-free connection. However, the second-placed model edges the third-placed one when it comes to the polyphony and the number of voices, featuring 40 voices and a 256-note polyphony compared to the other's 19 voices and 182-note polyphony.
References
1.
Kawai Musical Instruments - Wikipedia
Kawai Musical Instruments Manufacturing Co., Ltd. is a musical instrument manufacturing company headquartered in Hamamatsu, Shizuoka, Japan. It is best known for its grand pianos, upright pianos, digital pianos, electronic keyboards and electronic synthesizers.
2.
Digital Piano vs Acoustic Piano – What's The Difference?
Music Gateway battle it out between digital piano vs acoustic piano. Check it out to learn more about which is best for a beginner!
3.
Timeline - Kawai
Learn more about Kawai's storied history and how Kawai became the "Sound Heard Around the World".