This is another beautiful digital piano and one you'll love playing. It has a great range of 88 keys and 64 notes of polyphony. While that may not seem as many as others on the list, with 64, you're rarely going to notice if some notes drop off.
Here, you get a wide range of 480 tones, 200 rhythms, and 80 songs. That'll allow you to have a lot of fun and experiment with your music. You get a vast range of accessories included with this digital piano, such as headphones, learning night light, score clip, and more.
10
Best Stylish White Digital Piano
LAGRIMA LAG-570 Portable Digital Piano
Features
Keyboard: 88 fully weighted hammer action keys
Polyphony: 128
Number of timbres: 200 tones, 100 rhythms, 60 demo songs
Dimensions: 50.39" x 12.99" x 4.72"
Weight: 22 lbs.
Warranty: 3 and 4-year protection plans (purchased separately)
 More features: LED display, dual piano mode, Bluetooth, metronome, storage function, USB/MIDI jack, auto-sleep mode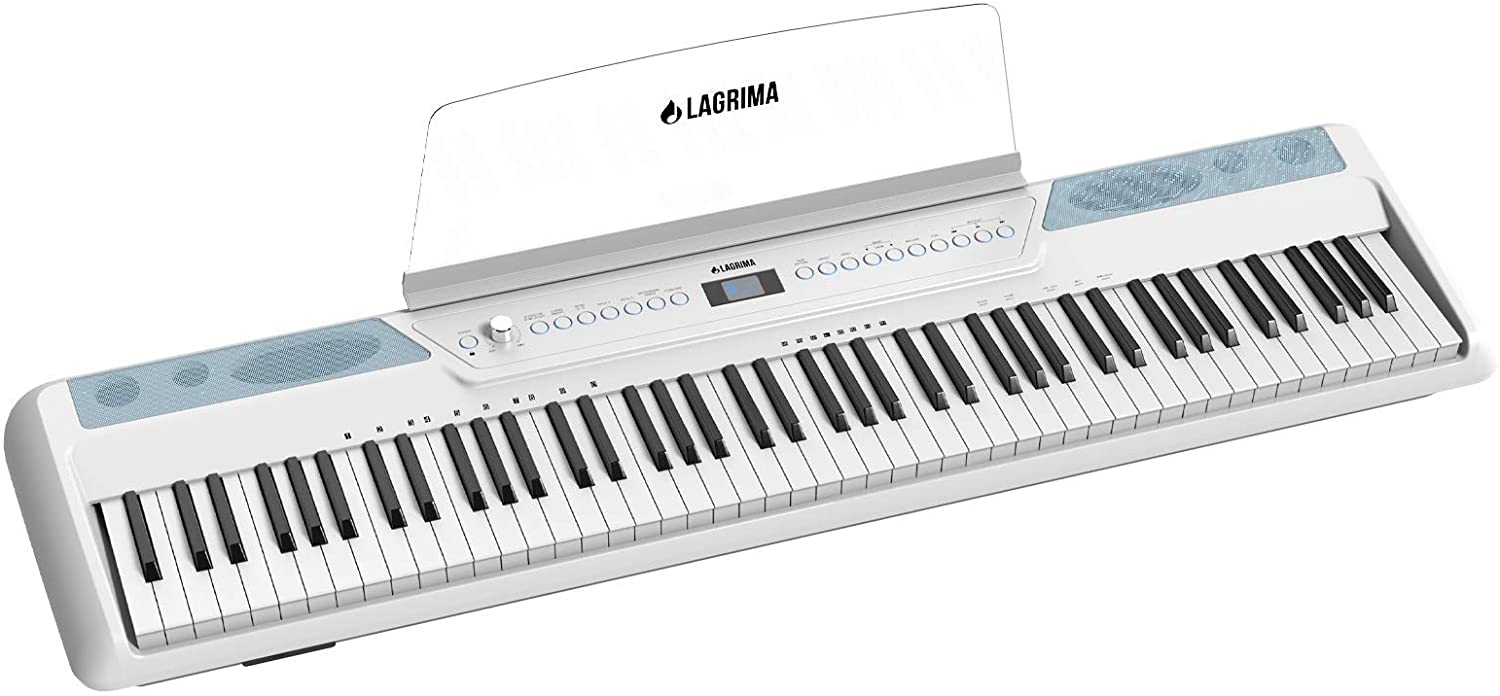 Good

The build quality is excellent here, and that's backed by it having an extended warranty. Moreover, it's a stylish design, but most importantly, it plays very well. It gives you that real piano feeling, which is perfect for those who want to use this as a springboard to an acoustic piano.
Bad

As we mentioned, that LED display is tiny, which may be difficult for those of us who don't have the sharpest eyes.
This is another model made by LAGRIMA with many impressive qualities. All of that starts with the keys. You get a full set here, and they play perfectly to give you a great touch response and a realistic feel.
With 200 tones, 100 rhythms, and 60 songs, you'll get plenty of enjoyment from this model. There is a useful LED display, but it is a little on the small side. On top of that, there are dual piano mode and Bluetooth compatibility, which are both excellent features.
Things to Consider
As you'll know, there is a lot more that goes into a digital piano than a stylish appearance. There are many different types of models out there, and it can get quite confusing when deciding between them. That's why we wanted to create this guide to make it as easy as possible. We'll go through all of the key features and see how they relate to you. In the end, we'll also go through some FAQs and hopefully clear up any queries that you may have.
How to find the best white digital piano?
The 'best' is always going to be very subjective, as what's right for one person may not be right for you. Do you need the full range of keys? Is portability important? Or perhaps you need a range of different tones? These are all valid questions that may determine the best digital piano for you. As we go through this buying guide, it's good to make a mental note of how each feature applies to you. By the end, you'll know exactly what you need.
Keyboard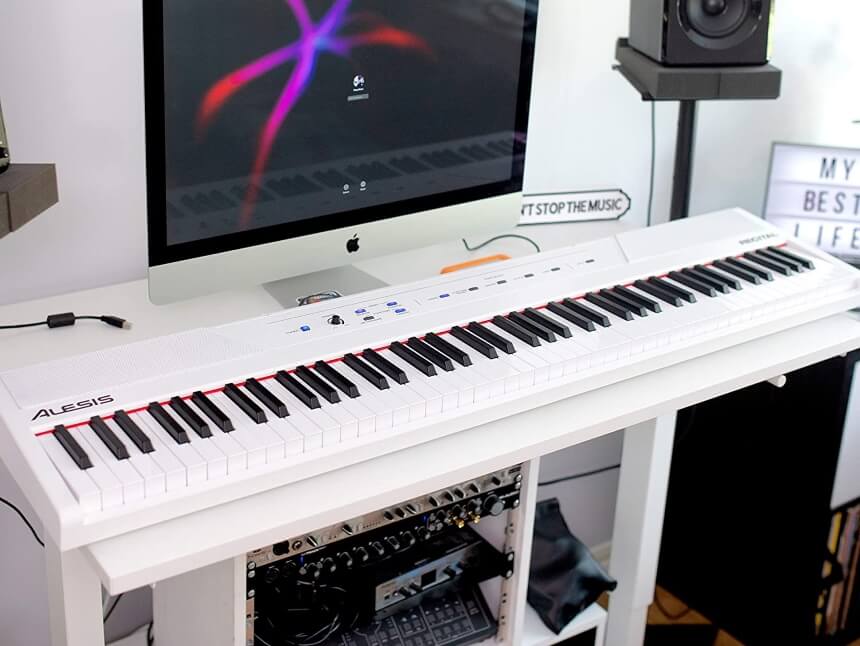 On an acoustic piano, when you press a key, a lot of mechanical things happen. The key will eventually cause a hammer to strike a string. The harder a key is pressed, the harder the hammer hits the string, and this then affects the volume of the note.
Trying to replicate this feel on a digital piano is very tough. On cheaper keyboards, this mechanism will simply be a spring, and when you press down a key down, it will send that digital signal to play the pre-recorded note relating to that key.
For those that want the authentic experience, they should opt for semi-weighted or weighted keys that replicate the acoustic piano feel.
An extra level of quality can be found with Yamaha's GHS weighted keys, as seen on the P-125. These do a fantastic job a replicating both the sound and feel of a real piano.
Max polyphony
The polyphony dictates how many notes you can play at any one time. Let's use a basic example of a 16-note polyphony. If you were to play the first 16 keys on the keyboard, they would all sound. If you were then to play a 17th, the first would then cut out. Thus, you can only play 16 notes at any one time.
Most modern digital pianos can play a lot more like this, such as the 64 on the Les Ailes de la Voix 88-Key Electric Piano, which is more than enough for most people. If you need more than that, then the Yamaha P-125 88-Key Weighted Action Digital Piano takes it to the next level as it can produce 192 notes at once.
Number of timbres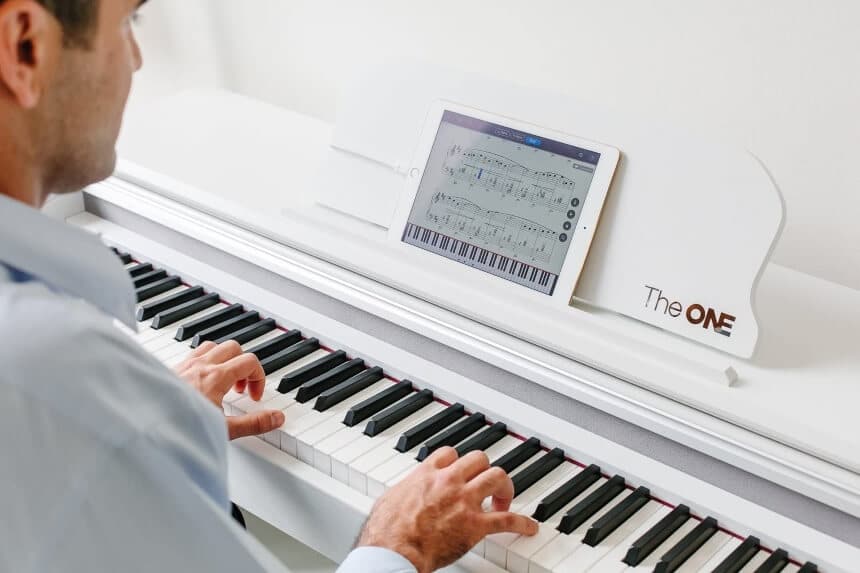 How many different sounds and effects do you want from your digital piano? If you're simply practicing for an acoustic piano, then you probably aren't bothered about having any. You'll just want it to sound like a real piano.
Others would want to experiment musically, and for those people, a model such as the LAGRIMA LG-8830 Digital Piano would be perfect. This has an incredible 960 tones along with 80 demo songs.
You can use your digital piano as a drum kit on some models, so make sure to look out for these features if you want them.
Interface and controls
It's good to have a look at the control panel to see how easy it is to use. Some of them can look quite complicated but are fairly straight-forward once you've had a little practice and read the manual. After a while, you'll learn how to record, play different tones and demo songs, etc.
If you want to make it even easier for yourself, you can look for a model such as the Roland GO-61P-A that has a digital display. The screen makes it easy to know what setting you're on and how to control the digital piano. While this can be a good additional feature, not everyone will need it.
Dimensions and weight
A vital question to answer before you get your digital piano is where are you going to put it? If it's going to be in a bedroom, for example, you have to measure it up to make sure it fits. Some models, especially those that come with stands, take a lot of space.
You may be looking for something much more lightweight and portable. At just 9.94lbs, the Yamaha NP12 61-Key Lightweight Keyboard is very easy to carry and perfect for those who travel a lot.
What is in the kit?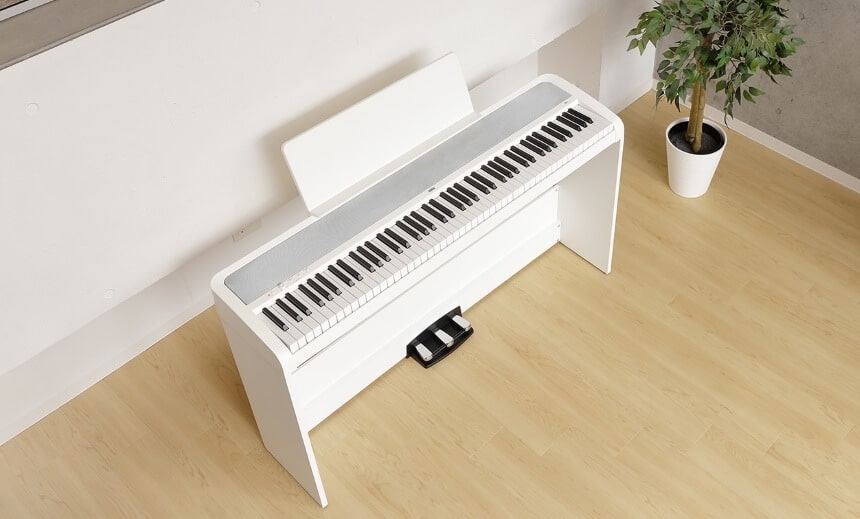 You also want to see what else is in the kit and what else you may need to buy. Many of these models, such as the LAGRIMA LG-8830 Digital Piano, come with pedals. This is vital in practicing playing an acoustic piano and learning how those pedals affect the sound.
There are some great accessories too, such as the travel case with the Costzon BX-II. The Les Ailes de la Voix 88-Key Electric Piano is an example of a great product that comes with everything you need, including cables, adapters, and even headphones.
Warranty
Having a good warranty can be beneficial with any type of digital piano.
All of the models here offer at least a 90-day guarantee, and it's always important to thoroughly inspect your digital piano as soon as you get it.
If you wanted to get an exceptional warranty, then you'll love the Yamaha products. You get 3 years offered, but with Yamaha's premium build quality, it's unlikely you'll ever need to use it.
Prices
Digital pianos vary a lot in price. Thus, it should be possible to find a suitable model for any budget. At the top end, we have The ONE Smart Piano at a little over $1,000 due to not just its quality but also the immense functionality in its digital system.
If you simply want a digital piano with incredible sound quality, the Yamaha P125 would be a great option. This famous name makes digital pianos that do very well at replicating the sound and feel you get from grand pianos.
At around $350, you can get a range of impressive models such as both the LAGRIMA pianos we looked at. These not only play fantastically well, but they also look brilliant.
Under $200, you can still get some excellent digital pianos, such as the Costzon BX-II. This one has impressive features and still sounds great. It makes it optimal for beginners and offers exceptional sound quality.
FAQ
How does the keyboard on my digital piano affect my playing experience?
As mentioned in the keyboard section, the action on an acoustic piano is exceptionally complex. How a digital piano feels can vary from one model to the next. The weight response from a piano will give you a slightly different playing experience.
A non-weighted key is going to spring straight back, and the applied pressure won't have much of an impact on how it sounds. If you want a fully authentic experience, you need to get a model with weighted keys that give you a more realistic response. This is what you need if you want to have a similar feel when switching between acoustic and digital pianos.
How should I maintain my electric keyboard?
There are a few things that you can do to maintain your keyboard. This is especially important for white colors as they can easily yellow if you don't look after them. Perhaps the best thing you can do is to place a cover over them as this will prevent any dust or dirt from getting to it and any UV rays.
Aside from that, a regular cleaning with mild soap and a slightly damp white cloth can be highly effective. Q-tips can be used for difficult areas. If you want to restore the white on your digital piano, then both white vinegar and toothpaste can be effective in getting rid of any stains.
What is MIDI used for?
MIDI is great if you want to be able to record your digital piano straight to music software. It's short for Musical Instrumental Digital Interface that will allow your computer and your musical instrument to communicate.
When using MIDI, you'll just be playing the piano that's written into the software, and therefore, the quality of your sound doesn't really matter. This is why many people prefer to buy a specific MIDI keyboard when recording with software instead of a digital piano.
Our verdict
We were impressed with all the digital pianos on this list. If we had to pick a favorite, we'd choose the Yamaha P-125 88-Key Weighted Action Digital Piano. It has a fantastic key feel while delivering immense sound quality for the complete performance.
If you are searching for a budget model, the Costzon BX-II 88-Key Portable Touch Sensitive Digital Piano would be a great option as it still has an impressive sound with some great features.
For complete functionality, we thought The ONE Smart Piano was truly remarkable.
While these three were great, we could have easily highlighted any of the other seven. They all have great sound quality with slightly different features and look fantastic, so all that's left to do is choose the best white digital piano for you and enjoy your musical journey.
References
1.
7 things to consider when setting up a digital piano at home | MusicRadar
Take the fear out of setting up your digital piano with our handy tips and tricks.
2.
Which Digital Piano Is Right for Me?
Which digital piano is best for you? Ultimately, the decision as to which digital piano to purchase generally comes down to four basic factors: price, size, skill level and features. In this article, I'll outline some considerations for each.
3.
School of Rock | Can You Learn Piano on a Keyboard?
There are major differences between pianos vs keyboards. Find out if you can learn piano on a keyboard and what to look for when deciding which to play.