Korg is another huge name in the world of synths, and this is a wonderful model from them. It's monophonic, which many people prefer, and the keyboard has a range of 37 different keys that have a great feel.
It doesn't have a sequencer included, but it does have 2 oscillators that have 4 waveforms. The filters on this synth are also excellent with both low and high pass filters. Moreover, it gives you a wide range of connectivity options, so that will never be an issue.
10
Best Battery-Powered Synth Under $1000
Roland GAIA SH-01 Synthesizer
Features
Signal: digital
Max polyphony: 64 voices
Keyboard: 37 keys (velocity-sensitive)
Sequencer: n/a
Oscillators: virtual analog synthesizer sound generator, 7 oscillator waveforms
Connectivity: L/MONO, R OUT, headphones, pedal jack, MIDI, USB, EXT IN
 More features: 64 presets, 64 user memory slots, multiple effects, arpeggiator, phase recorder
Good

We loved the patch creation here, which has the bonus of being very easy to use. It's a user-friendly synth that is ideal for beginners. Also, it's perfect for musicians on the go, considering that it can run on batteries.
Bad

While it was nice to have some presets, we thought some of them were quite weak and could be improved.
Here is another option from Roland and one of the best digital synths around. It has a good polyphony with up to 64 notes, and the 37 keys give you plenty of versatility. Additionally, those keys are velocity-sensitive, which provides you with a real piano feel.
As with others on this list, you'll need to buy a separate sequencer, but it shows excellent performance with the oscillator. There are a lot of other features to like here, too, such as the 64 presets with 64 user memory slots.
Things to Consider
As with any product, you always want to get something that perfectly matches your needs, along with it being within your budget. That's why we've written this buying guide and consulted with our experts to give you the highest quality information. We've taken a close look at all of the key features to see how they relate to you. By the end, you should have a clear idea of your best synth under $1000.
Reasons to go for synths under $1000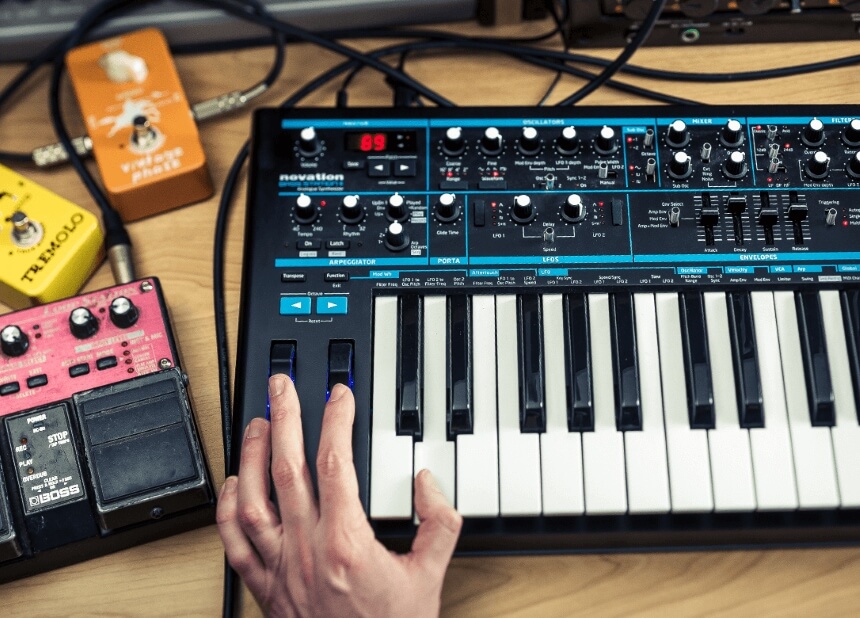 You get what you pay for, right? While that can often be true, it doesn't mean you can't find synths with exceptional quality under $1,000. We've found 10 here that we were very impressed by, and all of them will give you the quality you need to make professional mixes.
Not everyone can afford to pay $4,000, and you shouldn't bankrupt yourself to get a synth that will only have a bit more functionality than a model you can get for much cheaper. Unless you get paid for using a synth, it doesn't really make sense to get a model at the absolute top end. If that's what you're developing towards, then a cheaper synth is going to give you all the tools you need.
The biggest reason to get a synth under $1,000 is that there is a range of brilliant options available. Here, we've looked at mid-range options that still sound professional but have much more functionality than budget models. They are perfect for musicians who want to make exceptional music at a reasonable cost.
How to find the best synthesizer under $1000?
You want a synthesizer, but what exactly are you looking to get out of it? Do you want one that's easy to play or has weighted keys? Do you need a model that has the widest range of effects? These are the types of questions that are important to answer before rushing with your buying decision. As we go through all of these key features, see which ones are most important to you, and this should then give you a clear idea of the best synth for you.
Digital vs. analog
This is the eternal debate and one that ultimately comes down to personal preference. The technical difference is down to the circuitry and waveform, with complete novices not really noticing the difference between the two.
Analog models, such as the Korg Minilogue XD Gen Synthesizer, often sound warmer and are more intuitive to use. On the other hand, digital synths, such as the Yamaha MX49, can be cheaper and have powerful presets. Most synth experts prefer the analog signal, but some digital models are fantastic as well.
Max polyphony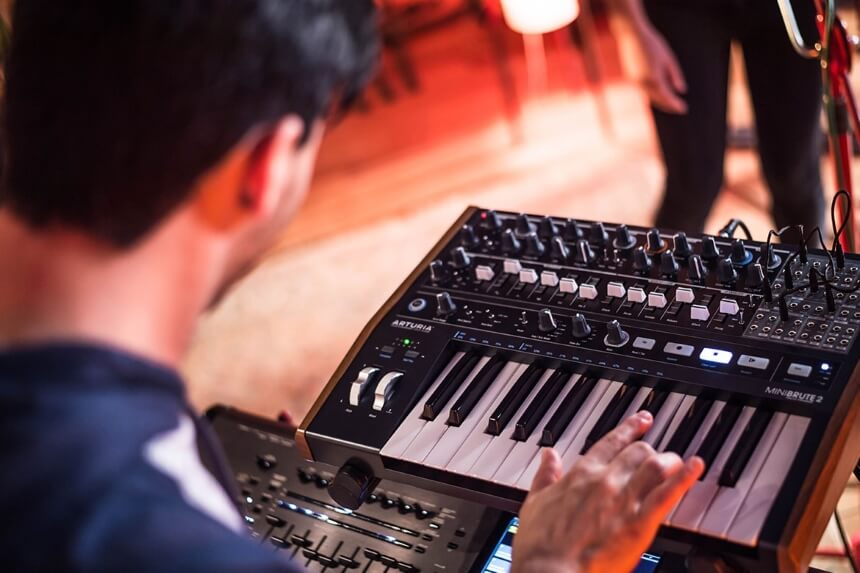 Polyphony relates to the ability to play more than one note at a time. An acoustic instrument, such as a piano, has unlimited polyphony as notes never cut out. As for the digital keyboards, they can only hold a set number of notes at one time. If it's just one, then this is referred to as monophonic.
The best one will depend on what type of sounds you want to produce. The Roland JUNO-DS61 has a great range of polyphony with 128 notes available to be played at the same time. At the same time, the Arturia MiniBrute 2 Semi-Modular Analog Synthesizer is an excellent monophonic synth.
Keyboard
There are two important factors here, and they are the number of keys it has and how they feel. The number of keys you need will depend on what type of music you'll be making and how many notes you need to play at one time.
The key feel determines how they play, as some like to have 'velocity-sensitive' ones, which is what you get from an acoustic piano. This makes the key feel acoustic, and the volume of the note changes with how hard you press it.
You get velocity-sensitive keys with the Moog Subsequent 25 Analog Synthesizer that make it great to play.
Sequencer
The sequencer will play a sequence of notes created by you. This can be used for a wide variety of different sounds, and a great example of it is setting up a drum pattern. Thus, some have this built into your synth, whereas with others, you'll need to get a separate sequencer.
The 32-step sequencer of the BEHRINGER DeepMind 12 is particularly good and gives you great versatility in the music you can create. If you are fine with using a separate sequencer, then a few models don't have one included.
Oscillators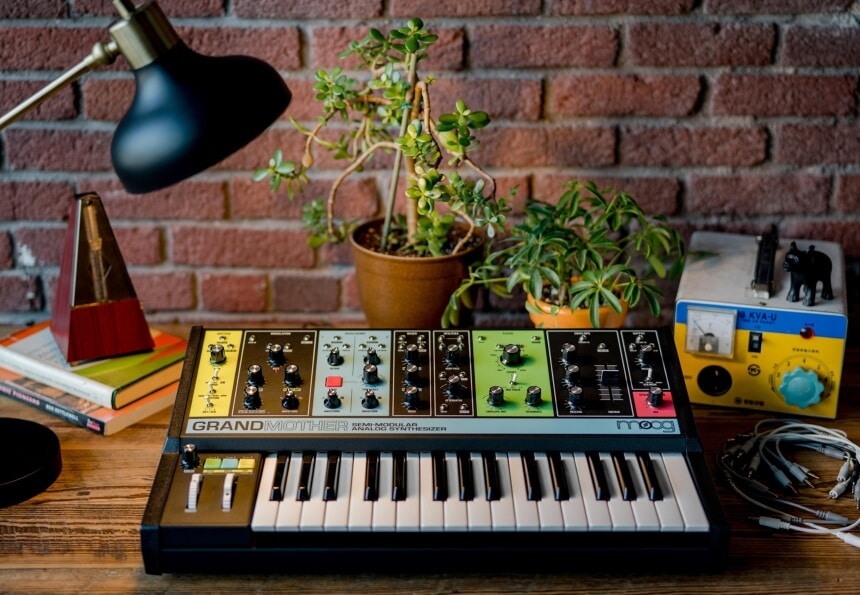 If you want your synth to have rich and deep tones, then you need it to have powerful oscillators. An oscillator will use an audible pitch to make a signal frequency that is often at the start of a signal chain. For example, the Korg MS20 Mini Semi-Modular Analog Synthesizer has two oscillators with four waveforms, which gives you excellent control over your tone.
Effects and filters
The great thing about synths is that they give you incredible customization on the music you can make. A lot of that comes from their effects and filters they use. As you might already know, the filter is an important part of a synthesizer as this will remove different frequencies from the audio signal.
There are a few different types of filters, depending on which frequencies are cut off. A low-pass filter. for example, will only allow frequencies below your cut off point. As for the high-pass filter, it does the opposite. You can also have band-pass filters that will only allow a middle range.
Controls
Along with the keys, you'll also have to think about the controls on the synth. The arrangement of these will change from one model to the next, and this is mostly going to come down to personal preference. If you've had a synth before, it's likely that you'll want similar controls to what you've used before.
You generally have three types of controls on a synth, and they are wheels, sliders, and knobs. The Roland JUNO-DS61 is an example of a synth that has all of these.
Connectivity
There are many things that you may want to connect to via your synth. Headphones and microphones are obvious ones, but you'll most likely want to connect to an amp, a computer, and other instruments. Thus, it's a good idea to think of your desired set-up before you get started.
Most synths will give you a range of different options, but they aren't all the same, and therefore, you should always double-check exactly what it is you're getting. The Korg MS20 Mini Semi-Modular Analog Synthesizer is a great example of a model that has a brilliant range of connectivity options.
Portability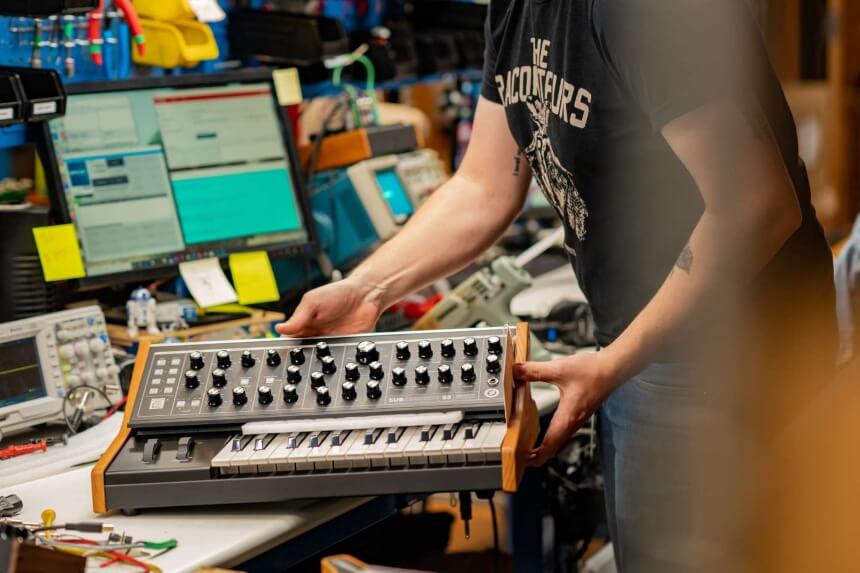 Do you want to travel with your synth, or is it always going to stay at home? If you're going to be traveling with it, then weight and size are important. The Yamaha MX49 Synthesizer is an example of a model that is fairly big but lightweight, which makes it easy to carry.
If you wanted a small synth, then you wouldn't get much better than the Arturia MiniBrute 2 Semi-Modular Analog Synthesizer, which you can take anywhere. You may also need your synth to be able to run on batteries. If so, the Roland JUNO-DS61 could be a perfect choice.
What else can be important?
Arpeggiator – This takes notes and plays them in a sequence. This allows you to create melodies and patterns.
Envelope (ASDR) – This controls the length and nature of your tone and consists of the attack, decay, sustain, and release of the note.
Modulation – This is the ability to make a routine change to your signal. You can usually do this to all parts of your synth.
There are many other features of a synth to look out for, such as the amplitude, an attenuator, a gate signal, resonance, sinewave, and waveform but the features that we've looked at in detail are the most important to check, especially if you're just starting out in the world of synths.
FAQ
How long does it take to master a synthesizer?
The answer to this is the same answer with any instrument – it depends. Everyone will learn at a different pace, and you shouldn't get frustrated if it takes you a while. Even if it's easy to get phased by the number of controls a synth has, just take it one step at a time. You could develop a good level of proficiency in just a few months, and you'll start having a lot of fun. True mastery of a synth, however, is likely to take years of practice. As long as you keep practicing and having fun, then it doesn't matter how long it requires.
Can you recommend the best model for beginners?
The
Korg Minilogue XD Gen Synthesizer
is our top pick because we think the balance between sound quality, its features, and durability are perfect. Also, it's quite easy to learn, and it's the type of synth that can take you all the way from being a complete beginner to an expert. If that was still a bit too much money for you, then the
Novation Bass Station II
can be a great option. While we think these two are great, none of the 10 on this list is overly complicated as far as synths go.
How can I get new sounds for my synth?
The way to get new sounds for your synth will depend on what model of synth you get. For example, Roland has a website called Axial, where you can get free, professionally designed patches, which are grouped by instruments, which makes them very easy to find. Other makers will have their own resources for you to explore. You always have the option of trying to create your own patches, which can be even more fun. Therefore, the beauty of a synth is that it gives you many features that enable you to customize sounds and create something special.
Our verdict
We loved all the synths on this list. If we had to pick a favorite, then it would have to be the Korg Minilogue XD Gen Synthesizer. We loved everything about it and thought it was very well-priced. The intuitive controls allow you to master it quickly and become a pro in no time.
If you were looking for a budget model to get yourself started in the world of synths, the Novation Bass Station II Analog Mono-Synth would be an excellent choice, as it still has plenty to like about it.
Conversely, if you need a professional option, then you can't go wrong with the Moog Grandmother Semi-Modular Analog Keyboard Synthesizer.
Whichever one you pick from this list, you will be impressed by its performance. They are all great, but each of them has its unique qualities. Thus, it's a good idea to check over the buying guide to make sure you're getting the best synth under $1000!
References
1.
How Synthesizers Work | HowStuffWorks
Ever wonder how a synthesizer works? Read this article to learn how a synthesizer works to produce sound and music.
2.
What is a synth and how does a synthesizer work? - RouteNote Blog
What are these mysterious musi making devices that seem capable of making any sound and how do they even work? Analogue, digital, and everything in-between; we're here to clear it up.