If you're looking to spend the full $2000 amount, the Yamaha CP73 is a promising prospect. You may have to give up on an 88-key setup if this is your selection. However, there are other features you gain as a result of the design as well.
The accessories included are a stand as shown in the image, a music rest, and a black padded piano bench. Additionally, the bench comes with some inbuilt storage space.
The sounds that this piano is capable of have been incorporated from three different acoustic grand concert pianos, of which two are from the Yamaha lineup. They include the Yamaha S700, Yamaha CFX, and the Bösendorfer Imperial 290. As a musician, the level of expression you can achieve with the CP73 is thus unmatched in this price range.
Despite the keys being fewer in number than in any other digital piano in this write-up, their quality is astounding. First, they come with synthetic ebony + Ivory key-tops, although the bodies are made of natural wood. It's thus unsurprising that you'll find the keys more responsive and less sticky.
The manufacturer uses GHS keys in this setup, just as they did in the Yamaha P125. Furthermore, there is an additional sensor in the piano's design, which makes it possible to repeat notes even without completely releasing the keys.
Next, the controls might seem a bit complex, but you needn't worry about programming or menu diving to find specific functions due to the one-to-one interface. You can thus shape sounds with relative ease to give you the desired results. Let's not forget the full dot LCD display that makes using some functions of the piano easier.
Connectivity in this musical piece of equipment is also befitting of a tool of this caliber. Additionally, if you have the right skill set, you can even take this tool up on stage and perform an exceptional musical set.
The presets and polyphony capabilities are also impressive attributes of the Yamaha CP73. However, in terms of polyphony, this tool is definitely overshadowed by the P125.
10
Best Affordable Digital Piano
LAGRIMA Digital Piano
Features
Keyboard: 88 full size fully weighted keys
Polyphony: 64 notes
Presets: 480 tones
Effects/functions: Soft/Sustain/Rear; Chord, Split function, Dual Voice
Connectivity: USB, MIDI In/Out, dual headphone jacks
Dimensions: 52.55 x 12.2 x 30.12 inches
Weight: n/a
Other features: 3-pedal system, 200 present rhythms, LCD display screen, 80 demo songs, built-in stereo speakers, slide cover design, padded bench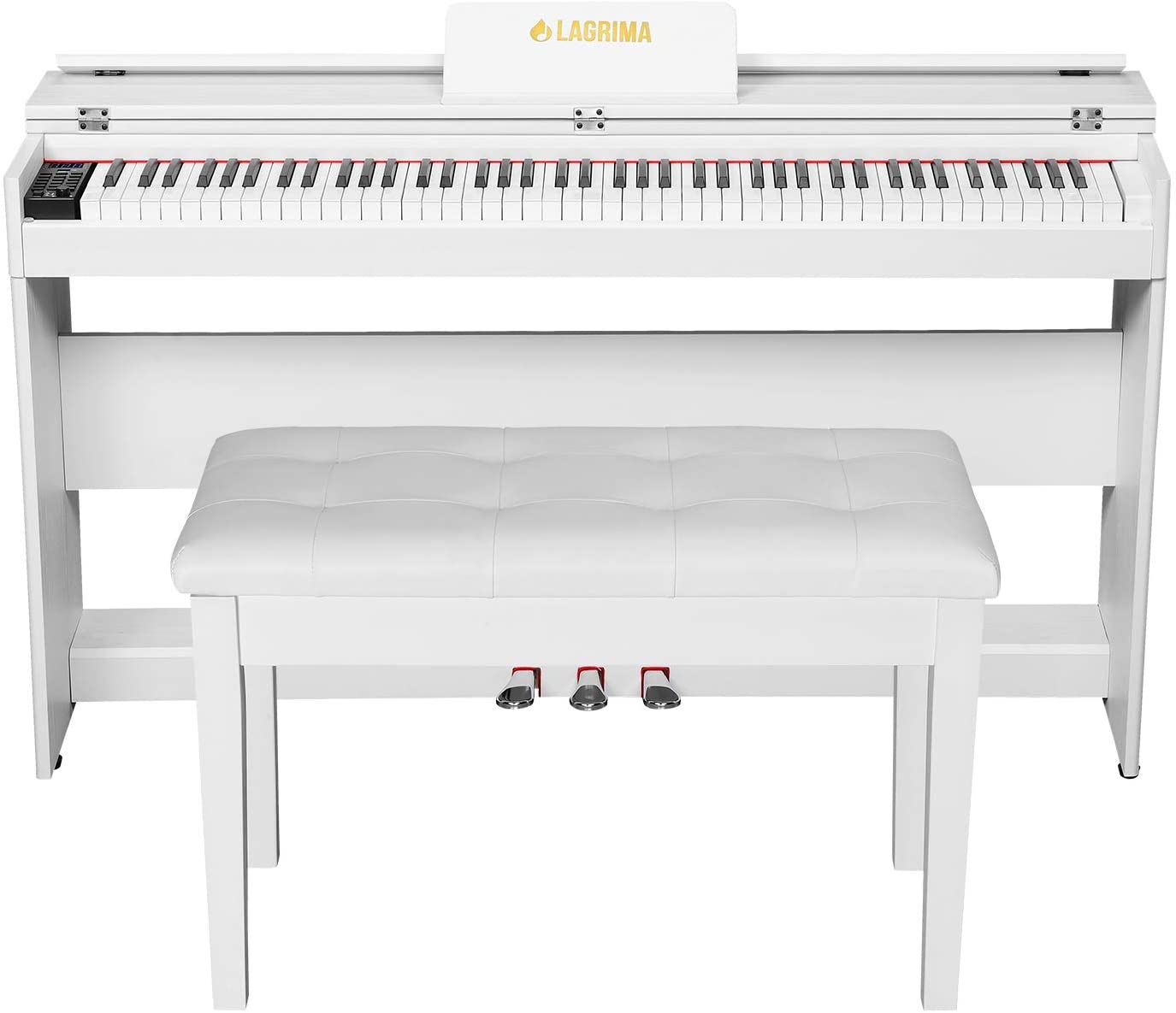 Check price
Good

We liked the price of the piano for affordability reasons. There are demo songs for learners. A stand with a three-pedal system is included. An impressive number of presets are available.
Bad

Built-in speakers are not the best quality in the market.
The LAGRIMA Digital Piano joins the ranks of other options listed with a three-pedal system. Overall, this piano is one of the more well-rounded picks that made it onto the list. There are several reasons for this. The keys, for instance, are full size and fully weighted.
The next impressive feature is the presets. Clearly, you'll have enough options in terms of the sounds you can produce.
Effects and functions are another positive for anybody looking to own this piano. It's not visible from the image above, but there is also a small LCD screen added. When navigating through the rhythms and demo songs, this tiny screen might prove handy.
You also have enough accessories to successfully play this piano. This includes the stand, a bench that doubles as storage space, and a music rest. Built-in speakers are also part of the machine's setup. As such, it's quite surprising that this digital piano is as inexpensive as it is.
Things to Consider
From the piano's list above, you can probably tell that picking one might be quite tricky. After all, the factors you need to account for are many and quite confusing. However, with this buying guide, you'll find you don't have to stumble around the process and that you have a straight path to the digital piano selection of your dreams.
Benefits of digital pianos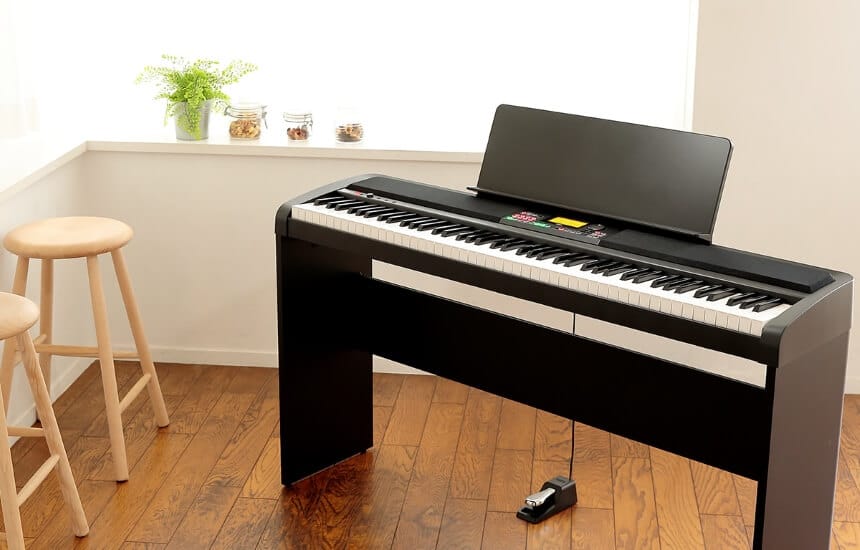 Since you're already considering getting a digital piano, it would do you some good to know the upsides of owning one. These benefits are many, especially when compared to their acoustic counterparts, and we will go through them one by one.
The first and probably one of the more apparent benefits is the lower price. As the list of digital pianos above shows, price points can start at about $300 and will keep rising into thousands of dollars. In comparison, even the cheapest acoustic piano will be priced at around $3000.
One reason people in the past preferred acoustic pianos was the keyboard action and the authentic feeling of the keys. This is no longer exclusive to acoustic pianos as manufacturers have figured out ways to mimic their touch and feel as they make digital options. As such, you'll find keyboard action to factor in heavily for a lot of digital piano shoppers.
Minimal maintenance is another benefit of getting the digital piano. It doesn't need to be tuned every so often. The sounds are programmed into the device, and thus they will remain consistent as long as you own the musical machine.
The ability to use headphones is massively underrated but crucial for digital piano shoppers. This is a feature that doesn't work in acoustic pianos. If you're practicing at home, having headphones on means you don't have to disturb anybody in the house or even your neighbors.
Another reason why acoustic pianos were largely preferred in the past is the authentic and rich sounds they produced. At first, manufacturers had a problem replicating this, but these days the sound quality is quite impressive. Consequently, you can get similar resonance and sound at a lower price.
Additionally, by using acoustic pianos, you realize their range of sounds is quite limited compared to the digital option. After all, the latter has incorporated the sounds of different instruments in its setup.
Lastly, the background rhythms available in digital pianos help you maintain your rhythm as you play. There are other optional benefits as well, such as lesson modes, recording capabilities, new sound technologies, and more that you'll see as you look over your options.
Features to consider when choosing the best digital piano under $2000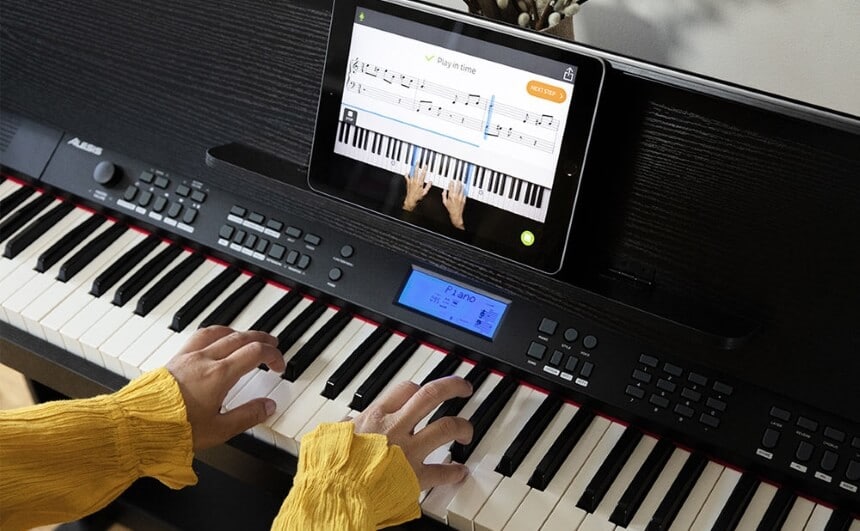 As you know, the quality of each digital piano isn't just dependent on price. Features can also help determine the quality of your options. The section below shows features you'll see in various digital piano options you encounter. It will also tell you how important these features are to your selection, so you don't blunder in your purchase.
Keyboard
Despite digital pianos being different, you have to remember that they are modeled from the acoustic piano, which many people still prefer. This is because the acoustic piano has a unique feel and design that makes it a joy to play. Piano manufacturers try to stick as close to this design as possible to give the same feeling.
Since acoustic pianos are designed with 88 keys in their setup, this is a theme you'll see recurring in digital pianos as well. That said, other digital pianos like the Yamaha CP73 have fewer keys. This is both good and bad. Having fewer keys means a smaller body that is easier to transport. Conversely, the tone range is more limited than in an 88-key setup.
As for the keyboard action, there are various picks to choose from as well. Ideally, most people want the authentic feel and touch of a regular acoustic, and some of the actions might help with that. As such, if you find a piano that fits the bill at your price range, you should select it.
The touch response should also be as close to the real thing as possible. As such, it would be better if the keyboard can detect the slightest touches and the speed with which you press the keys. Some picks like the Alesis Recital Pro even have an adjustable touch response that can be tweaked to allow you the ultimate playing freedom.
Sound quality
Sound quality can also make or break the piano. As a beginner, you may not notice the small differences in sound that determine the audio quality. However, as you advance, you'll want better sound to make full use of your musical genius. Notably, sound quality improves the higher you go in terms of price.
Polyphony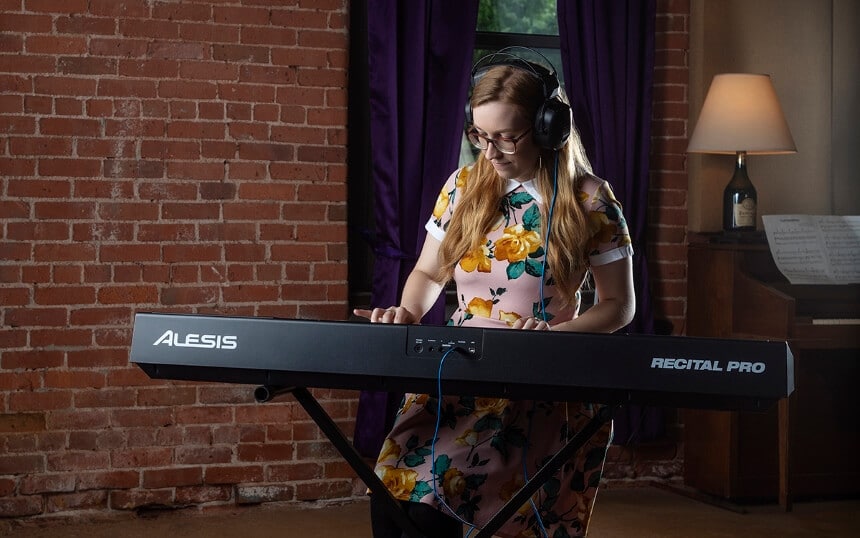 Polyphony requirements for piano users at varying playing levels will also differ. Beginners, for instance, can't string too many notes together since they don't have the expertise. As such, an option like the LAGRIMA Digital Piano with its 64-note polyphony will be sufficient.
An advanced player, on the other hand, may find a 64-note polyphony to be constricting to his playing style. However, a digital piano like the Casio PX560BE with its 256-note polyphony may allow them to play to their full musical potential.
Presets
If you're not coming across digital pianos for the first time, you know that presets can change the way you play the tool and the musical results you get from the instrument. Interestingly, sound versatility will increase with more presets.
Some of you might not need these presets to make music, and in such a case, the Donner DDP-100 and other pianos like it may be fine purchases. Others want to make their work as easy as possible and will thus go for pianos like the Korg XE20. Both are okay as long as they suit your needs and playing style.
Effects / functions
Effects can help you alter the sounds coming from your piano to give you the desired results. As such, having more effects/functions is just like having more presets in that the more you have, the more versatile your piano is.
Unfortunately, in some cases, the effects have been entirely exempt from the design of the piano. If you're a novice player, you might appreciate this as you can focus on the more basic elements of playing the piano. Conversely, if you want to push your musical creativity to the limit having more effects in your purchase will do you good.
Controls
The controls you get with your digital piano purchase will also vary from model to model. One example of a control setup is seen in the Yamaha CP73, where you have a one-to-one interface. This means that each piano function has a dedicated button. As such, it may be easier to control this piano than it would be to use one with fewer buttons that offer shared functions.
Connectivity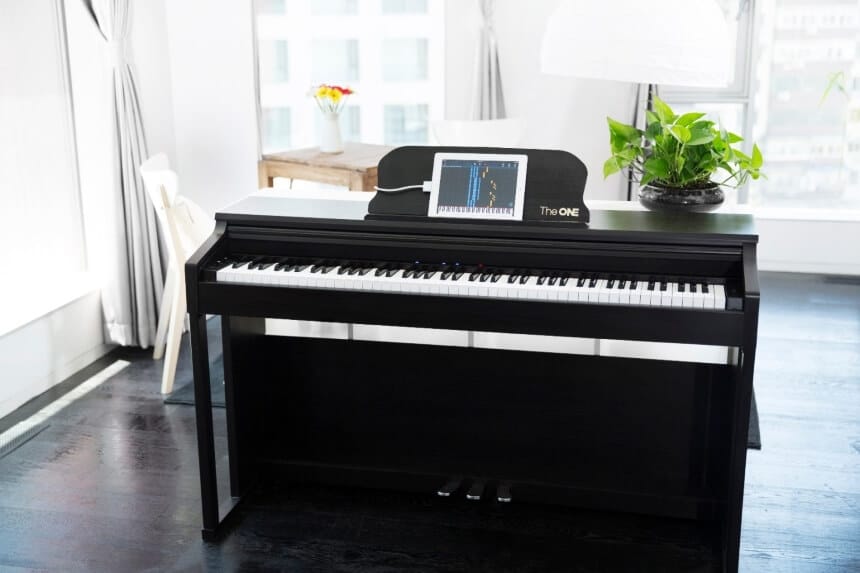 The goal for some of you is just to learn to play the piano, in which case your purchase's connectivity may not matter that much to you. However, after learning, you will likely want to incorporate sounds from other instruments and musical sources, which is where the connectivity comes in. This will include options like your PC, smartphone, or tablet, MIDI devices, and more.
Notably, if the number and types of connection ports on your piano are limited, the types of sounds and inputs you can incorporate into the playing set will also be limited.
Additionally, the connectivity also determines your sound outputs. This includes monitor speakers, headphones, USB sticks, and more. As a result, having more connectivity is always a better idea, especially if you are a professional who plays on stage.
Portability
Some of you are looking for pianos for your home studio. Others want digital pianos to take with them on stage, off stage, and on tour. This would necessitate that the pianos be portable. Of course, some of the options above fit the bill, while others don't.
The Korg XE20 is clearly the most portable one as its weight is about 25 pounds and it doesn't come with a stand. In comparison, the ONE Smart Piano that comes with a stand and weighs more than 100 pounds will be much harder to move.
Remember that only you can decide whether portability is a make it or break it feature for the piano purchase.
Built-in speakers
Also, quite a high percentage of the pianos in the list above come with built-in speakers. This is one way for you to listen to your audio output if you don't have headphones and are not connected to monitor speakers.
Nevertheless, the inbuilt speakers' quality is another thing that will largely vary from model to model. The 40W speakers on the Casio PX-870 Black, for instance, are much better than the 25W speaker on the Donner DDP-100. This is in terms of sound quality and power.
The former can thus be used for performing in a small enclosure where the speakers' sound will reach all corners of a room.
Lesson function
Sometimes you may also encounter the lesson function. Pros will likely not need this feature, but it is different for beginners as they need all the help they can get.
Lesson mode, as seen in the Alesis Virtue, will split your 88-key keyboard into two equal sections. This is in terms of pitch, voice, and the number of keys.
Beginners can thus sit together with their instructors in front of the piano and mimic everything they do. This might help make learning easier.
Other features
You can see that almost all the pianos mentioned above also have extra features. One example is the LCD screen in the LAGRIMA Digital Piano. The same piano also has a padded bench as an accessory and even demo songs included.
Almost all of the extra features add value and functionality to the digital piano. As such, more extra features will definitely be better in a digital piano purchase. Also, you'll have to place value on each of these extra features based on what you deem most important, and that should help you make a better selection.
FAQ
How do digital pianos work?
Most digital pianos, e.g., the
Yamaha CP73
, use pre-recorded audio samples of acoustic pianos as the base for their sound. When you press a key, these recorded sounds are amplified through an internal speaker. Also, weighted keys are sometimes added so you can get the same feel and action that you would get in an acoustic piano.
Which digital piano is closest to acoustic?
The closest pianos to an acoustic option are those with a console design, and the
LAGRIMA Digital Piano
is one example. These pianos have a similar touch, sound, and look to the acoustic piano. The three pedals in their cabinet-style stand setup are also a concept taken from the original acoustic design.
How much do digital pianos cost?
The price range for digital pianos is quite extensive. Some can be gotten for as little as $400 while others need you to spend more than $2000. As such, your budget will largely determine what digital piano you end up with.
Our verdict
The Yamaha P125 is our overall best pick from the list above. The piano is affordable, has impressive polyphony and effects features, and is lightweight.
Another top pick is the Casio PX560BE. This option delivers on the polyphony, presets, and effects end. Furthermore, you can connect it to lots of other inputs and outputs that will allow you more freedom in your music journey.
As for the Alesis Virtue, which is our third favorite. For a low price, you'll get an entry-level digital piano with an 88-key velocity-sensitive keyboard and 128-note polyphony. It features adjustable touch-response and 160 built-in accompaniment styles
These three digital pianos that you can get for under $2000 are our favorites. That said, we didn't consider your needs when selecting them as our top three, and thus, you may have different selections in mind. If you do tell us about them in the comment section below.
References
1.
How to connect your digital piano to a computer | MusicRadar
From recording to interactive lessons, this is the how and why of connecting your digital piano or keyboard to an external device
2.
Acoustic vs. Digital Pianos: The Pros and Cons
When you're in the market for a new piano, your main options will be either acoustic or digital pianos. Most people develop a preference for either digital or acoustic pianos based on their own experiences with them.
3.
Choosing a Piano: Acoustic or Digital? - Musical Instrument Guide - Yamaha Corporation
This is the Yamaha Corporation [Musical Instrument Guide] website. This article contains information about the Piano [Choosing a Piano: Acoustic or Digital?]