Do you want a top of the line digital piano without spending too much? The Eastar EP-120 is perfect for people who are looking for an affordable digital piano that still offers all the features and quality of more expensive models. It has 88 keys, 128 notes of polyphony, 31 voices, and a variety of connectivity options. Plus, it's easy to use with a touch screen panel and metal sustain pedal. You will not find another digital piano on the market with these features at this price. If you are looking for an affordable option that does not sacrifice quality or functionality, the Eastar EP-120 is the perfect choice for you.
When it comes to convenience, the Eastar EP-120 stands out from others on our list. It features a touchscreen panel unlike other pianos like the Casio CDP S100 which only has an LED display with controls. The Eastar also provides more input and output spaces than its Casino counterpart, and can be connected to computers, headphones, phones, tablets, and even thumb drives.
6
Best Design Keyboard
Donner DDP-80
Features
Number of Keys: 88
Touch Sensitivity: fully weighted
Polyphony: 128 notes
Presets: 1 voice
Dimensions: 49.9" x 13.9" x 29.3"
Weight: 46.9 lbs.
More features: three-pedal system, wood body material, 20W integrated speakers, MIDI USB output, audio in- and output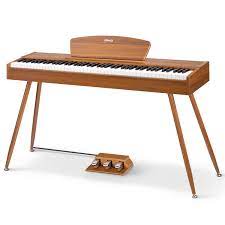 Good

Made to fit your interior
Single, expertly-sampled acoustic grand piano sound
Great for aspiring pianists
Real piano touch with weighted technology
Low notes are heavier, high notes are lighter
Headphone mode
Light-weighted body
Bad

Only basic sound
Limited amount of outputs
Do you want a real acoustic grand piano in your home without taking up all the space? The Donner DDP-80 is a digital upright piano that gives you all the features of a regular acoustic grand piano. It is made to fit into any interior, and it has a sleek wood body material. Plus, it comes with a three-pedal system and 20W integrated speakers. You do not have to be an expert pianist to appreciate this incredible instrument – anyone can enjoy playing on it. With weighted technology, the low notes are heavier and the high notes are lighter, just like on a regular acoustic grand piano. And if you want to practice in silence, just put on some headphones!
Although the Donner DDP 80 is pretty similar to the DDP 90, the former stands out with its attractive wooden design. The DDP 90 looks like your everyday digital piano, but comes with the same polyphony, pedal system and fully weighted keys. The DDP 80 also gives you all the functions of an acoustic piano, setting it apart from others.
Things to Consider
When you are looking for a beginner keyboard, there are a few factors that you should keep in mind. We considered several factors when making our recommendations for your best purchase.
Number of Keys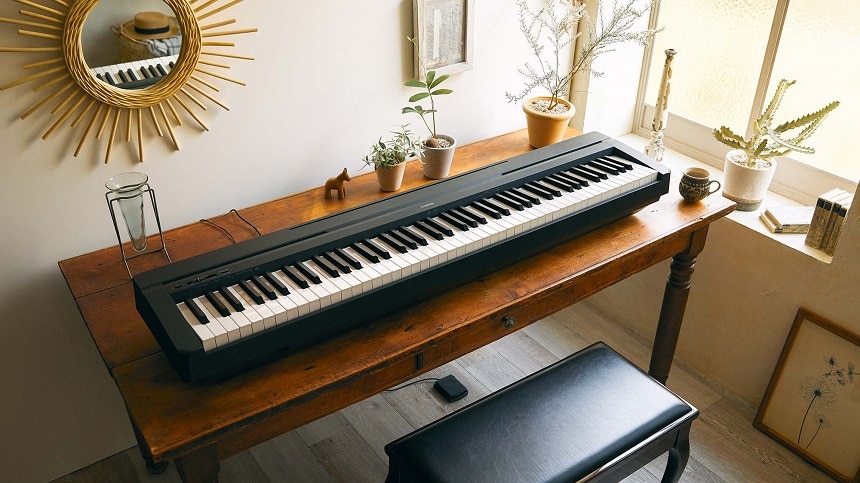 The number of keys is important because it determines the range of notes that you can play. A keyboard with 61 or more keys gives you a full octave of notes to work with, which is the standard size for most keyboard instruments. This allows you to play a wide variety of pieces and gives you room to grow into more complex pieces as you become a more experienced keyboardist. A keyboard with 88 keys is the industry standard for grand pianos, so if you're planning on playing classical pieces or other advanced material, you'll want to look for a keyboard with at least this many keys. However, if you are just starting out, a 61-key keyboard will be more than enough to get you started. You can find even more in our article about the best pianos under $300.
Polyphony and Voices
Polyphony is the ability of an instrument to play more than one note at a time. Monophonic instruments can only play one note at a time, while polyphonic instruments can play multiple notes simultaneously. The term "polyphony" comes from the Greek words for "many" (poly) and "voice" (phonia).
There are two types of polyphony: homophonic and contrapuntal. Homophonic polyphony means all the notes are played in unison, while contrapuntal polyphony is when the notes are played in counterpoint (i.e., in different voices).
The number of voices that an instrument can play simultaneously is called its "voice count." The voice count of an instrument can be as low as two (e.g., a piano) or as high as 128 (e.g., some digital synthesizers).
In general, the more voices an instrument has, the higher its polyphony. However, this is not always the case, as some instruments (e.g., the human voice) are monophonic but can still produce multiple notes simultaneously.
So, when you're looking at beginner keyboards, one of the things to consider is how many voices/notes it can play at once. The higher the better!
Presets
The presets in keyboards are usually sounds or instruments that come with the keyboard. These can be anything from pianos to guitars to drums. Some keyboards will have more than one preset, and you can usually scroll through them with a button or knob on the keyboard. Many people find it helpful to have a variety of presets available so they can experiment with different sounds. Some keyboardists even use multiple presets at once to create unique and interesting textures.
However, not all keyboards have presets, and some people prefer to create their sounds or use software instruments. If you are interested in creating your own sounds, you will want to look for a keyboard that has MIDI capabilities. MIDI is a protocol that allows electronic musical instruments to communicate with each other. With MIDI, you can connect your keyboard to a computer and use software to create custom sounds. You can also use MIDI to record your performances and share them with others.
Control Panel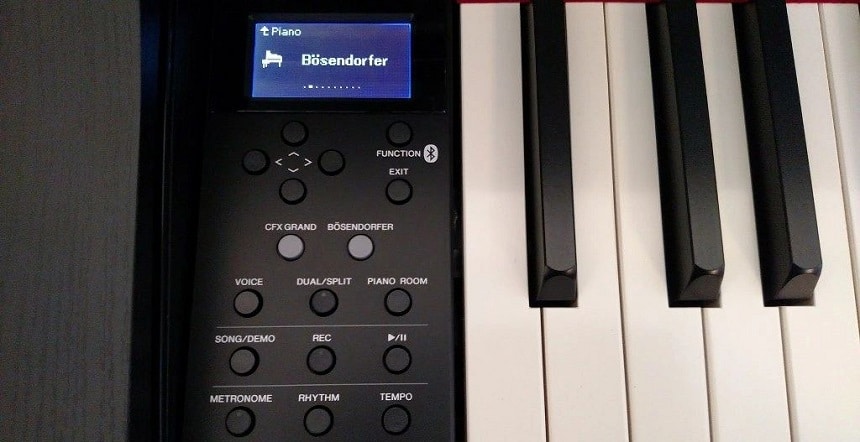 The control panel is the portion of the keyboard that contains the keys and other controls, such as the pitch bend wheel and modulator knob. It is typically located to the left of the keyboard.
On some keyboards, the control panel may also include a display screen that shows information about the current sound or patch, as well as other settings.
Connectivity
Most keyboards use MIDI to connect to other devices, such as computers or sound modules. MIDI uses a standard protocol that allows different devices to communicate with each other. You can think of it like a language that all MIDI-compatible devices speak.
MIDI is a digital interface, meaning that it converts your performance into digital data that can be stored on a computer or other device. This is opposed to an analog interface, which converts your performance into an electrical signal that can be amplified and sent to speakers. Read our article on the best MIDI controllers for reason!
An important thing to note about MIDI is that it does not store audio data. Instead, it stores information about the notes you play, when you play them, and how hard you play them. This data can then be used to trigger sounds from a sound module or software instrument.
Portability
A portable keyboard is a small, lightweight keyboard that can be easily transported. Portable keyboards are often used by beginner keyboardists or those who do not have the space for a full-sized keyboard. Some portable keyboards come with built-in speakers, making them ideal for practice or travel. Others may have MIDI capabilities, allowing you to connect to a computer or other devices to create music. When choosing a portable keyboard, it is important to consider the size, weight, and features that you need. Some portable keyboards have fewer than 61 keys, which may be sufficient for beginners but may limit your ability to play more complex pieces. Others may have a variety of extra features, such as pitch bend or modulation wheels, that can be great for experienced keyboardists. Choose the portable keyboard that is right for you based on your needs and budget.
Non-portable keyboards are typically larger and heavier than portable keyboards, and they often have more features as well. Many digital pianos fall into this category, as well as some arranger workstations and synthesizers. If you are looking for a keyboard to use at home or in the studio, a non-portable keyboard is likely the best option for you. If so, Read our compilation of the best piano benches to improve your comfort!
However, if you need something that you can take with you on the go, you will want to look for a portable keyboard instead.
Built-In Speakers
A keyboard with built-in speakers is a great feature for beginner keyboardists, as it allows you to practice without disturbing others or having to invest in separate speakers. This is a great way to get started with playing the keyboard without having to worry about too many extra pieces of equipment. Additionally, many keyboards with built-in speakers also have a headphone jack, so you can practice without disturbing others even if they are in the same room. This is a great feature to have if you want to be able to practice anytime, anywhere.
FAQ
What are the functions of each of the three pedals?
The three pedals on a keyboard are the sustain, sostenuto, and soft pedal. The sustain pedal is the most commonly used of the three, and it sustains all the notes that are being played when it is pressed down. The sostenuto pedal sustains only the notes that were being played when the pedal was pressed down, while the soft pedal lowers the volume of the notes being played. All three pedals can be used together to create different sound effects.
What is a half pedal?
A half-pedal is a feature on some keyboards that allows the player to sustain a note for less than the full duration by pressing the pedal only partway down. This can be useful for creating more subtle or nuanced sustain, or for imitating the sound of acoustic instruments that don't sustain indefinitely when a key is held down. Not all keyboards have this feature, so if it is something you are interested in, be sure to check for it before making your purchase.
What is the difference between ``MIDI`` and ``General MIDI``
The term "MIDI" (Musical Instrument Digital Interface) refers to a standard for digital signals that allows music data (such as key presses and releases, touch strength, etc.) to be transferred between electronic musical instruments or between electronic musical instruments and computers.
The General MIDI standard was developed to provide a higher level of compatibility and interoperability between different MIDI instruments that utilize the General MIDI system, allowing for the reuse of song data.
Depending on the degree of compatibility, there are two types of General MIDI: Level 1 and Level 2.
Our verdict
The Moukey MDP-350 is a great digital piano for professionals and beginners alike. It has 88 keys, touch sensitivity to allow you to play like an artist with your style of music in awaits! Plus, it's versatile enough that will work no matter what level or experience type someone may be – whether they're just starting as well being a professional musician who wants their very own starter kit.
The Yamaha PSR-EW310 is a great versatile keyboard made by a famous quality brand. With 76 keys, 48-note polyphony, and 622 voices to choose from, you will be able to create any sound you can imagine.
The Casio CDP-S100 is a highly versatile and portable digital piano, ideal for both beginners and experienced players alike. It features 76 keys, 64 note polyphony, 10 voices, and MIDI USB connectivity. The LCD display, line input, and control via app are greate bonuses for your best beginner keyboards for adults!
References
1.
Troubleshooting | General questions | Electronic Musical Instruments | CASIO
Some problems with MIDI connection.
2.
Frontiers | Effects of music learning and piano practice on cognitive function, mood and quality of life in older adults | Psychology
Reading music and playing a musical instrument is a complex activity that comprises motor and multisensory (auditory, visual, and somatosensory) integration in a unique way. Music has also a well-known impact on the emotional state, while it can be a motivating activity.