Alesis is a brand that has become well-known for providing some really affordable digital pianos, and the Recital is one of the best selling products on the market. In our Alesis Recital review, we dive into the features and functionality, and what makes this such a suitable choice for beginners and those who are on a budget. This is one of the cheapest digital pianos that you can buy that still gives you a great level of quality. It's also fantastic for those who need to play on-the-go as it has the ability to project sound loudly, just using battery power.
Specifications
| | |
| --- | --- |
| Dimensions | 51.6 x 13.8 x 5.5 in |
| Keys | 88 |
| Key type | Weighted, hammer action |
| Presets | 12 voices |
| Polyphony | 128 notes |
| Effects | Modulation, chorus, reverb |
| Built-in speakers | 2 x 20W, 2 x 10W tweeters |
| Weight | 26 lbs |
| Warranty | 1-year limited |
This product's also been included into these rankings:
Review
It would be easy to assume that the low price point means you have to make a lot of compromises on quality and features, but our Alesis review proves that this really isn't the case at all. Below, we dive into some of the features and functions of Alesis Recital digital pianos, and explain how this beginner digital piano can actually prove to be useful for lots of musicians, all with their own unique needs and preferences.
Why Choose Alesis Piano
Alesis was founded in the 1980s Trusted Source About Alesis It takes more than just designing, manufacturing and selling digital, analog, semiconductor and transducer technologies to fulfill the dreams of musicians, producers and audio engineers. It takes unforgettable musical experiences. www.alesis.com , which was a real golden age for the progression of music and electronics, as the world moved to a more digital age. The brand has a track record of making excellent, useful music equipment for studio and live use, but at an affordable price tag. Some of the innovations and well-renowned products in their range include:
Alesis SR-16 – all-time best-selling drum machine
MultiMix USB 2.0 – the world's first mixers with multi-channel USB audio interface
ProTrack – the world's first professional handheld stereo recorder for iPod and iPhone
And many more…
Alesis has become known for the quality of their digital pianos, too, with affordable hardware at a very reasonable price.
You get a warranty on new purchases from the brand, and plenty of customer support, too. On a budget, it is hard to beat Alesis.
Models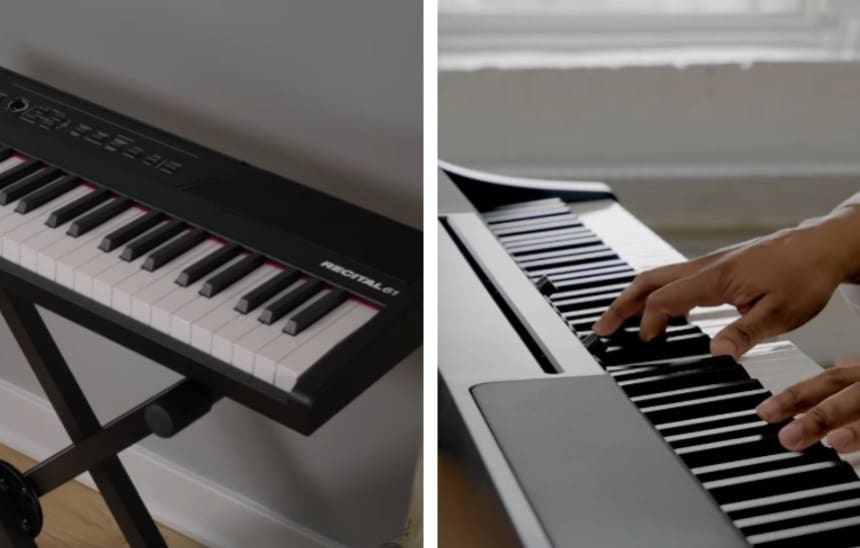 The Alesis range does have multiple models within.
In this guide, we're discussing the Alesis Recital Pro which has a fantastic, professional feel to it without costing the earth, but there are both cheaper and more expensive models within the range.
The Alesis Prestige Artist is slightly more expensive and has the benefit of graded hammer action.
If you want to opt for a cheaper model, you can go for the Alesis Recital or Recital 61, which is a smaller model that can be easily transported but be warned that it may make life more difficult if you want to play classical songs, for instance.
The Alesis Recital Grand models a piano sound and has a sustain pedal, good for those who want to take a traditional approach to play the piano and learn the techniques involved, but it is not very different compared to other digital pianos at the same price point.
Who can use it?
Anyone who wants to play piano using a digital piano can, of course, use the Alesis Recital. However, there are both pros and cons to the model and it is better for some people than for others.
The price point makes it a really popular choice for beginners who may be on a budget. Spending thousands of dollars on a piano when you first start to learn doesn't always make a lot of sense, so if you opt for the Alesis Recital you can rest assured that you get a brilliant model without it costing too much. For beginners, that fits the bill.
The features are also great for any learning environment. For example, a lot of schools and music schools will opt for these pianos as they have good connectivity and plenty of functionality at the price point.
It's great for practicing, due to its portability and affordability. This model can also do a really good job of projecting loudly for practice at home or on the go, without the need for an amp or any other equipment.
If you want to use it for basic performances in church or small venues it may also do a decent job, however, it really isn't loud enough for big, loud venues. If you want to play in a more sizeable space you will need to connect it to other equipment such as a PA system, and you might also choose a better model with a more impressive sound engine. This one is fine, but not necessarily professional in its quality.
Construction
Let's take a look into the construction and how sturdy the Alesis Recital keyboard really is. The construction of the keyboard makes a big difference. It is vital that you buy something that is hard-wearing rather than a flimsy keyboard that breaks after a few months.
Dimensions and weight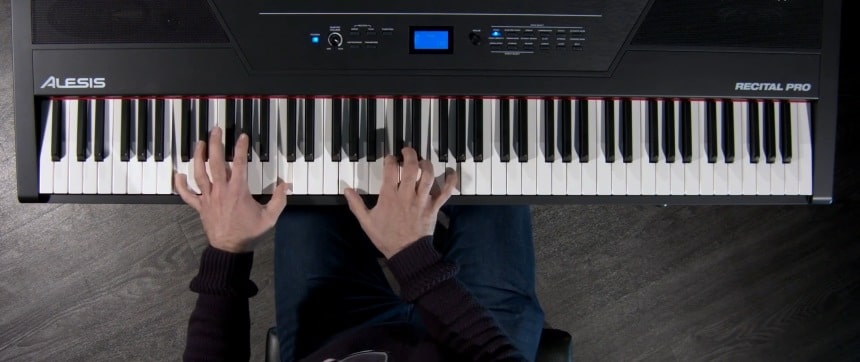 The piano is 51.6 x 13.8 x 5.5 in in size and 26 lbs in weight. This is definitely on the more lightweight end of the spectrum when it comes to transporting the piano from one place to the next. All pianos of this sort (88 full-sized keys) are likely to be relatively large in size, but this is still just about small and light enough to be portable, you just have to put it in a case.
The front of the Alesis Recital is deeper than some of the ultra-light and ultra-small models but this does make it easier to control, so there are pros and cons.
Assembly
There's no assembly required here, the recital comes ready to play. However, you will need to find a suitable level surface, or a stand. A lot of people opt to buy a simple stand for the house which can require a little bit of construction.
Warranty
By default, the manufacturer gives a one year warranty on this product.
Buying from Sweetwater, the Alesis Recital comes with an impressive 2-year warranty. If there is a manufacturer fault in that time and the piano stops working as it should, then you can make a claim on this warranty. There isn't a great deal of information on the manufacturer website so be sure to check you are getting a warranty at the time of purchase.
Controls
With any digital piano, you need to know exactly how to control it, or you won't be getting the most out of the piano itself. Let's look at the controls, both in terms of the actual musical controls and the control panel.
Keyboard
The keyboard is how you will interact with the piano in the vast majority of situations. In the case of the Alesis Recital, you are getting 88 quality keys. While they aren't quite up there with the elite models of digital piano, this is to be expected for a piano you can buy under the $600 mark (and sometimes even cheaper). The keys have a hammer action, which replicates the way pianos are played Trusted Source Piano students keeping up their skills during pandemic For 35-40 hours a week, Tracy Wong, who's completing a master's degree in piano performance at the Indiana University Jacobs School of Music, can typically be found in a practice room on campus. www.heraldtimesonline.com , with tiny hammers hitting the strings in order to generate the sound. Hammer action is great for digital pianos to have, but many have a graduated "graded hammer action" that gets heavier in the lower keys. This is not on offer with the Alesis Recital.
The keys don't have realistic synthetic ivory feel to them, which is something that some of the more expensive digital pianos on the market do offer in the modern age. All in all, the keyboard feels good to play and while not elite, it is a great option for beginners.
Control panel and display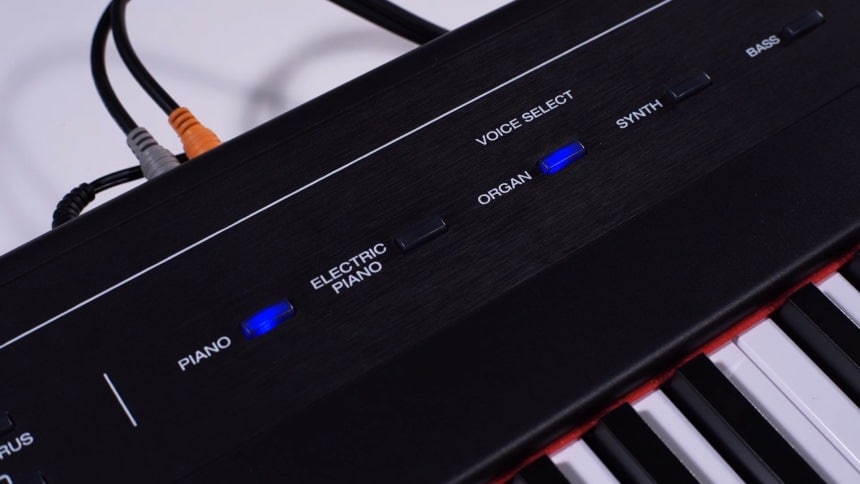 The control panel and display of this keyboard are among the very best features, which sound like a really bold call. For beginners, you will want something that has a really simple layout and therefore makes it difficult to really make any mistakes. The layout of this keyboard does exactly that. You can see on the display exactly which voice you have selected, as well as the tempo you've chosen (this is only relevant if you are using the metronome).
The control panel also makes it easy to make recordings, and to apply effects, and lighting buttons also make this simple to do if you are playing in the darkness of a venue.
Speakers
The clarity of the speakers on the Alesis Recital is decent. They aren't elite speakers, and compare them to a top of the range Bose system and you are likely to be a little disappointed. However, they do a good enough job for practicing and even for playing in front of others in small spaces.
Of course, those who want to play in larger live scenarios will find that the speakers are better off bypassed by connecting your recital to a PA system.
One thing that is striking is the fact that the speakers are pretty loud, with a couple of 20W speakers driving plenty of volume for use within your home. There are woofers and tweeters, so the range is pretty good. The sound engine of the Recital is good, but not elite, so the speakers are more than good enough to handle it.
Effects
Time to look at the effects, presets, and other features of the Alesis Recital. These have a huge impact on the sound, and though the Alesis Recital doesn't have a huge level of tones and presets it does have some effects which mean that you can edit and alter the sound, tailoring it to exactly what you want.
Having the option to play with some different, varied sounds, and then add effects such as reverb, gives you so much more in terms of potential for interesting sounds and can even help you to layer and compose new music.
Tones and Voice Presets
The Alesis Recital comes with 12 different tones and voice presets, listed below:

Acoustic Piano
Acoustic Piano (Bright)
Electric Piano
Vibraphone
Organ
Church Organ
Harpsichord
Clavi
Synth
Strings
Acoustic Bass
Fingered Bass
As you can see, this gives you quite a lot of variety in terms of the sounds you can use. There are only two acoustic piano sounds, so in an ideal world, you should check that you actually like these.
It is easy to compare this to keyboards of the same size, which may advertise hundreds of voices. This could lead you to write this off or wonder why the Recital only has 12, but actually most digital pianos focus on quality over quantity.
Some of the coolest extra sounds include the strings and organ sounds which have a fairly realistic feel. The synth sound is pretty generic, and the bass sounds can add some useful low end. It's really easy to make your own choice and create a brilliant tone.
On top of that, there is a very cool option to split the keyboard in the middle. This means that you can play one sound on the left hand side and another on the right, and this can often lead to some very cool results. For example, you could play an awesome walking bassline with your left hand on the "Fingered Bass" sound, and piano chords on the right hand side of the keyboard.
These layer features are becoming really common on digital pianos and this means that you can enhance your performance a lot. Not everyone uses it, but the option to mix and match sounds is awesome.
Polyphony
The Alesis Recital boasts a 128-note polyphony, so it is possible to play really complex pieces without any issues.
The polyphony of a keyboard or piano refers to how many different sounds and notes it can produce at the same time, and for complex players, a higher polyphony is required.
Effect types
One of the big plus points of the Alesis Recital is the fact that it comes with inbuilt effects.
Modulation, Chorus, and Reverb are the inbuilt settings. Modulation can cause flanging effects on the sound and give more depth and interest. Chorus tends to thicken the sound out and give it a slightly warped and even "bigger" sound. Reverb is probably the most common effect to use, and it gives the feeling of depth and space.
In an ideal world, the effects that you can use would have some more controls, so that you can tailor the exact sounds, but it is nice to have the option to test them out and see how they might sound applied to your playing.
Songs presets
This is another feature that you might find looks bad, in comparison to keyboards of a similar price, but digital pianos don't tend to worry about the song presets. This is a feature for beginners allowing you to play through existing songs, and it is assumed that digital piano players are a bit more advanced, and don't need this sort of functionality.
Extra features
Most digital pianos try to stand out from the crowd by adding some additional features. Even though the Alesis Recital is one of the more affordable models on the market, they have added some pretty cool extra features.
There is a mode to split the keyboard into two with identical range, which acts as a learning mode. It means a tutor can sit at one side and a student at the other, and copy any demonstrations. It basically turns the keyboard into two smaller models.
The Recital also has a metronome inbuilt. This means you can set the tempo and play a click track to play along with, practicing in this way is excellent for getting your timing spot on. If you play the piano alone a lot then you can end up with great technical skills but a poor sense of timing. Insead, try to play songs along with a metronome so you are perfectly in time.
There's also a very simple record mode, and though it doesn't let you export and edit the files, it is definitely useful to be able to play back your performance.
Connectivity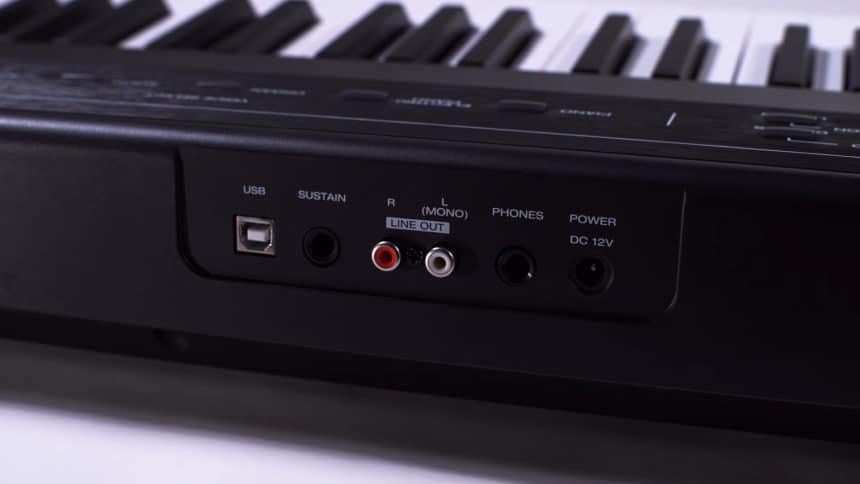 In the modern age, it isn't just about having a digital piano that generates a great sound, you will also want a model that you can connect to other equipment. For example, if you need to amplify the sound better.
As well as many features relating to connecting to speakers and headphones, the Recital has MIDI capabilities, and a USB connection so you can connect to your laptop or PC.
Headphones
Headphones can be the savior of a parent who wants some peace and quiet while their kid practices the piano!
Headphones allow for private practice, and they're great for those who haven't built up their skills yet, and don't want others to be able to hear what they are doing when tinkling the ivories. On top of that, being able to play using headphones can stop you from disturbing other people who live in your home.
The headphone connection is easy to use, but remember that this is a ¼ inch connector rather than the ⅛ inch that many people are used to. For instance, the majority of earbud-style headphones come with a smaller connection, so you will need to buy an adapter if you want to use one of these styles. Fortunately, they are very cheap and easy.
Storage space
We have already explained the dimensions of the product: 51.6 x 13.8 x 5.5 in. So, if you are considering where to store it within your home, these are the measurements you need to consider. As it is such a lightweight model it is easy to stow away in your home, and a lot of people simply put it within a case before storing away.
A case or gig bag is also a great solution for the gigging musicians among us. You can't easily transport an acoustic piano, but you can definitely take this 26 lb model out and about with you.
Power
The power supply of the digital piano is a big deal. For most of us, just having a way to plug in to the power supply is enough, but actually, there are some scenarios where you wish to play your instrument on-the-go. Busking is possible with the Recital as you can switch to battery power. This digital piano runs on 12V DC power supply (included) or 6 x D batteries. The batteries are not included, and this is not the most environmentally-friendly method. We recommend using rechargeable batteries and using them sparingly wherever possible.
Accessories
There are so many different accessories that you can buy to go with any of the digital piano models on the market.
Compatible accessories include:
Sustain pedals. It is possible to connect a sustain pedal to alter the sound of the piano and give a longer, drawn-out sound.
There is every chance you will want to get your hands on a stand, which makes it easier to play your piano, rather than have to put it on a desk or table.
Case or carry bag. This is a way to get your digital piano from A to B, and because the Alesis Recital is much more lightweight than a lot of other options.
Any other accessories are up to you. It is possible to run the sound through effects pedals, and even use external amps. The world is your oyster when it comes to accessories, just make sure they are compatible before purchasing.
Prices
Of course, the price can vary greatly depending on where you buy the Recital from. The RRP of the product is still relatively inexpensive when compared to other models, and you may be able to pick it up for under $600. However, if you are happy to do some shopping around, you can find it even more cheaply than this.
When compared to other models on the market, the Alesis Recital is one of the cheapest on the market. When you consider the features, it is certainly impressive to be able to buy something so cheaply, making it a great choice for beginners and for those on a budget.
PROS
CONS

Excellent value for money.
Simple, lightweight model that you can take from one place to the next.
Loud inbuilt speakers.
MIDI compatibility and simple connectivity to a lot of other devices.
Extra features including metronome and split and layer modes that you might expect on more expensive pianos.
Comes with a one-year warranty or higher from some other retailers.

Sound engine is not quite as strong as some competing options.
Though it has a hammer action, this isn't graded so it is not quite as realistic as some others.
Conclusion
So there we have it, our Alesis Recital review shows an exceptional digital piano that is available at a really reasonable price. The Recital is great for beginners as well as those who want a more portable and lightweight piano. While it doesn't quite meet some of the competitors in terms of sound quality and modeling, it has more than enough quality for most casual players and beginners.
References
1.
About Alesis
It takes more than just designing, manufacturing and selling digital, analog, semiconductor and transducer technologies to fulfill the dreams of musicians, producers and audio engineers. It takes unforgettable musical experiences.
2.
Piano students keeping up their skills during pandemic
For 35-40 hours a week, Tracy Wong, who's completing a master's degree in piano performance at the Indiana University Jacobs School of Music, can typically be found in a practice room on campus.