This is another great digital piano. It is ideal for both beginners and professionals. The piano has many great features that help improve your playing experience. It is suitable for concerts, home use, and stage performance. The 88-key weighted keyboard gives you a better feeling and touch. The keyboard also has a metal 3-pedal system that improves quality and creates great experiences and exceptional performance.
You can separate the keyboard into two sections using the double keyboard setting, allowing you to have one-on-one practicing and teaching. The piano comes with headphones that enable the player or learner to continue playing in case there are no speakers or late at night.
The 10 preset timbres, including Bass, Strings, Rock Organ, Electric Piano, and Grand Piano, together with 128-note polyphony, are ideal in ensuring the reduction degree is so high. The three-dimensional surround sound, high-quality speakers, heavy bass ensure your music is enjoyable and better. The piano has the Bluetooth MIDI function that allows you to connect to digital devices for great practicing.
10
Best Digital Piano Under $1000 for Beginners
Yamaha P71
Features
Number of keys: 88
Dimensions: 52.25 x 11.5 in
Weight: 25 lbs
Warranty: 1-year limited
More features: 10 voices, sustain pedal, bench and stand included, 2 speakers, USB connection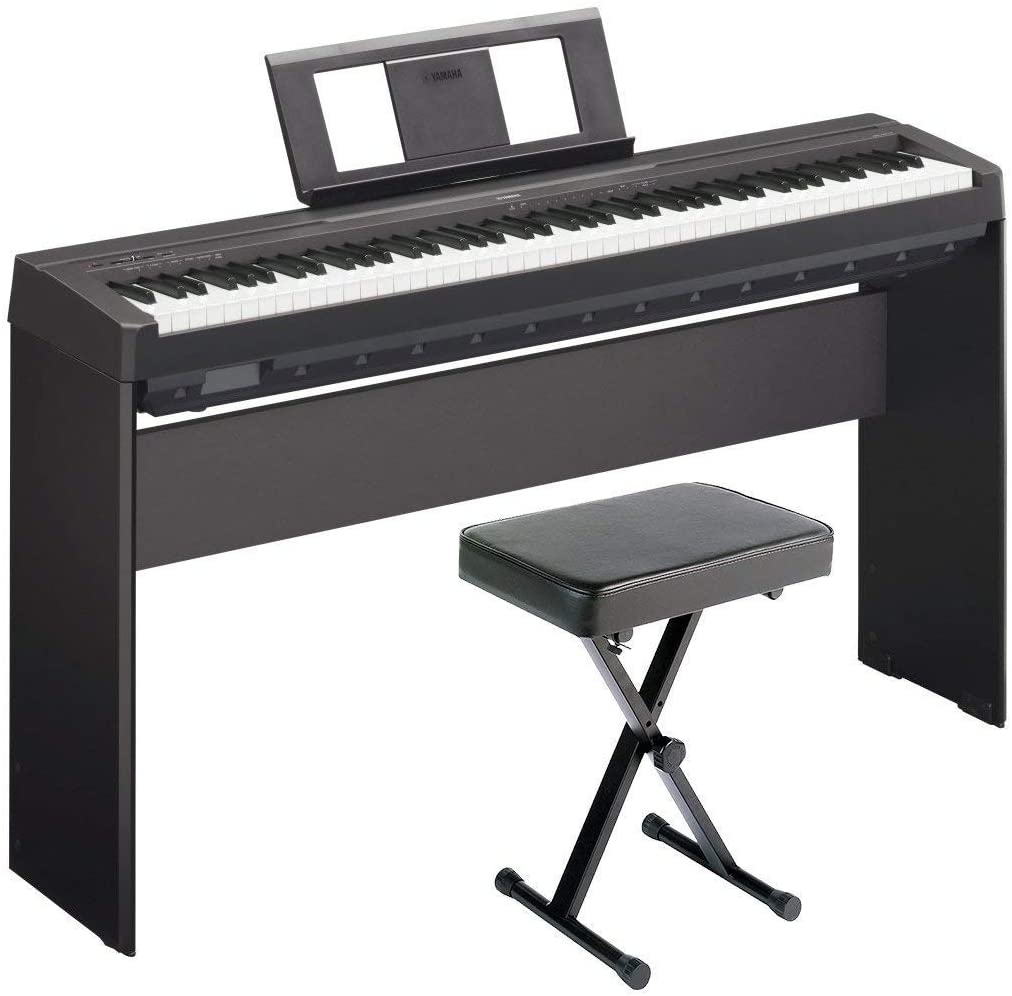 Good

The digital piano possesses all the features and qualities on the box. Furthermore, the unit is affordable and user-friendly. We like the fact that you can easily start working with it and learn new chords, making it perfect first instrument that offers quick progress.
Bad

It could be better if the sound selection was not that much limited.
This is an Amazon exclusive piano, and it's among the best digital pianos on the market today. It is slim and lightweight, making it highly portable. The piano is also compact; hence it does not occupy more space. The unit offers you 10 different voices, giving you the optimal practice that you need. Also, you can lay the other two voices if you wish.
The digital piano can be connected to digital devices such as computers or laptops, especially when you want to record or compose music. The two speakers give you high-quality and exceptional sound with stereo rich. The unit also has 88 keys and has an adjustable padded keyboard bench, allowing you to change position for more comfort while playing.
Aside from having several features that make it a world class digital piano, you will also notice the great design of the Yamaha P71. Not only does this digital piano look good but playing it feels as great too.
Things to Consider
Do you want to buy a digital piano? Worry not. Buying any product is not easy since there are so many products on the market. This guide will show you some of the things to consider before purchasing a digital piano under 1000. There are many companies that manufacture digital pianos, such as Yamaha, Casio, Roland, Korg, among others.
The variety of tasks for budget electric pianos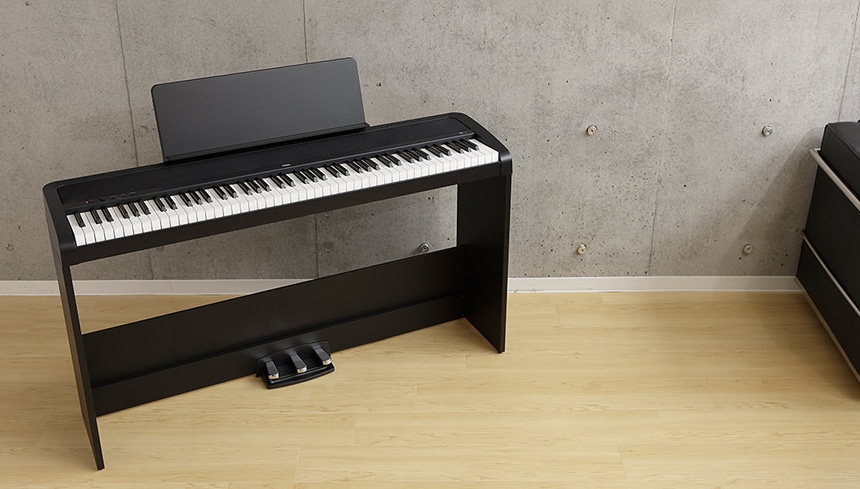 Digital pianos come in different types, such as stage digital pianos, grand digital pianos, and upright digital pianos. These pianos differ in features, sizes, and designs. They are mostly used in music schools, churches, clubs, music studios, and live concerts. The following are some of the benefits of digital pianos:
Compact and portable
Almost all digital pianos are compact. They are also lightweight, making them easily portable. Therefore, these pianos are suitable for gigging artists to move from one place to another.
High-quality sound
Digital pianos give you high-quality sound since the sound is produced electronically, which is not the case with acoustic pianos. However, this depends on the type of digital piano you purchase.
Internet and expansion
The recent models of digital pianos allow you to connect to the internet. It is also possible to upgrade your piano using the built-in expansion slots.
Headphones
Digital pianos come with headphones that enable you to play or practice in silence. This allows you to learn slowly without creating any disturbance. Some of the models have two outputs, allowing you and your trainer or partner to move together.
No tuning
Unlike acoustic piano that needs tuning after every six months, the digital piano needs no tuning. Acoustic pianos must be tuned anytime they have moved around. This makes digital pianos suitable for home use.
Less expensive
Digital pianos are not much expensive compared to acoustic pianos. They are also easy to maintain and use.
Tips for digital piano users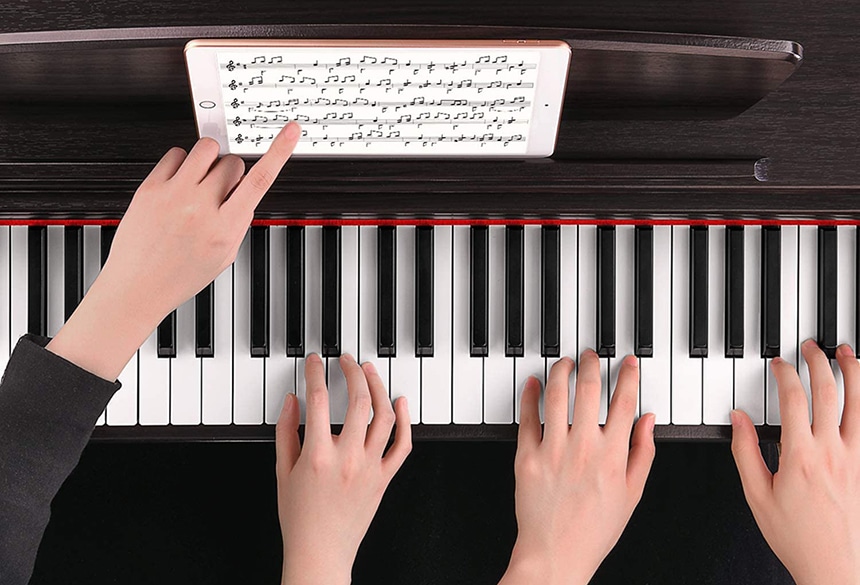 Digital pianos are ideal for both beginners and experienced players. Even though there are many models of digital pianos, playing the piano is the same in all of them. The following are some tips for digital piano users:
Know the instrument: This is essential and is the first rule. Whether you are an experienced player or a learner, you need to understand the digital piano better.
Understand the pattern: It is important to know each and every key in the keyboard and the pattern that you will use while playing. Digital pianos have different patterns with a set of white and black keys.
Look on intervals: Intervals and timing are essential, especially to beginners. Stay focused and knows where and how your fingers are moving. Then try using both hands.
Learn chords: Many people find it hard to play chords initially, but with time, mastering them is easy.
Watch others play: This is very important if you want to learn faster. It is easy to master something while seeing other people doing it.
Learn while listening: Listen to a recorded song and start playing it. You will start memorizing the keys as you play regularly.
Keep changing the tones and styles: Do not restrict yourself to a certain style. Change the techniques as you practice.
Enjoy playing: Anytime you love and enjoy what you are doing, you find it easy doing it. The same case applies to the piano. Enjoy playing it as many times as possible, and definitely, your fingers will get used to pressing the right keys.
Practice more: Give yourself about 20-25 minutes or more every day. Play different songs and chords and remain at your expertise level. Never stress yourself by trying to play complex tones when you are still a learner.
Increase your speed: as you get used to playing, you can now increase your speed since you have mastered the keyboard.
Record: Most digital pianos possess this feature. You can play a song and record it as you continue with your practice. Then listen to the piece you have recorded, and in your next play, ensure you improve.
If you are a beginner, you need to be patient. Take your time and learn slowly. It is also essential to have a digital piano with a lesson function as it will help you learn some playing fundamentals. It is also advisable to get a trainer or an experienced player who can guide you on what to do.
How to pick the best digital piano under $1000?
Are you planning to purchase a digital piano? What is in your mind? We know you are thinking a lot and asking yourself some questions.  You need to know more before making your final decision. Since there are so many digital pianos on the market, selecting the best is not easy, especially if you don't have any knowledge about the products. The following guide will help you choose the best digital under $1000. Here are some of the things you need to consider before buying the product:
Key types
The type of keys the digital piano has is very important. The keys should be sturdy and well-built and should have a realistic touch. It is essential to note that the majority of digital pianos usually have a weighted hammer action keyboard. Lower keys are a bit heavier and become lighter as the keyboard moves up. Therefore, the piano's key action mechanism is essential, and you should consider it more.
Number of keys


Most digital pianos have 88 keys compared to others which have lesser number of keys. The larger number of keys helps to give you better and classical music. A good example of a piano with multiple keys is the YAMAHA P125.
Sound quality
This is an essential element to consider and pay more attention to it. Therefore, you need to look at the internal sound library and the speaker system. The speakers must be of high-quality and also ensure that they are audible enough to cater to your various needs.
Many digital pianos come with so many sound types such as strings, rock organs, clavinets, electric pianos, grand pianos, harpsichords, and many more.  A piano like the Korg SP280BK produces a high-quality to enhance your performance and experience.
Warranty
Most digital pianos come with a warranty. Be sure to check how many years of warranty a digital come with.  The more the number of years, the more advisable it is to buy the product because in case anything happens to it within that period, you will be on the safe side. A machine like the Casio PX-870 BK comes with a 3-year warranty while the Donner DDP-100 comes with a one-year warranty.
Dimensions and weight
The majority of digital pianos are lightweight, a feature that makes them be carried with ease. If you are a musician and you need a piano for live performance, no doubt a piano like the Korg SP280BK is a perfect choice for you. You also need to look at the dimensions. In case you move from one place to another performing, you need a compact digital piano such as YAMAHA P125 that is easy to carry.
Accessories
A digital piano that comes with multiple add-ons is better. For example, the Donner DDP-100 comes with multiple accessories like pedals making it a great option. The last thing you want is to spend more money on accessories.
Extra features
Other features that are in digital pianos include MIDI connectivity that allows you to connect your instrument to Digital Audio Workstation (DAW) and record yourself while playing. To many music producers, MIDI connectivity is compulsory as it helps you get into a world of creativity and allows you to get high-quality sounds.
Another feature you will get from digital pianos is polyphony.  The best digital piano should have at least 64 notes of polyphony and above, and you are good to go. Other features are playback option, app connection, layer mode, split mode, transposing, accompaniment function, sound effects, preset songs, metronome, tuning, and recording.
FAQ
Which is the best budget piano for a beginner musician?
After researching for many hours, we have concluded that
Yamaha P71
is the most ideal for beginners. This is because it perfectly reproduces the acoustic piano's feel and gives you better realistic sounds and exceptional performance.
It has dual headphone outputs that give room to both the teacher and student. The piano is also affordable and easy to use.
Why are weighted keys better for digital pianos?
Weighted keys are better for digital pianos since they give a realistic and natural feel compared to other types of keys. Most preferably, they are ideal for beginners because they are sensitive and are easy to press.
Our verdict
Our first pick is the Casio PX-870 BK which produces high-quality sounds with excellent performance. The upgraded 4-layer piano tone gives you an incredible and realistic sound. It is also compatible with IOS and Android devices.
Our second pick is the YAMAHA P125 digital piano which is user-friendly, making it ideal for beginners. It has a lesson function that guides the learner on how to play the piano. It's compact and lightweight, making it highly portable.
Lastly, our best value pick is the Casio PX-S1000BK. A piano that comes with a slim design and an elegant look making it one of the best digital pianos under 1000 dollars. It will breathe smart technology into your musical life. The 18 different sounds and the in-built speakers will give you exceptional and quality audio that will fill your room with rich sound.
References
1.
Toward High-Quality Live Sound for Digital Piano | Richard's Stuff
Keyboardists often complain that their digital/electronic piano sounds harsh, honky, thin, muffled, resonant, tinny, strident, boxy, like a toy/budget instrument, and other kinds of terrible and awful, such as the "ice-pick-in-the-ear effect".
2.
Buying a Digital Piano: What to Look For | TIME.com
Sometimes a real piano just won't work. You might be a cost-conscious parent, wary of snapping up a pricey Steinway for a kid more interested in baseball than bass clefs.
3.
What's the Difference Between a Digital Keyboard and a Digital Piano?
Digital keyboards, portable keyboards, arranger workstations, digital pianos … what are the differences and what do they have in common? And what's the difference between a digital keyboard and an acoustic one, like a piano? Find the answers to all these questions, and more, in this article.