When it comes to choosing the right musical instrument, several brands come into mind, particularly ones that are associated with certain instruments. However, when you have to choose a digital piano, only one name comes to mind: Yamaha. In this Yamaha P125 review, we discuss whether it's worth buying.
Yamaha is the pioneer of musical instruments in the world, and it provides products with unmatched quality, impeccable sound, and amazing features that elevate your experience to the next level. Yamaha is also credited for revolutionizing the music scene with their portable keyboards, as well as their digital pianos.
If you are looking for a digital piano as a beginner or intermediate musician, the Yamaha P125 is one of the most recommended and lauded options that you would come across. The Yamaha P125 is built to give you the true feel of playing the piano, without having to pay an arm and a leg for the experience.
Specifications
| | |
| --- | --- |
| Type | Graded hammer standard (GHS) keyboard |
| Number of keys | 88 |
| Touch sensitivity | Hard/ medium/ soft/ fixed |
| Polyphony | 192 (max.) |
| Voices | 24 |
| Amplifiers | (2) 7W |
| Speakers | (2) 12 cm, (2) 4 cm |
| Presets | 21 demo songs and 50 piano songs |
| Pedal | Yes (optional) |
| Dimensions | 52.2 x 6.54 x 11.61 inches |
| Weight | 26.01 lbs |
This product's also been included into these rankings:
The Yamaha P125 was released in April 2018, and it is the latest model in Yamaha's series of midrange digital pianos. Prior to this, the company released the P121 and P115, both of which were also popular and successful models.
Here, we will review the Yamaha P125 digital piano, and will also help you understand why you should or shouldn't buy it. Keep reading with us to find out more about this interesting digital piano from Yamaha.
Design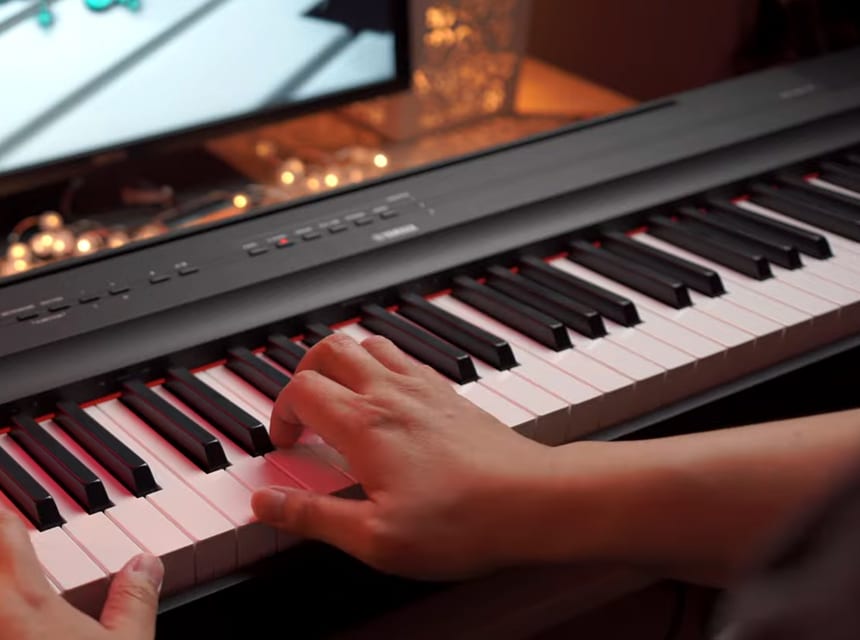 The design of the Yamaha P125 personifies elegance and simplicity, which is one of its most distinguished features. As compared to the P115, there haven't been many changes in the overall design of the digital piano, but the small details have uplifted the aesthetics to a greater extent.
The design of the P125 is an ode to both traditional and modern design elements, which are combined beautifully in this upright digital piano. Moreover, it has a compact and lightweight construction, which means that you won't have any trouble in setting it up or moving it around when needed. If you are used to taking your digital piano for performances, the P125 will facilitate you in this regard.
While the P125 embodies a minimalistic look, it also adopts the traditional curved panel from the Yamaha CFX Concert Grand. Plus, it has a red felt ribbon that runs just above the black and white keys. This further uplifts the design of this digital piano and gives it a nice touch that players find quite soothing and pleasant.
Although it appears that this digital piano is made from wood, it is actually made from plastic. However, you won't have any complaints in terms of quality and durability, because Yamaha has used premium quality materials for every component that you find in the P125. Considering that this is a mid-range digital piano, you can understand why it is made from plastic.
When it comes to colors, you get two options for the Yamaha P125, which are the traditional and classic black and white. While both versions are incredibly elegant and delightful to look at, many people are left hoping that Yamaha would release more versions in different colors. However, that seems highly unlikely.
As for the dimensions, the P125 is quite compact and measures 52" x 11.6" x 6.5". Moreover, it weighs 26 pounds only, so you will have no trouble in carrying or transporting it.
Keyboard
Let's move on to the bare bones of the Yamaha P125 digital piano. As compared to other manufacturers of musical instruments, Yamaha chooses to stick to its classic and traditional design without any variations or innovation. The P125 is an 88-key keyboard, and if you are looking for a 73-key version, you can buy the P121.
Yamaha makes use of its renowned and time-tested Graded Hammer Standard (GHS) action. The GHS action is used to emulate the real and authentic feel of playing on a grand piano, as compared to digital keyboards that feel quite 'plastic'. The Graded action also means that the lower octave keys are heavier, and they start getting lighter as their pitch increases, i.e., as you move to the right on the keyboard.
Moreover, the keys are touch-sensitive, and Yamaha is known for supplying one of the best touch features that is found in digital pianos across the board. Therefore, you can play with the volume, modulation, and timbre of each note by altering the force with which you hit the keys.
An exciting upgrade in the P125 is its 4-speaker system, which was missing in the previous models. This speaker system offers a greater range between soft and loud sounds. Moreover, you can also alter the sensitivity settings between hard, medium, soft, and fixed. This way, you can recreate the sound and playing experience of different pianos on this one. For instance, if you love to recreate the traditional piano sound, you can keep the sensitivity to medium.
The P125's keys aren't textured with ivory or ebony, and this is a desirable feature that Yamaha chose to omit, maybe due to its low price range. However, the black keys on the keyboard have a matte coating that facilitates your playing style and also prevents your fingers from slipping off.
Sound
Next up, let's talk about sound. This is a key factor that every pianist or piano enthusiast should consider before buying any digital piano, whether they are novices or world-class professionals. Yamaha has preserved the classic sound landscape in the P125, and they have also added some amazing new features and options that you would love to check out.
For starters, the P125 is equipped with the same high-performance Pure CF sound engine, which is also included in the highly popular Yamaha CFIIIS 9' Concert Grand Piano. Moreover, it comes with 4-layer sampling, unlike the P115 which featured only 3-layer sampling. When you are playing the Concert Grand Piano, you can actually observe the difference made by adding the extra sampling layer.
Moreover, the extra layer also makes the sound livelier, while also ensuring a smooth transition between different samples. Apart from these, Yamaha has also added the acoustic piano elements and stereophonic optimizer. The elements include key-off simulation, string resonance, and damper resonance, and they make the tone sound closer to a Grand Piano than ever.
The stereophonic optimizer is highly useful when you are playing the piano while wearing headphones. It allows you to optimize the roominess of the sound, i.e. how much space will be covered by it. Moreover, the 4-speaker system ensures that you get an immersive and realistic piano playing experience with the P125.
Last but not least, Yamaha has also upgraded the number of instrument sounds in the P125, increasing it from 14 to 24 sounds, as well as 4 tone variations.
Let's move on to the polyphony, which refers to the number of notes that a digital piano can produce at the same time. Most digital pianos that you come across have 64 or 128-note polyphony, and this includes sound effects like reverb, chorus, sustain, or even the metronome. Basically, the maximum number of sounds produced by a digital piano at the same time is its polyphony.
Even when you are using the sustain pedal, the notes produced by it are added to the mix. The Yamaha P125 kicks things up a notch with its 192-note polyphony, meaning that it can play or record 192 notes at the same time, and also add more layers to your music.
Speakers and Amplifiers
The 4-speaker system is the best upgrade that Yamaha has made in the P125 digital piano. In its price range, it is actually hard to find a digital piano that offers more than 2 speakers, so this is particularly beneficial for people who want a clear and more defined output.
At the top of the digital piano, you can notice two 12 cm full-range speakers, along with two 4 cm tweeters beneath them. Together, they provide a power output of 14W, as well as clear frequencies and amplified sound that is enough to fill up a large room. You won't need any external sound system or amplification with your P125.
Moreover, the speakers are arranged in a way that the sound spreads out in all directions, thus creating a surround playing experience. Thanks to this optimized speaker system, you get a great response and feedback, which helps you improve your playing skills as a beginner.
Key Features
The Yamaha P125 is packed with a wide range of amazing and helpful features that help build you up as a full-fledged pianist. Let's have a look at some of the features that you need to know about.
Table EQ
A feature that deserves mention is the Table EQ, which optimizes the sound of the Yamaha P125 according to the environment in which you are playing it. Since this digital piano is lightweight and easy to transport, you might want to take it along for your gigs or jam sessions. If you place it on a desk, the speakers are actually blocked from underneath, but the P125 addresses this problem wonderfully.
The Table EQ feature in the P125 helps you adjust the settings, so that the quality of music doesn't deteriorate or dampen. Therefore, you can experience the same great sound of your Yamaha P125, no matter where you play it.
Sound Boost
Another key feature in the Yamaha P125 is sound boost, which enables you to optimize the sound in order to make it louder or clearer. This feature is particularly useful when you are playing in a closed environment, such as a music studio or room. It might not work as expected when you are out in the open, but it does make the output sound sharper.
Intelligence Acoustic Control (IAC)
The Yamaha P125 has some particularly exceptional features, and the Intelligence Acoustic Control is one of them. This feature was also available in its predecessor, the P115. It allows you to automatically tweak the frequency response of your digital piano, so that the highest and lowest notes are audible, even when played at a low volume.
Music Library
Another interesting feature of the Yamaha P125 is its music library, which comes loaded with 50 well-known piano pieces from world-famous composers like Bach and Beethoven. This is a step up from the P115, which had a music library but with fewer songs. These songs are a fun way for beginners to practice their skills by playing with the music.
Recording and Playback
If you record your own songs or like to record pieces of music for reference, you would be delighted with the Recording and Playback feature that the Yamaha P125 has. It allows you to record different tracks and fuse them together to create your song. The audio is recorded in MIDI format, and you can easily transfer the songs to your computer for further processing and use.
However, the P125 has limited memory, which means that it can only store up to three songs. Therefore, you will have to move your songs to an external storage drive before you attempt recording another song. This may be a little tedious, especially if you are in your creative element and can't afford any interruptions.
Metronome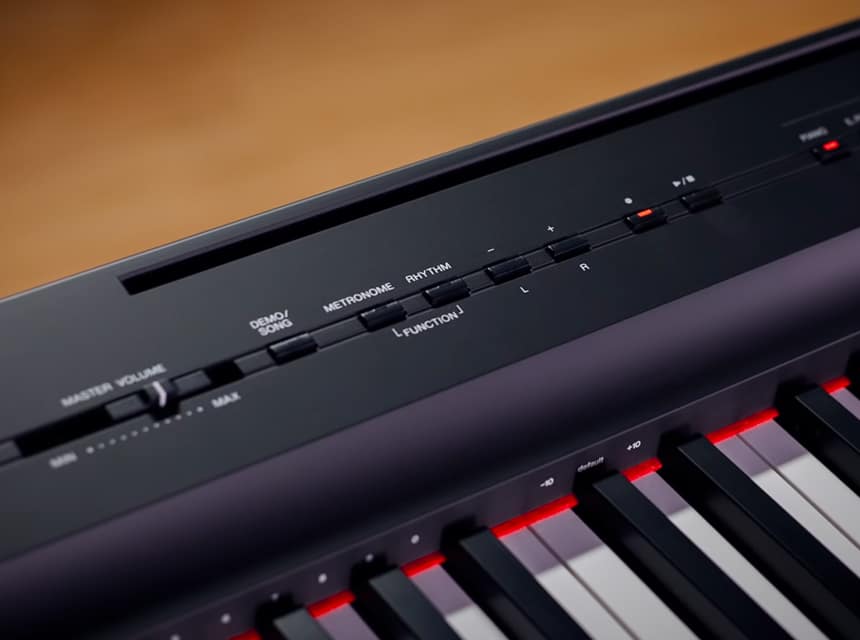 The metronome is a pretty common feature that is present in nearly every keyboard and digital piano you come across. You can use it to perfect your rhythm playing skills, and also match the tempo of a particular piece of music, so that you can play it to the beat.
Transpose
The transpose function is also a common one that is mostly found on keyboards and digital pianos, and it is used to shift the pitch of the keyboard. The basic purpose of this function is to shift the scale in intervals of semitones, and this means that if you have a +1 transpose, your C note will sound like C#. This enables you to play any music at the correct scale, but also with the notes that you are familiar with.
Tuning Features
Similar to Grand Pianos, digital pianos also come with tuning features, which you can use to match the scale of pitch of another instrument. The pitch can be altered in intervals of 0.2Hz, and you can use this feature to play your music at any scale you are comfortable on.
Modes
Another key factor to look for in a quality digital piano is the various modes that it offers to pianists. In the Yamaha P125, you have the full keyboard mode, as well as 3 additional modes.
Duet Play
The Duet Play mode divides the entire keyboard of your P125 into two parts, each with an identical octave range. Also known as Duo Mode, Partner Mode, or Twin Piano mode, it divides the keyboard into two, so it can be played by two people at the same time. This function is particularly useful for beginners who are learning from a tutor.
Split Mode
Split Mode is much different from Duet Play, but it also divides your keyboard into two parts – left and right. This means that you can use the left part to play a certain tone, whereas the right part can be used for a different sound. You can also adjust the splitting point, and also control the volume for each part separately.
When you activate Split Mode, the left part will be automatically set to a bass tone, and you can set the right part to any instrument.
Dual Mode
Dual Mode is also similar to Split Mode, but it allows you to play two different sounds at the same time, rather than splitting them between left and right. The sounds are layered in a way that when you press any key, you will hear both sounds in unison. Similar to Split Mode, you can adjust the volume for both sounds separately. However, this mode is limited in the sense that it doesn't allow you to layer two sounds from the same section, i.e. two pianos or two strings.
Controls and Ease of Use
As mentioned in a previous section, the sleek design of the Yamaha P125 also features sleek and user-friendly controls. There aren't many buttons on the digital piano, and you can easily find out what each of them does. Moreover, some controls have to be accessed by pressing a combination of buttons, which may be a little tricky to understand.
Luckily, this digital piano comes with a detailed and comprehensive user manual, which helps you in understanding the controls, among other things. Therefore, you will have no trouble in understanding how different controls and buttons work. Like several digital pianos in the same price range, the P125 also doesn't have any display that can give you the information, i.e., tones, modes, transpose, and much more. Therefore, you might have some trouble in the beginning, but it quickly becomes very easy to understand.
Connectivity
When it comes to connectivity, the Yamaha P125 has similar features to the P115, which was a safe strategy by the company. This means that the P125 comes with two headphone jacks, which are situated on the left side of the piano. Apart from this, you can find the USB to Host port, AUX out jacks, and Sustain Pedal jacks.
The AUX out jack is particularly useful for musicians who like to play and jam with other musicians, and also perform live. They can easily connect their piano to an external amplifier when needed.
Moreover, the USB to Host port is used for data and file transfer between the digital piano and your computer, thus providing you with more control and access for your music production needs. You may also need third-party apps for this purpose, but this is a discussion for another day. You can also make use of this port to connect your iPad, iPhone, Android smartphone, and other devices to the P125.
Another way of keeping this piano connected is through the Smart Pianist App, which can be downloaded from the Android or iOS app stores. The app has an intuitive and user-friendly interface that you can use to access all of the functions and features that the P125 has to offer. You can also use it to layer, split, mix, and select different sounds, which enhances your experience.
Moreover, the Smart Pianist App Trusted Source Smart Pianist - Overview - Apps - Pianos - Musical Instruments - Products - Yamaha USA Smart Pianist lets you access the many features of your Yamaha digital piano with your smart device. This special app provides the most features when utilized with the revolutionary Clavinova Smart Pianist (CSP) series digital pianos, but is also compatible with a range of Yamaha digital pianos. usa.yamaha.com eliminates the need to consult the user manual, especially when you are searching for a certain song in the music library. You will be able to access it much more quickly as you would with the piano's own interface.
Plus, you can control the song's tempo, playback, and other settings. What's even better is that you can view the scores for all of the preloaded songs on your app screen, and you will also be able to play along. Another interesting feature of the app is that it lets you store your own songs and transfer them to the piano whenever you need.
And if all this wasn't enough, you can pull out the scores and chords for any song that you have transferred to the app, and you can learn it and play along conveniently. This is one of the best features that Yamaha has included in the app, and this makes it beneficial for beginners who are willing to learn new songs and polish their skills.
Accessories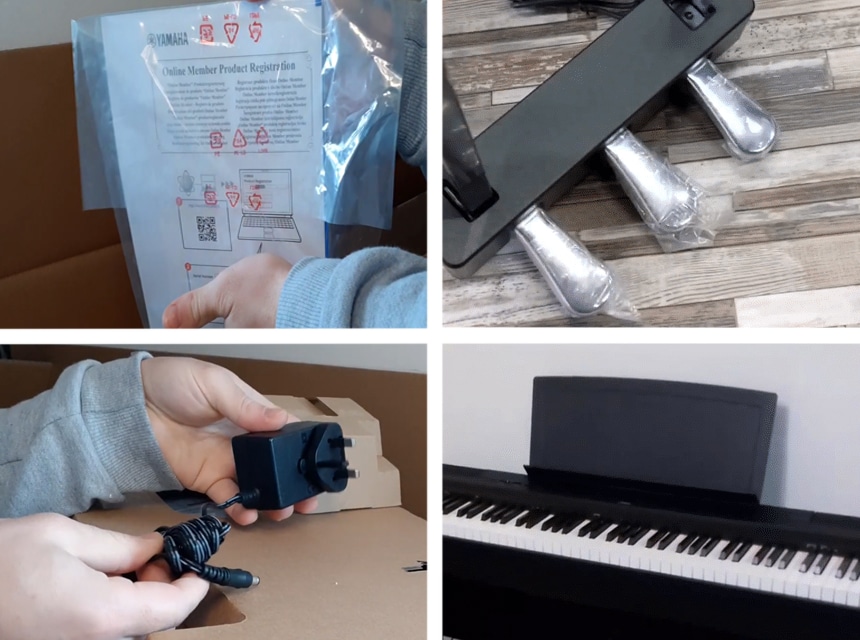 When you purchase the Yamaha P125 digital piano, it comes with several accessories as well, which are designed to offer convenience and enhance your playing experience. These accessories include:
Music Rest: The music rest is attached to the back of the digital piano, and it can be used to place your music sheet, booklet, tablet, etc. This way, you will have your music right in front of you to read clearly.
Sustain Pedal: The sustain pedal, also known as the footswitch, is used to add sustain to the sound that you are playing. The level of sustain can be increased or decreased by pressing the pedal further down or releasing it a bit.
AC Power Adapter: Each Yamaha digital piano, including the P125, comes with its very own and designated AC power adapter, which is designed to be compatible according to the voltage and power rating that the piano needs to run smoothly. You should only use the included adapter to power your digital piano, as any other adapter can damage its circuit and also void the warranty.
Owner's Manual: Yamaha is also known for designing highly comprehensive owner's manuals, which are quite easy to follow. The moment you open the box for your P125, you will be able to access the manual and read it to learn how you can set up your piano the right way.
Price
The Yamaha P125 is priced at USD $999, which makes it a high-end keyboard with a relatively affordable price. Of course, it is more expensive than the P115 and P121, but it also has upgraded features and functions. Whether you are a beginner or intermediate level pianist, you will be able to enhance your playing skills with this digital piano. Plus, it is a long-term investment, so you won't have to change your digital piano any time soon.
Warranty
Yamaha offers a 3-year limited warranty on its P125 digital piano and provides coverage in the event that it becomes defective, malfunctions, or doesn't conform with the warranty conditions. Judging by the build quality and peace of mind that Yamaha products offer, we can be sure that you won't need the warranty, provided that you look after your digital piano well.
Yamaha P125 in Short
88-key fully weighted keyboard
Graded Hammer Standard (GHS) action
Pure CF sound engine
192-note polyphony
Three modes: Duet Play, Split Mode, Dual Mode
24 instrument sounds
4-speaker system with 14W output
Who Should Get This Digital Piano?
The Yamaha P125 is suitable for all levels of pianists, ranging from beginners to experts. It is particularly useful for beginners and learners who want the real feel of a Grand Piano and need to learn the correct playing technique. Moreover, intermediate and advanced level players can also use it to improve their skills, and thanks to its portability, they can also use it for their performances and gigs.
PROS

CONS

Sleek design combines traditional and modern elements
4-speaker system
Realistic and immersive sounds and tones
192-note polyphony
Works with Smart Pianist App

Not compatible with Bluetooth
Sustain pedal is quite basic for experienced players
Alternatives
If you are reading this review, chances are that you have also explored other digital pianos in the same range, or those that fall within your budget. Let's compare the Yamaha P125 to some of the top alternatives.
Yamaha P125 vs. YAMAHA P71
The Yamaha P71 is exactly the same as the Yamaha P45, and it is an Amazon exclusive model. Both models are similar if you consider the dimensions, weight, keys, and action. The difference lies in the finer specifications. The Yamaha P71 only has 64-note polyphony as compared to the P125's 192-note polyphony. Moreover, it also lacks the Split Mode, Midi recording, and AUX out ports. Last but not least, it has only 2 speakers.
Yamaha P125 vs. Kawai ES110
The Kawai ES110 is a strong non-Yamaha contender for the P125. It is on a higher level when you compare the two according to affordability and technology connectivity. When it comes to sound quality, both of them are considered to be at par with each other, having the same output at 14W. However, the Yamaha P125 is more lightweight and portable, which makes it better for pianists who are looking for these features.
Yamaha P125 vs. Alesis Recital
The Alesis Recital is considered to be a low-budget digital piano for beginners and learners who are just starting from scratch and would like to get the real feel of a Grand Piano. However, its hammer action and touch sensitivity aren't the same as the Yamaha P125, which is also superior when you compare the sound quality between the two.
Yamaha P125 vs. Roland GO-88P
When comparing the Roland GO-88P with the Yamaha P125, the first thing you should know is that the Roland model only has a semi-weighted action, which isn't as efficient as the GHS action provided by Yamaha. Plus, it also has very few sounds, and although it has a greater sound output with its 2 x 10W speakers, its tones aren't as realistic as the P125.
Yamaha P125 vs. Casio PX-770
Last but not least, we compare the Casio PX-770 with the Yamaha P125. Both have a similar hammer action and have 88 keys. Moreover, the P125 comes with four touch sensitivity options, whereas the PX-770 has three. The P125 comes with 192-note polyphony, while the other has 128-note polyphony.
The Casio model is considered to be better when it comes to key texture, thanks to its key coating that feels just like ebony and ivory. However, when you put the two digital pianos against each other in terms of tone, the Yamaha P125 is a clear winner. Its sounds and tones are considered to be much more realistic and immersive, which is why it trumps most of the alternatives we have compared it with.
Conclusion
This brings us to the end of our Yamaha P125 review. Overall, it is a fantastic portable digital piano that is also affordable. Yamaha has upgraded this with some amazing features. Although Yamaha needs to innovate its designs, the P125 is by far the best option in its range.
References
1.
Smart Pianist - Overview - Apps - Pianos - Musical Instruments - Products - Yamaha USA
Smart Pianist lets you access the many features of your Yamaha digital piano with your smart device. This special app provides the most features when utilized with the revolutionary Clavinova Smart Pianist (CSP) series digital pianos, but is also compatible with a range of Yamaha digital pianos.