The Korg D1 piano is made for advanced pianists as this RH3 keyboard comes with numerous sound features. The D1 piano has been one of Korg's advanced digital pianos as it comes with additional features that other Korg digital pianos don't offer. You can also look into some of the other best digital pianos for advanced pianists.
Korg has been known in the music industry for its Weighted Hammer Action keys, and their D1 model is no exception. The piano offers 4 types of touch sensitivity so it does not matter how you play the keys because the piano will register the sound well. With 120-note polyphony, the piano offers effects such as reverb, brilliance, and 9 different types of temperaments. One such feature includes dual mode which allows you to layer music and add further depth into it.
5
Most Functional
Korg SP280BK
Features
Keys: 88
Polyphony: 120 notes
Presets: 30
Speakers: (2) 4.7 x 3.15 in
Amplifier: (2) 22W
Dimensions: 30.91 x 53.58 x 15.98 in
More features: NH action keyboard; partner mode; lightweight design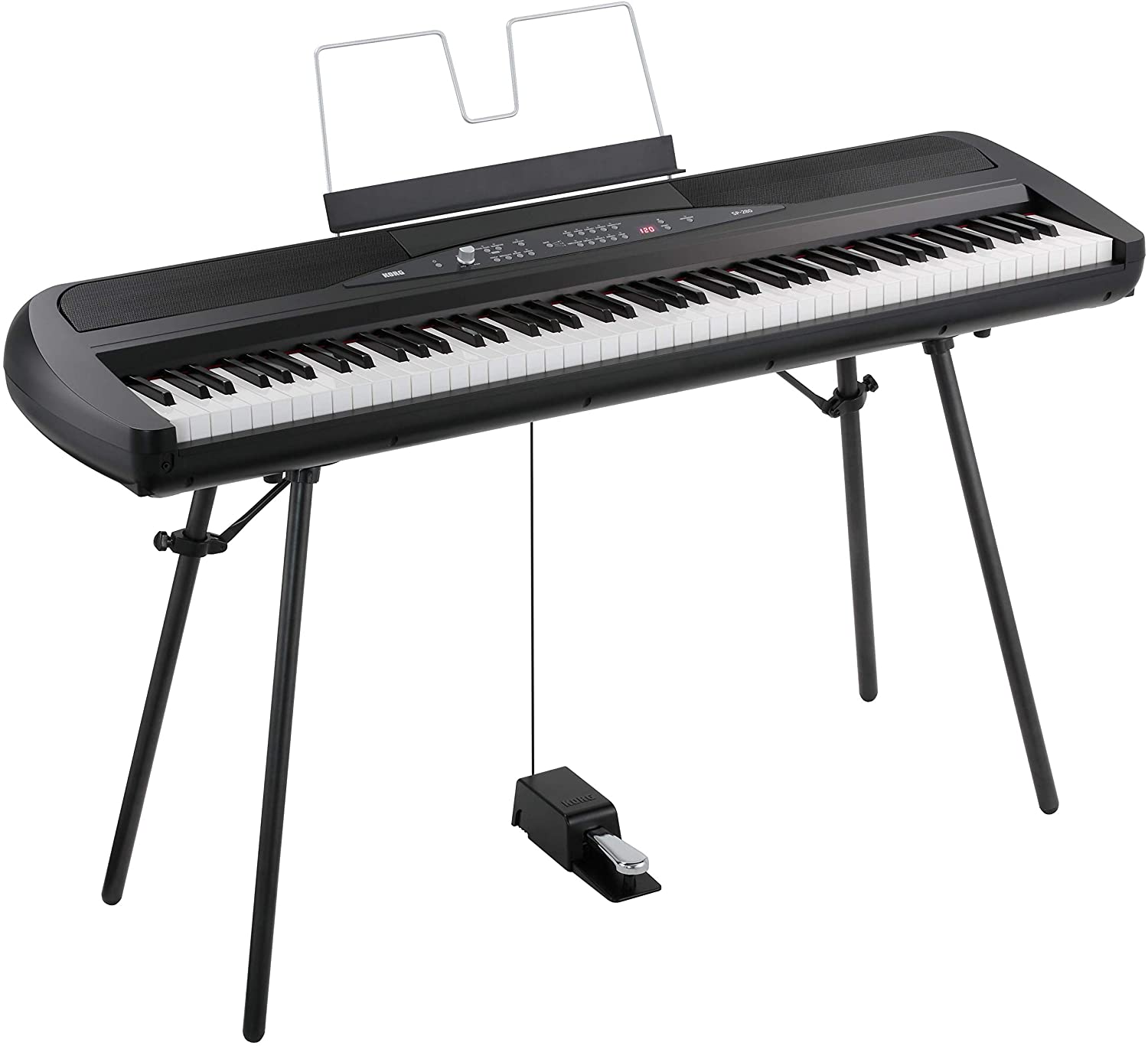 Good

This digital piano comes with Weighted Hammer Action keys that are comfortable and easy to play.
The built-in sounds and effects can add more depth to any sound that you play on this piano.
Like all other Korg products, this piano is also made up of the highest quality materials that are made to last.
Bad

This piano does not come in many color options, so you are kind of stuck with the same design.
This piano is not made for beginners as it can be complicated to handle.
If you and your partner love jamming to music together, then the Korg SP-280 should be on top of your list. The Korg SP-280 comes with a partner mode that allows two people to play the keyboard at the same time. Apart from this amazing feature, the Korg SP-280 has many other features to offer.
This Korg model is made to facilitate mobility. This digital piano can easily be transported due to its lightweight design. This keyboard can serve as one of the best stage keyboards. It comes with a powerful built-in speaker so you don't have to connect the keyboard to any external speakers. The great thing about the Korg SP-280 is that it offers a wide selection of sound options with 30 presets, 120 note polyphony, and 88 keys.
Things to Consider
If you are a budding musician, who is looking into buying a new digital piano, then you should consider Korg digital pianos. While looking for the best Korg digital piano is not as straightforward, we are going to help point out a few benefits as well as drawbacks that can help you decide whether you should get a Korg digital piano or not!
Why Korg?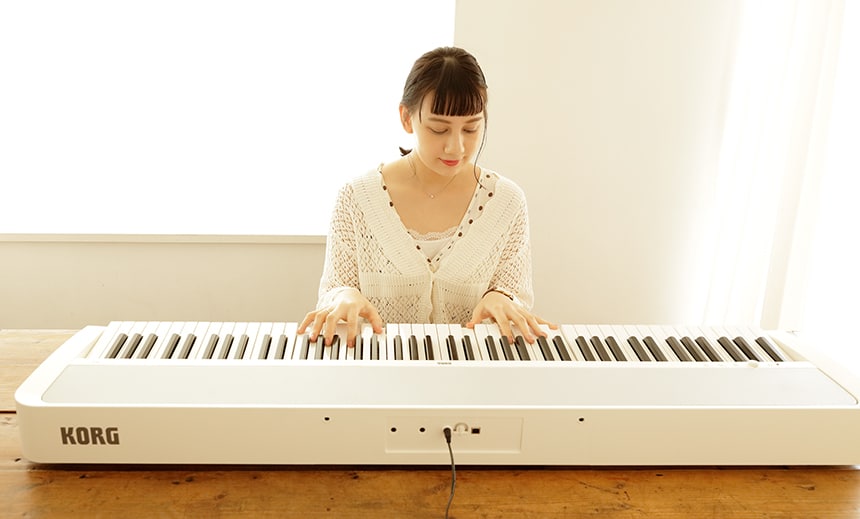 Among many other digital piano companies, you must be wondering why you should go for Korg? Here's why:
Established more than 50 years ago, Korg has now become a renowned name in the music industry. Korg has made quite a name for itself by producing musical instruments with high-quality sound experience. With the passage of time, they keep on implementing new technologies into their products so they keep up with the changing industry. Korg musical instruments have also been known to be in the possession of many music producers and musicians.
Korg has an extensive catalog of products that you can choose from. However, their specialty is electronic sounds. The company is known for producing one of the best synthesizers that the music industry has to offer. A Korg product truly allows you to make the most of your creativity while helping you produce sounds that are unique but pleasing to the ears.
When it comes to digital pianos, Korg has various products that offer great sound quality as well as versatility. Their pianos have been produced by the best sound engineers so while they may not be the cheapest digital pianos, they sure can be considered one of the best ones. Not only that, but the company also offers longevity with their products, making it worthwhile to invest. If this hasn't convinced you to buy a Korg digital piano, then I don't know what will!
Features to Consider Before You Buy a Korg Digital Piano
When it comes to digital pianos, having the right digital piano is extremely important. However, before you make this big decision, there are several features that you need to consider before buying a Korg digital piano. Here are some of those features:
Keyboard
The difference between traditional pianos and digital pianos is the keyboard, which is why this is one important feature to consider. While traditional pianos come with keys that are usually hard to strike, digital pianos come with weighted or semi-weighted keys that are easy to play with. Weighted Hammer Action keys add to the playability of the piano and enhance the response to any kind of touch. Almost all Korg digital pianos come with weighted keys, which are easy to play with
These pianos are also touch-sensitive, which means that they can sense the difference between touch and play it accordingly. All the models mentioned above come with this feature.
Sound Quality
While buying a piano, it is extremely important that you look at the sound quality of the model you are buying. The sound quality of a digital piano depends on the samples used to create the sound. While looking at the sound quality of the pianos, make sure that you pay special attention to the sustenance and decay of notes and see how that brings about an overall realism to the sound. You should also consider the polyphone notes that each piano has to offer. Polyphone refers to the number of individual notes or tones that a digital piano can produce. Korg pianos such as Korg D1 and Korg B2SP offer 120-note polyphony.
Overall Design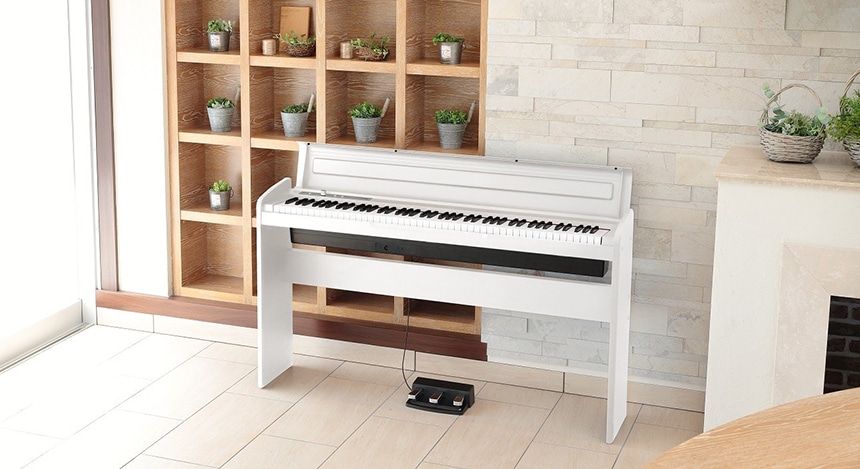 When it comes to design, Korg has always promised its users its stylish and sleek look. Their digital pianos are no exception. Available in different color options, most Korg digital pianos come with a contemporary exterior. Their modern design can also add a nice touch to your interior. The LP-380 digital piano comes with one of the best designs, available in many different colors.
Controls and Ease of Use
Keyboards can become quite complicated. If you're just learning to handle the piano, mastering a set of sliders and knobs can be intimidating. The good news is that this isn't going to be a problem with Korg digital pianos. Korg manages to keep the interface to a minimum level so that the pianos are easier to use. Our list contains many beginner-friendly options such as the LP-380 and the B2SP. You can easily navigate through the functions and features of these pianos. However, if you are looking for a digital piano with advanced features, you may want to consider the SP-280.
Connectivity
If you are looking for a piano that you would use in your home, then you need to make sure that the piano comes with built-in speakers and amplifiers. This allows you to play music at a loud volume while not connecting it to any external sound source. However, our list also contains pianos such as Korg D1 and Korg B2SP which do not come with built-in speakers. For this, you need to look at pianos that have various output options for connectivity.
Most pianos come with MIDI connectivity, which is fantastic as it allows you to connect the piano to your computer or phone via MIDI. You can use it to control the instrument virtually.
Apart from this, pianos also come with a headphone jack or USB port that helps you connect to other devices.
What's Included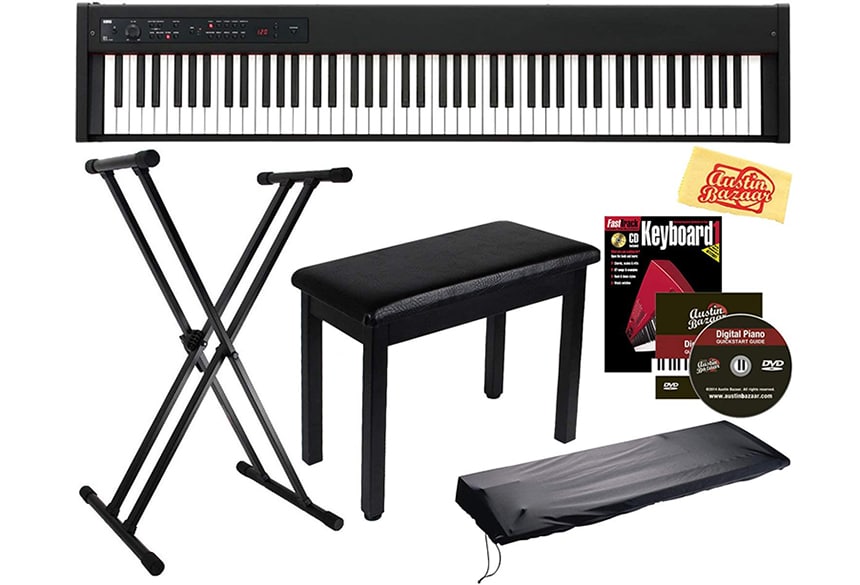 When buying a digital piano, make sure that it comes with the following accessories:
Stand: A durable stand can allow you to place the keyboard anywhere that you like. B2SP comes with a stand of its own.
Sustain Pedal: This footswitch can add an extra layer of depth to the sound. Korg SP-280 comes with a sustain pedal that is simple and easy to use.
Bag: Since pianos can be heavy, they can be a bit difficult to carry. However, with a bag, you are able to transport it with ease. The bag also helps protect the piano against any kind of damage.
Price
While buying something, you might have a specific budget in mind which is why it is very important to look at the price of the Korg digital piano before buying one. Digital pianos are generally less pricey than traditional acoustic pianos. However, you will find them in a range of prices. If you are looking for a budget-friendly option, then you can consider pianos such as Korg C1 Air that costs somewhere between $1400-and $1500. Digital pianos are also available at mid-range prices from $1500-$2000. Such pianos often come with extra features such as a nice keybed and so on. You can even get premium upflush toilets that can cost more than $2000. While prices and functions may vary for each type of piano, you have to look at what suits your budget the most.
FAQ
How long is the warranty on Korg digital pianos?
While buying anything, having a warranty is extremely important. A warranty ensures that any manufacturing damage to the product is compensated by the company itself. Additionally, it helps you build trust towards the product. Most Korg products come with a 1-year warranty period. During this time, any damage to the piano will be repaired by the company itself. You can always go back to the place you purchased your piano from and get it repaired, in case anything happens.
What kinds of digital pianos are there?
When it comes to digital pianos, you can find them in many different types. Here are some of those:
Upright: These types of digital pianos come with a classical design that is very similar to traditional pianos. These pianos are generally more expensive compared to other digital pianos. Most people use them at home.
Grand: Grand digital pianos come with a more precise keyboard action that helps result in high-quality sound. These pianos are offered by a handful of manufacturers and can be very expensive.
Stage: Made for live performances and professional use, these pianos feature the best synthesizers. However, most of them lack internal amplification so you have to mostly connect it to an external amplifier.
Our verdict
By now, you should know everything that you needed to know about Korg Digital Pianos. According to our analysis, the best Korg digital piano is the LP-380 model. Not only does the piano offer high quality sound, but it also comes with numerous features that can enhance the sound. The LP-380 also has the most elegant design out of all.
If you're a beginner or are on a tight budget, the Korg B2SP can be just what you're looking for. On the contrary, for a more upgrade option, check out the Korg C1 Air. If you are looking for a portable piano, then the Korg D1 will meet all your needs. And last but not least, the SP-280 is a great example for a digital piano that offers partner mode.
No matter what digital piano best suits your needs, you will see that having a Korg musical product will enhance your music experience by a margin!