The Korg MicroKorg is one of the polyphonic synths under 500 that's worth consideration as a potential purchase. It uses an analog modeling sound engine, and hence it may sound a lot like an analog synth. However, if you were to look inside the circuitry, it would be different.
The keys in the microKorg also deserve praise. They are 37 in number, which is relatively high for this price range. Also, they are semi-weighted and velocity-sensitive. The only problem with them is that they are mini keys, which means you might need some time to get used to them if you've used normal-sized keyboards before.
For beginners, having 128 presets included in this purchase can get the ball rolling for you in the right direction. Also, you might appreciate the added portability that's as a result of the AA battery compatibility. That said, if you're at home or in a studio, a connection to a socket will suffice to provide the machine with all the power it needs.
Additionally, having various sound oscillators does bode well for the sound-producing capabilities of the tool. Notably, the filters and effects in the machine are many as well. As such, you can tweak the sounds produced by the synth or those from external inputs to achieve different levels of musical genius.
As for the connectivity, it doesn't seem like you'll be missing much if you make this your purchase. That said, you do miss out on a sequencer altogether when you buy the Korg MicroKorg.
6
Best Value
Behringer TD-3-RD
Features
Sound engine: Bass Line synthesizer with true analog circuitry
Polyphony: mono, 16-voice poly chain
Keyboard:13x key buttons
Oscillator: 1x VCO
Filter: four-pole resonant filter
Envelope generator: n/a
Effects: Distortion
Sequencer: 16-step, 7-track, 250 user patterns
Connectivity: 1 x 1/8″ TS (filter in), 1/4″ TS (line out), 1/8″ headphones, In/Out/Thru/USB, CV Out, Gate Out, Sync In, USB type B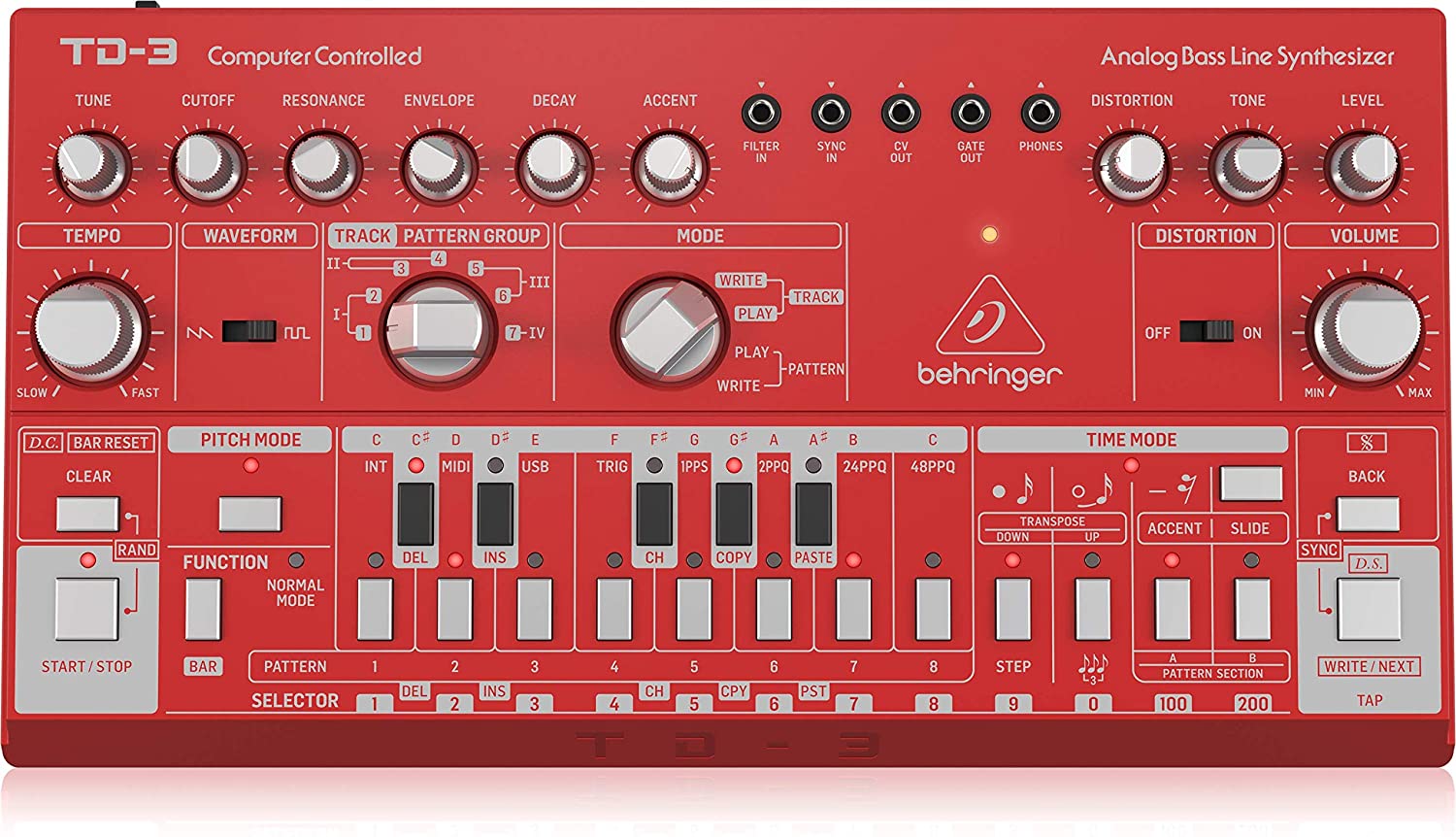 Good

This synth is compact, lightweight, and easy to transport. Also, it is the most affordable option listed. The connectivity options give the other synths listed a run for their money.
Bad

The machine doesn't have a traditional keyboard in its setup.
The Behringer TD-3-RD is another option that may serve you well, especially as a beginner. With regards to polyphony, you get two options upon purchase. One is mono, where you can only play or produce a single note at a time. Alternatively, you can use the 16-voice poly-chain to string along a few notes.
As you can see, the Behringer TD-3-RD is simpler in design compared to the other synths listed. It is smaller, lighter, has a small keyboard, and very few buttons and knobs have been included. This difference in design may be the reason for the affordable price point. If your budget is limited to less than $200, you can still afford this synth.
The sequencer and connectivity are other elements the manufacturer is bound to be proud of. As for the oscillator and effects, this synth model falls behind other options. However, there is still a lot of value in this machine for the price.
Things to Consider
If you don't understand how hardware synths work, the chances that you can fail at selecting the best option under $500 are still high. As such, we advise that you take the time to read the section below as it will give you a better understanding of synths in general. After that, you'll breeze through the purchase with relative ease.
Features to consider when choosing a synthesizer
The features are often the difference between a good synthesizer and a bad one. We will strive to explain all the features that you may encounter as you look around for options. Consequently, you'll find that deciding which synth to buy is easier than when you understand the features better.
Sound engine
There are two main types of sound engines in synths, i.e., analog and digital. For the synths in the list above, analog engines have carried the day. These tend to use electrical currents to produce sounds.
Notably, people who prefer analog signals are of the opinion that they produce warmer and more natural sounds. Digital synths, on the other hand, have the upside of a wider range of sounds. This is because they use software and algorithms to translate binary numbers into sound waves.
We would advise that you start with an analog option if you're new to synths. This helps ease you into learning more about the music device. Of course, digital synths are much more challenging to figure out.
Keyboard
The type of keyboard also provides a look into the quality of the synthesizer. To accurately judge the keyboard, always check the number of keys and their type.
Those with more keys are usually preferred, although they will likely increase the size of the whole device. As for the type, you will see depictions such as weighted, semi-weighted, velocity-sensitive, and aftertouch sensitive.
As you may know acoustic pianos are sensitive to all kinds of stimuli. These include the speed through which you press the keys, the pressure you put on them and more.
Ideally, the keyboard in your synth should register these stimuli as well. It might also help if your keyboard has full-size keys like in the Behringer MS-1-BK, as they are easier to find and press.

Controls and interface
One reason why we recommend analog synthesizers over digital ones to beginners is the ease of use. The controls and interface are easier to figure out. As such, we still recommend that you look for the simplest control structure and interface you can find from your options.
Monophonic vs. polyphonic
Monosynths are often limited in that you can only play one note at a time while you're using the machine. However, since all the power goes into making a single sound, monophonic synthesizers tend to produce fuller and larger sounds.
Conversely, polysynths can produce multiple notes at the same time. This means the power will be divided according to the needs of the notes played. Of course, the result in a less aggressive sound. The Korg MicroKorg is an example of a polysynth device that can play up to four notes simultaneously.
Notably, you'll have to pick the synth type you like the most from these two options.
Oscillators and filters
For analog synths like the ones above, the oscillators provide the electronic signals in their various waveforms before they are transmitted to other parts of the musical machine. They do this by converting direct currents to alternating currents.
Consequently, having more oscillators in your synth should also add to the sound capabilities of the machine. After all, these electric currents and signals are what is converted to sound.
Filters, on the other hand, work with sound that has already been produced. By blocking some elements of the sound while letting others through, the filter can shape tones to your preference. Consequently, the more filters you have, the more you can shape your tones to achieve different results.
Effects
Another way you can manipulate tones is through the effects. The Chorus, Distortion, Unison, and Reverb are some basic effects. Some other effects include the Brute Factor Drive in the Arturia MiniBrute 2. We would still advise you to get a synth that has as many effects as possible so that you have more choices in your sound manipulation.
Envelope generator
The presence of an envelope generator will give you complete control over the different stages of sounds produced. You can thus manipulate the attack, decay, sustain, and finally, the release of the sound produced.
Also, the stages of sound that an envelope generator can control are made clear in the features of the synth. For example, the Korg Monologue has an AD envelope generator, which means it can control the attack and the decay stages of the sound.
In contrast, the Novation Bass Station II has two ADSR envelope generators. As implied it has two generators that control all the sound stages, i.e., attack, decay, sustain and release. Whether you want this feature in your synth or not is up to you.
Connectivity
At some point, you're going to want to integrate your synth with another device. It could be a guitar, your headphones, monitor speakers, a MIDI device, or your computer.
Notably, all these options will expand your capabilities with regard to what the synthesizer can do. In anticipation of this, we recommend getting a synth like the Novation Bass Station II, which has more connectivity options.
Portability
You will have to decide where you plan to use the synth before purchase. If you have a mini home studio where you will be using the synth, then it should be fine to get one that isn't portable. After all, once it arrives, it won't be leaving the house.
On the other hand, your intended use may involve carrying the synth daily to different places. In such a case, portability becomes a crucial selling point. One of the most portable devices to make it to the list is the Korg MicroKorg. It is small, lightweight, and as a bonus, it can work with batteries. As such, it can work on a train or a cab as you are commuting to a different destination.

Built-in sequencer
Rhythms, effects, articulations, and notes don't have to be played alone. Instead, they can be combined in a series of notes and even recorded. Once recorded, the synth can be used to play the same repeating sequence of notes, thus allowing you to experiment more with sounds. However, you need a built-in sequencer to pull this off. Notably, not all synths under $500 will come with sequencers.
FAQ
Should I get a keyboard or synthesizer?
The two musical devices may look similar, but they have different functions. The keyboard is simpler, reproduces prerecorded sounds, and will basically allow you to learn how to play the piano. Also, there aren't many extra features on a keyboard.
Conversely, the synthesizer can produce unique sounds depending on the input. As such, if you're shopping for a tool for the studio, the synthesizer will be a much better pick.
How much does a synthesizer cost?
On the list above, there's a synth that costs slightly above $100. However, this synth is one of the cheaper options available and is suited for beginners. There are also options that cost thousands of dollars that are suited for music-making professionals.
Notably, this should imply that the cost of a synthesizer varies according to your needs. As such, once you've mastered using inexpensive synths, you can upgrade to the more expensive options.
Our verdict
The Korg Monologue is a nice pick with an excellent set of features. The design is top-notch and the manufacturer considered everything before releasing the product. This includes the affordability, the oscillators, keyboard design, filters, connectivity options and more.
For the Novation Bass Station II, you'll need more money to get it. However, this synth takes after the Korg Monologue and gets almost a perfect score in all areas. The 2x ADSR envelope generator, the sequencer, and the programmable keyboard are especially impressive. The only major downside is the flimsy construction.
Our review team also liked the Arturia MiniBrute 2. It has two envelope generators, two oscillators, well-designed keys and a few other positive attributes. Like the editor's choice it is well-rounded. However, it will need a little more money from your pocket as well. These three synths are our favorite picks from the list above.
We encourage you to read this write-up a second time as it will cement your understanding of synths in general and help you make a better purchase choice. Also, we wish you the best as you order your synth.
References
1.
How Do Synthesizers Work? Definition, History, and Role in Producing Music - 2022 - MasterClass
For most of human history, music could only be produced in a limited number of ways.
2.
Different types of synthesizer and how they work - RouteNote Blog
Ever wondered what all the different synthesizers are and what types of synth sounds they all make? You've come to the right place.