If you aren't familiar with the classic Novation bass station, then this will give you a taste of what you missed and even more. The Novation II is the newest version of the original Novation bass station. It excels at bass sounds, and with its versatile sound engines, it can eliminate crisp arpeggios and sharp leads.
The analog synth has a layout that features dedicated controls for all its major parameters. Its signal path is purely analog, and you can store and recall patches on it. Moreover, it has enough space for storing up to 64 sounds, and you can store more on your computer.
The synths keyboard features 25 full-sized keys that have assignable aftertouch and sensitive velocity. Since it is meant to be a synth-action keyboard, each key is highly responsive and light to the touch.
To top it all, the Novation II is a MIDI compliant device. It has MIDI ins and outs on 5 pin din ports that you can use to connect to other MIDI outboard or interface with your computer via USB.
With the 2 oscillators and 1 sub-oscillator, you will be able to create rich and fresh analog bass sounds. Also featured are 2 filters; acid and classic. They both have a built-in overdrive for changing tones from dry to warm or even nasty.
5
Yamaha MODX7
Features
Keyboard: 76 keys, semi-weighted
Polyphony: 128-note stereo AWM2 + 64-note FM-X
Effects: Reverbs, VCM, Beat Repeat, Vinyl Break, Bit Crusher, Spiralizer, Analog Delay, VCM Phaser, Amp Simulators, etc.
Connectivity: 2x 1/4″ (R, L/mono), 2x 1/4″ (R, L/mono), 1x 1/4″, 1x Type B, 1x Type A, MIDI In/Out/USB, 4x pedal inputs
Dimensions: 5.27 x 44.03 x 13.03 inches
Weight: 16.5 lbs.
Extra features: digital, AWM2, and FM-X engines, 4-Part seamless sound switching, 1GB internal flash memory

Good

This is one of the few FM synths designed to offer a wide range of sound design options. It has myriad features that make it a famous go-to for seasoned musicians, like the popular AWM2 engine. Plus, it's incredibly lightweight, and its side accents give it an attractive fancy look.
Bad

The blinking super button can be turned off, and some users find it annoying.
Yet another gem from YAMAHA that offers unlimited potential to create unique sounds. It has an advanced sound engine that has been modernized for complex sound design and wonderful sound playback. The AWM2 is the same engine used in the flagship Montage synth, so you can trust it to deliver great audio quality.
The synth is packed with features, a super knob being one of the unique ones. It allows you to control up to 128 parameters simultaneously in one performance.
What's more, the synth has tempo-synchronized motion sequences that are completely customizable and can be assigned to almost all synth parameters.
As if that's enough, there is the seamless sound switching that allows you to change performances easily without experiencing any cut-offs in effects and envelopes.
The synth's FM-X frequency modulation makes it capable of producing cutting-edge EDM sounds and the classic 80s with unmatched dynamic range, fidelity, and power. Plus, with the 8-operator FM architecture and 64 note polyphony, you will enjoy a massive range of sound design options.
Things to Consider
You need to keep an eye on a couple of things when choosing an FM synth for you to get value for your money. This section contains the critical aspects worth considering, including the must-have features.
Features to consider when choosing the best FM synth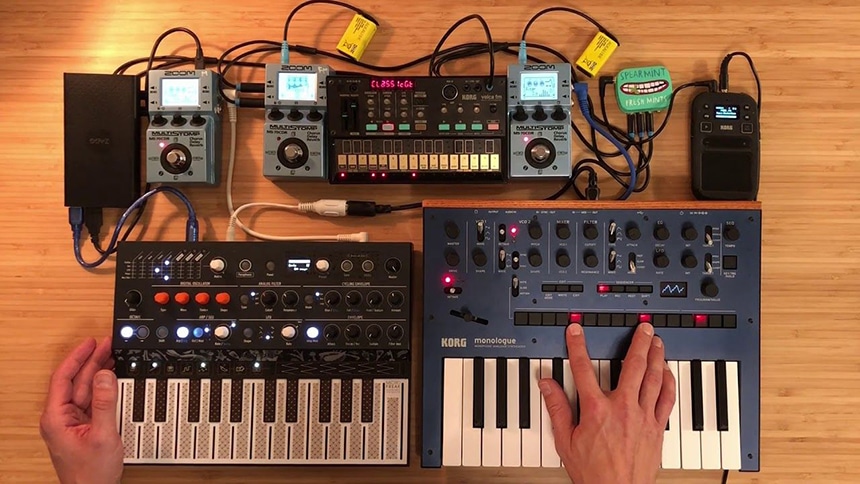 These are the chief components that make up a good FM synth that will give you a big bang for your bucks and help you build a successful music career:
Analog vs. digital
Analog synths have warmer and more satisfying sounds compared to digital synths. Since sound waves are created in the analog circuit, they offer a greater variety of sounds. Plus, it allows different circuit elements like oscillators and filters to interact in myriad ways. The only downside to an analog synth is that you can create weird sounds by accident, and it can be a bit complicated to master for a beginner.
On the other hand, digital synths are less costly, and they take up very little space as they allow you to use one MIDI keyboard to control multiple synths. They are also easier to learn, and they don't break as easily. Even if they do break, they would be easier to repair than analog synths. Another upside of owning a digital synth is the updates that allow you to improve or add new features instead of buying a new one.
Hardware vs. software
This has been a heated debate for the longest time. Software has more advantages than hardware. The only downside to software is the lack of physical interaction with instruments. Unlike hardware, you cannot reach out to modify things on instruments. Besides being more practical due to their lack of physical footprint, they also offer unmatched versatility and excellent value for money.
The only advantages of hardware synths are that they are fun to use and have a wonderful resale value.
Keyboard
Just like any other instrument, it takes a lot to play a synth. Therefore, how it feels is a pretty detrimental consideration. If you want a highly portable synth, you can choose one with light, non-weighted keys.
If you are used to playing many other instruments with keys like acoustic or electric pianos, you will love playing a synth with more weighted keys. They will feel more solid and great on your fingers.
Monophonic vs. polyphonic
Monophonic synths can only play one note at a time, while polyphonic synths can play several notes at a go. Every polysynth usually has the number of sounds it can play indicated on its name. Most of them can play 4, 6, or 8 voices.
Polysynths are slightly pricier than monosynths because they include an oscillator, filter, and envelope. They are also more compact than monosynths as they don't contain as much hardware. They excel at certain types of playing, like melodies and harmonies.
On the other hand, monosynths are excellent for leads, solos, and basslines. In sum, polysynths have more advantages than monosynths despite their high price point.
Interface
Different FM synths feature different user interfaces. Choose one with a more user-friendly interface that even a beginner can quickly wrap their head around. An unfriendly interface will discourage you from creating fresh music sounds. If you are an aesthete, you can choose one with an attractive appearance and good looking controls.
Audio quality
Everyone loves a musical instrument that produces dope sounds. Therefore, the audio quality of a synth is an extremely important consideration. Very few FM synths can produce precise and detailed sound textures. You need to choose one based on your musical needs.
Connectivity
This is another critical consideration, often overlooked by many. Before choosing an FM synth, consider your chances or likelihood of adding more gear to your studio. If you are not done making your studio a one stop shop for any kind of musician, then be sure to get a synth with a design that prioritizes connectivity. It should have audio ins and outs, MIDI ins and outs, and USB connectivity. With these ports, you will be able to connect to speakers and computers as well.

Portability
If you'd like to hit the road every often with your synth, then consider its portability. Choose one with a lightweight build that you can easily carry around, like the Electrone Digitone. Otherwise, if you intend to keep your synth permanently in your studio, then the size and weight shouldn't be an issue. Larger synths are even much easier to work on.
Effects
The more effects a synth has, the better. More effects offer great versatility and a seamless sound capability. The Yamaha Montage8 is a prime example of an FM synth with multiple effects.
FAQ
What is an FM synthesizer?
Frequency Modulation (FM) synthesis is a type of sound synthesis that involves changing the frequency of a waveform according to the amplitude of a modulating signal. It creates both harmonic and inharmonic sounds.
What is FM synthesis good for?
FM synthesis excels at creating sounds that are a bit challenging to create with subtractive synths like metallic tones, bell timbres, and some tones of electric pianos. It is also great for synthetic brass sounds and punchy bass.
Our verdict
An FM synth will make a whole difference to the quality of your music sounds. Choosing one from all the options available can be a mixed bag of experience. With keen adherence to the tips and hints provided in this guide, you cannot fail to make a wise choice. Alternatively, you can easily choose any of the top-quality synths we have reviewed in detail.
Our top pick, the Electrone Digitone, is the best portable, durable, and easy to use FM synth with great value for money out there. It has multiple connectivity options and is pretty attractive if you care for aesthetics. Our premium choice, the Yamaha Montage8, is the ultimate all-around option. It costs a pretty penny, but it is a worthy buy. Its multiple effects, connectivity options, and keyboard with 88 keys are a few of the outstanding features that set it apart.
Our third best choice, the Korg Volca FM, is the best FM synth you can get for the money. It doesn't have the bells and whistles like most high-end Synth models, but it does the job pretty great. Its multi-touch keyboard and 16-step sequencer distinguish it as one of the best affordable FM synths on the market.
References
1.
What is FM synthesis? The ultimate beginner's guide | MusicRadar
Our ultimate beginner's guide to synthesis continues with a dive into the nuts and bolts of frequency modulation
2.
Learn | How-to: Use the FM Synth
The FM Synth is an online recreation of a classic Japanese FM synthesizer. The FM Synth is an instrument doing frequency modulation synthesis. This is very different than our other synthesizers like the Simple, which is doing subtractive synthesis.