The workstation series from Yamaha have taken the category by storm, and the Yamaha MOXF8 is the best of the models from the brand.
This model comes with a neat interface. You get an LCD display, a pair of faders, a knob for volume adjustment, and several other buttons and knobs. When combined, all of these results in a model that is really easy to use. The buttons are assignable, and this comes in very handy for live performances.
Under the hood, you'll find a powerful sound engine that comes with 128-note polyphony, VCM, and the ability to add voices. It also comes with the ability to expand the ROM.
10
Waldorf Blofeld Keyboard
Features
Signal: digital (VA)
Max polyphony: 25 notes
Keyboard: 49 weighted keys with aftertouch
Sequencer: arpeggiator only
Oscillators: multiple oscillator and filter modes
Connectivity: headphones OUT, L/Stereo, R OUT, sustain pedal OUT, MIDI IN/OUT, USB, pedal ports
 More features: 60 MB sample memory, 1024 onboard sounds, 128 multi-programs, stainless steel control knobs, internal power supply

Good

The depth and quality of this unit are the absolute best at this price. It is available in a compact and lightweight design.
Bad

Although the interface is excellent, you do not have a vocoder here. This might be somewhat limiting for some genres.
This is a serious synth that offers remarkable performance considering the price. It is a durable unit as it has a metal front panel and a lovely display. Next, the interface is one of the best things about it as it comes with an intuitive design. Therefore, beginners will have an easy time with the model.
It is one of the rare models on this list that features countless oscillator and filter modulations. This should enhance your creativity, allowing you to compose something truly unique.
Things to Consider
As you have likely seen from the section above, there are many synthesizers available on the market today. We think the models that we have reviewed here are the best options that you can buy right now. Still, you might not be completely convinced about any of the options. You might be looking to make an independent decision. To that end, we have provided this buying guide. In this section, we look at all the important features that you have to consider if you will indeed choose the synth that best meets your needs.
Why you should get a synth

If you do not have a synth for ambient or for any other genre, there are things that you are missing out on. In this section, we delve into the advantages of owning a synth.
Fun to use
If you haven't played a synth before, you might not know what you are missing in terms of fun. It is one of the most fun things that you can do. It is challenging and interesting to create music. Synths are magical and make you feel like a child again. The fun isn't just in the pressing of the buttons and turning of the knobs – most of it comes from making music and fiddling with the sounds to create something new.
Direct connection
There are software and hardware synths, but we focus on the hardware synths in this post. The biggest reason, apart from the social fun, is that hardware synths give you a direct connection to the music. As such, these come with physical buttons and knobs that make it so much easier for you to create your music.
With the hardware synth, you have to record each part individually before you bring the sounds together. The advantage is that you will have more creativity. You will pay even more attention to your music creation.
It is good for the brain
The synth is an instrument in its own right, although it combines several instruments. And it has been shown by studies and research, that playing an instrument and mastering it is good for your brain. Learning to play the synth will help to open new pathways in the brain and will make you gain better brain functioning. There are several ways to exercise the brain, and getting a synth and playing it is one of the ways you can do this.
Reasonable price
Compared with software synths, hardware synths might come in at a very affordable price. Some of the models that we have reviewed, like the Novation MiniNova Analog Modeling Synthesizer, come at a really good price and offer excellent value for the money.
In addition, hardware synths come with features and components that you will not find in the software models.
Versatile and great to listen to
These instruments are quite versatile as they come with the ability to upload new presets and use MIDI. An example of this is the Korg microKorg 37-Key Analog Modeling Synthesizer with Vocoder that has fully 128 editable presets.
Things to consider before getting a synth for ambient
We have considered why you should get a synth. Now, what features should you concern with when making a buying choice? We will see some of the crucial and the not-so-important features to consider before you buy your next synth.
Analog signal type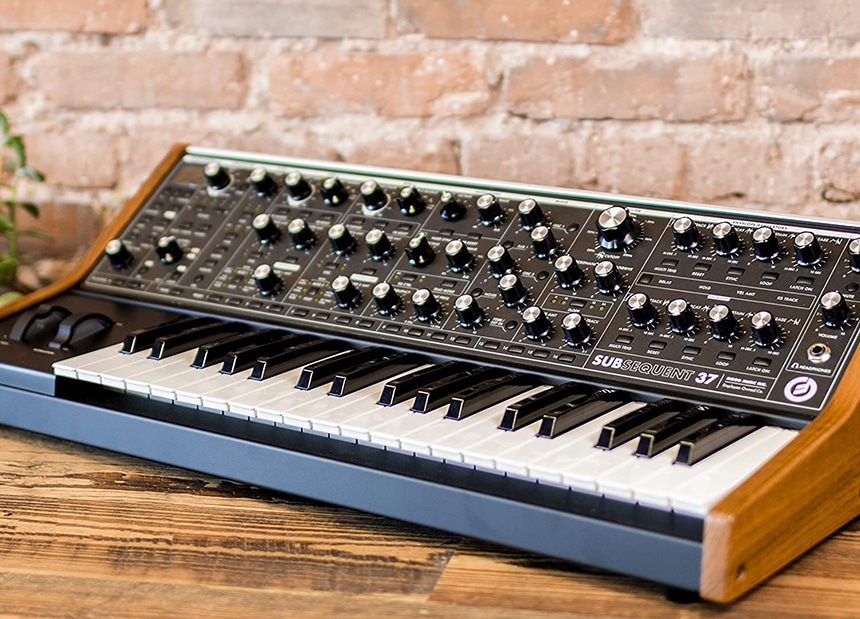 This is the first type of synths. They rely on specialized circuits that create and modify the sound. In this type of synth, the sound is made with voltage-controlled oscillators and filters. There are several advantages to this type of synth:
The sound is often warm;
Some of these types have zero limitations on sample rate or bit depth;
The controls have an infinite resolution;
They have knobs to control every function, which makes them easy to use.
As with these advantages, there are also downsides. Some of the disadvantages of these types of synths are:
They sometimes have just a tonal palette;
These models are more expensive;
Analog synths tend to be larger;
Some might not have preset memory.
Examples of these are the Moog Subsequent 37 Analog Synthesizer and Korg microKorg.
Digital synthesizers
This type of synth is a result of the innovations in technology. These are specialized computers that use code to create data streams that are translated into sound. Next, there are several types of digital synthesis ranging from FM to additive synthesis, physical modelling, and so on.
Advantages of these synths are:
They create more sounds than their analog counterparts;
They come with preset memory;
They are affordable;
They come in different sizes.
Disadvantages of these are:
They don't have the warmth of analog synths;
Difficult to repair;
Limited resolution
An example of these is Elektron Digitone.
What is Virtual Analog?
These are special synths. They are digital synths that imitate the workflow of analog synths, so they are something of a hybrid of the two types of synths. Also, these use digital models of amps, etc., to create an experience similar to what you'll find in the analog synth.
Some of the advantages of this type of synth are:
They imitate the excellent workflow of the modular synth;
They have preset memory;
There are an impressive MIDI connection and flexibility.
Disadvantages are that:
There isn't the warm sound of the analog options;
Limited modulation options;
Difficult to repair.
An example of this type of synth is the Roland GAIA SH-01 Synthesizer.
Max voices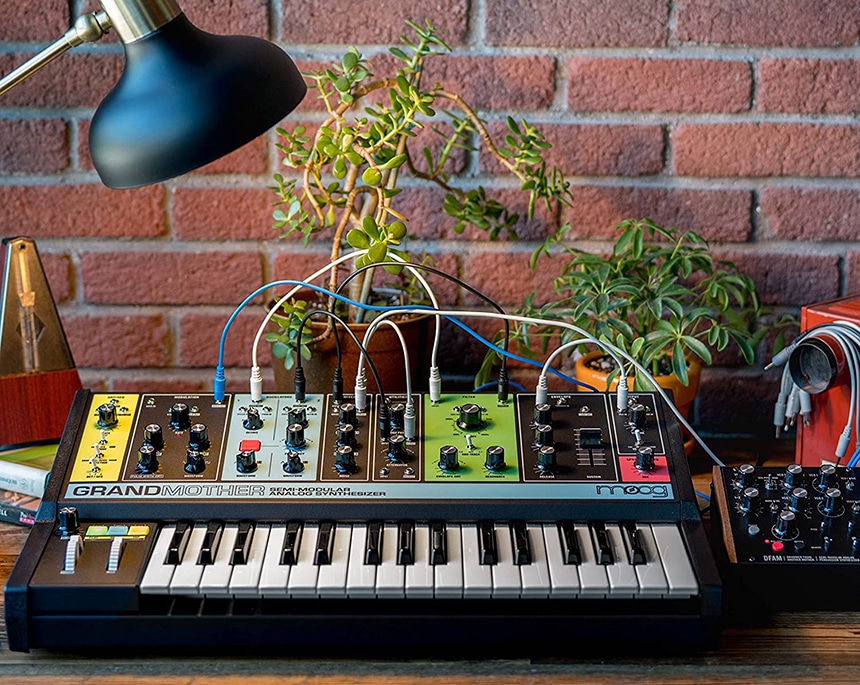 Another feature that you must consider before making a buying choice is the ability in terms of maximum voices. To that end, there are three main voices. These are monophonic, paraphonic, and polyphonic.
Let's see what each of these means for you.
The monophonic synth has the ability to play just one note at a time. The Moog Grandmother is an example of this type of synth.
This type of synth might have several oscillators that require independent tuning. The thing about these types of synths is that you cannot play more than one note at a time.
The next type of synth comes with the ability to play several notes at a go. But the notes that you play have the same envelope. What does this mean for you? This implies that you can't play multiple notes using different filters at the same time. The Moog Subsequent comes with the ability to switch to this mode or the monophonic mode.
This type is one that can easily play multiple notes at a go. Each of the notes plays with its own voice. The Roland GAIA and the Yamaha MOXF8 are the most impressive examples of this type of synth.
Effects
Another thing to consider when choosing your synth for ambient is the effects that you will get. The effects that the synth gives you will affect the type of music that you can make with the synth.
With the right model, you will get the effects that will add character to your songs. Check for a variety of effects in your synth to enjoy a high-quality output.
Synths have different ranges of effects. From our testing, the Dave Smith Instruments OB-6 comes with the best effects.
Sound source
Another vital factor to consider when you are thinking of the synth to buy is the sound source. This section primarily concerns the oscillators of the unit, and there are two main types of oscillators: analog and digital.
The analog oscillator is also known as the Voltage Controlled Oscillator. It creates waveforms based on input voltage or current. Just like in analog synths, these oscillators create a richer, warmer sound.
The digitally controlled oscillator generates sound via the set characteristics. Where the analog options are not very stable, the digital oscillators are more reliable. They also last for a longer time than their analog counterparts.
Portability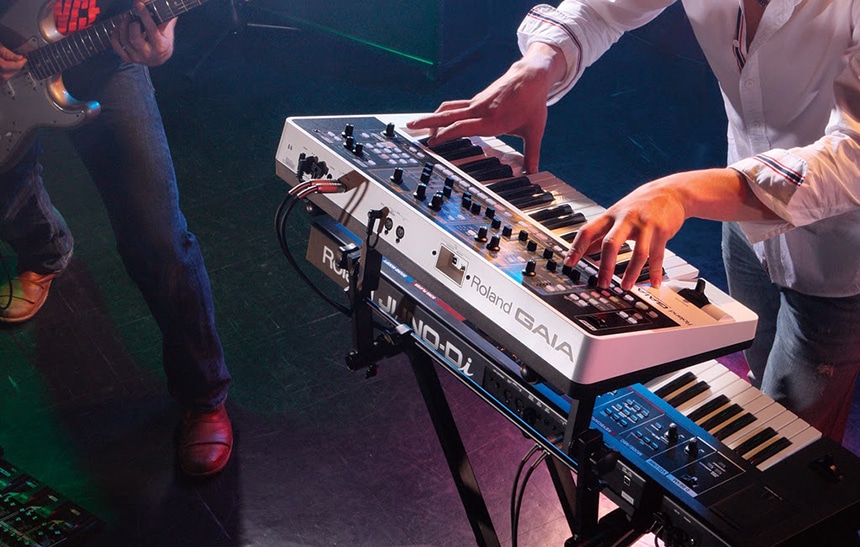 If you are a producer that makes music on the go, then you certainly are looking for a model that is portable and easy to carry around with you. Well, you can find that both analog and digital models can be quite compact. As for the home studios or similar places, you can stick to a larger option.
Prices
Some might believe that more expensive units will give better performance, but that isn't always the case. There surely are some models that come at a low price but still manage to sound as good or even better than more expensive models, such as seen with the Novation MiniNova Analog Modeling Synthesizer that costs only about $400.
Also, you can get premium options like the Dave Smith Instruments OB-6 at $3000 if you are looking to take your experience to the next level.
If the synth has the sounds you want, the price isn't very important. It doesn't matter if you bought it for $400 or even under as long as it gives the sound you require.
FAQ
What effects should I be looking for to enhance my ambient music?
There are hundreds of effects available, but you only need a few to make your music sound great. Ambient music should be pleasant but not distracting. Therefore, the reverb effect is one of the most recommended effects. Also, professionals use delay, pitch-corrector, create rhythms and drum loops, add guitar sounds, octavers, modulation, filters, phasers, and more!
Can I upload new sounds on my synth for ambient?
Yes, you can, but the ability to add sounds to your synth depends on the memory of the synth and the model of the synth. Some of the best synths come with the ability to download sounds from the brands website and upload it to the synth.
Do synthesizers for ambient come with a warranty?
Just like with any product, you can expect to get a warranty from the manufacturer here. The warranty period depends on the model and the brand. Look for lengthy warranties so that you can get the best service and value.
Our verdict
Getting a synth for ambient can be a hard task if you don't know what to look out for. If we are to pick a winner, our number one option is the Moog Subsequent 37 Analog Synthesizer due to its versatility and ease of use.
If you are looking for a model that is affordable and that still gives you excellent performance, then look no further than the Novation MiniNova Analog Modeling Synthesizer. It produces a warm sound and is a unique option.
The Dave Smith Instruments OB-6 is geared towards professionals. It might be more costly than your average synth, but it is certainly worth the cost due to the powerful sound engine.
We hope that this article helped you find the best synth for ambient, and now, you can create your new tracks with joy!
References
1.
Ambient Music Guide: 5 Characteristics of Ambient Music - 2022 - MasterClass
Ambient music came of age in the twentieth century in the era of electronic synthesizers, but its origins trace back decades before the first synths.
2.
An Introduction to Ambient Music (+ 10 Favorite Plugins)
An article on the history of ambient music as well as recommended effects, virtual instruments and production tips.
3.
Exploring the Synths That Defined 1990s Ambient | Reverb News
Fueled by the popularity of rave culture and increasingly affordable home studio and analog gear, electronic music took off in the 90s. Here are the synths that defined the ambient scene.