Korg MS20 Mini is a semi-modular analog monophonic synth that boasts the classic tone of the inimitable MS20. It's a replica of the original MS20, only that it's 86% of the original size.
MS20 Mini amazes with its authentic sound, fat and juicy basses, plus gripping lead tones. It also boasts warm strings and pads.
The model packs 2 oscillator synth with 2 VCAs, 2 VCFs, a noise generator, sample and hold, as well as extra tweakable components. The voltage-controlled oscillator generates all sound for this model, while the self-oscillating low-pass/high-pass filters produce distinctive distortions.
Its flexible patching system eases its extendibility, while the USB MIDI plus 5-pin MIDI creates more room for unlocking the potential of the MS20 Mini. At the same time, the included external signal processor (ESP) makes it a suitable analog audio processor for external sound sources.
8
Best Polyrhythmic Synthesizer
Moog Subharmonicon
Features
Type: semi-modular, polyrhythmic, analog
Keyboard: N/A
Sequencer: (2) 4-step sequencers
Connectivity: 5mm MIDI input; 1⁄4″ TRS Headphone or 1⁄4″ TS Instrument
Dimensions: 4.2″ x 12.57″ x 5.24″
Other features: six-tone subharmonic chords; selectable quantization; Self-Oscillating Ladder Filter; 17 input jacks; 15 output jacks; Eurorack-compatible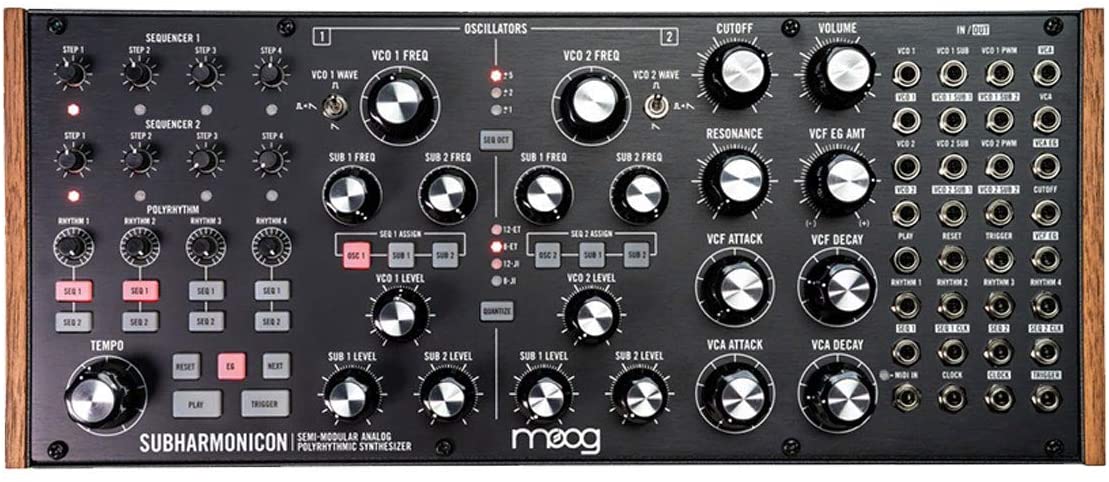 Good

We liked that the Moog Subharmonicon is highly versatile. Its subharmonically derived sound and synthesis make it ideal for playing bass in a band, playing keyboard in a band, creating creepy sounds for a horror film, and more. Notice, this instrument does not feature a keyboard; however, it can add crazy new sounds once connected to a keyboard. FYI, most sounds in commercials, on TVs, and in horror movies were likely made using this instrument.
Bad

This instrument is not ideal for playing a Bach Prelude Sunday Morning (you'll end up rocking the congregation) or Bach Two-Part Inventions (it only plays one note at a time).
The Moog Subharmonicon is a versatile analog synth of subharmonically derived sound and synthesis. It's the go-to modular labyrinth for when you want to lose yourself or find yourself.
Subharmonic is simple to use yet able to produce complex patterns and sounds. With 4x Subharmonic Oscillators, 2x VCOs, 4x Rhythm Generators, and 2x 4-Step Sequencers, the instrument generates a rich harmonic kaleidoscope that self-subdivides until everything is in harmony.
It's a semi-modular polyrhythmic analog synthesizer engineered for sonic exploration. Its sequences evolve and unfold over time, spiraling via 6-tone subharmonic organic polyrhythms and chords and organic polyrhythms.
Moog Subharmonicon has a unique approach to sound design, an approach inspired by experimental music that sprawled out around the '30s and '40s, plus innovative ideas on electronic or modular instruments. The said approach combined math and music to form an Avant-algorithmic concept, which laid a foundation for today's exploratory practices.
Things to Consider
Thus far, we have discussed our preferred manufacturers and their top-pick module functions. In this section, we'll guide you on how to narrow down from eight synthesizers to one. For this buying guide to be effective, fixate on what you want your modular synth to do and how to integrate it with your current setup (if present). Then keep the identified needs in mind as you scan through the following factors.
What is a modular synth?
Invented in 1950s, the modular synth is that mass of cables and flashing lights you saw in a studio or a friend's desk and wondered how the amalgamation qualified as a musical instrument!
Technically, a modular synth is a music or sound-design instrument that's made from different modules. The main types of modules are voltage control amplifier (VCA), voltage control filter (VCF), voltage control oscillator (VCO), envelope, effects, LFO, and utility modules. These modules are either digital or analog (controlled by voltage).
The modules are connected with wires, with the standard patching being VCO -> VCF -> VCA. The connecting cables are always mono and can be big jacks, banana, or small in size.
Purpose-wise, a modular synth (synthesizer) gives a unique ability to make personalized sounds.
So versatile are these synths that you can make sound with one instrument's oscillator and the filter or clone of another device – from a different brand! And yes, you can use the synth to compose an entire soundtrack or album without a DAW (Digital Audio Workstation).
How does it work?
As stated above, modular synths comprise different interchangeable modules. Each synth element can be physically and visibly separated into distinct modules, which perform specific roles. The modules are synonymous with organs in a human body; the connected modules work together (in harmony) to produce a sound. And just like organs are connected with veins, arteries, and whatnot, these modules are patched together with wires (patch cables). As such, the functionality of a synthesizer is based on this interconnectivity.
Here's a breakdown of the signal flow of a synth patch.
Control voltage (CV)
Control voltage is how modules in a synth communicate with each other. And since communication controls a system (to a greater extent), parts of the modular synth are voltage controlled. So, we talk of a voltage-controlled oscillator (VCO), voltage-controlled amplifier (VCA), and so on.
CV is a continuous signal, not a series of discrete messages. And it's not distinctive from the generated sound signals. Therefore, you can patch the output of a VCO into the input of a VCF without compromising the quality of your sound.
Note, patching CV signals straight into an output can prove harmful to your speakers!
Oscillator (VCO)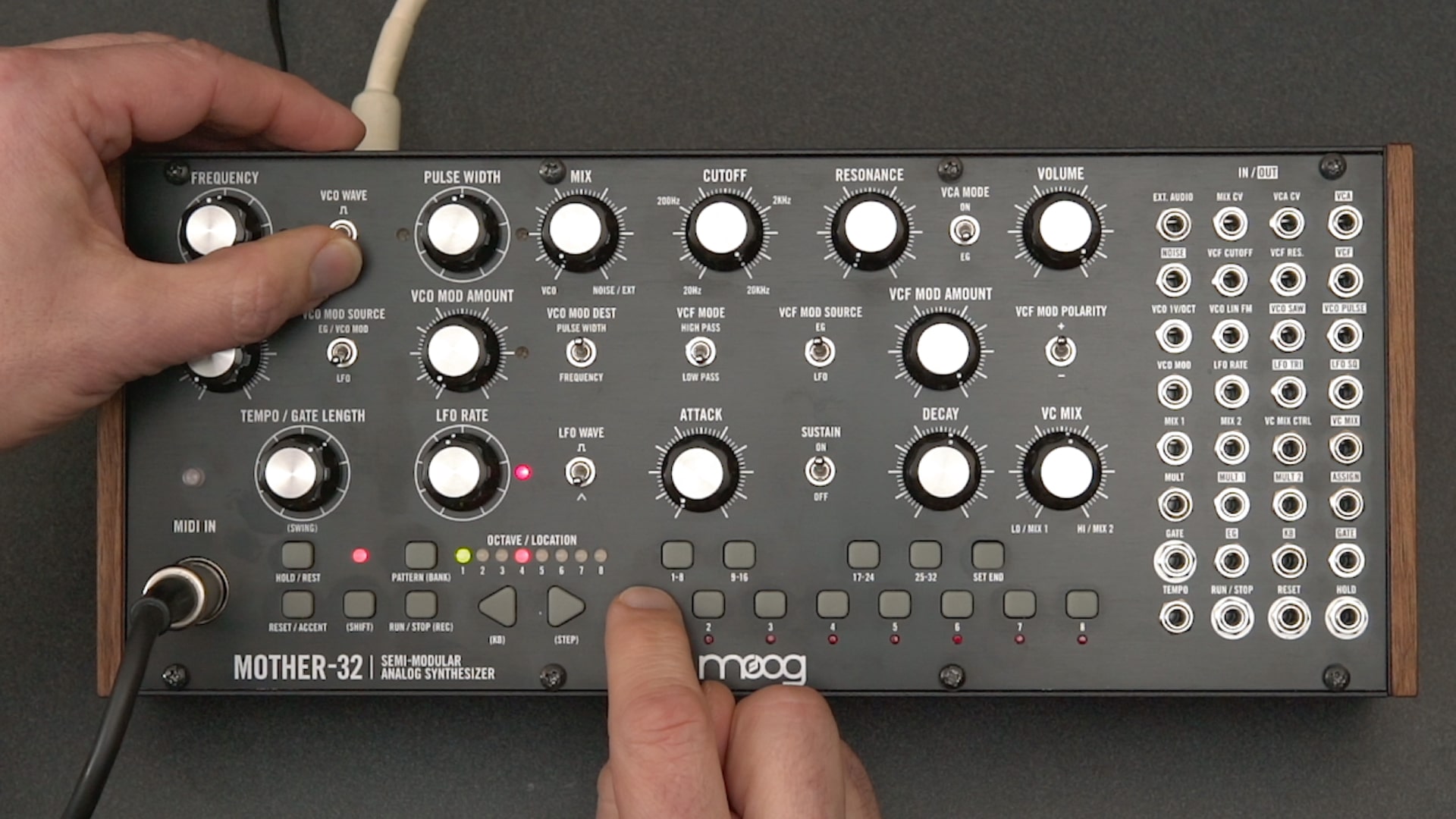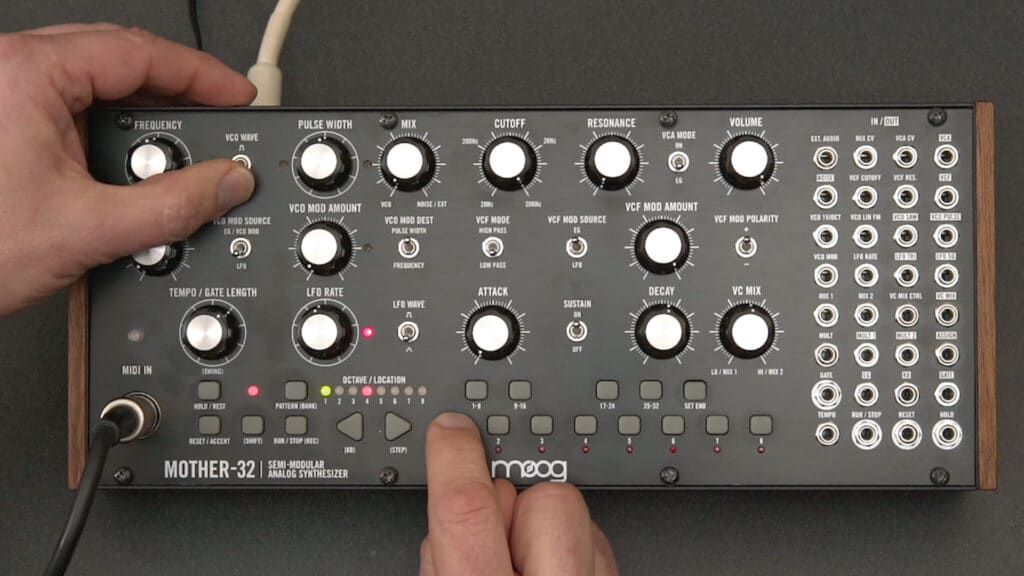 The voltage-controlled oscillator is the heart of a modular synth, giving it its characteristic timbre and sound. VCOs come in varying complexities and styles, but some things remain the same.
For instance, a VCO pitch is controlled by a volt per octave (V/oct) protocol. The signal (instruction) from different modules is sent (via CV) to the VCO to dictate the oscillator's frequency. As such, a specific musical note is created.
Another common type of oscillator is the LFO, which is similar to VCO in all aspects except the rate of sound output.
Filter (VCF)
Filters serve to shape the sound by removing undesired frequencies. They can also boost specific frequencies as need be.
Filters are often high-pass or low-pass. The latter removes high frequencies from the VCO, while high-pass filters remove low frequencies from the VCO.
Filters also boast a resonance feature that emphasizes the cutoff frequency or center frequency of the filter.
Envelope generator (EG)
The EG controls the volume of the amplifier often through four parameters:
Attack
Decay
Sustain
Release
Each of the parameters is a stage that determines the time it will take the VCO's signal to reach peak volume, secondary volume, and zero volume – once the note is released.
ADSR EGs are the most common for this function; however, there're more options.
Besides controlling the volume of a VCA, an EG also modulates the cutoff/center frequency of the VCA (filter).
Interestingly, the envelope generator can be used to control the oscillator pitch. That's how versatile the modular synth is.
Amplifier (VCA)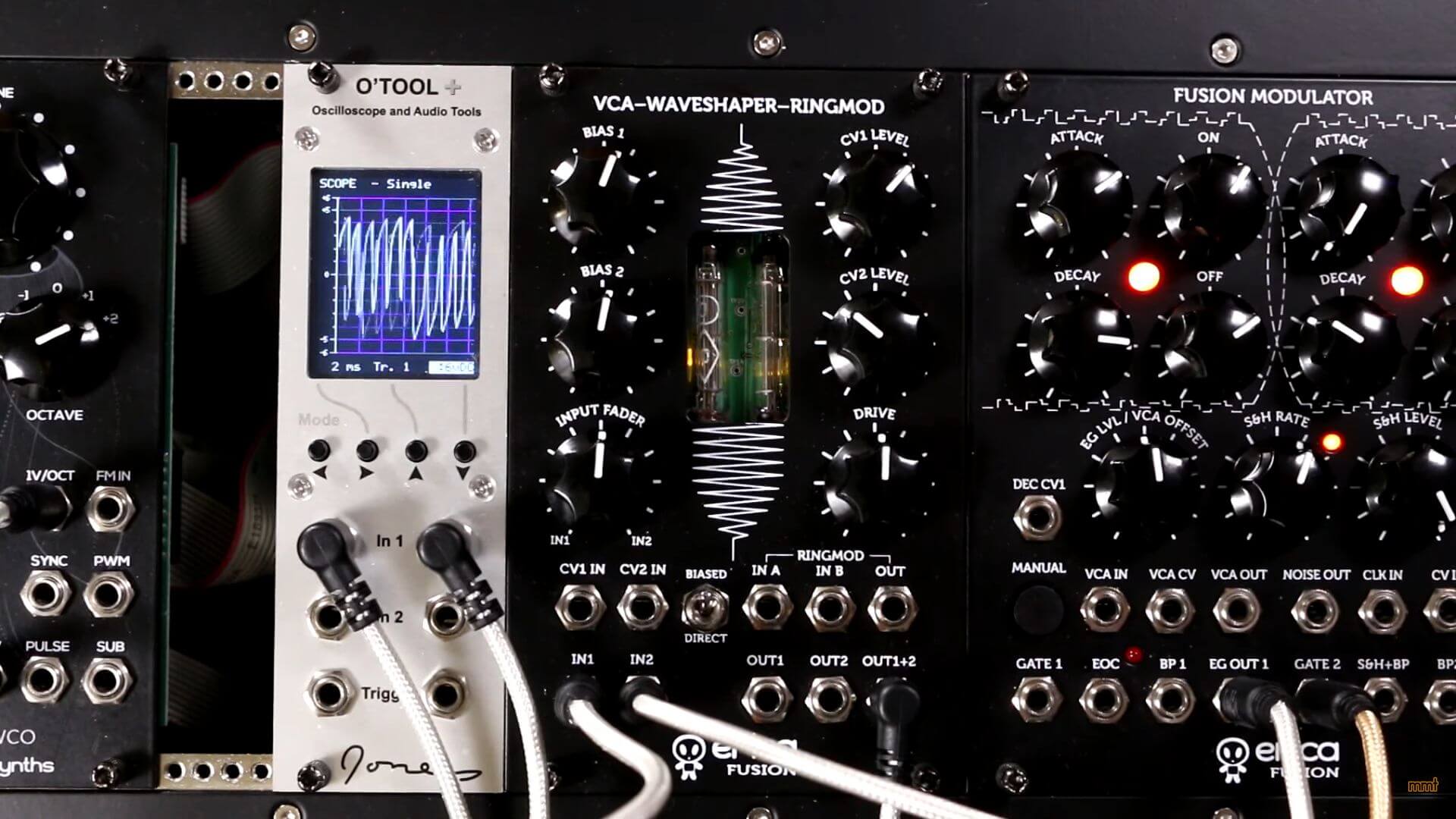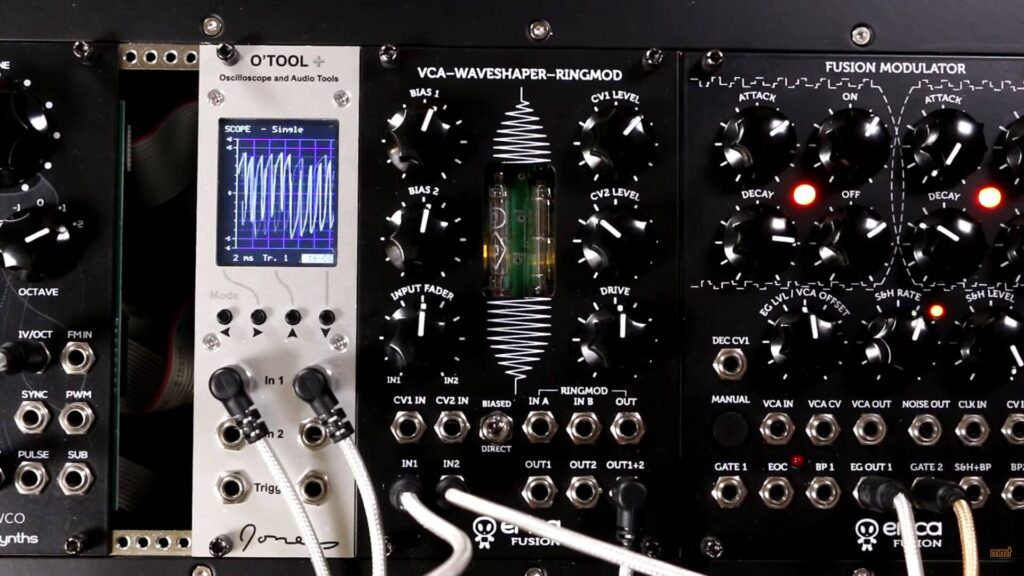 An amplifier controls the volume of the oscillator through a control voltage or a knob.
Often, amplifiers are used to gate the oscillator – they help to start or stop a sound easily. Amplifier-based modules are small and usually include more than one VCA.
Sequencer
You can think of the sequencer as the brain of a modular synth. It dictates the musical notes by providing gate and pitch signals to be patched to the envelope, oscillator, etc.
Sequencers come in varying sizes and shapes but often playback a predetermined series of musical notes to create chords, basslines, or melodies.
You can use a MIDI module in place of a sequencer. The only difference is, a MIDI module takes notes from eternal DAW or keyboard and converts them into gate or pitch control voltages.
Output
An output module helps to lower the hot modular level. Yes, modular is loud, louder than line level. And the output module controls volume for the entire modular system.
The difference between modular and semi-modular
The difference is, semi-modular has a hard-wired signal path. As such, you can use the synth for sonic exploration immediately without patching. At the same time, you can alter the signal path via patching to fully unlock the synth's potential. Examples of semi-modular synths in our list are Korg MS20 Mini, Moog Mother-32, and Moog Grandmother.
On their end, fully modular synths require patching before use. Modular synthesizers come in two variations. One, you have cases or cabinets where you can put panels or modules. This model is versatile, as models can be removed or added as need be.
The other category is a stand-alone instrument comprising all the necessary components required in sound and music design. This model is more portable.
Both types of synthesizers have their merits and limitations. As such, the choice between modular and semi-modular synths depends on your preference.
How to choose the best modular synth
If you want to make some infinite melodies successfully, break out of the box, or settle for a relatively affordable fixe architecture hardware synth, consider the following.
Structure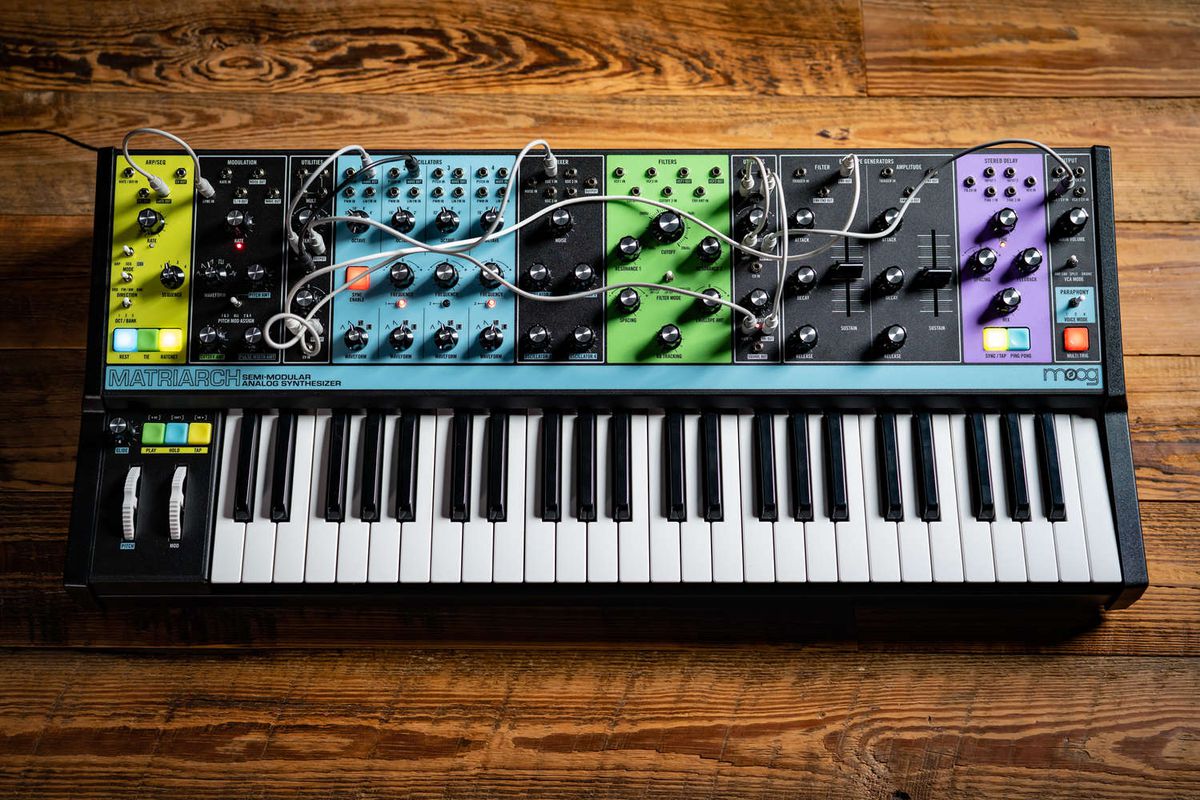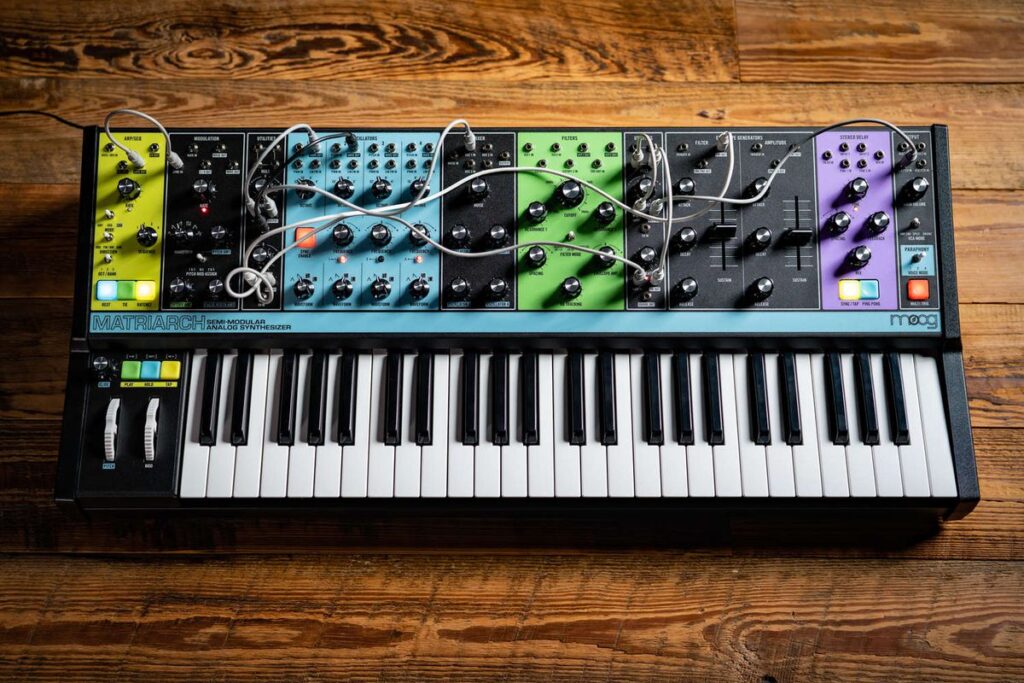 A synth can either be digital or analog. A digital synth employs DSP (digital signal processing) to create sound, while an analog synth uses analog signals and circuits to manipulate electric voltages – to produce sound ultimately. Although some people believe that analog synths yield more 'warmer' 'thicker' sounds, both types make quality sounds. Typically, analog models are pricier, but their relative ease of use counters that.
All the synths in our list are analog decent, so let's dive further into the analog structure.
Analog synths are associated with subtractive synthesis, with clear labels and controls for oscillators, filters, amplifiers, and envelopes.
So, when purchasing, you need to review the following components:
Case/power supply
Sound source/oscillator
Modulation source
Sequencer
VCA
And select their respective properties that fit your needs.
When it comes to power supply or cases, considers their measurements as denoted by U (height of the module) and HP (width of the module).
Eurorack modules are the most common (thanks to their accessibility and affordability) and are all 3U (5.25 inches) in size. Thus, a case that's 6U denotes a Eurorack two rows, 9U a Eurorack that's three rows, and so on.
Note, there're other cases with a 4U or 5U format, like in Moog synthesizers. Such cases can house larger cable sizes – think of ¼ inch wire. Here' the breakdown:

3U height format – house 1/8-inch jacks
4U height format – houses banana cables
5U height format – houses ¼-inch jacks
6U height format – houses bantam jacks
When it comes to width, the sizing starts at 2HP. But the common standards are 84HP and 104HP.
As a rule of thumb, the larger the case, the more modules you can host. And the more the modules, the more sonic exploration possibilities. So, go for at least 6U 84HP or 6U 104HP cases.
With the case at hand, consider the type of modules that will meet your needs. Do you settle for an LFO or VCO as the sound source? If it's the VCO, do you go for one or two or even three per setup? At the same time, will it be a simple analog oscillator or a complex analog oscillator? Consider every aspect of every module you want to include in your modular ecosystem.
Here are sample structures to act as a guide:
Minimal setup: 1 VCO + 1 VCF + 1 VCA + 1 ADSR + 1 LFO + MIXER
Sensible minimal setup: 2 VCO + 1 VCF + 1 VCA + 2 ADSR + 2 LFO + MIXER
Advanced setup: 3 VCO + 2 VCF + 1 VCA + 2 ADSR + 2 LFO + NOISE + RING MOD + 2 MIXER + SAMPLE AND HOLD
Paraphonic or monophonic?
Modular rigs fixate on paraphonic and monophonic synthesis.
A monophonic synthesizer can only play a single note at a time. Yes, such a synth can have multiple oscillators that can be tuned separately. However, they'll all be triggered when you press a key. For example, Moog Grandmother and Korg MS20 Mini.
A paraphonic synthesizer can play more notes at a time but is limited to one voice structure. That is, every note produced goes through the same VCA envelope. So, you cannot play and trigger different notes at the same time. An example here is the Behringer NEUTRON.
Sequencer
As noted earlier, the sequencer is the heart or brain of the entire modular system. It can be a gate sequencer, CV sequencer, or both CV and gate sequencer. In more details, sequencers are grouped as:
Cheap sequencers
Midi-range sequencers
High-end sequencers
Cheap sequencers are limited in functions. They cannot save patterns or change the pattern when it's playing. They are fun when connected to an advanced modular system, but you're likely to outgrow them fast.
Arturia dominates the mid-range position. Their Keystep, Beatstep, and Whatnot are desirable by modular enthusiasts. Such sequencers can provide:
Internal clock
Velocity CV control
Sequencing tracks up to 64 steps
8 or more individual gate outputs
They are compact and ideal for live performance
High-end sequencers, on their end, replace your computer as the beating heart/brain of your modular ecosystem. These sequencers are somewhat pricey with a steep learning curve.
Connectivity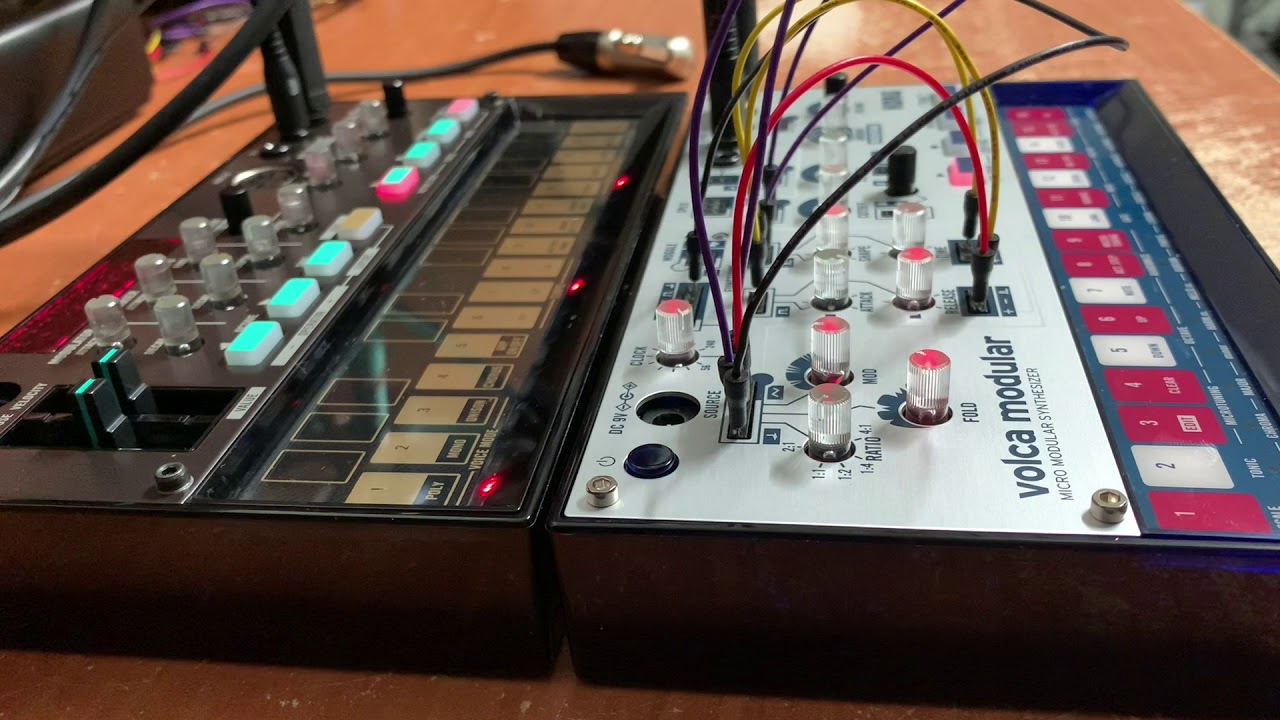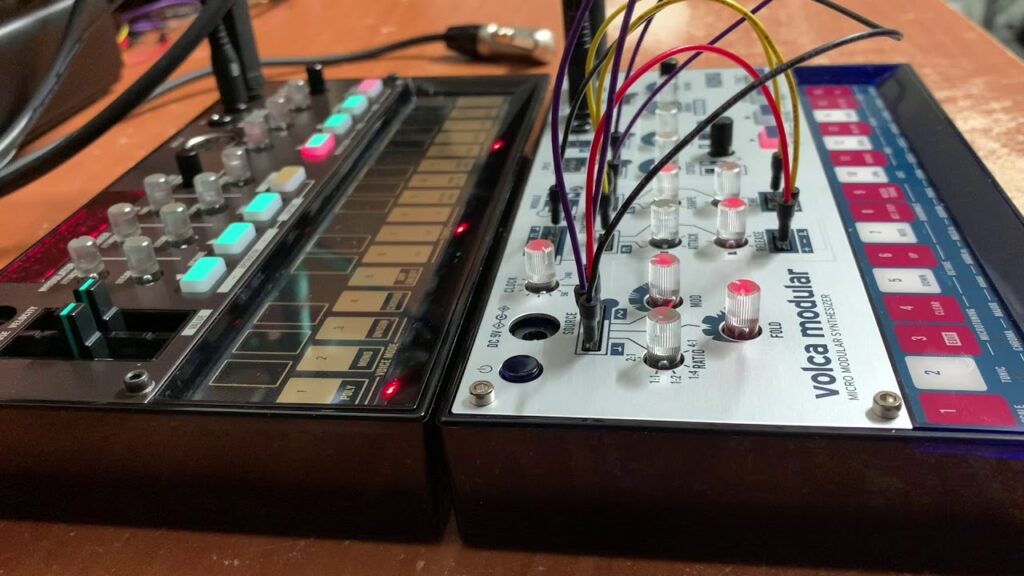 The structure of your modular system dictates the connectivity. For instance, your case's height will determine the size of connecting cables that can be housed.
3U height format – house 1/8-inch jacks
4U height format – houses banana cables
5U height format – houses ¼-inch jacks
6U height format – houses bantam jacks
The power supply/case size also dictates the number of modules to be housed in the case. The cable sizes and the number of modules, in turn, dictates the system connectivity.
Extendibility
The extendibility of a modular synth is determined by the number of patch points – and the higher the number, the better. You can also enhance the extendibility of your synth with a Eurorack module.
Some synths like Moog Grandmother feature an endlessly reconfigurable front panel that can help extend other instruments like Moog Mother-32.
Dimensions and weight
The available studio space dictates the dimension of your ideal modular synth. A compact synth, for instance, is suitable for limited studio space. It is also available for use anytime – since you won't have to pack it away to create extra space when not in use.
If you want to make music outside your home, go for a portable option. That means a compact and lightweight model.
FAQ
Can I add something to my semi-modular synth?
Yes. Most semi-modular synths have patch points that are compatible with countless modules. For instance,
Arturia MiniBrute
, despite being a full synth, has a large patch bay that can be connected to Eurorack modules for increased extensibility and functionality.
What is the Eurorack format?
It's a standardized modular format comprising of chassis and chassis-mountable modules. Chassis modules provide a framework for mounting plus +/- 12-volt and +/- 5-volt power.
Most manufacturers make analog synth modules (filters, envelope generators, oscillators, etc.) in the Eurorack format.
How much does it cost to build a modular synth?
It depends on the number of modules required. To have a working modular instrument, you'll have to purchase:
Case or power supply
Sound source
Modulation source
Sequencer
VCA
You can also consider adding a filter, mixer, and output module.
Our verdict
Now, no one is against being spoiled for choice. However, an extensive array of options can make it hard to find the best modular synth for your needs. And though worthwhile, it can be time-consuming to research and experiment on different models. Luckily, we did all that for you, and our vote goes to the Moog Matriarch. Why?
We loved that with Moog Matriarch, it's easy to get creative and generate innovative sounds. It provides endless sonic possibilities making it the master of your modular synth rig.
If looking for a more affordable instrument, settle for Korg Volca Modular. This synth produces different and exciting (drum-like and non-drum-like) sounds, thanks to its waveguide effect and sound design controls. It also provides pattern-linking, real-time recording, part muting, and per-step accents. Furthermore, the modular is compact, enabling you to create sounds just about anywhere.
Alternatively, settle for our third-best model – Moog Mother-32. It produces fantastic sounds with a versatility that suits both novice synthesists and the more neurotic and adventurous musicians. Its sequencer is tons of fun, while its MIDI works excellently. Moreover, it features those classic Moog sounds, which makes it one of the best semi-modular synths.
References
1.
The SOS Guide To Choosing A Modular Synth
No longer the preserve of men in laboratories or capes, the modular synth business is thriving, and i'ts now easier to go modular than ever before. Read on and we will show you how...
2.
Roland - How to Get Started in Modular Synthesis
How to Get Started in Modular Synthesis