The Novation Summit is a great synthesizer for pads, with a focus on the professionals. It can do a great job for live use and for composing music. There are three oscillators per voice so there is a huge amount that can be done with this. Choose between wave table, FM or subtractive synthesis for your pad sounds.
There are 512 memory patches and 256 inbuilt factory presets including a number of great pad sounds.
This has 61 semi-weighted keys which give it the feel of a more professional keyboard and a lot more playability.
There are effects inbuilt, such as delay, reverb and even a distortion, you can further alter the way your pad sounds. Velocity sensitivity and an aftertouch function turn this into an excellent option for playability.
There's plenty of connectivity with a USB connection to your computer, too.
3
Best Value
Behringer VOCODER VC340
Features
Type: all analogue
Polyphony: mono, poly
Number of keys: 37
Connectivity: Pitch control, Vocoder hold, external Audio Input, Stereo/Mono audio output, Microphone Input, USB B, MIDI OUT, MIDI IN, MIDI THRU, Headphones
Power supply: AC adapter
Current consumption: 15W
Size: 4.1 x 25.6 x 10.1 inches
Weight: 14.5 lbs.
Warranty: 3-year limited
More features: semi-weighted full-size keys, BBD technology, XLR input connector, 32 knobs, faders, and switches, supports Windows 7 or Later, Mac OS X 10.6.8 or Later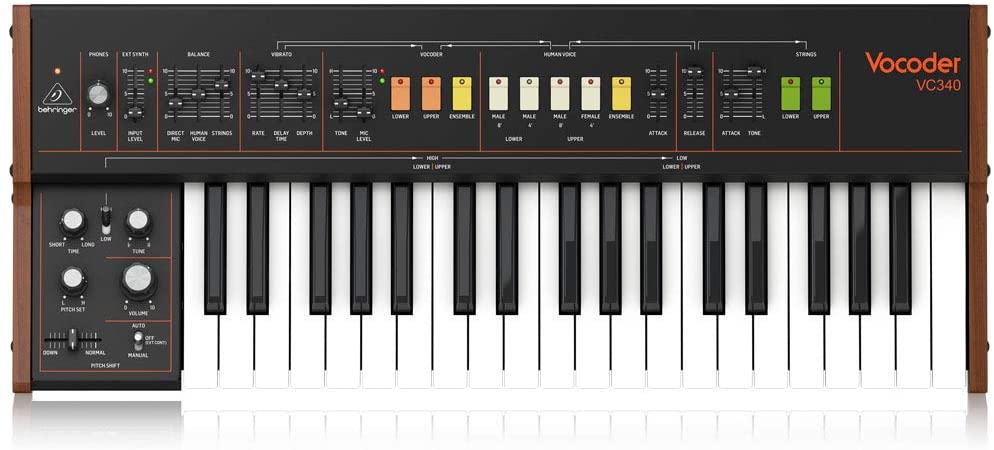 Good

This synth combines one of the all time classic designs with modern functions like USB outputs and headphone outs.
Bad

There is no option to store your own presets to recall later for live performance or recording.
Behringer has created a number of synths based on classic models. Bringing them into the modern age and making them affordable for everyone. The VC340. has the same functionality of the Roland VP-330 vocoder.  It's more or less a clone. We're not saying this as a negative thing, the Roland option costs a lot of money and is becoming more and more rare.
This is a monophonic and polyphonic synth which has a number of modern additions. You can use it in conjunction with your Windows or Mac computer and it can link up to your DAW.
The power supply comes in the form of an AC adapter, with no battery option.
The BBD ensemble effect included is designed to give all the thick lushness of a fully analog synth, the vocoder function within is something of a bonus and lets you apply an effect to loads of your synth pad sounds.
The sounds have the late 70's era vibe that you might expect from the Roland, and there are 32 faders and knobs to give your own tweak to all of the pads.
Things to Consider
If you haven't bought a synthesizer before then a lot of the terminology is likely to be confusing to you. Different people are looking for different functionality, and synthesizers can come with so many different levels of functionality and so many different features. Our buying guide is designed to help people fully understand synth pads and the best synthesizers to help them to create these sounds.
What is a synthesizer pad?
Synthesizers are capable of creating an incredible range of sounds. The sound will start as a simple wave that is then edited and altered in a variety of different ways by adding effects and by putting the sound through different filters. It sounds relatively simple, but pretty soon incredibly detailed soundscapes can be made. More oscillators and filters means more opportunities for altering the sound.
If all of this sounds a little mind blowing, don't worry. It doesn't take too much to get your head around how a synth works. The important thing is that you know how to use it rather than fully understanding the science.
Synthesizer sounds are split into a few different categories.

Bass – this is because they sit where a bass guitar would in the mix overall, and cover the bass frequencies rather than the mid or treble. Most people can instantly recognize a bass sound, even a synthesized one.
Similarly, these sit where a lead instrument like a guitar would in the mix. They often have a quick, snappy attack to them and drive the melody of the track.
Pads are more difficult to describe. They're not like traditional sounds you could create on a guitar or piano. They are soft but sustained sounds and often evolve over time. They operate with similar frequencies to string instruments, but they can be quite abstract to those who haven't played synths before.
Pads feature in all sorts of music. Whether you are looking to create synth pads for worship or you want the best synth pads for obscure electronica, you can fit them into the majority of genres and they form an integral part of some styles of music.
Synthesizer pads can sound good when played over long periods of time, and they can form soundscapes as well as being a part of your compositions. Great pad sounds are often hard to make, so the chances are that if your synthesizer is up to making good pad sounds it can handle pretty much anything else, including bass and lead sounds.
Features to consider while buying the best synthesizer for pads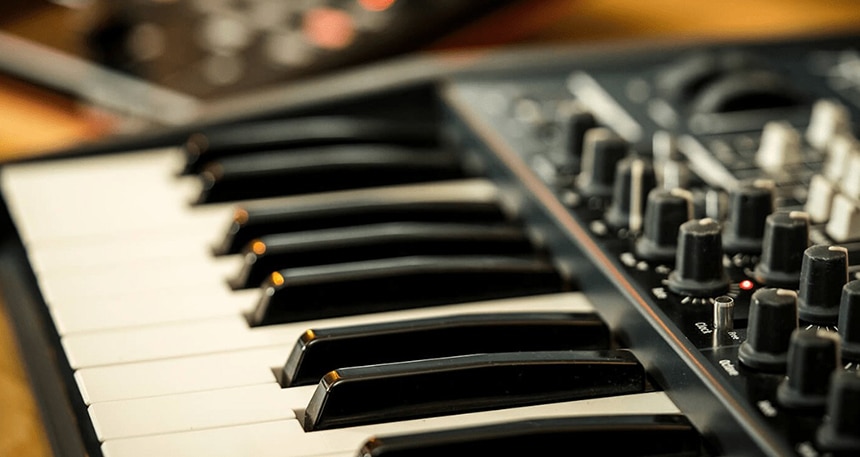 Next, we're looking at the best features to consider when it is time to choose the best synth for pads. Different people will have slightly different priorities, and this depends on styles of music, where you wish to play your synth and the budget you have to spend on it. We think that all of the features below are important considerations when you are going to buy a synthesizer.
Type
Analog or digital? Some have both analog and digital functionality. In terms of the origin of the sound, digital models use numerically controlled oscillators. Analog synths tend to use VCOs or voltage controlled oscillators.
Rather than the science of how the oscillators work, you probably want to make your decision based more on the sound. An analog synth tends to give a more gritty sound with a thickness to it that may not exist with digital sounds. Once again, this is quite an abstract thing to put your finger on, but analog sounds have a richness to them that some digital synths don't quite capture. Virtual instruments are famously thin and known to be poorer imitations. They're very functional, but certain musicians love the bite of an analog synth.
Polyphony
This is referring to whether a synth is monophonic or polyphonic. Monophonic means that you can only produce sound from one key at a time. If you were to hold a chord shape, only one key would actually be producing the sound. The Korg Synthesizer, 25 Key (MONOLOGUEBK) is an example of a monophonic synth.
Polyphonic synths allow you to play a lot of notes simultaneously or closely one after the other and you are able to hear each of the sounds playing together. You can play chords as opposed to just notes in a melody. If you are looking to create a large pad sound then a polyphonic synth might be more suitable. The Novation Summit is an example of a brilliant poly synth.
Number of keys
The number of keys is a consideration, too. Keyboards and synthesizers alike tend to come in a few different sizes. Some will have a small design with 25 keys, and larger 37, 49 and 61 key designs are common. 88 keys would be "full-sized" with the range of a full piano. The number of keys is important on a synth if you want to play it with two hands. If you want your pad sounds to encompass multiple octaves and be played with both left and right hands, then it is important to consider the size of your keyboard in terms of how many keys it has.
The Novation Summit has 61 keys and this provides plenty of range, so you can play this instrument with two hands, both the bass frequencies and the high end frequencies.
Connectivity
Connectivity has become more and more important in the modern age of the synthesizer.
Of course, you will want it to have inputs and outputs to connect to a mixing desk or even amplification, but many of the best synth models for pads now also come with other connections including USB.
USB connectivity can help you connect to your DAW and you may also be able to use the synth as a MIDI controller for other software. It may also make it far easier to record from your synthesizer. The
Behringer VOCODER VC340
even has a microphone input so you can alter the sound of your voice through the synth.
Brand
Musicians can be notoriously fussy about branded equipment. Just like a guitarist who prefers a certain style and brand of guitar, synth players and sound designers may have their preferences when it comes to synthesizer brands. This is with good reason, as some of the brands on the market have built up their reputation over a number of decades. Korg and Roland are two of the biggest brands because they have been making incredible synths since the 1970's. Brands like Behringer may be seen as more budget picks, but that doesn't mean they can't create exceptional quality synths, as proven by this list.
You might not be fussy about brands, and it doesn't matter what the synth has written on the side, but certain manufacturers definitely have a reputation for making some iconic synthesizers for pads and all other synth sounds.
Power supply and current consumption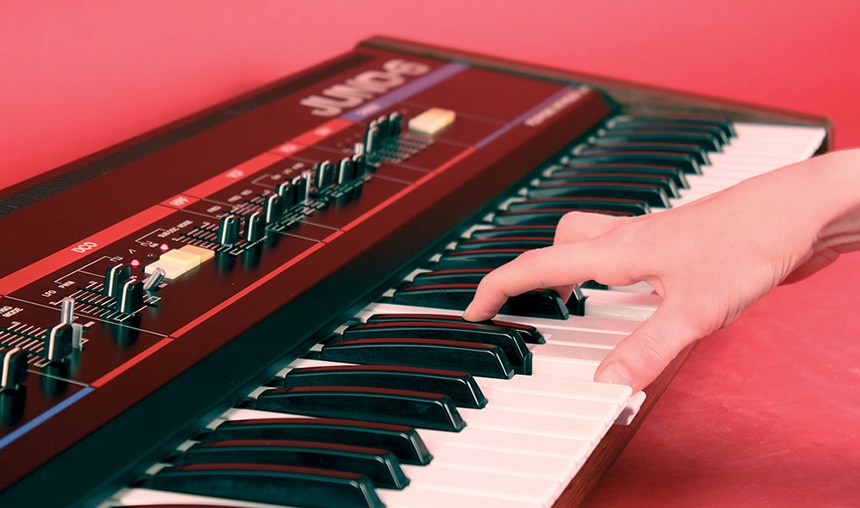 An AC adapter is pretty much commonplace when it comes to synthesizers, as most people need to be able to connect to a power source that doesn't rely on batteries. However, the option for battery power can be useful. The Korg Synthesizer, 25 Key (MONOLOGUEBK) can be played anywhere due to the fact that you just need 6 AA batteries to give it the power it needs.
Current consumption might be a relevant consideration if you are in a studio or a live venue where you are drawing a lot of power at once, or running from a generator.
Dimensions and weight
The dimensions and weight will play a part in how easy (or difficult) the instrument is to take from place to place. Obviously, if you are a musician who regularly performs on the road then big, bulky equipment is going to cause an issue, especially if you need flight cases to protect it.
The Novation Summit is a fantastic piece of kit to have in a studio, where it will stay in the same place most of the time, but if you want something that you can grab and take with you to practice or to a gig then it might be worth getting something a little smaller. Dimensions and weight aren't the top priority for many people but they are still worth thinking about.
Presets
Think of these as the starting point for a huge number of musicians who can't quite create their own sounds yet. Sound design and synthesis can be quite a complex thing to get your head around, so having presets, a group of ready-made sounds for you to start off from, is a big bonus of many of the synthesizers on the market. This is a bit like a digital keyboard that allows you to choose between different sounds.
The main difference is that in a synthesizer such as those on this list, a preset would then be totally controllable and you can make edits and alterations as you see fit. Plus, you can add effects to really make the sound your own.
Warranty
We're used to getting warranties when we buy electrical equipment, and why should a synth be any different? Music equipment doesn't always come with the most generous warranty you could imagine, but some of the best synths for pads have surprisingly good protection on your purchase. For example, the Novation Summit comes with a three year manufacturer warranty. This protects you, but it also shows that it is a well-made piece of equipment, otherwise, the manufacturers probably wouldn't be confident in providing this sort of warranty!
Extra features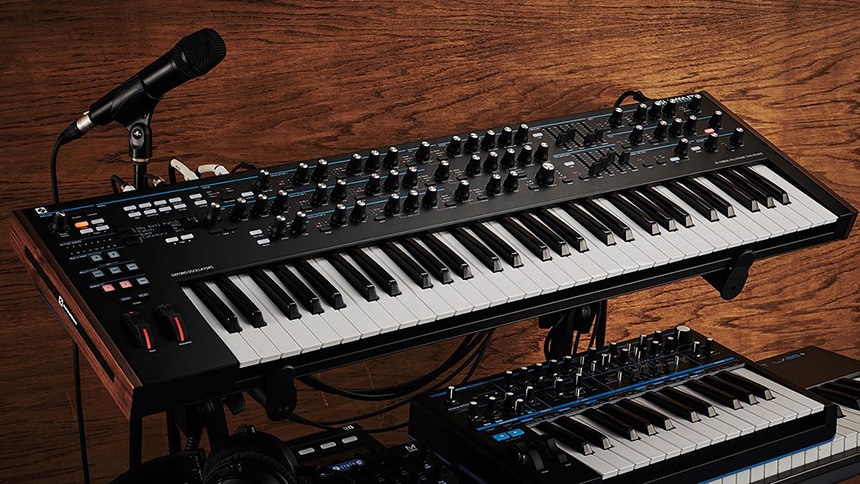 There aren't too many extra features that can be included within synthesizers, but some models manage to add some extras that have benefits for the musicians.
Effects is the most common extra feature. Much like the effects pedals you might see on an electric guitar pedalboard, inbuilt effects allow people to make use of reverb, chorus, delay and much more. These effects take the final sound and give it an extra, exciting edge and allow you to further tailor your sound to be exactly what you wish. The Novation Summit is an example of a model to have effects inbuilt.
Another added extra that you might see with certain synthesizers is the access to certain software. Synth manufacturers might team up with software makers, or they may even produce their own software such as DAWs.  The Novation Summit gives you access to some Ableton software, which is an added bonus and gives you a little extra value for the outlay.
Price
The price of a synthesizer is often what tips the balance on whether or not you are going to buy it. Many musicians have their dream synth setups, but synthesizers can cost many thousands of dollars.
In terms of value for money on our list, it is hard to argue with the Behringer VOCODER VC340. Behringer has done such a good job of replicating some of the classic synthesizers out there by creating cheaper modern alternatives to them. Though there will always be people who are desperate for the original, there are plenty of reasons to invest in an affordable synthesizer instead, and they can provide you with loads of great sounds without you having to spend a fortune. A good synthesizer under $500 is rare, but there are some out there, and as electronics become more affordable we expect the number of top affordable synths to grow.
FAQ
How do I create pads on a synthesizer?
To create synth pads on a synthesizer you will need to first understand the properties that make a sound a pad. Usually, long sustain and relatively slow attack will make up the ADSR settings for your synthesizer. If you are starting from scratch, you can choose any synth wave you wish but it is recommended that you create quite a slow and evolving. The scope is quite wide due to the fact that the definition of "pad" can mean so many different things! Usually, your synthesizer will have a number of different presets, and these can get you started whether you know how to create a pad sound or not. Presets are ready made sounds within the instrument, stored for you to recall and use whenever you require.
What is the difference between lead and pad?
A lead sound will usually have more of a short, sharp attack, and be used for playing melodies rather than long, drawn-out notes or creating soundscapes as a synthesizer creating a pad sound would. There aren't super strict criteria for what makes up a pad sound, but there tend to be some subtle differences between the two. If you're unsure, cycle through some of the synthesizer presets that have come with your synth and listen to the differences between a pad and a lead sound.
Our verdict
Our editor's choice is the Korg Synthesizer, 25 Key (MONOLOGUEBK). It's a relatively simple synth in terms of functionality but it can make some fantastic sounds, plus it has the added bonus of being portable, as it is lightweight and can be powered by just using AA batteries. This gets a rating of 9.8/10.
Next on the list is the Novation Summit. This has 61 keys and therefore almost a full-range of notes to play with. On top of that, it includes many effects and access to Ableton software on your computer, this powerful analog/digital synth could easily be the start of a home studio and gets a rating of 9.5/10.
The final option on our list of the best synthesizer for pads is the Behringer VOCODER VC340. This powerful vocoder synth has a really vintage feel to it and because it is made by budget manufacturer Behringer, it doesn't break the bank either. It's got a microphone input and is a faithful replication of a 1970's Roland synth. We've given this a rating of 9.6/10.
References
1.
Creating & Using Synth Pad Sounds
Ah, the 80s... Fluorescent socks, marble-wash jeans, and naff-sounding synth pads! You might not want to resurrect the first two, but subtle use of pads can improve even the most contemporary-sounding mix.
2.
Pad It Out: 10 Ways to Make Distinctive Pad Sounds | Ableton
Sound designer Richard Veenstra outlines 10 tips to make your pad sounds stand out. Audio examples included.