Korg is a trusted name in the world of keyboards, synthesizers, and digital pianos. If you are looking to enjoy the piano experience without spending too much, we advise you to check out this comprehensive Korg C1 review, which guides you through everything you need to know about it.
The Korg C1 digital piano is one of the best digital pianos that you get from Korg, and it has an elegant and simplistic design that everyone loves. Thanks to its compact and lightweight body, you can easily place it anywhere in your home, and also move it around when you need to.
You must be wondering why the word "Air" has been added to the digital piano. It is because of the bluetooth connectivity that it provides, and we will discuss this in greater detail in the subsequent sections. Without further ado, let's get down to the details and see what's so great about the Korg C1 Air.
Specifications
| | |
| --- | --- |
| Type | Real Weighted Hammer Action 3 keyboard |
| Number of keys | 88 |
| Touch sensitivity | 5 types |
| Polyphony (Voices) | 120 |
| Presets | 30 sounds; 50 songs |
| Amplifiers | (2) 25W |
| Speakers | (2) 10cm (3.94 in) |
| Pedal | 3-pedal unit |
| Dimensions | 52.99 x 13.66 x 30.31 in |
| Weight | 77.16 lbs |
This product's also been included into these rankings:
The Korg C1 Air is a wonderful digital piano that reflects the engineering and craftsmanship that Korg has exhibited for several decades. Let's start by discussing the design of this digital piano, and then we can explore other aspects as well.
Design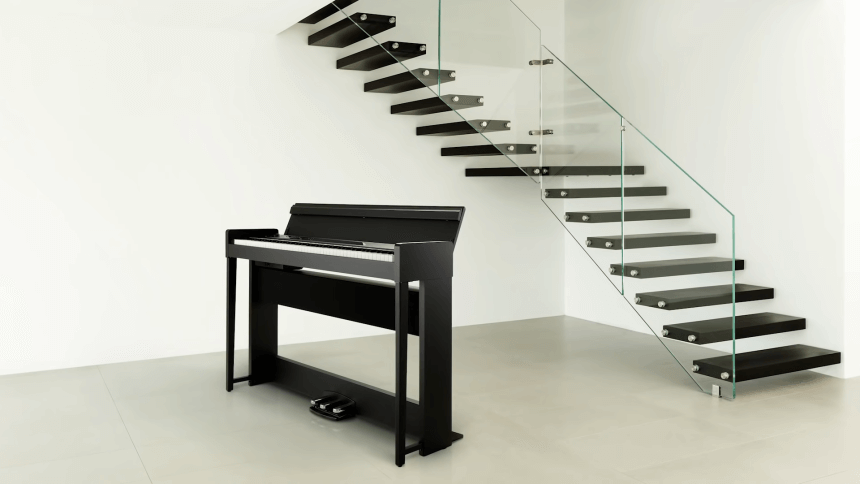 Firstly, the Korg C1 Air comes in three different types of finish: black, white, or Rosewood. The last one gives the piano a brownish tinge that looks like polished wood. You can choose a color that would match your home decor or the furniture in your room. We consider it to be a high-end keyboard as compared to its competitors, and while designing and constructing this, the makers were certainly thinking about small spaces, because it measures only 52.99 x 13.66 x 30.31 in. Its legs are also designed in a similar manner to those you find in upright pianos.
Overall, the Korg C1 digital piano has a lightweight and slim profile, which means that you can easily set it up anywhere in your house. Since the horizontal support between the legs is relatively higher, this model looks more of a fixture or piece of furniture than a piano. It also has a closed lid that protects the keys from damage and dust, and also gives the Korg C1 Air a balanced and harmonious texture.
Keyboard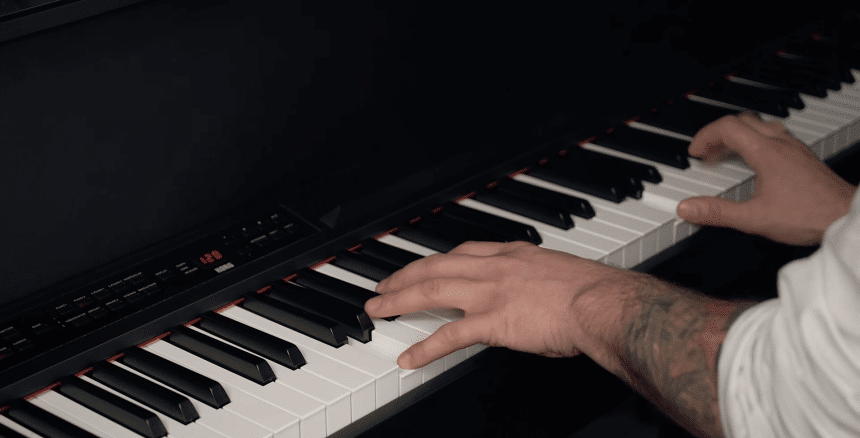 Just like nearly all of the digital pianos out there, the Korg C1 Air also features 88 keys, and they come with Real Weighted Hammer Action 3, a mechanism developed by Korg that provides players with an authentic feel and texture that they get in Grand Pianos. Therefore, this digital piano offers you a natural and great experience.
This digital piano has a fully weighted keyboard action and also features the graded hammer system, so the weight of the keys goes from heavier to lighter as you move from the left to right. Moreover, it has a fast response action that doesn't feel too heavy, and there are five types of touch sensitivity that you get, so you have better control over the piano. The touch settings include Heavy, Light, Normal, Stable, and Steady, so you can choose the one that aligns with your playing technique, as well as your desired output.
Another interesting thing about the RH3 action is that the keys don't make a lot of noise while you play them. We know how noisy some digital pianos and keyboards can get. Thankfully, that isn't the case when you play the Korg C1 Air.
Sound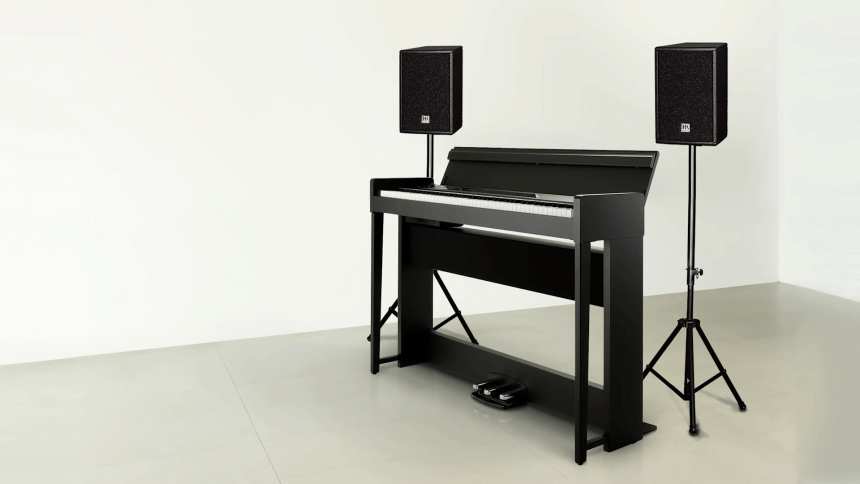 The sound produced by the Korg C1 digital piano comes from the Stereo PCM system, and it is sampled from some of the world's best Concert Grand Pianos. So, when you play this digital piano, you will get a similar sound and a natural playing experience that you would cherish. Usually, a digital piano of this caliber doesn't offer the quality of piano sounds that you get with it, mainly because manufacturers are very particular about using their own piano samples instead of sampling piano sounds from other sources.
It is great that Korg chose to sample sounds from different pianos and manufacturers into its digital piano, and the first sound that you find on this piano is called German Grand. It features a bold and rich sound that you can use for general playing or several genres. The next one is called Japanese Grand, which is less vibrant but still beautiful.
Since the Korg C1 Air features sounds with multilayered stereo samples, the touch sensitivity and the force you use on the keys can also impact the sound output that you get. If you are looking to enhance the sound quality of the piano tone, you can make use of the damper resonance when the sustain pedal is depressed.
Considering that the string resonance simulation isn't a feature of the Korg C1 Air digital piano, it has an authentic and realistic sound, similar to what you would find in an acoustic piano.
Apart from German and Japanese Grand, it has three more Acoustic Piano sounds, six Electric Piano sounds, an Electric Grand sample, Harpsichord, Clavichord, Acoustic Guitar, and several others. There are a total of 30 sounds, divided into three banks.
In terms of sound settings, you can adjust the Brilliance, Chorus, and Reverb effects, but there aren't any presets for reverb or other effects. Therefore, you will have to rely on your ears and go through trial and error before you find the sound that you love. You also get various tuning systems with the Korg C1 Air, including the Kirnberger 111 and Werckmeister 111.
Lastly, this digital piano has 120-note polyphony, which gives it a well-balanced and smooth sound, perfect for layering, solo playing, and accompaniment, meaning that each note will be output clearly.
Speakers and Amplifiers
The Korg C1 Air features two 10cm full-range speakers, each with a powerful output of 25W. These speakers are located just below the keys, facing the player to offer clear and full sound. They are encased in their individual speaker cabinets and provide a resonant sound that adds to the natural playing experience.
Other digital pianos that are at par with the Korg C1 Air don't offer an output greater than 18W, which is why this piano is a major upgrade. Apart from the power, the size, location, and quality of the speakers is also better in this piano, which is why it provides a better sound output.
Key Features
There are several new features introduced by Korg into the C1 digital piano, and they help increase its value and usefulness. Let's have a look at the various features that you can experience by buying it.
Modes
There are three interesting modes in the Korg C1 Air, which allow you to enjoy different types of piano playing experiences. These include the Single mode, Layer mode, and Partner Mode. The Single mode is what you get when you turn on the digital piano. The layer mode allows you to combine two different sounds and play them together. However, you can only combine sounds from different sections. For instance, a piano can't be layered with another one. Rather, you can pair it with the Organ, Choir, or Strings sounds.
Although this piano doesn't have a Split mode, you can set up a three-sound combination in the tenth sound section, by combining the bass and piano sounds in the layer mode.
Lastly, there is the Partner mode, which divides the 88-key piano into two sections and allows two people to play simultaneously. Both sections have an identical pitch range, so both will be playing at the same pitches.
Transpose
The transpose function in the Korg C1 Air digital piano allows you to shift the pitch up or down in steps of one semitone. This way, you can use the same keys to play in a different scale, especially if you have to sing along and don't know how to play with another set of keys. You can take the transpose from -6 to +6.
Fine Tuning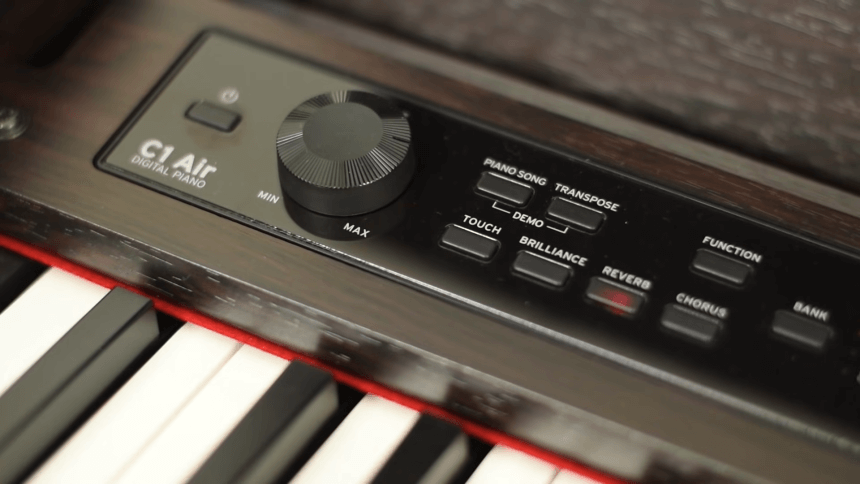 Another interesting function of the Korg C1 digital piano is the fine tuning feature, which also allows you to adjust the pitch, but in steps of 0.5 Hz. This allows you to match the pitch of your digital piano with that of another instrument.
Recording and Playback
The C1 digital piano is equipped with the MIDI recorder. It allows you to record on two tracks, or record each track individually. Once you have recorded both of them, they will still play together. It also features a punch-in recording function, which you can use to record another track on the part that has been recorded previously.
Another thing that you would admire is that the digital piano comes with 50 demo songs, each of them classical pieces of music composed by the likes of Bach, Beethoven, Debussy, Mozart, and several others. You can also disable the left and right track of the song in order to listen better, or practice playing one part by turning it off.
Metronome
The metronome embedded in the Korg C1 Air digital piano allows you to practice playing with a rhythm at different tempos, as well as different time signatures. You can also adjust the metronome volume.
Controls and Ease of Use
The control panel of the Korg C1 digital piano has a total of 28 buttons and a master volume knob, and using this control panel is much easier than several other options in its class. Each button comes with LED indicators, so you can easily identify which sounds or functions are selected at each moment. Plus, there is also a small LCD display that outputs the numbers of the tones that you select, or the tempo.
From an aesthetic standpoint, not having too many buttons or LED indicators on the digital piano makes for a very neat and stylish look, but that can also be very difficult to use, especially if you are going to use a lot of features and functions on your digital piano.
Overall, Korg has created a smooth user experience by making the control panel easy to use and understand.
Connectivity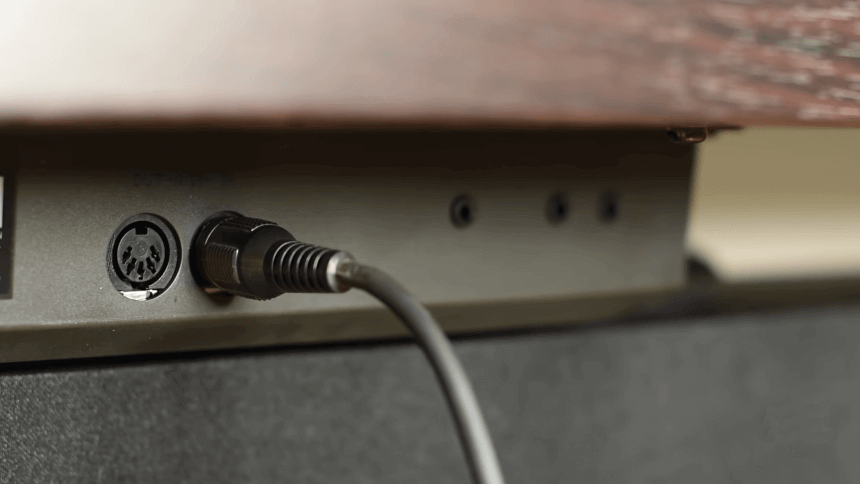 Most of the connectivity options in the Korg C1 Air digital piano are basic, and these include the Line Out, MIDI In/Out, and two headphone jacks. The two headphone jacks can be used by two players who are using the Partner mode, or when you are giving a piano lesson and don't want to disturb anyone else. It doesn't come with a USB port that you can use to connect to a computer, but you can do it the old-fashioned way with the MIDI In/Out port.
For this purpose, you will have to buy a MIDI-USB adapter separately in order to connect the piano to your computer. The MIDI ports can also be used to connect the digital piano with other MIDI devices and other digital pianos. If you want to extend the sound output of your piano, you can use the Line Out jack to connect to an external sound system or speaker. Some of the things you can connect with it include PA systems, amplifiers, and audio interfaces.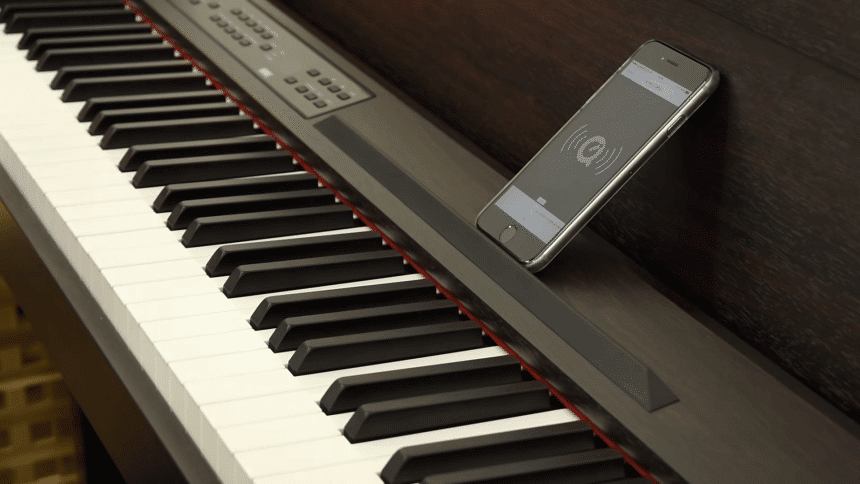 Another interesting feature of the Korg C1 Air digital piano is its Bluetooth Audio Support, which you can use to transfer audio files between the digital piano and iOS devices, such as the iPhone or iPad. You can also make use of the Bluetooth connectivity to play music from the devices through the piano speakers.
Accessories
The Korg C1 Air digital piano is encased inside a wooden cabinet, and it comes with all the accessories that you need to set it up and play it. These accessories include the digital piano, its cabinet-style stand, three-pedal unit, key cover, AC adapter, and power cord. It doesn't come with the bench or a pair of headphones, so you might have to purchase them separately.
Sustain Pedal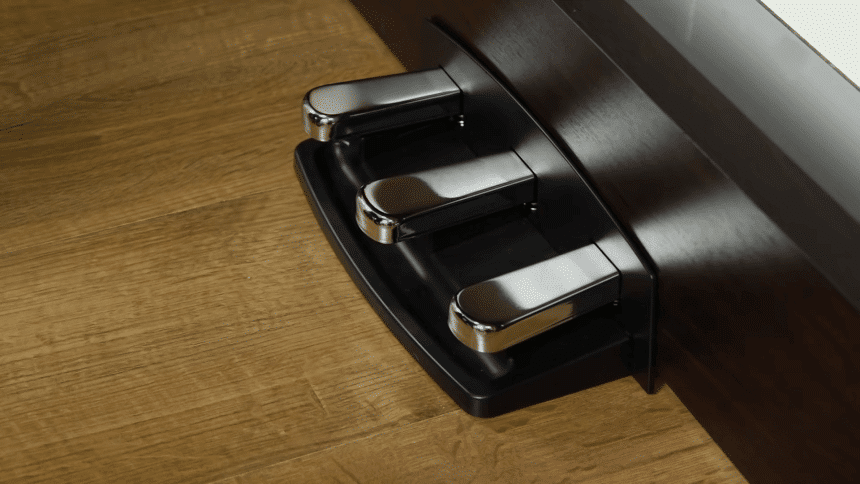 As mentioned above, the C1 Air comes with a three-pedal unit, which can be used to tailor the playing experience and sound output. The three pedals are called Soft, Sostenuto, and Damper. The first and third also have support for half-pedaling, so you can get a more immersive and full sounding experience.
Cabinet-Style Stand
The Korg C1 digital piano also comes with a cabinet-style stand on which it is fitted, and it also makes the piano look like a piece of furniture. The stand comes in white, black, and Rosewood variants, and matches the exact appearance of the digital piano. Moreover, it perches your piano at the standard playing height.
The Korg C1 Air is mostly suited for home and indoor playing, so if you are looking to use it externally, it is better if you leave the stand behind, since it isn't suitable to carry it everywhere. Plus, you will need to disassemble the stand every time you need to take it somewhere.
Key Covering
Since the Korg C1 Air isn't exactly a portable digital piano, it doesn't come with a case or gig bag. But it does come with a key covering that you can use to protect the keys from dust, dirt, moisture, and spills. The lid features a soft-close mechanism to prevent it from slamming into the keys or onto the player's fingers.
Price
The Korg C1 digital piano is priced between $1,400 and $1,500, depending on where you are buying it from. This makes it one of the best options among digital pianos priced between $1,000 and $2,000. Many of its features and design elements are something we have only seen in digital pianos priced more than $2,000, which is why we stand behind this model. Plus, the Korg C1 Air provides great value of money, and it is a good investment.
Warranty
When you buy the Korg C1 Air digital piano, you also get a 1-year warranty. This warranty is honored and covered by the local distributor or authorized retailer from which the digital piano is purchased. In the event of a problem with your Korg C1 Air, you will have to go to them. We can safely say that your piano won't give you any trouble for a good 5-6 years, provided that you look after it well and protect it from moisture, dirt, and dust.
Korg C1 Air in Short
88 Keys with Real Weighted Hammer Action 3
Graded Hammer System from left to right
120-note Polyphony
Three modes: Single Mode, Layer Mode, and Partner Mode
2 25W speaker system
30 sounds to choose from
Who Should Get This Digital Piano?
The Korg C1 Air digital piano is suitable for pianists and players of all skill levels, including beginners, learners, intermediate players, or advanced and experienced pianists. Therefore, we think it is a great digital piano that should be on your shortlist. However, if you are a traveling musician or a studio musician, you won't be able to move it around easily.
PROS
CONS

Slim and appealing design
RH3 weighted keyboard action
Realistic and natural Grand Piano samples
Bluetooth connectivity provides easy transfer of music
Built-in MIDI recorder allows for song recording

Bluetooth technology doesn't come with MIDI support
No USB port for easy device connectivity
Limited sound control options
Alternatives
If you have checked out the Korg C1 Air but still want to explore other options, we have a few that you might be interested in.
Korg C1 Air vs. Korg LP-380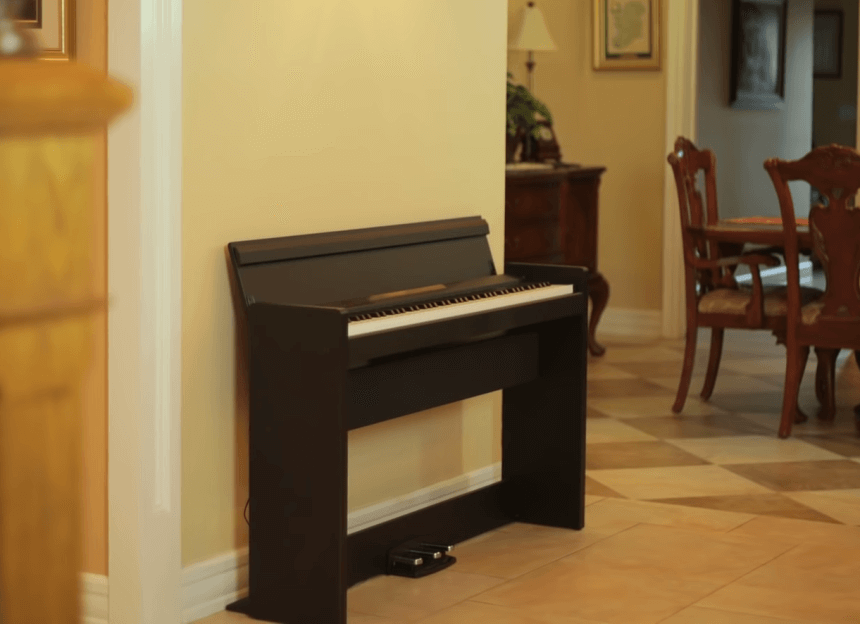 The Korg LP-380 is much slimmer and lightweight as compared to the C1 Air, and both of them have 120-note polyphony. The LP-380 is relatively cheaper at $1,249 and features three touch sensitivity levels, whereas the C1 Air has five. Plus, the LP-380 also comes with 9 levels of adjustable temperament. It has a sound output of 22W as compared to the 25W that the C1 Air provides. You can choose the LP-380 if you need something you can easily move around.
Korg C1 Air vs. Casio PX-870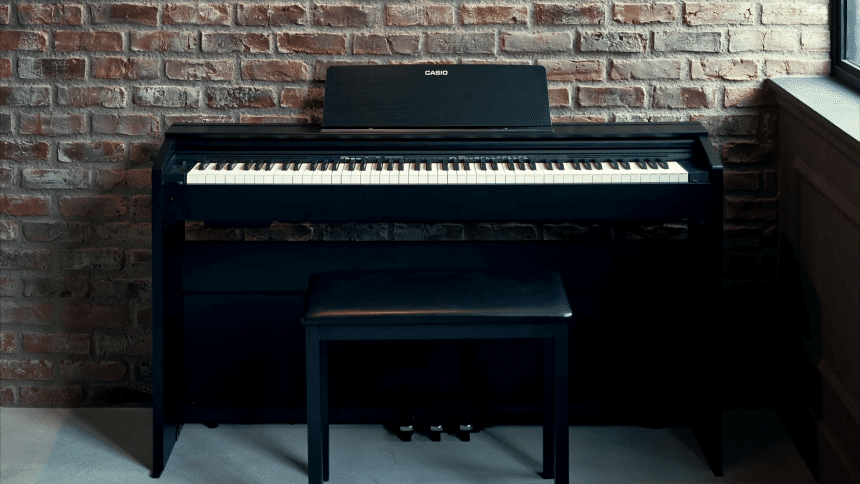 The Casio PX-870 is another suitable alternative to the C1 Air, and it features 256-note polyphony, while the C1 only has 120-note polyphony. This one also has Audio recording along with MIDI, which gives it a distinct advantage. You would also have a better experience with its ivory and ebony simulation keys, as well as the Tri-sensor Hammer Keyboard action. Moreover, it has a 40W sound system, as well as four layers of piano sounds with several controls. It is priced around $1,100, considerably cheaper than the C1 Air.
Korg C1 Air vs. Yamaha YDP184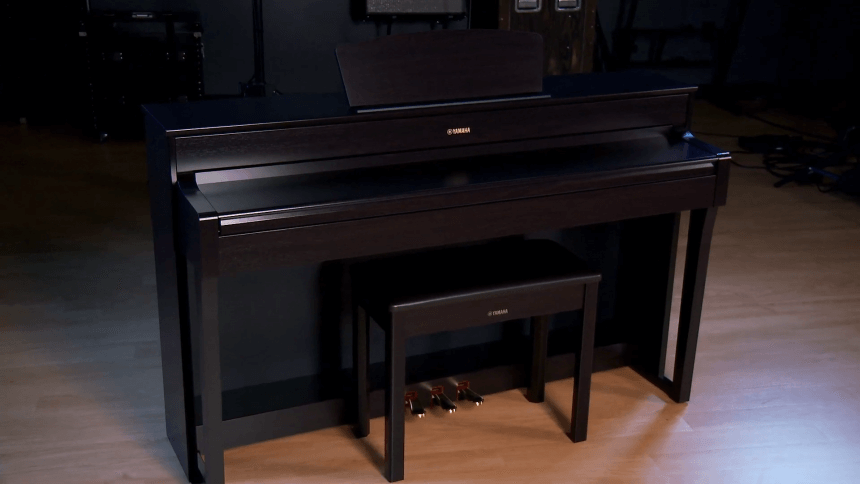 The Yamaha YDP184 is one of the top competitors for the C1 Air, and it features fully weighted keys with ivory and ebony keycaps, as well as Graded Hammer 3 action. It also has 256-note polyphony, and produces sound through CFX sampling. Interestingly, it also features a 16-track MIDI recorder, thus allowing you to go all out with your tracks. However, it is priced at $2,400, which is significantly higher than the C1 Air.
Korg C1 Air vs. Donner DDP-100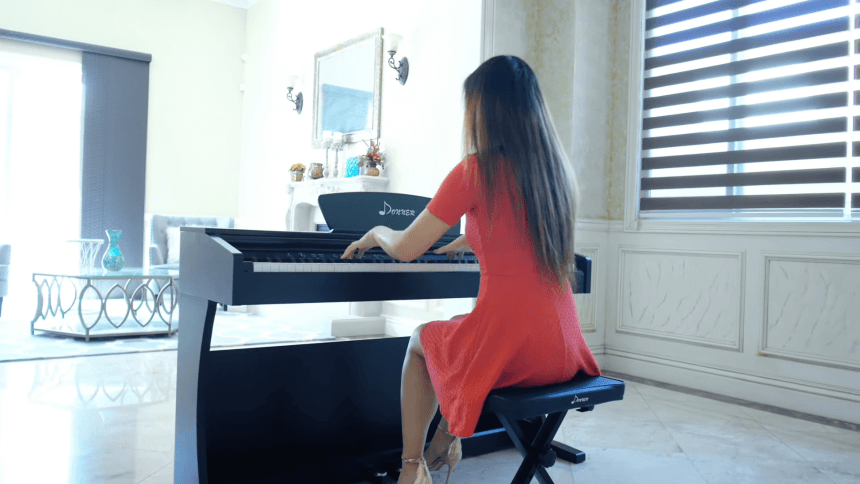 If you are looking for a more affordable alternative, the Donner DDP-100 is a suitable option. It has fully weighted keys, 128-note polyphony, a three-pedal unit, and also MIDI recording and connectivity features. It doesn't have rich and full sounds like the Korg C1 Air, and it is more suited for beginners. The DDP-100 is priced at $550, which is nearly a third of what you would pay for the C1 digital piano.
Korg C1 Air vs. Roland RP501R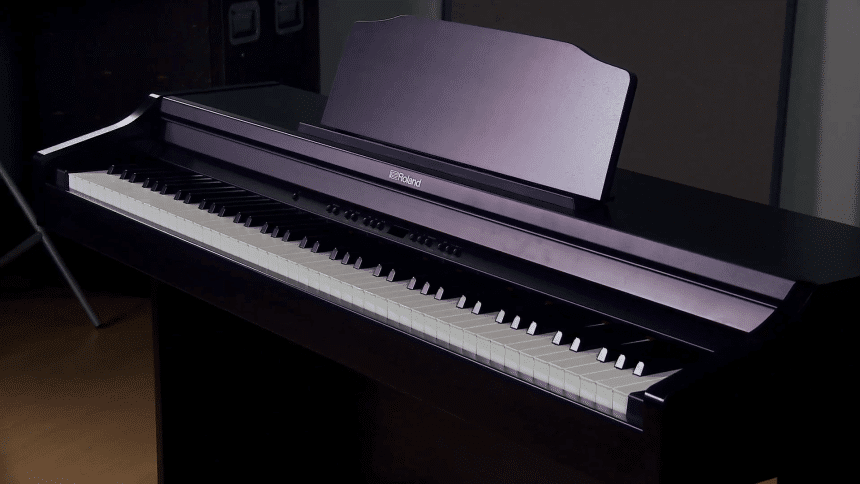 Last but not least, we have the Roland RP501R, which is one of the best home digital pianos that you can find. It has an 88-key PHA-4 action with escapement and ivory feel, as well as five levels of touch sensitivity and five different modes. Apart from this, most of its features are similar to the Korg C1 Air. The RP501R is priced at $1,799, so it isn't too expensive as compared to the former.
Conclusion
This brings us to the end of our Korg C1 review, and we hope you understand everything you need to know about a digital piano in order to make an informed decision. In a nutshell, it is a great piano for people of all ages and skill levels, and it has got some great features that will greatly facilitate you in your journey as a pianist. Even if you are a beginner, buying this digital piano would mean that you have it for a long time, and won't need to upgrade to an upgraded model.