Yet another Korg. The EK50 is one of the best arranger workstation keyboards loaded with high-end features at an incredibly affordable price point.
The arranger doesn't sound cheap at all with 702 different sounds. Each of these sounds has its own purpose. Its keys are pretty standard, but they do have the touch control feature that allows you to set their sensitivity so that they feel like weighted keys.
The arranger also has built-in speakers that allow you to play music wherever you are. This, together with the song mode are the coolest features this unit has. The song mode allows you to track a song directly into it and record your favorite performances. The recording feature comes in handy if you are learning new music genres and you want to judge your performance.
The EK50 has a very straightforward layout, thus a breeze to use. Its LCD screen is large enough and you can easily navigate it to get anything you need.
6
Best for Multi-instrumentalists
Korg Pa700
Features
Keyboard: 61 keys, velocity-sensitive
Sound generator: 128 voices, 128 oscillators, EDS-X, filters with resonance, 3-band EQ
Styles: more than 370 factory styles, 1,152 user locations
Dimensions: 40.55 x 14.89 x 5.2 inches
Weight: 21.8 lbs.
Other features: 1,700 factory sounds, 512 user sounds, 256 drum kits, Natural Ambience Drums, automatic MIDI FX generator, 2 x dual cone speakers

Good

The Pa700 is a powerful instrument but not the best for a beginner because it only has 61 keys which is not a range wide enough for a learner. It is perfect for seasoned players who want to take their music to the stage. It has both a mic and guitar input that make it the ultimate arranger for instrumentalists that perform or sing alone on stage.
Bad

Beginners would not make the most out of this arranger. Plus, it has a premium price tag.
The Korg Pa700 is not the typical low budget arranger keyboard, but it is pretty affordable. It's just not affordable enough for a beginner on a tight budget. Just like all the Pa series arrangers, it is an absolute superstar with myriad terrific features.
The arranger comes with 1700 factory sounds developed by the EDS-X sound engine. Plus, it utilizes the Defined Nuance Control Technology that makes instrument voices more realistic. You can also reshape rhythms, edit the drum kits and mix accompanying sounds.
The Pa 700 comes with 370 different styles that are fully customizable. Also featured are 148 effects including delays, amp simulators, reverbs, and vintage stomp box simulators. The effects also give you an impressive amount of creative control. This way you can add a retro, modern or futuristic touch to your music.
If you are a keyboardist who sings while playing, this should be your go-to arranger. You can connect dynamic mics to it and apply effects to your vocals to have the best vocal performance. With the vocal remover feature, you can easily remove vocals from an Mp3 player then sing along with the track.
Guitarists can also make the most out of this arranger. With the guitar FXs, you can add pedals and studio effects to a guitar once you have connected it to the arranger.
Things to Consider
You couldn't get anything better for an arrangement of audio styles in one instrument like the arranger keyboard. The flexibility of audio performances offered by an arranger keyboard is unmatched and this is what most multi-instrumentalists and musicians dream of. There are multiple brands and models of arranger keyboards on the market but not all of them are the same. This section contains information that will help you choose the best arranger keyboard for your needs.
What is an arranger keyboard?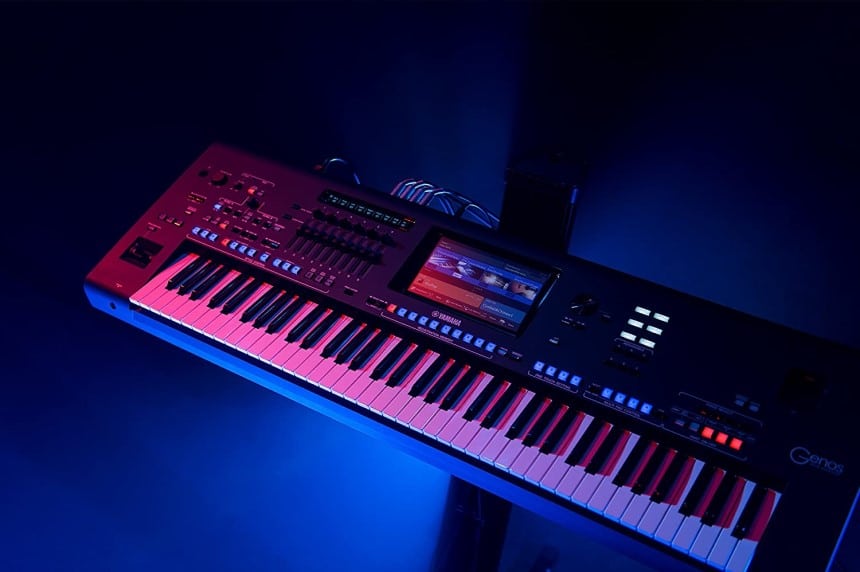 Essentially, an arranger keyboard is a portable style keyboard with professional sound engines and several compositional tools specially made for performers. It is like a songwriting partner. They feature accompaniment styles that react to various cues like chord changes the same way a real band would. The accompaniments offered by the keyboards are more intelligent compared to those offered by standard keyboards. They react to your playing in more realistic ways.
Arranger keyboards have all types of sounds. They are made to focus more on instrument sounds like drums, horns, guitars and pianos making them as real as they can be. Rather than giving you manipulating and sound-shaping capabilities, an arranger keyboard offers a more live performance-based effect.
Arrangers are popularly dabbed the ultimate band in a box because they have arrangement features and built-in sequencers that make them more of a mobile recording studio.
How to choose the best arranger keyboard for you
Here are a few tips on how to pick the best arranger keyboard for your musical needs within your budget.
Keys
Arranger keyboards come with either 61, 73, 76 or 88 keys. The 61-key model is the best a first-time electric keyboard player can choose. This is because they have un-weighted keys and that means you wouldn't have to use so much pressure on the keys when playing. On the flip side, weighted keys equate to playing quality, therefore it is a tradeoff. If you don't feel ready to invest in a 61-key model, you can choose one that has less keys, but you will suffer the consequences of its limitations as soon as you learn playing.
If you are a seasoned piano player, consider choosing the 73-, 76-, or 88- key arranger. The 88-key models are pretty costly but the best electronic alternative to a real piano.
Another important thing to consider is touch sensitivity especially if you'd like to add subtlety as you play. Be sure to go for an arranger that has touch sensitivity which you can turn off when you don't need it. Korg Pa300 is a prime example.
Auto-accompaniment function
This is a crucial function that you should give top consideration when choosing an arranger keyboard. Its operation is pretty basic, it allows you to play some notes on the lower range of your keyboard then instructs the system to start playing some backing music. In result, you get the sound of a full-band playing a professional backing track that you have total control over.
Accompaniment uses rhythms or styles that have been played and recorded by skilled musicians to produce the sound of a backing band. Be sure to pick an arranger keyboard that comes with full auto-accompaniment.
Sound quality
Sound quality is the main determinant of an instrument's effectiveness when it comes to performance. You should consider the bit depth and sample rate of an arranger before buying one. To get high-quality sounds that will inspire you, choose an arranger with sounds recorded from premium acoustic instruments.
Another thing you want to consider when looking at the sound quality is the voice options offered by the arranger. The main reason why most musicians buy an arranger keyboard is to access all the multiple voice options it offers. Choose one that has tons of voice options for maximum versatility and customizability. The more the voice options an arranger keyboard features the more costly it is, therefore, as a beginner you can go for one with less.
Sound generator and polyphony
Polyphony is the number of sounds an arranger keyboard can produce at a go. If you want an arranger that can mimic a real band or orchestra then choose one with extensive polyphonic capabilities.
Controls
The amount of controls you should consider largely depends on what you will be using the arranger for. Go for one that comes with a visual display that has a touch capability for ease of use. It will give you complete control over the functions of your arranger keyboard. Other controls would be like knobs and slider.
If you are a beginner, you don't want an arranger with so many controls as they would confuse you. You would have to keep checking the manual before you wrap your head around all of them.
Connectivity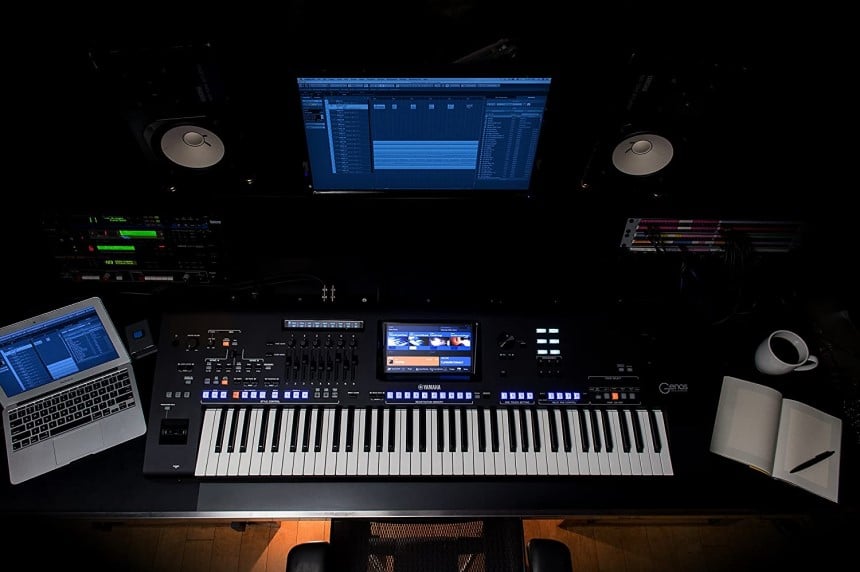 Connectivity is key. Today's arranger keyboards can connect to a computer and other devices in a myriad ways including; USB, Firewire, MIDI, mLAN, and S/PDIF among many others. Most keyboards come with this interfaces built onto them.
USB and MIDI are the most common connectivity options for various keyboards. The most recent models have incorporated iOS capabilities to give you unlimited access to a plethora of performance, recording and practice apps using you smartphone or tablet. You also get to enjoy cloud-based storage and musical collaborations.
MIDI controller and DAW
Musical Instrument Digital Interface (MIDI) is a communication protocol. MIDI messages usually contain no sounds, thus serve as a blueprint that hints at a hardware or software like DAW the notes to play at a given velocity.  A good example of a MIDI message is when a passage is sent to a keyboard to be played in the exact same way without any of the sounds available in the keyboard.
You must consider if your arranger keyboard has MIDI compatibility for it to be able to send and receive MIDI messages.
Portability
The size and weight of an arranger are the main determinants of its portability. Most units are lightweight and compact thus can be easily carried from one gig to another, while some models tend to be heavier. If you are an on-the-go performer this should be an issue. You should aim for the lightweight and compact models that offer all the features you need to play music like the Korg EK-50.
Built-in speakers
Not all models have built-in speakers. Speakers allow you to play or perform just about anywhere. Some units like Casio CT-X700 have the standard double-cone speakers that produce a reasonable sound quality. Others like the premium Korg Pa1000 go out of their way to include 2x1000mm woofers. 
Built-in styles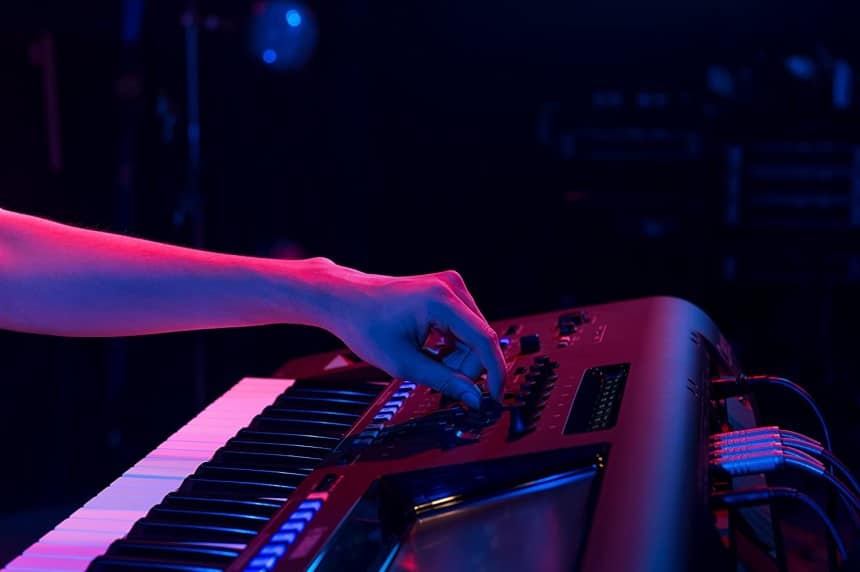 Every musical enthusiast dreams of a seamless flexibility of changing from one style to another on the same instrument. Luckily, arranger keyboards come with hundreds of built-in styles. Some models also allow you to record and save your unique audio style.
Consider buying an arranger that offers multiple styles like the Korg Pa1000, whether you are a beginner of seasoned player.
Sampler/Recording capabilities
This is an important feature to consider, especially if you are learning to perform new music genres. You can record yourself and judge how good or bad you and whether you need to make any changes.
FAQ
What is the difference between arranger and synthesizer?
An arranger keyboard is a portable-style keyboard designed to provide auto-accompaniment that can produce a backing track matching the rhythm, tempo and style of music being played. You can play a solo composition but have the feel of playing with other musicians.
A synthesizer, on the other hand, is an electric keyboard that can generate a wide range of sounds. Synthesizers are also smaller and portable.
The main difference between an arranger keyboard and a synthesizer is that an arranger is designed for solo performances while a synth is designed to be played with other musicians.
What is the best arranger workstation keyboard?
The best arranger workstation keyboard has enough polyphony to handle all the passages you will play and record. It should also have a sampler for importing digitized sounds, trigger pads for quick access to samples or notes and computer connectivity for syncing it with a computer recording software. The Korg EK50 is one of the most acclaimed arranger workstation keyboards out there.
Our verdict
The magic behind arranger keyboards is every musician's dream. They make you feel like a superstar when doing a solo performance. There are so many of them out there, but not all are within reach budget-wise and not all of them are good. It can be daunting to pick one from that suits your needs especially if you don't know much about them. Well, not after reading through this guide. There are hints and pointers on how to get the best arrangers with detailed reviews on the best-rated models.
Topping our list, the Korg Pa300 is one of the best 61-key arrangers that money can buy. It is reach with features that high end models have yet you don't have to sell a kidney for it. Our premium choice, the Yamaha Genos is undoubtedly the best Yamaha arranger keyboard out there. Almost every professional swears by it. It offers unlimited options when it comes to voices and styles which come with a hefty price tag.
Our third pick, the Korg Pa1000 is the best professional arranger keyboard any composer can get their hands on. It was built with composers in mind. Its sounds are incredibly expressive and realistic. However, it's a bit on the pricey end, thus not a good beginner option.
References
1.
Genos Digital Workstation
Owner's Manual
2.
Workstation Arranger Guide
You're ready to invest in a new keyboard. Down one path lies the world of Workstations; down the road less travelled live the Arranger Keyboards.