If you're looking for a simple Keytar for beginners, the Yamaha Sonogenic Mini is one of the best options to consider. While it is smaller than your average instrument, it still features loads of options, making it ideal for beginners and serious players alike. The instrument weighs about 3.5 pounds and has a very slim design which will come in handy if you spend a lot of time traveling.
The Yamaha Sonogenic Mini has USB MIDI capabilities. This means you can make music with this keytar using soft synths and DAWs. Although it is advertised as a Keytar for those who have never played one before, it comes with advanced features such as tune adjustments, transpose, and octaves, just like any other pro-level synth out there.
5
Most Lightweight
Yamaha Sonogenic
Features
Keys: 37
Item Dimensions (in.): 10.1 × 7.1 × 35.4
Weight (lbs.): 1
Warranty: 1 year
Other features: Bluetooth MIDI, USB, wireless IOS connectivity
Good

Like the smaller SHS-300, we love how the SHS-500 also has a Jam mode which lets you play along with popular songs by simply tapping the key along while the instrument does most of the playing. You get up to 30 different instrument voices and can easily switch between them with just the touch of a button. The lightweight design is also quite impressive. It is perfect for on the go use and makes carrying it on stage much less of a hassle
Bad

Most of the complaints with this instrument are with the preset voices. While they are not bad for an inexpensive unit, one would expect some upgrades over older versions like the SHS-10. The piano voice and synths aren't all that great. Some of the synths sound a bit mudded when playing the cord. Another limitation in the design is that the sustain button somehow does not work when the device is being used in midi mode. While these are not exactly deal breakers, they take some points off the instrument in terms of performance.
This Yamaha Sonogenic keytar is an ultra-lightweight instrument built for those searching for a simple and easy-to-use synth keytar for play and serious performance alike. It can be connected to an external PA with 1/4″ Aux jacks or played directly using the inbuilt speakers. Additional features like reverb, dynamics, and reverb are also on this portable keytar for those needing a robust instrument for performance.
The Yamaha SHS-500 is a higher-feature version of the SHS-300. While both are pretty much the same in terms of appearance and have the same number of keys, the mini is a bit more compact than this one. The keys are full-sized, which makes it more convenient compared to the smaller Sonogenic.
Things to Consider
Musicians who prefer to switch things up a bit by moving around during their performance will find this instrument quite impressive. However, because keytars are not as popular as they used to be, choosing the right one for you can be challenging since most people don't know a lot about them. There aren't many options available, but there's enough diversity to confuse anyone who does not know a lot about keytars. The following are some of the important considerations to keep in mind when shopping for a keytar.
What Is a Keytar?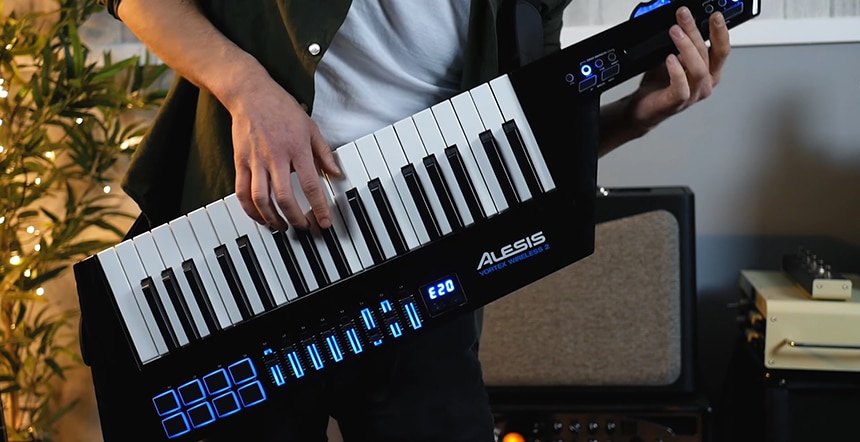 As mentioned, not many people are familiar with Keytars Trusted Source A Brief History of the Keytar | Reverb News The much-maligned and ironically played instrument may be closely tied to the '80s, but its roots go back further than you may think. reverb.com . So what exactly are they, and how do they work? A Keytar is a type of electronic musical instrument that looks like a guitar and a keyboard combined, hence the name. The keytar is carried by a strap the same way you would carry your guitar, but it has keys like a keyboard does.
It is believed that keytars were originally invented to give keyboard players some mobility while on stage and also encourage groupies. They can be powered directly by electricity, but most models include batteries that further improve their mobility. With a keytar, you will be able to set up and play anywhere to play without a stand (or even a power source).
Features to Consider
Like any musical instrument, buying a keytar requires you to know some basic things. Even though a lot of available products offer similar features, there are some subtle distinctions between them. This section will go over some of the most important factors to consider in buying keytars.
Aside from features and components on the unit itself, you also have to consider your skill level in choosing a keytar and your purpose for buying it. Note that the best keytar on the market does not have to be the most feature-packed product. As long as it serves your purpose, you are good to go. The following are some of the basic factors to consider when buying a keytar.
Number of Keys
Most keytars feature 37 keys. But there are some like the Roland AX-Edge that come with 42 velocity-sensitive keys. Of course, the more the keys, the higher the versatility of your keytar. However, most people are cool with a 37-key unit, and it serves their purpose sufficiently enough. However, even with units with the same number of keys, there are other qualities to look for pertaining to the keys. The key size, for instance, will determine how easy it will be to play the keytar. Instruments like the Yamaha Sonogenic Mini, for example, have 37 keys too. But they are not full size since the instrument is a mini keytar. You may find compact units like this a bit difficult to get used to, given their smaller dimension.
Item Dimensions and Weight
In the past, keytars used to be quite bulky despite the fact that they were meant to be carried with you while you performed. These days, they are now made with lighter hardware which means they are not as heavy as they used to be. Still, the weight may vary from one instrument to the other. If you are doing a lot of moving around on stage, you may want to consider a lightweight option like the Yamaha Sonogenic. The lightweight also makes it perfect for younger players who may struggle with bigger and bulkier instruments.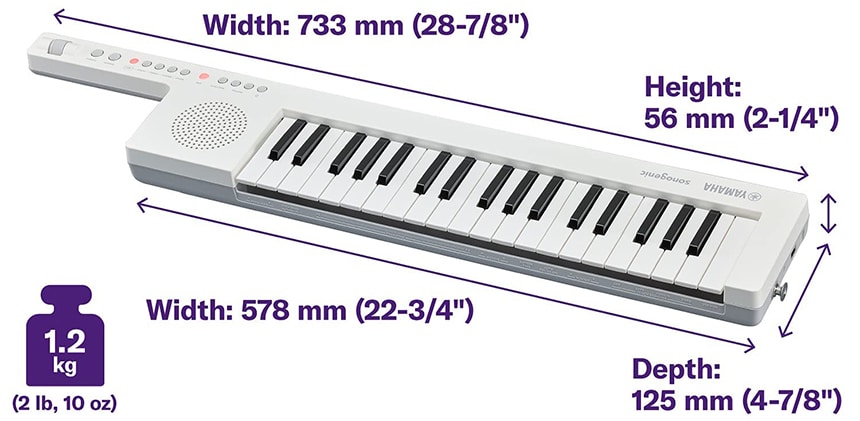 Material
Most of the well-known brands make keytars that are made from durable plastic material. This is important since the type of material the instrument is made from will determine its durability. If you are moving around a lot with your instrument, you'll want it to be made from quality material that can take some beating.
Warranty
Check with the manufacturer or supplier you are buying from to ensure that a warranty covers your keytar. You should also confirm how long this warranty is and what type of repairs it covers. These conditions will vary from one brand to the other, so it makes perfect sense to confirm. While a warranty is not an absolute quality indicator, you will at least be certain you can return the instrument or get it repaired cheaply if there's a fault.
Price
The price of a keytar can vary significantly depending on the brand and type of the unit. You'll be surprised that new keytars aren't very expensive compared to the vintage ones. But you will spend more if you want to buy a vintage instrument.
Other Features
If you're going to purchase a keytar for performance, you might as well look for one that takes advantage of everything a keytar can do Trusted Source Hey, what's that sound: Keytar | Pop and rock | The Guardian The keytar has still never really rivalled the guitar in terms of what it can do for the sex-appeal of its wielder. www.theguardian.com . In addition to the basic features of the keytar that you should look out for, some extra features can help you determine whether or not to purchase a unit or not or make a decision between two quality instruments you are considering. Some of these features include
Instrument splitting: this feature allows you to play different sounds on different octaves on your keytar. This is something you can do on your DAW by combining two patches together then using your keytar to switch between them by hitting the octave button. The benefit of this feature is that you can use more than one sound for every live song.
Modulation: some keytars come with modulation wheels which allow you to control the modulation effect you get on the sound you produce and remain at that modulation setting you have selected.
Accelerometer: some instruments like the Alesis Vortex Wireless 2 have this feature. If you're a keyboardist that loves to do solos, then you'll find this extra feature quite desirable. The accelerometer makes it possible to do bends with your keytar the same way you would with a regular guitar.
Included Components

Extra components don't make a world of difference when deciding to buy a keytar, so they're not always a deal-breaker. However, having these components can help you save extra costs since you won't have to buy them separately. Some of the extra components you may have on your keytar include
Quality Straps
Aux cables
USB cables
How to Play a Keytar?
If your play the keyboard or piano already, you should have no trouble playing a keytar since half of the body of the keytar is a synthesizer keyboard. You can plug a keytar into any standard amplifier, but some units have an inbuilt speaker to play sound directly. To start playing, sling the keytar over your shoulder the same way you should do with a regular guitar and adjust the strap accordingly until your playing hand can conveniently reach the instrument's keys.
Unlike a keyboard, you practice playing a keytar with just one hand, while the other hand can be used to adjust the controls on the other end of the instrument. It may take a while to get used to playing it one hand like this, especially if you're already accustomed to playing the piano.
FAQ
Is it difficult to play a keytar?
No, playing a keytar is quite easy, especially if you have basic experience playing a keyboard. It is just like any keyboard, with the only difference being that it hangs around your shoulders and has some extra controls. If you play a keyboard already, you should find it easy to transition to a keytar.
Can a keytar be a MIDI controller?
Yes, although not all keytars can be used as a MIDI controller, a good number of them, like the
Vortex Wireless 2
, are MIDI controllers with Wireless Bluetooth feature. The MIDI technology has gotten a lot better over the years, and they are quite reliable.
Our verdict
The Alesis Vortex Wireless 2 is our top pick for the best keytar on the market. This quality wireless keytar controller comes inbuilt with a professional software suite and pro tools, making it ideal for serious performers. The Roland AX-Edge is equally top-quality as well and ideal for beginners. It is quite similar in features to the Vortex 2 but comes with 49 keys instead of the traditional 37 that you'll find on most units.
We also recommend the Yamaha Sonogenic Mini and Yamaha Sonogenic as the best keytar for beginners. If you're new to playing keyboards or keytar and you're looking for an affordable option, either of these two would work great.
Whether you simply like the idea of owning a keytar for personal entertainment at home or you are a serious performer in need of a good quality performance keytar, the products covered in this review are some of the best keytars on the market that you should consider.
References
1.
A Brief History of the Keytar | Reverb News
The much-maligned and ironically played instrument may be closely tied to the '80s, but its roots go back further than you may think.
2.
Hey, what
The keytar has still never really rivalled the guitar in terms of what it can do for the sex-appeal of its wielder.