If you are a sound editor or musician that is looking to take your skills to the next level, then the PreSonus ATOM SQ is the MIDI controller for you. Though this device is designed to have the look and feel of a keyboard controller, it is so much more than that. Its layout is built so that you won't have any limits in the studio, at home, or on stage while you bring your music to the people. This highly customizable device is a great investment for anyone looking to create, evaluate, or cultivate their musical talents in an easy-to-use interface.
Specifications
| | |
| --- | --- |
| Input | USB-C™ compatible USB 2.0 connection (bus-powered) |
| Pads | 32 velocity- and pressure-sensitive, RGB LED pads |
| Buttons | 16 assignable buttons |
| Knobs | 8 endless rotary knobs |
| Strips | 1 assignable multifunction touch strip |
| Software included | Studio One® Artist and Ableton® Live Lite |
| Dimensions | 0.98 x 6.8 x 14.25 inches |
| Weight | 2 lb. |
Functionality and Design
To start off our review, let's focus on the functionality and design of the PreSonus ATOM SQ. There is a lot to cover here, as this controller packs a lot into its compact size and design.
Pads, Buttons, and Knobs
The very first thing that you are going to notice with this device is its layout. It has a litany of pads, buttons, and knobs. In fact, there are 32 velocity and pressure-sensitive pads, 16 buttons that can be assigned to different functions, and 8 rotary knobs that can be endlessly rotated. While this might seem a bit overwhelming at first, each of these components has been very carefully crafted to make them as useful as possible.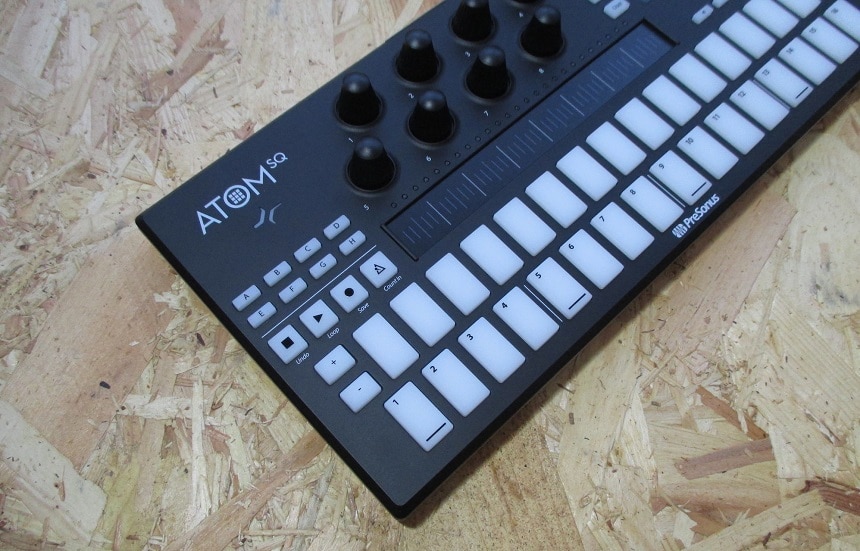 Pads – For anyone that has used a keyboard MIDI controller before, these pads are going to have a familiar feel to them. They are set up in such a way as to mimic a standard keyboard, making them very easy to jump in and start using right off the bat. That is not to say, however, that these pads are just carbon copies of a standard keyboard. They are actually much more versatile than that, as they can be used for a variety of different instruments. These pads will also change color according to the mode you are in, as well as the different melodic scales that you are using. This all works pretty seamlessly with the included Studio One bundle or Ableton Live. These pads are also pressured sensitive, which allows you to change the pitch so that you achieve exactly what you are looking for in your music.
Buttons – There are 16 different buttons on this MIDI controller. These different buttons are completely assignable. Basically, you get to choose precisely what they will do, which allows the ATOM SQ to fit your particular needs.
Knobs – The knobs on the ATOM SQ are also completely customizable. You can use them to alter the pitch, velocity, or frequency of the different notes that you are playing so that you get the sound that you desire. These knobs are designed so that they can be rotated endlessly. This makes it that much easier to find the perfect sound that you desire.
Modes
There are four different modes that you can utilize with this MIDI controller. These include the following:
Song – In this mode, you can manipulate your tracks. It enables you to Solo, Mute, and Arm your tracks. Song mode also allows you to work with your timeline and scrub parts to your liking. You can even zoom in or move different components within the song you are working on.
Instrument – This just might be the biggest innovation of this entire device. With this mode, you are able to browse through a collection of available virtual instruments and any others that you might add to Studio One or Ableton. You can also use this mode to make melodic patterns.
Editor – As you might expect with a name like Editor, this mode allows you to edit your work right from the MIDI controller. Of course, you need to be using Studio One or Ableton to utilize this mode correctly, but it really helps to simplify the process. Instead of having to use a mouse or keyboard, you can cut out the middleman and use the ATOM SQ for all your editing needs.
User – With the User mode, you are able to fully customize the layout of the controller to suit your preferences. You can adapt the internal commands from Studio One to better fit your needs, making this a great option for expert users who want to get the most out of their controller.
Input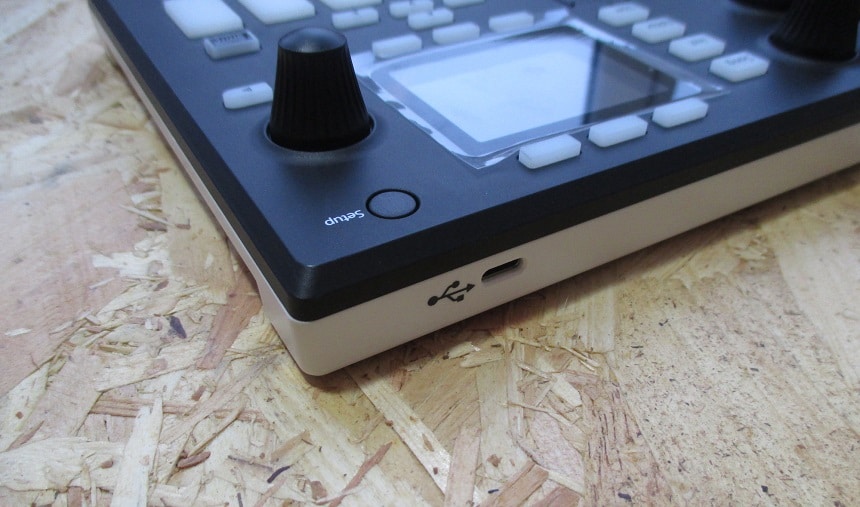 As is the case with many newer electronics, this MIDI controller utilizes a USB-C™ compatible USB 2.0 connection, which makes it very easy to hook up to pretty much any workstation or controller. This is the only power source that the ATOM SQ requires, making it highly portable.
Dimensions and weight
Like we mentioned above, this controller is built to be used wherever you need it. This makes it a great option whether you are in the studio or in a neighborhood coffee shop. It is nice and lightweight, only weighing in at 2 pounds. Its overall dimensions make it easy to pack into a bag as well, as it only measures 0.98 x 6.8 x 14.25 inches. For context, this is about half the size of a laptop.
Integration features
The ATOM SQ is built so that you can use it right out of the box. It is designed to be used with either PreSonus Studio One software or Ableton Live. Both of these are wonderful systems, with Studio One being a bit easier to navigate using the ATOM SQ since they were made by the same company.
Studio One
If you want to get the full value out of your ATOM SQ, then this is the DAW for you. This software comes with the purchase of a new ATOM SQ, making it all the more tempting to use. It has a drag and drops formula that can be easily used through the controller without the use of a mouse or keyboard to quickly build tracks. The Chord Track and Pattern mode are especially useful if you are trying to compose a new song, as well.
Ableton Live
Ableton Live Lite also can be used with the ATOM SQ. This DAW is not quite as polished as Studio One but still can be quite effective, especially if you are a beginner. This software package has a lot of great stock plugins and is very easy to navigate.
Included software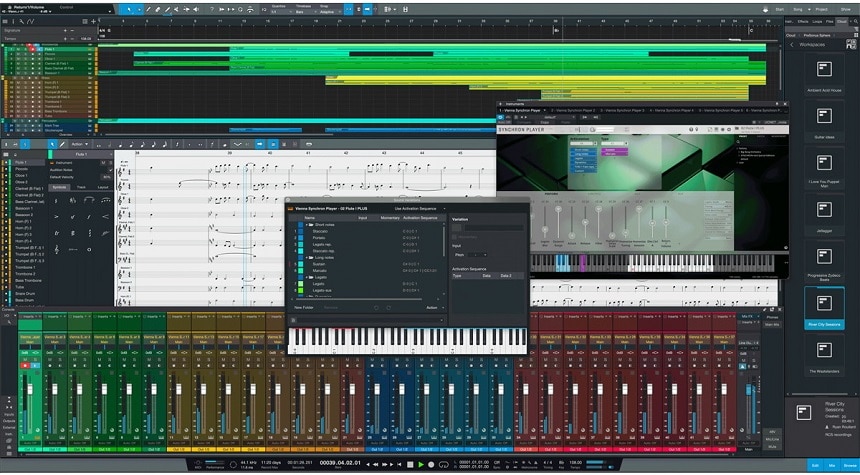 When you purchase the ATOM SQ from PreSonus, you also get Studio One® Artist and Ableton® Live Lite. Getting these two software packages along with your purchase makes this controller an exceptional value.
Compatibility
Another highpoint of the ATOM SQ is that it is fully compatible with Apple Silicon-based Mac computers, as well as iOS and IpadOS devices as well. Thanks to the fact that this MIDI controller is USB compliant, there are no special drivers to install. You can simply plug it into your device and start producing wherever you are, no matter where your travels take you.
Warranty
This device, as is the case with many different items from PreSonus, comes with a 1-year limited warranty on most aspects of the controller.
Price Tag
Depending on where you decide to purchase this controller, you can expect to pay around $260 to $270.
Advantages and Disadvantages
The PreSonus ATOM SQ offers a litany of advantages over other controllers. The biggest of these, of course, is the high level of customization that is possible through the use of the variety of modes, pads, and knobs that are available to the user. This MIDI controller also comes with a ton of integrated instruments that can be utilized to create beats and compositions with ease. You can also add in your own 3rd party instruments or beats quickly and easily. Another big advantage you will get to enjoy with the ATOM SQ is the Studio One® Artist and Ableton® Live Lite software that comes with the purchase of the controller. Finally, one of the best advantages offered with this device is its plug-and-play compatibility. Since it utilizes a USB-C connection, you can hook it up to pretty much any device and start using it right away.
While this is a stupendous machine, there are some disadvantages to keep in mind. The biggest issue that you are going to encounter is that it will take you a long time to familiarize yourself with all of the options that this machine can offer. This is especially true if you are a new user, as the ATOM SQ can seem a bit overwhelming at first glance. Thankfully, this phase shouldn't last too long, as the intuitive design should allow you to become more comfortable rather quickly.
PROS
CONS

No setup necessary
Comes with Studio One® Artist and Ableton® Live Lite
High quality
Durable
Multifunction pressure-sensitive keys
Multiple modes for easy customization
Removes the need for a mouse and keyboard
Highly portable

Requires lots of time to become familiarized with all of the features
Conclusion
As you can see, the PreSonus ATOM SQ is a highly customizable MIDI controller that puts the ability to create, compose, and edit music in the palm of your hand. While it has an interface that is similar to a keyboard, it is so much more than that. It can be used to create beats with a plethora of instruments, all while also providing the user with an easy interface to put their ideas together so that their music can come to life.