The LK-S250 is one of the best Casio keyboards for beginners. While you can buy the keyboard alone, we recommend the educational bundle that includes an AC power supply, stand, headphones, and computer-based music lessons. It's very inexpensive, especially given the quality of this keyboard.
The keyboard has as 61-key board, which is more than a broad enough range for most musicians just starting out. Casio built in 400 tones and 77 rhythms along with 60 songs, so there are plenty of options to help you get started. We also like the lighting key system, which lights up the keys to play for any of the 60 built-in songs. This feature is particularly helpful for beginners who may not be able to read sheet music fluently. In fact, this is one of the best Casio lighted keyboards available.
This keyboard also connects to the Chordana Play app for iOS and Android. However, you'll need an aux cable connection since the keyboard doesn't support Bluetooth.
12
Best Portable Casio Keyboard
Casio SA-46
Features
Keyboard: 32 mini keys
Polyphony: 8
Tones: 100
Rhythms: 50
Dimensions: 23.8 x 8.3 x 2.24 in
Weight: 2.64 lbs
More features: built-in grip for portability; switch between piano and reed organ/organ sound; 10 play-along tracks; retro design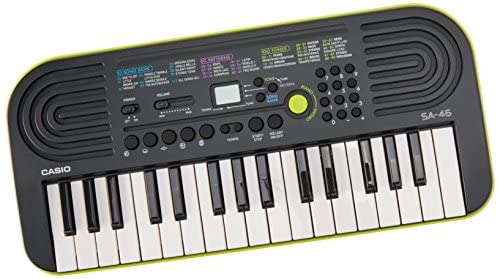 Check price
Good

The portability of this keyboard is the main attraction. It's extremely lightweight and compact, and fits easily in a moderately sized backpack. Casio even built in a grip on the underside of the keyboard to make it easier to carry.
Bad

With just one octave and miniature keyboards, intermediate pianists will find a lot of restrictions. It would be nice to see a version of this keyboard with full-size keys to offer as a practice instrument when travelling.
If you're looking for a portable Casio keyboard, we recommend giving the SA-46 a closer look. This keyboard is extremely small, with just 32 miniature keys. It only includes a single octave, so it's probably not a great option for playing complex music. But, at under 3 pounds and less than 2 feet long, it's extremely easy to take with you anywhere and can enable you to keep practicing on the go.
The keyboard boasts many of the same features as the slightly larger SA-72, including 100 tones and 50 rhythms. However, the LCD screen is somewhat smaller and doesn't show notes in notation form as they're played.
Users were pleasantly surprised with the quality of the speakers on this keyboard, even though they're small and don't offer much volume. With just 32 keys, you won't be playing many complex chords – so the fact that this keyboard only offers polyphony of 8 notes at a time isn't a huge problem.
Things to Consider
Now that you know more about our 12 favorite Casio keyboards, how do you choose which one is right for you? There's a lot to think about when it comes to picking a new keyboard or digital piano, not the least of which is what you're hoping to get out of your new instrument. In our buying guide, we'll cover everything you need to know about how to pick the best keyboard for your needs.
Advantages of Casio keyboards
Although there are many keyboard brands on the market, Casio makes some of the most highly rated and well-loved digital pianos around. The company has been in the keyboard manufacturing business for decades and is on the forefront of introducing ever more advanced technical capabilities throughout its keyboard range. For example, you'll find hundreds of tones, rhythms, and sound effects across the models we reviewed, as well as support for computer connectivity and recording.
On top of that, Casio's selection of digital pianos is simply enormous. Whether you're looking for a compact keyboard for a beginner pianist or a full-size model for an expert musician, Casio has a model to offer. Our review covered both Casio keyboards and Casio digital pianos, as well as a number of models that straddle the line between these two types of instruments.
Casio also gets a lot of credit for standing behind its products. All Casio digital pianos come with a one-year warranty, which can be extended up to 5 years for some models. In addition, Casio offers technical support 6 days a week.
Keyboard or digital piano?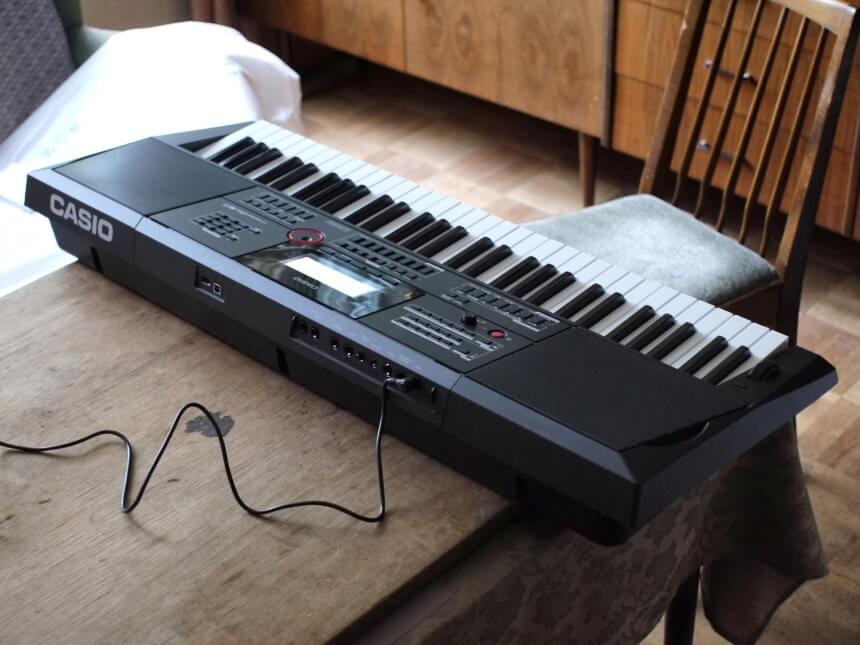 Although the terms keyboard and digital piano are often used interchangeably, they actually refer to different types of instruments.
A digital piano – like the Privia PX-770, the Privia PX-870, or the CGP-700 – are designed to mimic the feel and sound of a traditional acoustic piano. Digital pianos have weighted keys and often only produce the sounds that a traditional piano could make. They tend to be best for musicians who want to reproduce the sound and feel of a traditional piano or to record music that was written for an acoustic piano. It's also worth noting that digital pianos are more expensive than the typical keyboard.
Keyboards are designed to make a much wider range of sounds than a traditional or digital piano ever could. For example, more advanced models like the WK-6600 and CT-X3000 have hundreds of tones available. Unlike digital pianos, keyboards don't have weighted keys and they tend to be more compact and portable.
Keyboards can be a good choice for beginners because they are relatively affordable, but more advanced models can also be used by music producers.
How to find the best Casio keyboard or digital piano?
When it comes to choosing the right Casio keyboard or digital piano for your needs, there's a lot to consider. Here, we'll take a closer look at some of the key factors you should think about when comparing models.
Keyboard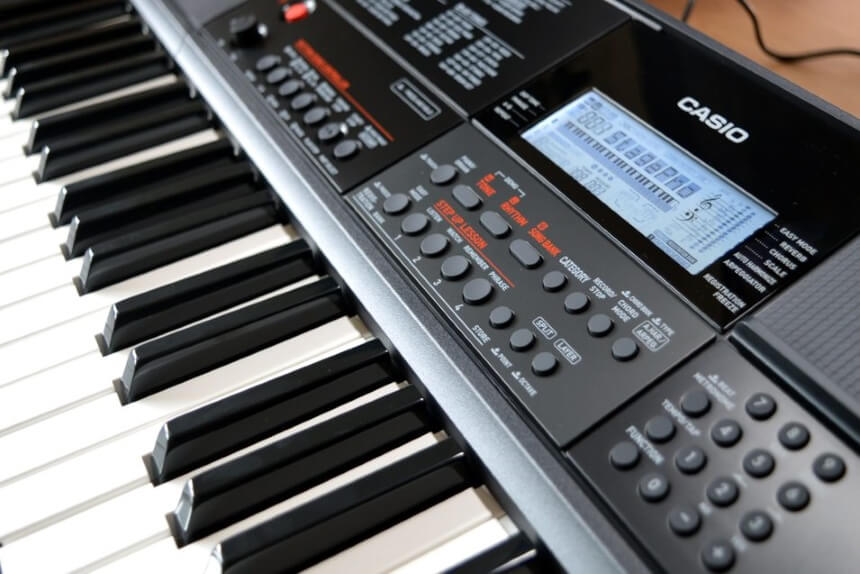 The keyboard itself is a good place to start when choosing an instrument. Specifically, how many keys does it have and are they weighted?
Traditional full-size acoustic pianos have 88 keys, so this is the number you'll find on digital pianos like the Privia PX-770, the Privia PX-870, and the CGP-700. Most keyboards, though, have fewer keys to make them more compact and affordable. For example, the CT-X3000, LK-S250, CT-X700, and CT-S300 have 61 keys, and especially compact models like the SA-46 has 32 narrow keys.
While most keyboards don't have weighted keys, you can find this option in some models. For example, the PX-S1000 offers five adjustable sensitivity levels and the WK-6600 offers two sensitivity levels.
Max polyphony
Polyphony describes the number of notes a digital keyboard can make at one time. If you're playing a chord, for example, you may need to play 3 or 5 notes at a time.
Many of the Casio keyboards we reviewed have a polyphony of at least 48 notes, which is far more than most pianists will ever need. Some digital keyboards are capable of more than 100 notes at the same time. However, if you opt for a beginner model like the Casio SA-76 or SA-46, keep in mind that you can't play five-finger chords with both hands at the same time since these keyboards only offer a polyphony of 8 notes.
Tones
Casio keyboards and digital pianos are built with preset tones that allow you to change the sound of your piano. This might not be important if you're just looking to imitate the sound of a traditional acoustic piano, but if you're using your keyboard for music production or specialized sound effects tones can matter a lot.
Unless you're an experienced producer, don't get too wrapped up in comparing the total number of tones across keyboards. Chances are, you'll only ever use a handful of the tones available. So, for example, the 400 tones available on the CTK-2550 and LK-S250 are more than most pianists will ever need.
Keep in mind that digital pianos tend to have far fewer tones than keyboards. The tones available on a digital piano are typically piano-related tones, such as bright or dark. In contrast, the tones on a keyboard might cover a much wider range of styles, such as mimicking an electric guitar or bass.
Rhythms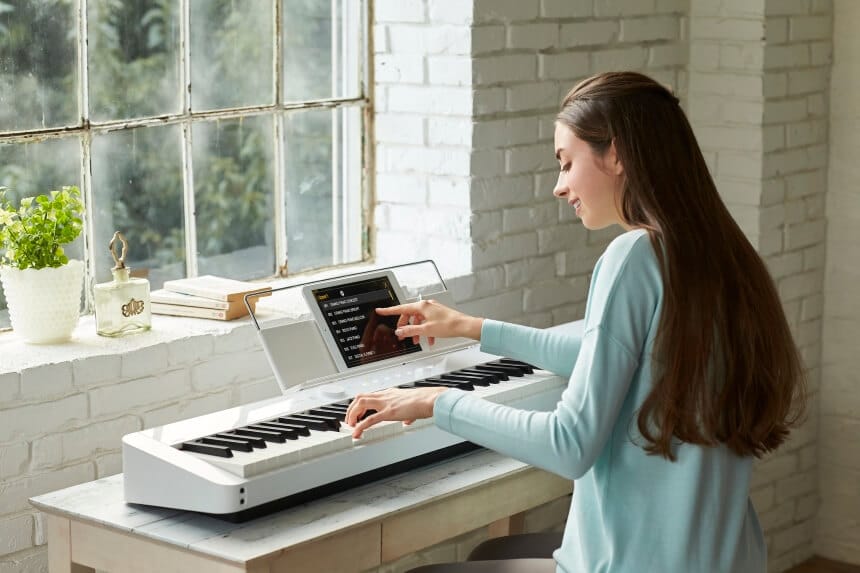 Rhythms are another set of digital sound effects that come pre-programmed into most Casio keyboards. They can be used to accompany a piece you're playing or form the basis of a sound you're producing using your keyboard. Some keyboards, like the WK-6600, enable you to record your own rhythms in addition to the ones that Casio provides.
Many of Casio's digital pianos don't include rhythms, since they're used more by beginners and producers.
Effects
Effects are sound effects that you can add on top of the music you're playing on your keyboard. Casio keyboards like the PX-S1000 and WK-6600 come with dozens of built-in effects, but many beginner models leave these out since they're primarily used by more advanced producers.
Display
The display screen on your digital keyboard is often small but important. This screen will help you navigate through your keyboard's various tones, rhythms, effects, and other options. Casio displays typically offer backlighting so that you can better see the options as you're changing effects. Otherwise, the display is meant to stay out of your way while you play.
Connectivity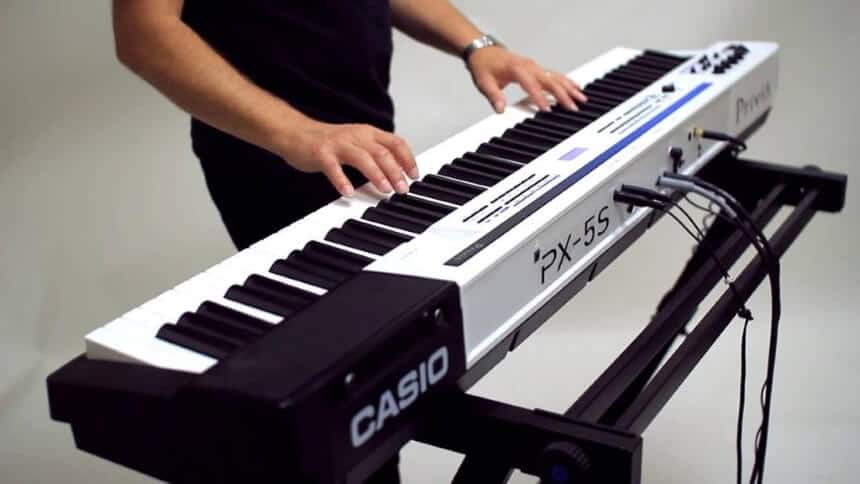 Most Casio keyboards and digital pianos have built-in speakers. However, for better sound quality or more volume, it's important to be able to connect your keyboard to an external amp. Every keyboard we reviewed enables this, typically with a standard auxiliary input cable like you'd use for an electric guitar.
Modern keyboards also typically support USB connectivity so that you can pair your keyboard with your computer. This is important because it allows you to download new effects and rhythms or to record a piece to your computer. Especially if you plan to use your keyboard for music production, USB connectivity is a must.
Finally, some keyboards like the PX-S1000 can also connect to your computer or smartphone via Bluetooth. However, this still isn't a common feature among Casio keyboards.
Power supply
Most of Casio's larger keyboards must be plugged into a standard wall outlet and require an AC adapter for power. This typically isn't a problem if your keyboard is set up in a single place. However, small models like the SA-46 can also run on batteries, which makes them easier to transport. The SA-46 also has a power adapter available so you don't have to spend money on batteries.
Dimensions and weight
The dimensions and weight of your keyboard are important to consider, especially if you plan to travel to shows with it or need to store it when not in use. In fact, portability is one of the main reasons to opt for a keyboard with fewer than 88 keys.
If you're tight on space, be sure to measure the area where you plan to set up your keyboard and make sure it will fit – stand included.
As you might expect, keyboards with more keys tend to be heavier. In addition, digital pianos that have weight keys and built-in stands can be significantly heavier than Casio's keyboard offerings. Still, the weight isn't extreme, especially compared to traditional acoustic pianos. The heaviest Casio digital piano we reviewed, the PX-870, weighs in at 74 pounds.
Accessories
It's also important to think about what accessories you'll need with your keyboard or digital piano. Unfortunately, Casio doesn't throw in many freebies with its keyboards, although you may be able to find a bundle deal.
To start, you'll need a stand for most Casio keyboards. The good news is that most keyboard stands will fit most Casio keyboards. If you opt for a small 32-key keyboard like the SA-46 or SA-76, you might need a smaller than standard keyboard stand.
If you're opting for a digital piano, consider adding pedals to further replicate the feel and sound of a traditional piano. Some models, like the Privia PX-870, come with pedals built into the piano. Others, like the CGP-700, require you to purchase compatible pedals separately.
FAQ
What is MIDI?
MIDI stands for Musical Instrument Digital Interface. In short, it's the communication protocol that allows different digital instruments to talk to each other and to your computer. MIDI is absolutely critical if you're planning on using your keyboard for music production, since you'll want to transmit the data from your keyboard to the production software on your computer. The good news is that most Casio keyboards and digital pianos include MIDI.
What is Duet Mode?
Duet mode is a feature found on all Casio Privia digital pianos that splits the keyboard in half. Each half covers the same tonal range, so two people can play side by side on the same keyboard. Duet mode is perfect not just for playing a duet, but also for enabling a student and teacher to play on the same keyboard at the same time.
How long is the warranty on Casio keyboards?
Casio provides a one-year warranty on all of its keyboards and digital pianos. Depending on the exact model, you can extend your warranty to 2 to 5 years at no additional cost.
How much do Casio digital pianos cost?
Casio digital pianos are high-end musical instruments, so they aren't cheap. The
PX-770
costs around $700, while the
PX-870
comes in at $1,050. Of course, you can get cheaper models if you're willing to opt for a keyboard rather than a digital piano. The
SA-46
, for example, costs under $50 and the more capable
LK-S250
keyboard costs just over $225.
Our verdict
Our favorite Casio keyboards on the market today are the CT-X700, the CGP-700, and Privia PX-870.
The Privia PX-870 is one of Casio's most advanced digital pianos, featuring tri-sensor weighted keys, a beautiful stand with integrated speakers, and a 60-song music library with room for track recording. It's not cheap, though, so this digital piano is best for musicians who are looking to upgrade or want an alternative to a traditional piano.
The CGP-700 blurs the line between a digital piano and advanced keyboard. It has a full keyboard with weighted keys, but 550 built-in tones and a 5.3-inch color touchscreen display to control the keyboard's sound.
We think the CT-X700 is the overall best Casio keyboard if you want to start playing right away. It's affordable and lightweight, comes with 600 tones built in, and supports MIDI so you can record tracks and dive into music production.
References
1.
History | Corporate | CASIO
Innovative products bring joy, create new lifestyle and pave the way for related economies - especially, if they have been developed by CASIO. Experience how creativity becomes contribution.
2.
Casio Piano Keyboard: Pros & Cons of Electric & Acoustic Instruments
Find out the upsides and downsides of playing a Casio piano keyboard, and whether you should choose an electric or acoustic instrument.
3.
List of Casio keyboards - Wikipedia
Casio electronic musical keyboards were first manufactured in 1980 and continue to be made by Casio today.