The KB 5 is a great choice for beginner keyboardists because it is packed with features that allow you to get the most out of your instrument. The separate inputs on each channel make it easy to connect multiple instruments or sound sources, and the stereo effects loop and ground lift give you flexibility in how you use the amp. The KB 5 also features a headphone out with level control, so you can practice without disturbing others. The DDT defeat switch allows you to bypass the built-in speaker protection circuitry, giving you even more options for using the amp. Overall, the KB 5 is a great choice for beginner keyboardists who want an amp with plenty of features and flexibility.
The Peavy KB5 compares favorably with the Peavy KB4. Both keyboard amps have great sounds but the KB5 is bigger and pricier. However, the KB4 is the perfect keyboard amp for a practice room because its 15-inch speaker is more powerful than the two small speakers in the KB5. Also, the KB4 is lighter and smaller, thus easier to carry around than the KB5.
10
Best Lightweight
Coolmusic DM100
Features
Power: 100W
Channels: 2 x 1/4″
Speaker: 10″
Dimensions: 16.14 x 14.17 x 13.38″
Weight: 6,61 lbs.
More features: handbelt, stable Bluetooth, 3-band EQ, USB connection, 1-year warranty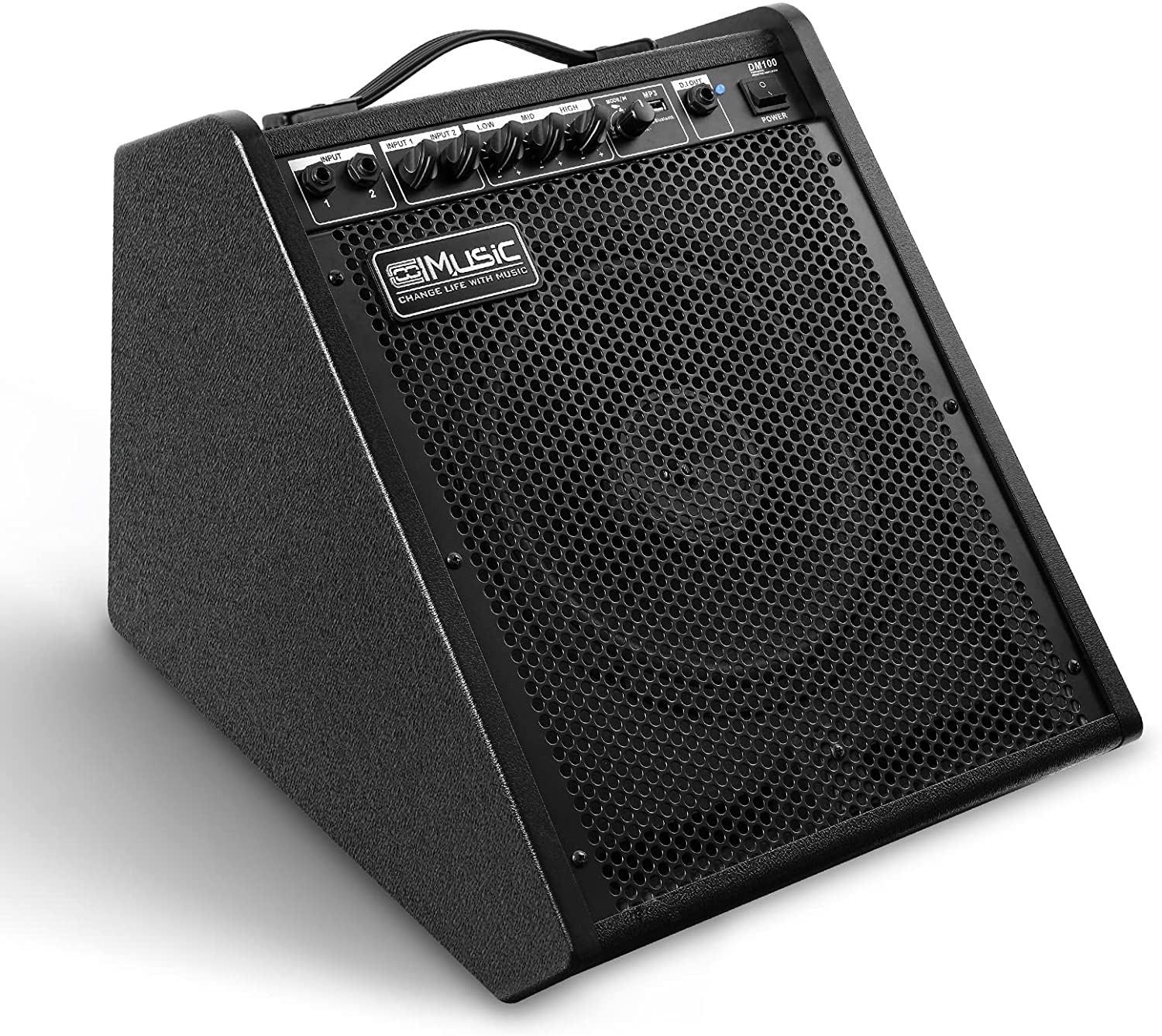 Good

Easy to control
Simple operation
Titled upwards for a seated player
Stable Bluetooth and USB connection
Multifunctional
Bad

When you switch it off, it emits a loud noise
The Coolmusic DM100 is one of the best keyboard amps on the market because it is lightweight (6.61 lbs. only), portable, and has excellent sound quality. it is packed with a lot of features that other keyboard amps don't have. For example, it has Bluetooth connectivity so you can wirelessly connect your device and play any song you want. In addition, it has a USB connection which allows you to record your performance directly to your computer. It also has two inputs that allow you to plug in two different instruments at the same time. And if that's not enough, it also has a 3-band EQ so you can shape the sound of your instrument with precision. The Coolmusic DM100 also comes with a one-year warranty, so you can be sure that it is a durable and reliable product.
Compared to other amps by Coolmusic like the DM20, the Coolmusic DM100 is a superior amp. The DM20is not all too bad, especially if you are on a tight budget. The main difference between it and the DM100 is the output wattage. The DM100 is 100 watts while the DM20 is 20 watts. Both amps have a portable design that is incredibly lightweight and small enough to carry around.
Things to Consider
Keyboard amps play a key role in any keyboard player's setup, whether they're playing gigs or just practicing at home. A good keyboard amp will make your keyboard sound its best, and it will also help you to protect your investment by amplifying your keyboard's signal so that it doesn't get lost in the mix.
If you haven't packed your setup yet, then you can check out our 10 easy-to-use MIDI keyboards or 6 best MIDI keyboards for GarageBand.
Power
At least once every musician asked himself how much power I need. The answer to this question largely depends on the playing environment. If a keyboardist plays in a large venue, they will need an amplifier with more watts to drive bigger speakers. On the other hand, if they play in a smaller venue, they will need less wattage.
When it comes to choosing an amplifier, it is important to look at the wattage specs.
Some amps are rated by their peak watts while others are rated by their continuous or RMS watts.
It is important to understand the difference between these two ratings before making a purchase.
Peak watts refer to the absolute maximum amount of power an amplifier can put out during momentary peaks. The amp will not be able to sustain this level of power output for long periods without damaging the amp.
Continuous or RMS watts are calculated using a continuous sine wave or another signal to measure the Root Mean Square (RMS) voltage at the point of stated distortion. Many believe that an RMS rating is a more realistic measure of an amp's output.
Most keyboard amps require at least 10 watts of power to function well. Some may require up to 50 watts or more, depending on the size of the amp and the number of speakers it has. Higher-powered keyboard amps are usually better able to project sound over long distances, making them ideal for outdoor gigs or other situations where you need to be heard clearly.
Speaker Size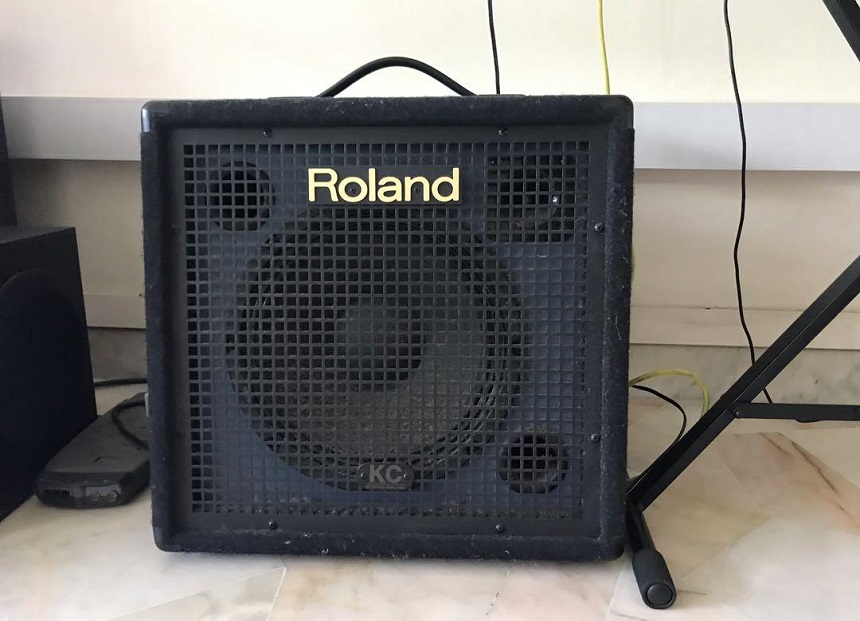 The size of the speaker in a keyboard amp is important for two reasons. First, the larger the speaker, the more bass response you will get from the amp. This is important for keyboard players who want to add some low-end punch to their sound. Second, the size of the speaker affects how loud the amp can be. A larger speaker can handle more power and will therefore be able to produce higher volumes. This is important for keyboard players who need to be heard over a full band.
Ports also play a role in determining the size of the speaker, as they help project tones beyond the range of the woofer.
The addition of a midrange horn divides up the frequency spectrum even further, potentially enhancing the output's clarity.
Higher-output amplifiers frequently include single or dual 15″ woofers for greater bass response.
Channels
Keyboard amps offer multiple channels to plug in multiple keyboards or instruments, microphones, and even stereo sources such as MP3 players and drum machines. This allows the amp to be used as a single audio source for simple performances or practice. Most two-channel models are available, and four-channel models are common among higher-powered amps.
Keyboard amps with multiple channels generally include some mixer-like features. Most include a line-level adjustment per channel and some also include channel-specific EQ controls to boost or cut various frequencies. Some also have channel-specific effects like reverb and chorus, which can be especially useful if you are plugging in a microphone along with your keyboard.
Inputs, Outputs, and Stereo Operation
Most keyboard amps have multiple stereo 1/4″ inputs for keyboards. Some models may also have a combination of 1/4″/XLR input for added versatility. Most keyboard amps also have balanced stereo XLR outputs that allow you to connect the amp to the main PA system while still using the speaker in your amp as an onstage monitor.
Some keyboard amps also have an effect send output that allows you to connect to signal processing or effects units. The processed or wet signal is then sent back through a return input and played through the amp. This can be useful for live performances or in the studio.
Tone and Effects
The tone of a keyboard amp can vary depending on the type of instrument you're running through it. For example, a guitar will have a different sound than a keyboard.
Additionally, the tone can be affected by the settings on the amp. For instance, you can usually adjust the treble and bass levels. Some amps have built-in effects, such as fuzz, overdrive, chorus, reverb, flange, and delay.
The way you use the amp will also affect the tone.
For example, if you push the speakers to their max volume with your instrument at max volume, you may blow the speaker. It's, therefore, best to avoid doing this.
Size
Keyboard amps come in a variety of shapes and sizes, from small personal monitors to large full-range rigs. The size you need will depend on a few factors, such as how many people you're playing for, what kind of venues you'll be using it in, and how much volume you need. If you're just practicing at home or playing small gigs, a smaller amp will suffice. But if you're playing larger venues or need more power for onstage monitoring, you'll need a larger amp.
Weight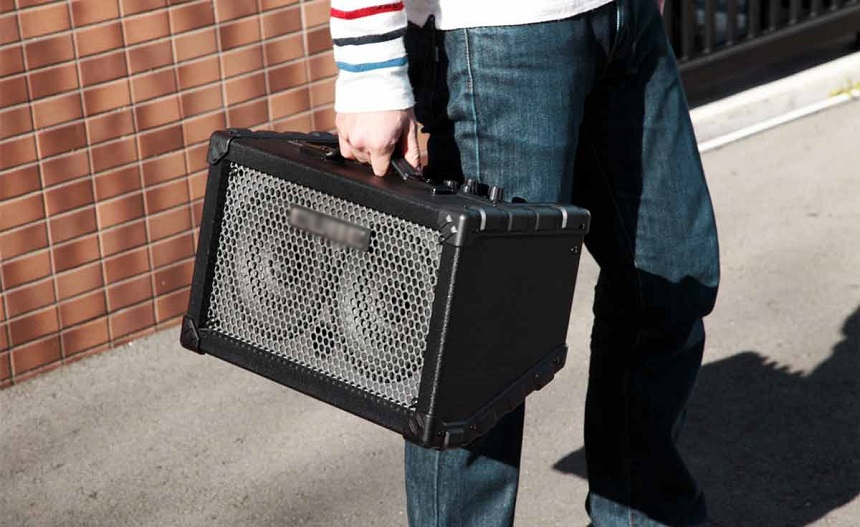 When choosing a keyboard amp, it is important to consider the weight and portability of the amp.
The weight of a keyboard amp will vary depending on the size and type of an amp.
If you plan on using your keyboard amp in different locations, or if you need to transport it frequently, then a lighter amp may be a better option. However, if weight is not a major concern, then a heavier amp may be more appropriate.
Price
There are three main price ranges for keyboard amplifiers: budget, mid-priced, and premium.
Budget keyboard amps will cost no more than a few hundred dollars and are typically designed for beginners. They offer a good entry-level option for those just starting out, but they do have limitations in terms of power and sound quality.
If you're on a budget and haven't bought an amp yet, consider checking the 7 best MIDI keyboards under $100.
Mid-priced amps fall into the range of a few hundred to close to a thousand dollars. These are ideal for intermediate keyboardists who are branching out into live performances. They offer more connectivity options than budget models and are better suited for practicing and performing with a band.
Premium keyboard amps are the most powerful and best sounding but also come at a higher price tag, usually over a thousand dollars. They are designed for advanced keyboardists who perform regularly on stage and require an amplifier that can deliver high-quality sound and withstand heavy use.
Benefits of a Keyboard Amplifier
As a keyboardist, you know that having a great amplifier is essential to getting the most out of your instrument. There are many benefits to using a keyboard amplifier, including the following:
Keyboard amplifiers provide more power than typical guitar amps, making them ideal for keyboards that require more power to produce their sound.
Keyboard amps also typically have more features than guitar amps, such as built-in effects and EQ controls. This allows you to get the most out of your sound without having to use external pedals or effects units.
Keyboard amplifiers are designed to specifically reproduce the low frequencies produced by keyboards. This ensures that your sound is clear and accurate, with no muddy or boomy notes.
Many keyboard amplifiers also come with built-in speakers, so you can practice or perform without having to worry about connecting to a PA system.
Keyboard amplifiers are typically lighter and more portable than guitar amps, making them easier to transport to gigs or rehearsals.
Tips for Getting the Best Sound
Make sure that your amplifier is powerful enough to fill the room. If you're playing in a large venue, you'll need an amp that can produce a lot of volume.
Use EQ controls to shape your sound and make it work better with the acoustics of the room.
Use built-in effects sparingly, as too many effects can muddle your sound.
Experiment with different microphone placements to find the sweet spot for your particular amplifier.
Any other options?
It's worth noting that PA speakers, like keyboard amps, are meant to create sound as transparently as possible.
Are they better than keyboard amps?
The majority of the time, a combination amplifier will be more practical. They're small and quick to set up and adjust. If you're just a soloist with only your keyboard and a vocal microphone, having more control over your entire sound might be useful. In that case, you may wish to look at a multi-purpose PA speaker or one of the innovative "tower" speaker systems.
PA speakers are designed to cover a wide range of frequencies, from the very low end up to the highest treble notes. They are also built to handle high volume levels without distortion. In contrast, keyboard amps are designed to produce a very clean, clear sound at lower volumes.
FAQ
Can I use a guitar amp for my keyboard?
Yes, you can use a guitar amp for amplifying other instruments such as keyboards or drums. However, keep in mind that guitar amps are specifically designed for guitars and may not provide the best sound quality for other instruments.
The guitar's amplifier section, controls, and speaker(s) are designed to optimize the range of frequencies in which the instrument operates. Plus, it's not very effective. As a keyboard player, you'll require a considerably broader frequency range to accurately replicate the enormous variety of synthetic sounds and tones generated by electronic keyboards.
Do I need a separate power supply for my keyboard amp?
Keyboard amps come with different power requirements. Some models may require a separate power adapter, while others may not. It is best to consult your keyboard amp's manual to see what its specific power requirements are.
If you are using a keyboard amp that requires a separate power adapter, be sure to use one that is compatible with the amp. Using the wrong power adapter can damage your keyboard amp and void your warranty.
However, most keyboard amps are powered by a standard 9V power adapter.
How do I clean a keyboard amp?
To clean a keyboard amp, you will need to:
Unplug the amplifier from the power source.
Use a soft, dry cloth to dust the exterior of the amplifier.
If there are any spots or stains on the amplifier, you can use a mild soap and water solution to clean them off.
Once you have finished cleaning the amplifier, make sure to dry it off completely before plugging it back in and turning it on.
Our verdict
The Behringer Ultratone KXD15 is one of the best keyboard amplifiers that provides plenty of power and terrific sound quality. The 4-channel stereo mixer with a 7-band graphic EQ provides all-in-one PA functionality, and the XLR input with FBQ feedback detection system accommodates any standard dynamic mic.
The Leslie Studio 12+ is the perfect combo amplifier for gigging, with its vintage tube tone and solid-state power. It also comes with a footswitch to switch between fast and slow rotor speeds, making it even more versatile.
The Donner DKA-20 is a go-to keyboard amplifier for those on a budget. It provides an explosive tone with intuitive controls and is versatile enough to be used for practicing or jamming along with your favorite tracks. The hard material surrounding the edge of the amplifier protects it from damage, and the rubber pad keeps it stable and safe.
References
1.
Keyboard amplifier - Wikipedia
A keyboard amplifier is a powered electronic amplifier and loudspeaker in a wooden speaker cabinet used for amplification of electronic keyboard instruments.
2.
Peavey KB 5 Manuals | ManualsLib
Peavey KB 5 Pdf User Manuals. View online or download Peavey KB 5 Owner's Manual.