Last but not least is the Alesis V25. This model is undoubtedly one of the best of its kind on the market today and comes from one of the most reliable manufacturers of MIDI keyboards on the market. It comes with several nice features, including 25 mini-keys and drum pads that are velocity-sensitive. In addition, the manufacturer has added some useful software in the package.
You get up to four assignable buttons and knobs, as well as modulation wheels. It is easy to use on the go and even in low light conditions as the buttons are illuminated.
7
Best with Full-Size Keys
Midiplus i61
Features
Keys: 61, full-size, sensitive
Controls: pitch, modulation, Data Entry wheel, MIDI/Select mode toggle
Connectivity: USB-MIDI
Dimensions: 36.2 x 2.9 x 8.5 in
Weight: 6.6 lbs
Other features: 2x MIDI out; USB bus-powered; optional sustain pedal can be connected

Good

This model is a large, 61-key model that gives you more playing options. It is affordable, easy to play and great for beginners.
If you have been following so far, you will discover that most of the models that we have reviewed that come at this cheap price come at smaller sizes. The number of keys ranges from 25 to 32. Well, the Midiplus is an exception and is one of the biggest sub-$100 MIDI keyboards that we have considered. This model comes with up to 61 keys, which makes it larger than your average model that we have reviewed.
Large means that it is only a pair of octaves from the traditional piano. Since it comes at such a large size, there are some compromises. For example, it does not have any drum pads and controls like faders or knobs. It only has a few buttons.
However, it makes up for this by the number of keys. These come with a synth action and will be very nice to play. While they aren't the most responsive models, they are excellent and will do the things you want them to do.
Fortunately, you get some wheels as well as good connectivity options. At this price, the features are just too good to ignore, and it deserves a place on our list.
Things to Consider
The review section above had us considering seven of the best MIDI keyboards under $100. These seven are the best ones that you can buy right now and are a way for you to narrow down your options. You might be looking to buy your MIDI keyboard which might not be any of the options that we discussed. To make the correct buying decision, there are some important things that you need to know. In this section, we consider all of the important factors to consider. This will assist you to make the correct buying decision.
What to expect from a MIDI keyboard under $100?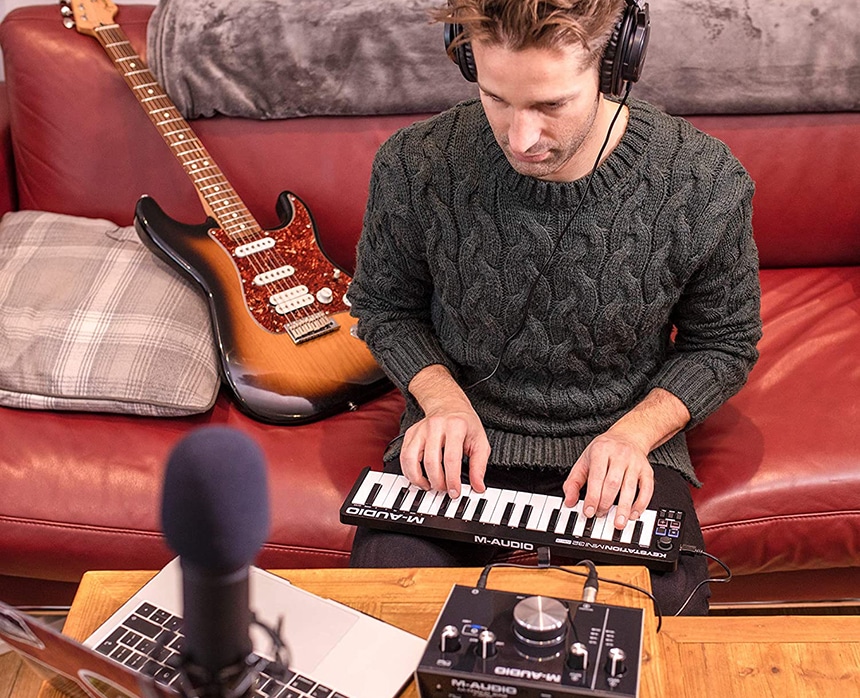 In the past, choosing the best cheap MIDI keyboard used to be hard and was limited to very few products. But due to the increase in technology, more competition, and other factors, you can have more options to select from that ever before. Therefore, you might be confused about which of the models to buy.
When you are buying a budget MIDI keyboard, you have to keep in mind that you will not get the same level of performance as what you'd get from more expensive models. The smaller budget means that compromises need to be reached. Some of the things that the lower price will have to do away with might be:
An inferior keyboard
Fewer keys
Fewer sliders and knobs
Fewer integrations
If you are looking for a cheap MIDI keyboard, you are likely one of the following:
Someone who is just starting to play the keyboard and is looking to buy their first keyboard
An experienced player looking to have a backup or secondary keyboard
You want an affordable keyboard that you can carry around with you.
We have indicated that you have to compromise on some features when choosing a budget MIDI keyboard. However, it is still possible to have a good quality keyboard even if it comes at a very low price. All of the models that we have discussed in our review fall in that category.
Features to consider before you purchase a MIDI keyboard
In this section, we have a detailed consideration of the features to look at when you are making your buying decision.
Control sets and options
There are three main types of MIDI keyboard on the market and your choice will fall into either of the categories.
Key-only controllers – This is the first type of keyboard. As the name implies, it does not come with any control options and is solely composed of a keyboard. This means that you don't have the knobs or sliders. If you are looking to plat melodies and chords you will need this type.
Pad-only controllers – This next type of controller comes with only pads. While they might come with knobs and sliders, the main focus is on the pads. This type of keyboard is excellent if you play the drums or you want to launch clips. They are useless for playing chords or melodies.
Keyboard-pad hybrid controllers – The last type is the most popular type of controller. It is a combination of the pad and the keys. The number of keys depends on the model with some as low as 25 and as high as 88. They also come with pads, with some models featuring up to 8 pads. An example is the AKAI Professional LPK25.
Your choice will largely depend on what you plan to create with the keyboard.
Keys
When choosing your keyboard, the keys and their quality are important considerations. There are some important things that you should consider in this regard.
The number of keys that the model has will determine the size of the model. There are different models on the market and you have a wide variety of key options. Some of these are 25, 49, 61, and 88 key options. Examples of these include Midiplus 61-Key MIDI Keyboard and Alesis VMini Portable 25-Key USB MIDI. Aside from these, there are some more obscure numbers. An example is Midiplus AKM320 with its 32 keys.
Due to the number of keys, you have MIDI keyboards available in different sizes. Therefore, consider important questions like:
How much space do I have?
Do I plan to play with both hands or just one hand?
Will I be taking the keyboard on the road?
These questions will determine the model of keyboard that you buy.
Key action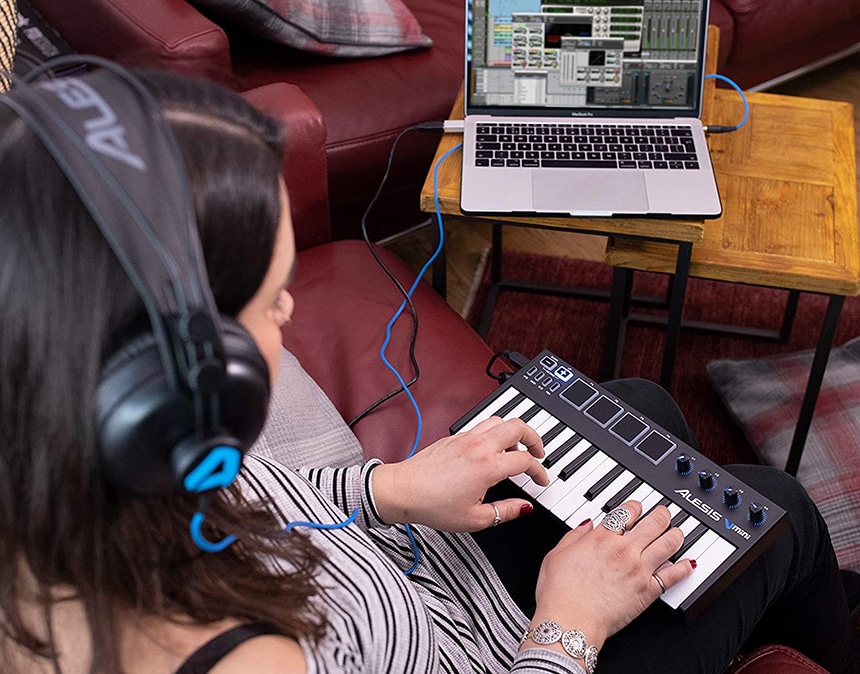 The key action is another very important consideration. This will further determine the type of model that you buy. There are three main types of key action. We will discuss them in detail in this section.
Synth action
The first type of synth action is a popular one, especially in budget MIDI keyboards. This type of action uses a spring mechanism to ensure that the keys return to their initial position after you have pressed them. The feeling varies from player to player, and many have remarked about how quick it feels to the touch and the linearity. An example is the AKAI Professional LPK25.
If you have never used a real piano, this is great for you. If you have ever played on an acoustic version, though, you might not like the cheap, unauthentic feeling that you might get with it.
Semi-weighted action
This next type of action feels more authentic than the synth action. It is a combination of springs and light weights at the end of each key. The result is that the keys do not immediately bounce back to their initial position. Some of the models that we have reviewed and that are loved by many users come with a springy action that you get from synth action. It combines this with a heaviness that is similar to what you get from a real piano.
This type of action is great for all users regardless of their experience level.
Weighted Hammer Action
The last type of action is the most similar to the action on an actual traditional piano. It is not for beginners but for folks that have been playing the acoustic guitar for a while. It feels heavier and the lower keys have a certain heft over the higher keys. It is often found on high-end MIDI keyboards.
Integration
Regardless of the model that you buy, you will have to use it with plugins and software. The models that we have reviewed are all simple to play. But you should note that some are better at integrations than others. One of the best in this regard is the Xkey 25 USB MIDI Controller.
FAQ
What is aftertouch?
Aftertouch is a feature that allows you to add effects to a key by pushing down harder after pressing the key. If you are looking for more versatility to your playing, look for models that have the after touch feature.
What DAW do I need for my MIDI keyword?
There are some handy and popular DAWs. Some of the best are Logic Pro and Ableton. These are required for your MIDI keyboard.
What's the difference between a MIDI controller and hardware synthesizer?
The synthesizer is what creates sounds. The MIDI controller on the other hand works to manipulate the created sound. They do not make any sounds of their own.
Our verdict
Every good studio setup needs the right keyboard. If you are looking for a keyboard to buy without breaking the bank, the options that we have reviewed are great for you. The AKAI Professional LPK25 is our top choice and is great for getting your feet wet in the world of MIDI keyboards. It is compact and easy to use. The M Audio Keystation Mini 32 MK3 is a compact unit with excellent features and offers the best value for money. It comes in a simple design and boasts of assignable controls.  For those that want a mini model, the Xkey 25 USB MIDI Controller is the best bet. This model is a stylish 25-key product that's perfect when portability is a deciding factor.
References
1.
Learn how to play 12 essential chords on your MIDI keyboard | MusicRadar
Majors, minors and more
2.
5 Things You Need in a MIDI Keyboard Controller - Roland U.S. Blog
Consider these five tips for helping you choose the right MIDI keyboard controller for you. Live or Studio use?