The Yamaha brand is well-known in the music industry for manufacturing quality instruments enjoyed for generations. The Yamaha YPT-260 is a lightweight, portable performance keyboard ideal for pianists of every skill level. It features a PA130 power adapter, 130 auto-accompaniment styles with four hundred voices, backing tracks, and 112 onboard songs.
Whether you are looking for a quality keyboard for beginners or to take along on gigs, this would be an excellent choice. To help you learn more about this product, we have put together a Yamaha YPT-260 review and buyer's guide. Here we will discuss the many features of this keyboard and other qualities that we hope will help with your purchase decision.
Specifications
| | |
| --- | --- |
| Number of Keys | 61 |
| Polyphony | 32 |
| Accompaniment Styles | 130 |
| Sounds | 400 |
| Onboard Songs | 112 |
| Dimensions (in.) | 42.1×16.9×6.6 |
| Weight (lbs.) | 12.12 |
| Warranty | One month |
This product's also been included into these rankings:
Review
If you are looking for a quality keyboard but do not want to invest hundreds or thousands of dollars into an instrument, the Yamaha YPT-260 is an excellent option. It includes four hundred voices, 130 accompaniment styles, backing tracks, a song bank with 112 songs, and much more. The songs included range from traditional classics to fun songs that kids will love to learn to play.
Here are some of the outstanding features that we love on the Yamaha YPT-260.
Overall performance and design
The Yamaha brand uses only the finest materials to make their musical instruments to ensure they play at the highest quality. This keyboard is made of very hard and durable plastic material. It encases all the internal chips as well as ports and the computer inside. Therefore, it will survive a few hits or drops if an accident occurs.
Number of keys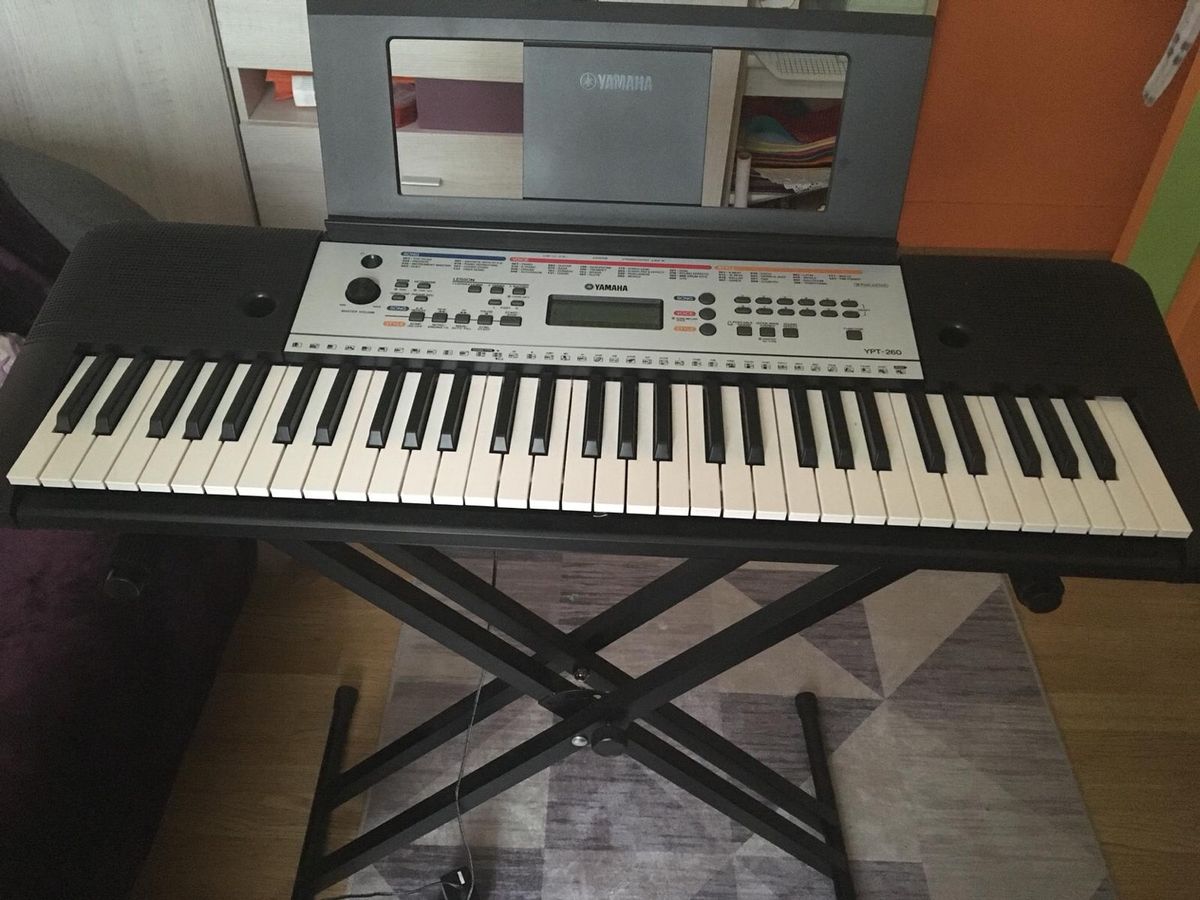 It includes a variety of right-hand buttons where the user can access various songs, voice edits, and styles. These buttons make it easy to choose the keyboard's preset features or scroll through them to find the feature you wish to use.
Next to the larger buttons are a series of number keys. These give the user more control over the hundreds of features they can use and incorporate into their unique songs.
Several preset buttons with labels such as Ultra-Wide Stereo, Portable Grand Piano, and Sound Effects.
On the left-hand side of the keyboard, you will find a metronome feature, phrase recording, song and style buttons, and a tempo/tap button, as well as the volume knob. The song and style buttons allow you to have control over the song while replaying it. You can rewind, sync, start, pause, or fast forward to get the desired result.
Polyphony
This Yamaha keyboard has thirty-two notes of polyphony. The number defines how many notes a user can play at the same time. Based on the price of the Yamaha YPT-260, a 32 note polyphony is considered above average. But because the keyboard does not feature any advanced layering, you will likely never go over 32 notes while playing it.
Accompaniment Styles
This keyboard features 130 accompaniment styles which are a great addition to the instrument. That allows you to play a broad range of genres such as Funk, Rock, Pop, Blues, and many more. It is exciting to play and experiment with different genres, especially if you play just one type.
Sounds
When it comes to sounds, this keyboard can do it all. It provides you with four hundred voices that you can use to create your own unique tracks. Along with the included 130 accompaniment tracks, this Yamaha keyboard also consists of 112 songs to enhance your experience.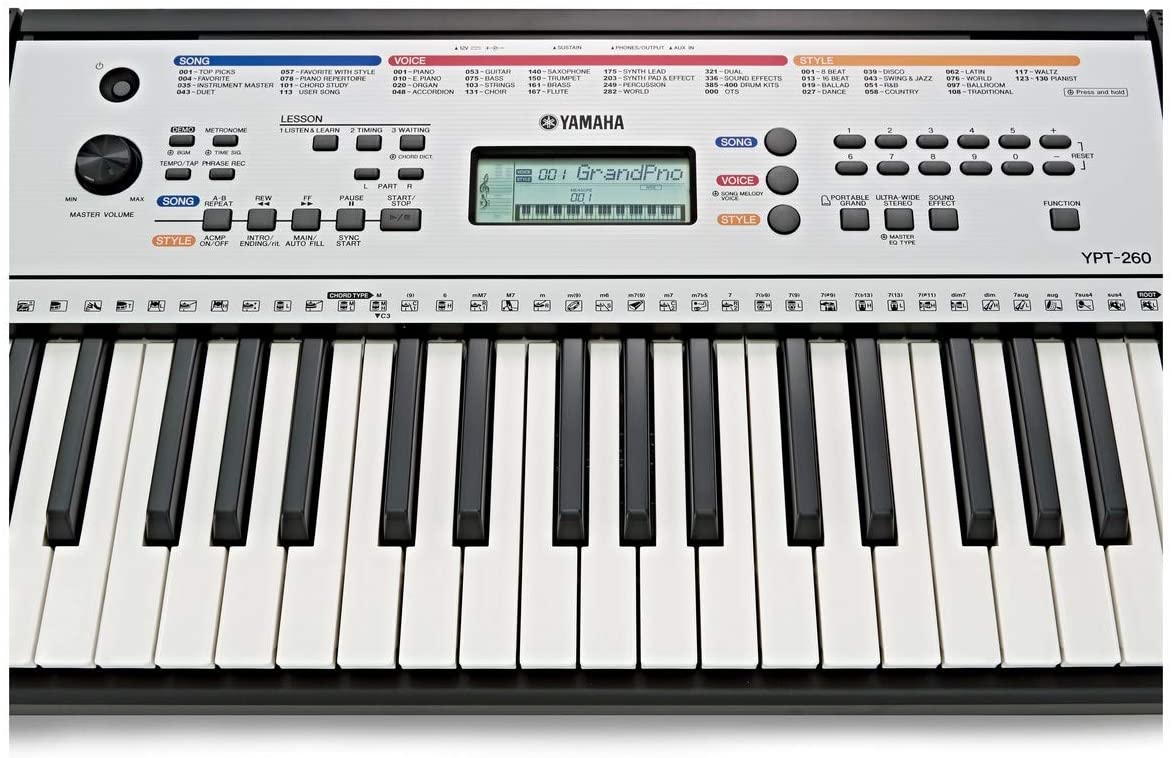 With this YPT-260 keyboard, Yamaha included the AWM Stereo Sampling sound engine. AWM stands for Advanced Wave Memory. It is a unique sampling system you can use in the soundbank. Included in the four hundred sound libraries are sixteen drum and sound effect kits.
Onboard Songs
This Yamaha keyboard includes 112 songs that are great to jam along with or incorporate into your own unique tracks. Several different genres are available, allowing you to experiment and practice new types of music, all with one convenient instrument.
Dimensions and Weight
The dimensions for the YPT-260 are 42.1×16.9×6.6, and it weighs 12.12. This lightweight keyboard is easy to transport from one location to the next and does not take much space.
Ways of Using
The Yamaha YPT-260 is a versatile keyboard you can use in many ways. It is a great affordable instrument to purchase if you are interested in starting to play it Trusted Source Why taking up an instrument has struck a chord for so many One report says a million people across the UK have taken up a musical instrument since the start of the pandemic. www.bbc.com . It is also an excellent first keyboard for kids and teens to use and experiment with. Even though it is affordable and easy to use, this keyboard is still an excellent choice for experts. It includes many impressive features that are sure to delight and inspire keyboard players at every level.
Cleaning
You should always use caution when cleaning any type of musical instrument. One way to clean this and other keyboards is to use a cleaning solution of liquid soap and warm water. Using a damp piece of cloth, gently rub the white keys. It is a good idea to go over each key with the cloth. Doing so will help remove any surface dust and fingerprints. To clean the black keys, you will want to use a different cloth dipped in the same solution. Make sure there is not too much moisture on the cloth. Clean each black key one by one and along the sides.
Ease of Maintenance
Keyboards require very little maintenance. The main thing is to keep them protected from dust and dirt. To do this, you will need to clean the surface of the keyboard and keys regularly. You should avoid using any cleaning wipes or agents with harsh chemicals that could cause harm to your keyboard.
Warranty
Most keyboards manufactured by Yamaha come with a limited 1-year warranty. That is in addition to any warranty that is offered by the retailer you purchased the keyboard from.
Price Tag
The Yamaha YPT-260 is an affordable keyboard typically priced at around $100 or less. It costs less than other keyboards with similar features, such as the Alesis Melody 61 MKll which retails for $119, or the Casio CTK 2550 PPK that retails for $123.
Other Features
There are several other impressive features included on the Yamaha YPT-260 that are worth mentioning.
Yamaha Education Suite
This Yamaha keyboard comes with educational content provided by the Yamaha Education Suite. That is a built-in learning aid that features an intuitive nine-step lesson function. It allows beginners to learn how to play Trusted Source Washingtonpost.com: WashTech Music's Piano Discovery System shows, computer teachers are only smart enough to tell you're playing wrong notes. www.washingtonpost.com  basic tracks directly from the keyboard itself.
Audio Input and Output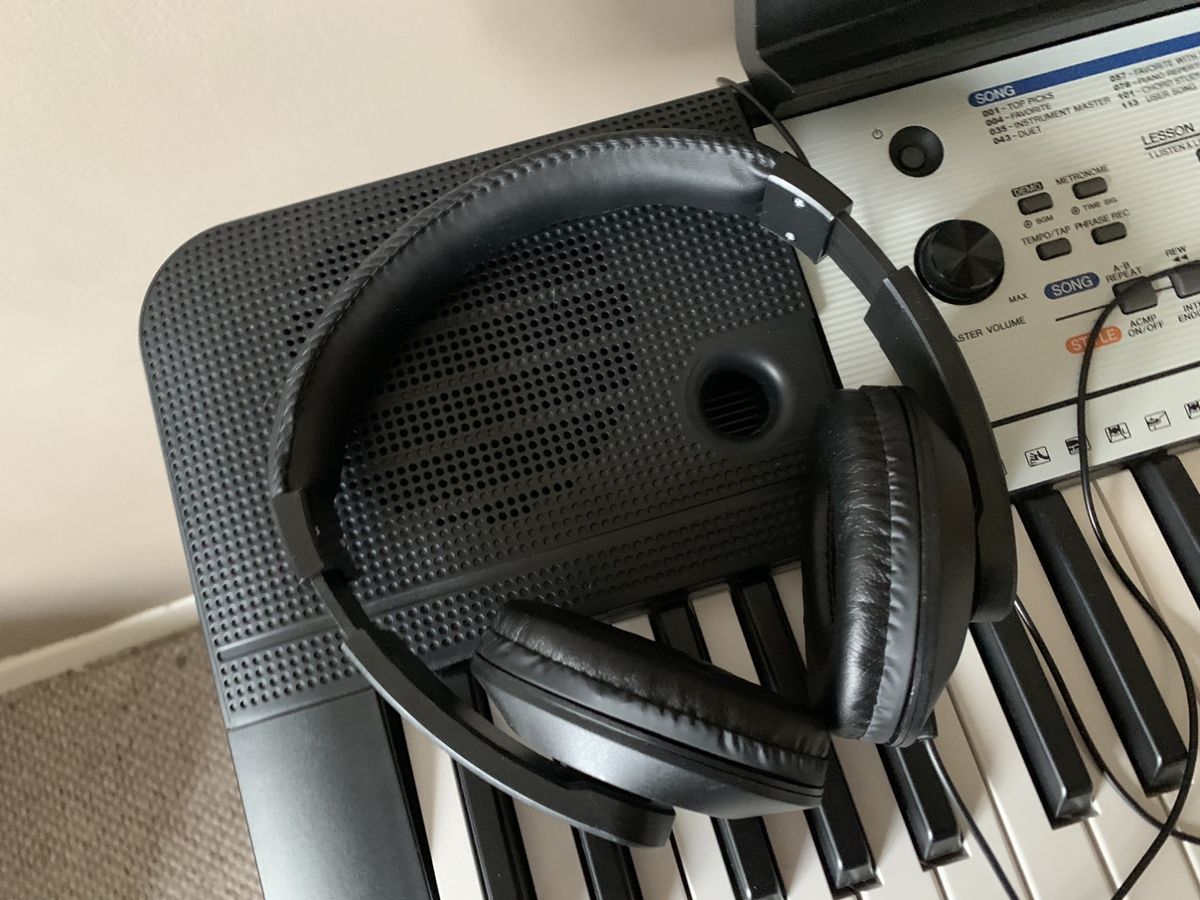 The YPT-260 has a standard headphone jack that allows you to play and practice without disturbing anyone else. It also features an audio input in the back that makes it possible to play songs using a phone, tablet, or computer. The aux connection transforms your keyboard into a speaker system where you can play your favorite songs. You even have the option to record yourself on it as well.
Sound Effects
Some of the effects you can use on this Yamaha keyboard include chorus, master EQ, reverb, and ultra-wide stereo. Because this is a smaller keyboard, the included nine reverb types can be beneficial.
There are also five chorus types included as well as three ultra-wide stereotypes and six equalizers. By taking advantage of all these sound effects, you have all you need to create an innovative and personalized track.
Metronome
This keyboard features a built-in metronome that is capable of playing tempos from eleven up to 280. When you have the chance to play along with a metronome, it will improve your internal rhythm that is essential no matter what music genre you are interested in playing.
Transposition Tuning
This keyboard allows you to transpose either up or down twelve half-steps. This feature makes it possible to play songs in different keys without learning them all over again. If you originally were taught a song in the key of C, you could then play it to F by transposing it up a few half steps.
What is in the Box?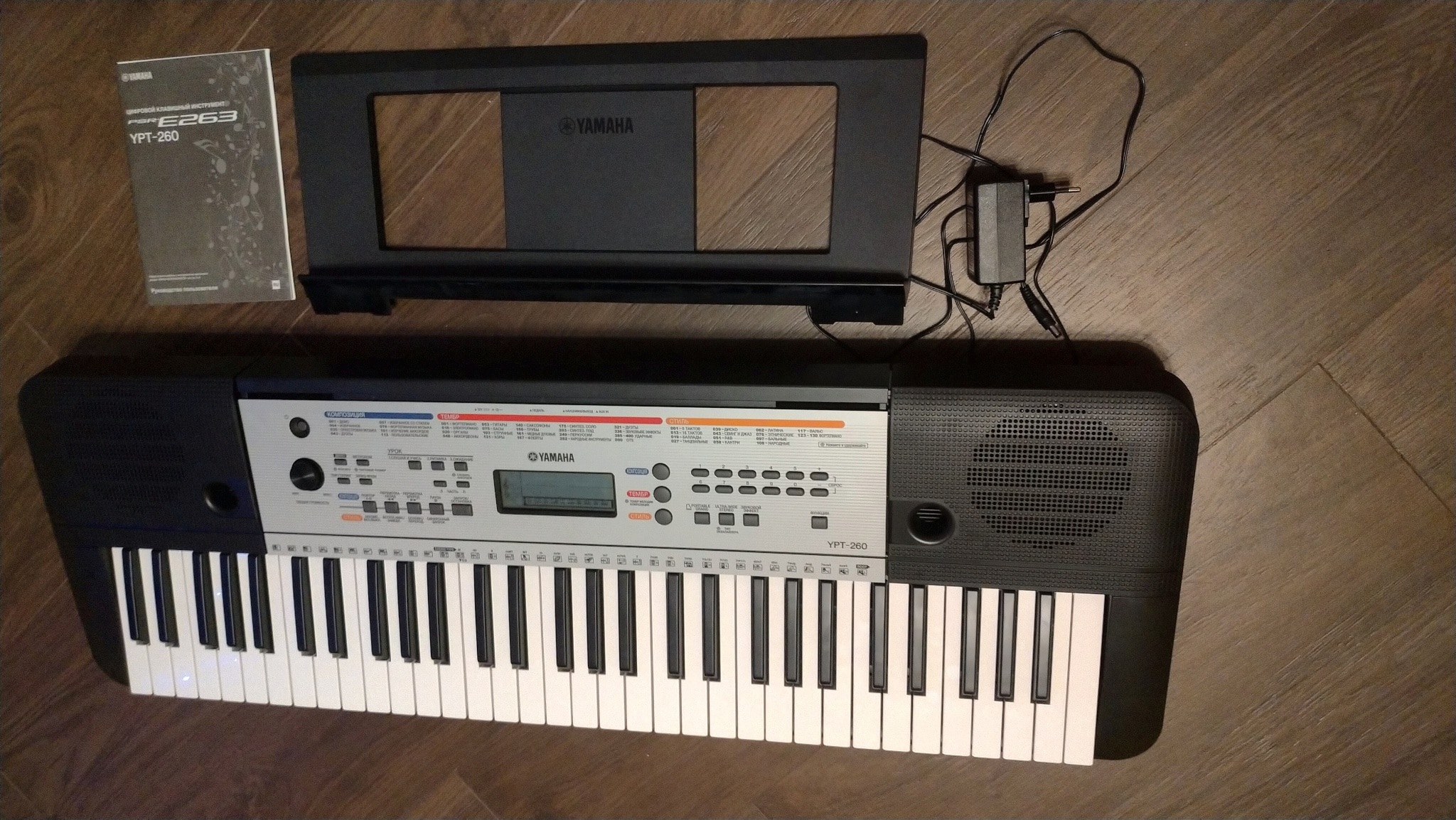 The Yamaha YPT-260 comes with an instruction manual, power cord, a music rest, and a form for online product registration. The keyboard does not include a sustain pedal. It also does not include a stand. Therefore, you will need to purchase separately if needed.
PROS
CONS

Inexpensive
Lightweight
130 accompaniment backing tracks
400 tones built-in
Features the Yamaha Education Suite
Music Rest included
Recording feature
LCD Display
AWM Stereo Sampling
Reverb, chorus, and EQ sound effects

The keys are non-weighted
There is no USB connectivity
There is no MIDI connectivity
It does not come with a stand
Conclusion
We like the Yamaha YPT-260 keyboard because it includes many features at an affordable price. Therefore, we would recommend it to anyone looking for a quality keyboard that is compact, lightweight, and inexpensive, but still has plenty to offer. While it is not a full-size keyboard, it still packs a powerful punch with hundreds of sounds and songs to implement into your creative tracks. And the added Yamaha Education Suite offers a quality learning experience that makes it easy for beginners to learn Trusted Source Learn to play piano virtually with this online course that listens to you playing | CNN Underscored Learning to play the piano is an intimidating but achievable goal, especially if you pair that goal with an online course. us.cnn.com  basic songs or improve their skills. You can count on the Yamaha brand to create high-quality instruments that work well for any budget.
The Yamaha YPT-260 is a compact keyboard with a lot to offer both beginners and experts. This keyboard is an affordable and lightweight option loaded with features that will help you create fun and unique music tracks.
References
1.
Why taking up an instrument has struck a chord for so many
One report says a million people across the UK have taken up a musical instrument since the start of the pandemic.
2.
Washingtonpost.com: WashTech
Music's Piano Discovery System shows, computer teachers are only smart enough to tell you're playing wrong notes.
3.
Learn to play piano virtually with this online course that listens to you playing | CNN Underscored
Learning to play the piano is an intimidating but achievable goal, especially if you pair that goal with an online course.