Music is life. Just think about how boring the world would be if you didn't have access to music. While there are some instruments that are easy to move around, such as the flute, if you get into larger instruments, like the piano, you can quickly find yourself with a problem. The solution, of course, is a portable keyboard.
In our Yamaha PSR E373 review, we will explain what makes this instrument so unique and versatile. We'll highlight all its amazing features and explain who would most benefit from its purchase. Our aim is to help you understand if this keyboard is right for you. And if it's not, we'll offer a few alternatives for your consideration. Let's dive in and examine the Yamaha PSR E373 a bit more closely.
Overview
We want to show you what you can expect from the Yamaha PSR E373. Below are some important features to be aware of when going through your purchasing decision.
Yamaha PSR E373 Overview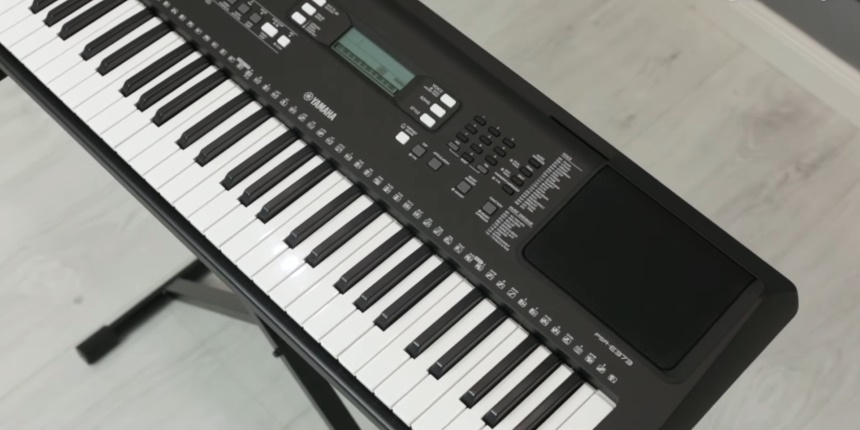 We want you to have all the important details about the Yamaha PSR E373 so that you can decide if this is the keyboard for your needs. We've broken down the features into categories surrounding design and performance. This way you'll be able to see what they keyboard is capable of and if it will fit your lifestyle.
There are also two extra keyboards you can consider. We've compared the Yamaha PSR E373 with these two other options in order to give you more ideas for your future musical endeavors.
Price
One thing you will quickly find out from our Yamaha PSR-E373 61-key portable keyboard review is that it is an affordable option. While you still may have to save a little bit for it, you can still find room in your budget. Furthermore, if you are looking for a large birthday or Christmas gift for your child, then this can fit into that realm. There are many studies that have shown that early exposure to music Trusted Source Importance of Music In Life Music plays a very important and vital role in the lives of the people. We can work, shop while hearing the music. According to some Archaeologist, music came into existence over 55000 years ago. edtimes.in is important for kids and giving them access to instruments is a great way to unlock their learning potential.
The Yamaha PSR E373 retails for just under $300. However, you can often find it for sale for even less. We recommend bookmarking the keyboard and signing up for newsletters to see if there is a sale on. And, if you wanted even more good news, there is also a payment plan available. If you need to save up for this keyboard but just don't want to wait, you can still purchase it and qualify for the website's financing plan.
If you do purchase the Yamaha PSR E373, you will be pleasantly surprised that it comes with free shipping. This is an added benefit and can save you quite a bit of money. The keyboard is packaged safely and will ship in just a matter of days. There's nothing better than getting a new toy delivered right to your front door.
Right now, you can order this keyboard but do keep in mind that like most electronics, it has a computer chip in it. There is currently a chip shortage around the world Trusted Source Why is there a chip shortage? Today, millions of products – cars, washing machines, smartphones, and more – rely on computer chips, also known as semiconductors. www.bbc.com , so electronics can quickly become out of stock due to supply chain issues.
Design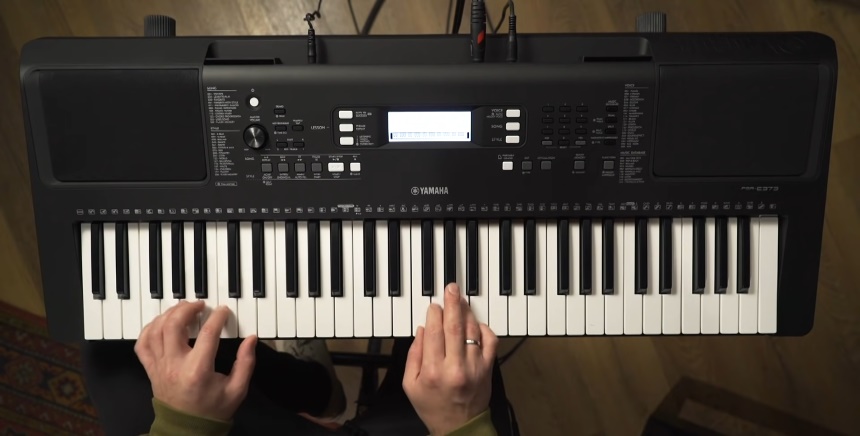 Overall, the Yamaha PSR E373 has a really nice design. It is easy to use and the controls make sense. Like a standard keyboard, you have the keys, of which there are 61, at the bottom, and then the various controls are all at the top. Everything is well within reach of your arms so you don't have to strain to record your music.
The keyboard might be a bit large for children but as they will grow as they use it, it is still a good board to start with.
As for the dimensions, they are 37.1 inches by 14.5 inches by 4.6 inches. These dimensions are pretty standard although can find slimmer keyboards if you want to pay a premium price. Still, it can easily be stowed away in a closet or under a bed when not in use. Just be sure to put the top on first to keep it protected.
The top part of the keyboard comes with a music stand that folds down when not in use. This is a nice, convenient aspect to it. There is also one pedal to help sustain your notes.
Keyboard
With the Yamaha PSR E373, you get 61 keys. This covers five octaves which is perfect if you are into contemporary music such as pop, rock, or folk. However, if you want to focus on classical music, then a keyboard with 88 keys will be more beneficial.
One of the reasons the Yamaha PSR E373 only has 61 keys is that this lightens the overall weight and thus increases its portability. More keys means more space, which equals more weight.
Before you purchase the Yamaha PSR E373, you should consider what you need it for. If you think you will want more octave range at a later date, then it might be better to go with an 88-key keyboard as this will save you time and money in the future. However, if you have previous experiences with keyboards and know that five octaves is all you need, then the Yamaha PSR E373 is a worthy consideration.
Connectivity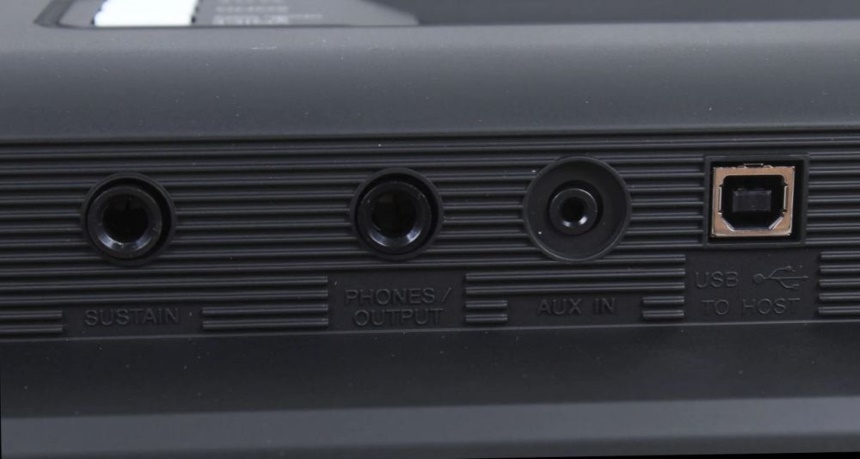 When you want to transfer your music from your keyboard to your computer, you simply need to use a USB cable. It's best to get used to always having this plugged in, especially if you are in the middle of a jam session. Then, you don't have to worry about constantly transferring your music over to free up space on the keyboard.
The connectivity also allows you connect to your digital audio workstation which will give you even more options for your music.
Weight
When you are considering a portable keyboard, weight becomes incredibly important. After all, you want to be able to move the keyboard around with you, either within your home, off to practice, or to an important gig.
The Yamaha PSR E373 weighs just 10.1 pounds which, in our opinion, is a pretty reasonable weight. One person can easily hold it and move it around.
This weight is every practical if you have a child that is using it. So often, piano practice is at somebody else's home and if you can easily move your keyboard with you, it makes the whole experience a lot easier.
While you wouldn't want your child to simply walk around with the keyboard tucked under their arm, they can indeed move it around and not worry about the weight becoming too much.
Performance
As great as a keyboard looks, if it doesn't perform well then it is just a toy. There are certainly more advanced keyboards on the market but if you want an affordable keyboard that still works well, then the Yamaha PSR E373 won't disappoint.
Sound
Sound is key with a keyboard. If you aren't able to produce crisp sounds, then there is no point in using your current model. The proof of the sound quality is with past users. With unanimous rave reviews, everyone who has used the Yamaha PSR E373 states that its sound quality is impressive.
You don't have to worry about static, off-pitch notes, or blended tones. Instead, what you play and what you sample will be clearly represented in the final product.
Speakers and Amplifiers
There are two built-in speakers with the Yamaha PSR E373. They are a standard 4.7 inches in diameter and offer 2.5W per side.
While the Yamaha PSR E373 keyboard won't win any awards with their speaker output, they are still completely sufficient for most people's needs.
If you live with other people, you can simply plug your headphones in and contain the sound so as to not bother anyone.
Modes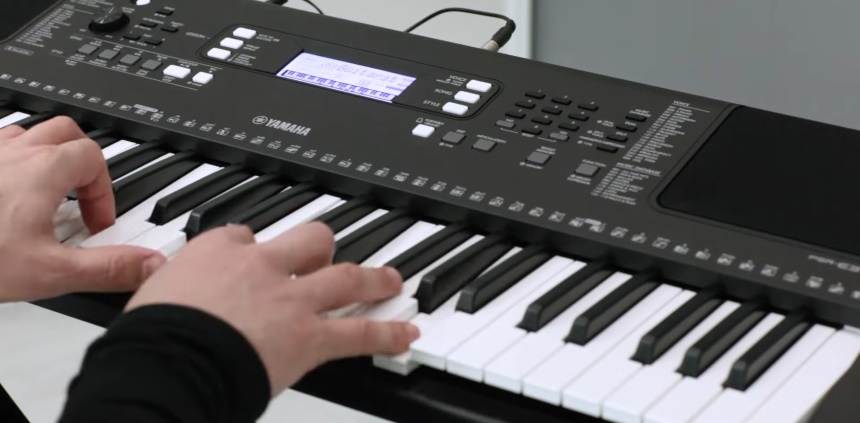 Everyone has their own style of playing the keyboard so being able to select the touch sensitivity is an important consideration. The Yamaha PSR E373 comes with four keyboard modes, including soft, medium, hard, and fixed.
If you like to pound the keys, then a hard mode is necessary so you can really get every note nice and crisp. If you want to subtly play sounds and even layer them, then a soft mode will work well. You can gently pick away at notes and even with the smallest amount of pressure, the keyboard will sense it and record it.
While everyone, both old and young can use the Yamaha PSR E373, it has some pretty neat features for beginners. For starters, you can actually split the keyboard in half and change the octaves so that there are two middle Cs. Then, you can play on one half and your instructor can play on the other. It is a very convenient way to learn the piano and you don't have to worry about the extra hassle of finding another keyboard.
Those wanting to learn can also take advantage of the Touch Tutor mod. This will analyze your keystroke velocity. Then, you can better learn about keyboard dynamics. Those that are trying to learn on their own, or who just want to improve their skills, will greatly benefit from this mode. If you are an adult and are looking for more options, consider this list of the best beginner keyboards for adults.
Recording and playback
The beauty of any electric keyboard is that you can layer songs and record your mixes. With the Yamaha PSR E373, you not only can produce your own tracks but you also have access to 154 preset songs. You can sample their beats, get inspiration, or just have fun experimenting.
Recording is simple as you simple press the record button and go to town. Again, because there are a lot of options, it might be a bit overwhelming at first. We suggest using a bit of patience to get the order of operations down so that you can figure out what all the controls do. However, this is part of the process of learning to use a keyboard and can be pretty fun to do.
The Yamaha PSR E373 can record fives songs with a two-track capacity. However, you can use the USB cable or slot to transport your creations to your computer. This can be a bit of a hassle but the extra step will soon simply become part of the process.
As for length of your recordings, this is marked in notes. You can record a total of 10,000 notes with the keyboard before you have to transfer your music to a computer to free up more space. This should be enough to let your creative juices flowing.
Controls and ease of use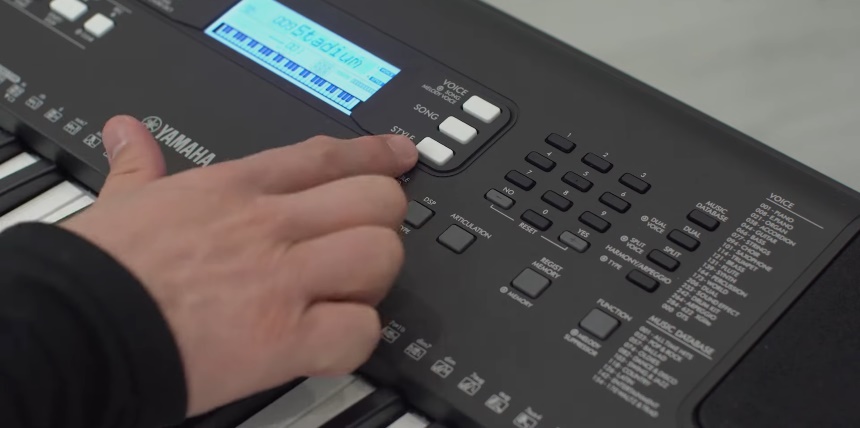 The Yamaha PSR E373 is marketed as a beginner-friendly keyboard. Its controls are fairly easy to use although we do suggest taking a good look at the instruction manual first. If you get stuck or want to see what else the keyboard is capable of, there are plenty of online videos you can watch.
All of the controls for the Yamaha PSR E373 are at the top and in a nice stylistic touch, they are clearly labeled. Sometimes keyboards expect you to be intuitive with the controls, which isn't fair to beginners.
The master volume control is a large dial that is easy to spot and manipulate. Then there are six standard buttons underneath this that allow you to play, pause, rewind, and fast forward recorded tracks. We would have like the record button to be a different color as it looks like the other ones next to it, but if this is confusing you can always add a colored sticker on it.
What's really handy about the controls is that there is a list of numbered styles along with their corresponding tempos. This cheat-sheet means you don't have to constantly refer to the user manual when selecting different song styles.
On the other side of the control panel, you will find the number pad that allows you to add these styles. The controls are a bit more complicated in this section so we suggest playing around with them and experimenting. You might not take advantage of all the options at first, but over time you can build them into your repertoire.
Accessories
Unfortunately, the Yamaha PSR E373 does not come with any accessories. This can either be a positive or a negative, depending on your perspective. For positives, it means that the price is lower as you aren't paying for any extras. So often, accessories that come with an initial purchase are not the best quality, so there is a good chance you have to replace these at some point, anyway. You may also already have extra accessories.
However, if you are a beginner, it is nice to have bonus accessories in a purchase. They allow you to discover what possibilities they are and for you to play around and practice. Sometimes bundles in a purchase are more cost-effective, so it would have been nice if this were an option.
Warranty
There are a lot of components with a portable keyboard. A lot of technical aspects go into this device to make sure it works. As such, you want some peace of mind that it won't suddenly break as you excitedly play.
The Yamaha PSR E373 comes with a two-year warranty. This warranty offers total coverage in those first two years which is very impressive. If anything breaks with the keyboard, if any of the notes suddenly sound-off key, or if any of the electrical components stop working, you can rest assured that the company will fix the issue.
Simply contact the company if there is an issue. Their customer service is prompt and understanding. A fix might be offered and if this isn't successful, you might even get a total replacement. Be sure to contact the company with any issues as they arise as you don't want to be stuck outside the two-year window with a broken keyboard.
Key Features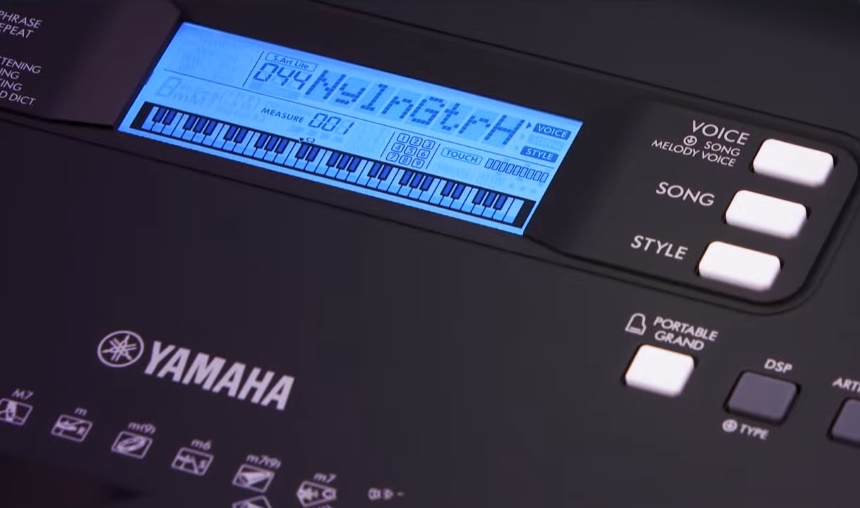 61 keys include 5 octaves of notes
Touch Tutor is great for self-teaching and will analyze your playing dynamics
You can practice pre-set songs thanks to the Yamaha Education Suite
Access to 622 voices and musical instruments to sample from
Able to split the keyboard into Duo Mode so you can easily learn from someone next to you
Who Should Get This Digital Piano?
The Yamaha PSR E373 definitely caters to a certain category of music lovers. While everyone who plays the piano can get something out of this keyboard, by far the people that will benefit the most are beginners. Whether you are child or an adult, you can have a lot of fun learning the piano from this keyboard.
You can easily split the keyboard so that two people can play the same notes on the keys, which will help with side-by-side learning. You also have access to keystroke analytics so you can perfect your playing.
And, while you will eventually want to create your own music, you should first have a basic understanding of how to play the piano. You can use the keyboard's Yamaha Education Suite for this. It will allow you to practice a number of songs so that you can master your keystrokes and understand the rhythm behind songs.
Alternatives
Just in case you want a few more ideas for a keyboard, here are two other options.
Alesis Harmony MKII vs Yamaha Psr E373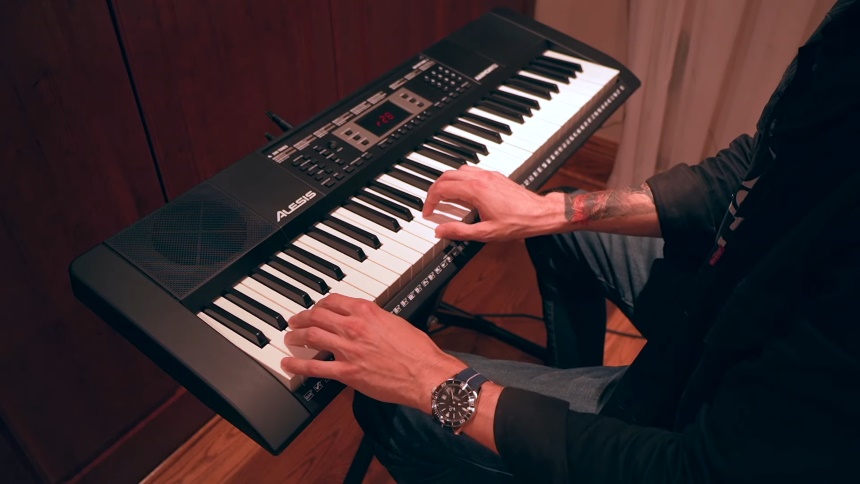 At almost half the price of the Yamaha PSR E373, this alternative is more affordable and thus might be a better option for children. It is also a 61-key keyboard and while it has some great playing abilities, it doesn't have as many sound options – Alesis Harmony MKII. There are 300 sounds you can play with, although this is less than half of the Yamaha PSR E373. Still, it is more accessories including a bench and a microphone.
Casio CT-X700 vs Yamaha Psr E373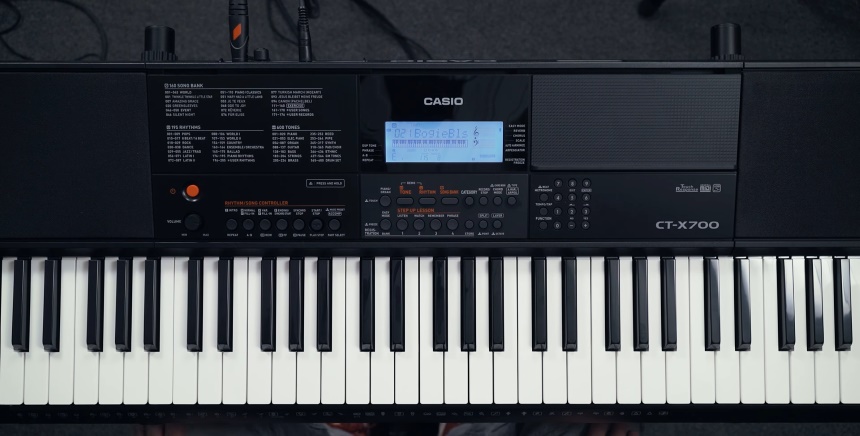 Coming in at roughly the same price as the Yamaha PSR E373, this alternative is a classic 61-key portable keyboard – Casio CT-X700. You get a similar amount of sounds, with 600 sounds and 195 rhythms, so there is plenty of inspiration to be found. You can save up to 32 keyboard setups, which makes for great customization. This is a nice keyboard if you are still learning but aren't quite a beginner. Its controls take a bit longer to learn but aren't too confusing that you will grow impatient with them.
PROS
CONS

Very affordable and perfect for beginners or children
Many self-teaching modes to practice on
Easy to transfer music to computer to save your creations

Speakers are adequate but not overly strong
Only has capacity to store 5 songs
Not as thin as higher-end models
Conclusion
Keyboard beginners should have access to a product that will help them learn but also allow them to grow. You can find all this with the Yamaha PSR E373. We hope that you have learned enough from our Yamaha PSR E373 review to decide if it is the right instrument for you.
References
1.
Importance of Music In Life
Music plays a very important and vital role in the lives of the people. We can work, shop while hearing the music. According to some Archaeologist, music came into existence over 55000 years ago.
2.
Why is there a chip shortage?
Today, millions of products – cars, washing machines, smartphones, and more – rely on computer chips, also known as semiconductors.