Are you looking for a versatile piano that comes with a wide library of sounds and effects? If yes, then it's time to end your search because the Yamaha DGX-660B digital piano is the answer to all your queries. The Yamaha DGX-660B is a digital piano that will tick all your boxes.
Today, in this Yamaha DGX-660B review, we will take a look at all the different features and functions this piano has to offer. Not only that, but we also compare it to other pianos to help you choose the ideal piano for you.
Specifications
| | |
| --- | --- |
| Type | Graded Hammer Standard (GHS) keyboard |
| Number of keys | 88 |
| Touch sensitivity | Soft/ medium/ hard/ fixed |
| Polyphony | 192 (max.) |
| Voices | 151, 15 Drum/SFX Kits, 388 XGlite |
| Presets | 205 styles, 100 songs |
| Amplifiers | (2) 6W |
| Speakers | (2) 12 cm, (2) 5 cm |
| Display | LCD (320 x 240 dots) |
| Pedal | Yes |
| Dimensions | 55-1/16 x 29-15/16 x 17-1/2 in |
| Weight | 61 lbs 12 oz. |
Pianos can be quite a big investment, which is why you need to think before you make a decision this big. There are several features that you need to consider before buying the Yamaha DGX-660 digital piano. Here, we have reviewed some of those features:
Design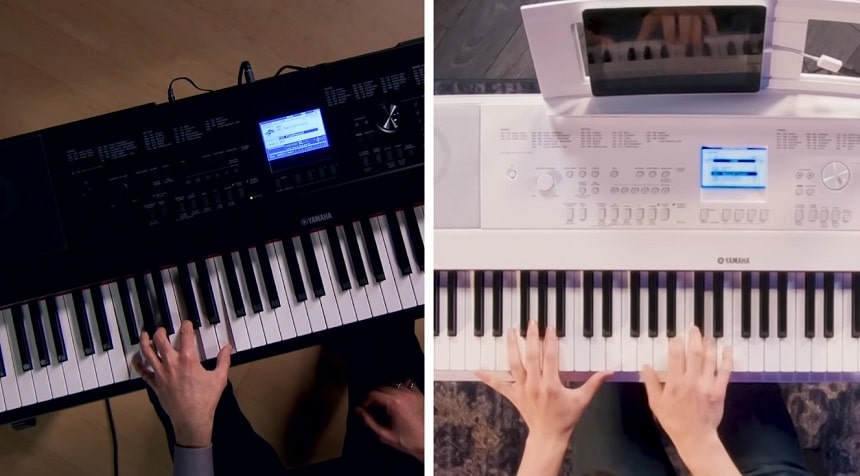 When it comes to design, Yamaha has always promised its users its stylish and sleek designs. Their DGX-660 is no exception. Available in white and black colors, the DGX-660 comes with a contemporary exterior. To add more to the design, Yamaha has also added wooden side panels and stands. The modern design of the piano can also add a nice touch to your interior.
The DGX-660 is 55 inches wide with a height of 5.7 inches. When placed on the stand, the piano can go up to 30 inches in height. In terms of depth, the piano measures 17.5 inches. The depth can be wider than other digital pianos. The DGX-660 weighs 46 pounds which can be considered heavy. When it is placed on a stand, the overall weight increases to 61 lbs 12 oz, which makes the piano bulky and heavy to move around. You might want to place the piano in one place so that you don't have it carry it around. If portability is something that you are looking for, then you might want to take a look at other options.
Since this piano is heavy, it comes in a bulky box. So when it comes to assembly, you might want to seek help with the unpacking. Once you manage to get the piano out of the box, the assembly will barely take 20-30 minutes. The instructions provided in the box are extremely clear.
The company also offers a matching stand with the piano. If you do not have a proper desk for your piano, then you should consider getting a matching stand with it. The stand itself is built well. Its design complements the piano's design. Not only this, but the stand is also sturdy enough to carry this bulk of a piano.
Keyboard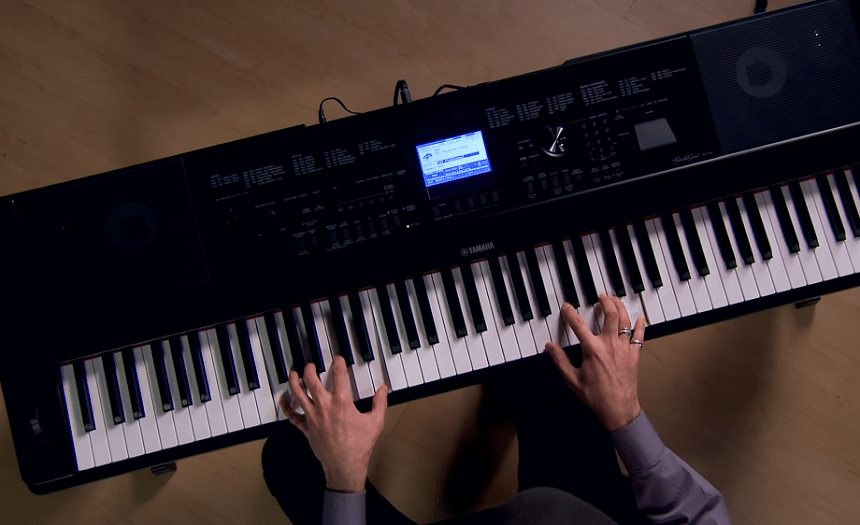 Keyboards are the heart of a piano as they are used to perform the main function of a piano. The DGX 660 comes with a keyboard that offers a wide variety of features, functions, sounds, and much more. These features can be easily accessed through the touch-responsive control panel.
The DGX-660 comes with a Graded Hammer Standard (GHS) action. Due to this action, the keys are attached to the graded hammers which in turn helps produce a sound that could have been produced by an acoustic piano. With the GHS, the keys have a heavy touch in the lower end which becomes light for higher ranges. It is due to this action that you are able to practice for an actual acoustic piano.
The DGX-660 keyboard is also touch-sensitive, implying that if you hit the keys hard, the sound will be as loud accordingly. Due to this touch responsiveness, you can have better control over the sounds that you produce, using the keyboard. You can even adjust the sensitivity according to the style you want. The Yamaha DGX-660 offers options that include "soft, medium, hard, and fixed." With the fixed setting, in particular, the keyboard becomes unresponsive to touch as the volume will remain the same.
The keys for this keyboard are made of high-quality plastic that is comfortable to touch. The white keys come with a smooth, glossy finish. While the black keys are matte, which helps prevent your fingers from slipping if you get sweaty. 
Sound
When it comes to Yamaha, its pianos come with a pure CF sound engine. The DGX-660 possesses the same engine which helps it reproduce different sounds. Not only that, but the DGX-660 also comes with different piano sounds as well as other instrument sounds. With this piano, the sky's the limit when it comes to being creative. The piano comes with a wide range of sound effects, which can make your sound even more complex.
The piano offers 41 different reverb Trusted Source The Reverb Effect on the Keyboard Reverb adds space around your notes and can make your sound seem farther away, even dreamy. It's short for reverberation, which describes the continuation of sound in a particular space after the original sound is produced and stops or decays away. Reverb produces a kind of hazy or blurred type of echo that's very pleasing to the ear and gives a sense of the space you're playing in. www.dummies.com options that include environments such as hall, rooms, stages, tunnel, club, and much more. It also offers 44 chorus options that help you change the pitch and timing of the sound. With this feature, you can make the sound thicker. The 26 harmony effects add harmony to your sound.
The DGX-660 also comes with a pitch blending wheel. With this wheel, you can reproduce effects such as choking or vibrato. The wheel does this by bending notes while you play the keys. There is also a master equalizer function that helps you choose between normal, piano, bright, soft, or powerful sound.
You can even customize sounds using the digital signal processor. The processor comes with at least 230 different sound effects which add to the complexity of your performance. Last but not the least, this DGX-660 comes with 192 note polyphony, which is an upgrade from its previous models. With polyphony, you can add layers to your sounds without any difficulty.
Speakers and Amplifiers
Yamaha speakers are known for producing high-quality sounds. The DGX-660 comes with built-in speakers that have two 6W amplifiers. With the speaker and amplifiers, you get to listen to sounds that are well-balanced. The open-faced speakers also result in clear sound.
The sound quality is further enhanced with the Intelligent Acoustic Control. The IAC helps adjust the bass and the sound frequency to help make the sound even better at a lower volume. The speakers and the amplifiers offer a sound that is loud enough for small shows. However, if you are performing in noisier settings, then you might want to connect to external speakers and amplifiers.
Main Features
The DGX-660B also comes with many features that make your user experience even better. These features include:
Lid Position: The piano allows you to position the lid in different ways to create different sound effects.
Modes: With the DGX-660, you can opt for split mode or dual mode.
Recording: The piano also allows you to record your performances. You can easily download the files in either Audio or MIDI format.
Lessons: This beginner-friendly piano lets you use its lesson function to help you learn how to use the piano.
Controls and Ease of Use
The DGX-660 features a 320×240 LCD screen that is quite easy to use. The screen shows you all the sound settings and helps you change accordingly. Thanks to this screen, you are able to see all the notes that you are playing.
For your convenience, the piano also comes with a function called the piano room. With this function, you can easily apply optimum settings to any performance that you want.
Connectivity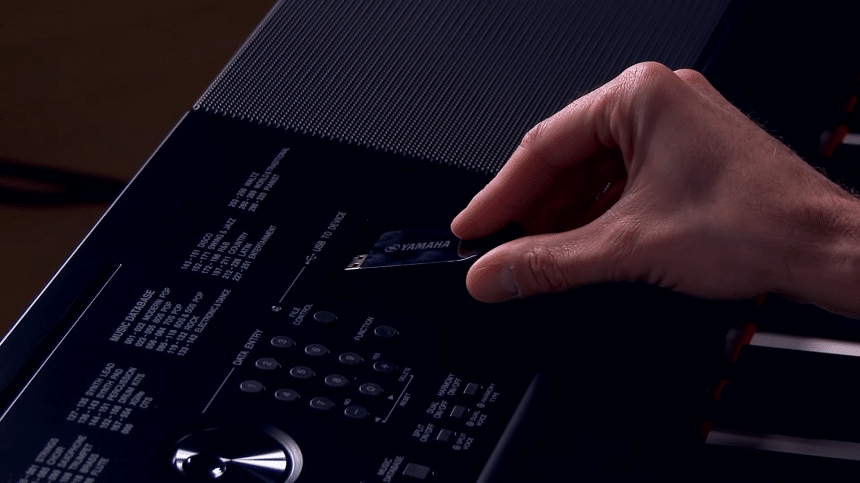 Unlike other digital pianos, the DGX-660 offers numerous connectivity options. These options include:
USB to Host: This allows your computer to be connected to the keyboard for song transfer. The port can also be used as a MIDI controller that helps transfer MIDI data between your computer and the piano. This port, in particular, requires an A-B USB cable.
USB to Device: This port allows you to connect the keyboard to any USB flash drive. IF you ever need to save the sound that you create, then you can easily make use of this port for the transfer.
Headphone: The keyboard allows you to connect headphones as well. This ¼ inch port can also be used to connect to any external sound system as well.
Mic: Another ¼ inch wide port that allows you to connect the microphone to the keyboard for any kind of playback sound. This port comes with a volume control option as well as other settings and effects.
AUX: This ⅛ inch port helps connect the keyboard to an external audio device.
Accessories
The Yamaha DGX-660 comes with these accessories:
Stand: The DGX-660 comes with a durable stand, that allows you to place the keyboard anywhere that you like.
Sustain Pedal: The footswitch adds an extra layer of depth to the sound.
Bag: Since the piano is heavy, it can be a bit difficult to carry. However, with the bag, you are able to transport it with ease. The bag also helps protect the piano against any kind of damage.
Headphones: These headphones help you listen to the music in a way that you are not disturbed by any external noise.
Price
While buying something, you might have a specific budget in mind which is why it is very important to look at the price of the piano before buying. Yamaha products are generally pricier than other brands since they have made quite a name for themselves. You can find the DGX-660 available somewhere between $700-$850. Extra accessories obviously come with an additional price.
Warranty
While buying anything, having a warranty is extremely important. A warranty helps ensure that any manufacturing damage to the product is compensated by the company itself. Additionally, it helps you build trust towards the product. The Yamaha DGX 660 comes with a 1-year warranty period. During this time, any damage to the piano will be repaired by Yamaha itself. You can even take the piano to your nearest Yamaha store and get it repaired, in case anything happens.
Yamaha DGX-660 in Short
Wide variety of sound effects and features
Highly functional speakers
Beginner-friendly
Easy to use
Numerous connectivity options
Audio recording options
Who Should Get This Digital Piano?
PROS

CONS

Can be customized
Available in two color options i.e., black and white
Allows you to tailor the sound with its Piano Room function
Ideal for beginners
A microphone can be easily plugged in
Can be connected to a USB
Comes with a wide variety of voice and sound settings
192 note polyphony

Only supports iOS connectivity
Some controls can be difficult to use
Can be a bit heavy to carry around
Alternatives
If you are still not satisfied with the features that Yamaha DGX-660 offers, then you can consider the following alternatives:
Yamaha DGX-660 vs. YAMAHA P-125
Offered by the same brand, the Yamaha P-125 comes without all the extra functions and sounds that the DGX-660 offers. The P-125 comes with a GHS keyboard as well as a pure CF sound source which allows for a pleasant user experience. However, the P-125 has very few effects to offer. It mainly comes with the basic functions only. This piano is ideal for those who are looking to learn the basics, without any additional features. However, if you are looking for something versatile, you should go for the DGX-660.
Yamaha DGX-660 vs. Casio PX-770
Coming from a different brand, the Casio PX-770 is one of the main competitors for the Yamaha DGX-660. Both keyboards come with similar features and the same price. When it comes to sounds and effects, both keyboards are extremely versatile. The PX-770 comes with an integrated stand that has built-in speakers. The PX-770 also has a colorful touch screen, which makes your piano playing experience even better. However, the DGX-66 offers more options for sounds and effects.
Conclusion
By now, you should know everything that you needed to know about the Yamaha DGX-660. According to our Yamaha DGX-660B review, this digital piano offers some of the best effects and sounds. The piano is versatile in function, which makes it ideal for beginners as well as professional players.
No matter what level of piano expertise you have, you will see that the Yamaha DGX-660 digital piano should definitely be on your buy list.
References
1.
The Reverb Effect on the Keyboard
Reverb adds space around your notes and can make your sound seem farther away, even dreamy. It's short for reverberation, which describes the continuation of sound in a particular space after the original sound is produced and stops or decays away. Reverb produces a kind of hazy or blurred type of echo that's very pleasing to the ear and gives a sense of the space you're playing in.