The Korg SP-280 digital piano is an upgraded version of its predecessor- the Korg SP-250. Weighing just about 40 pounds, this portable piano is suitable for home use and stage performance. Despite being a portable piano, this unit does not compromise on sound quality. 
As you will discover in this Korg sp-280 digital stage piano review, this piano offers a variety of features. It offers numerous presets, and the weighted hammer keyboard makes it an ideal choice for beginners. Professionals will also enjoy using the 3-pedal function of this digital piano which offers a similar level of performance as an acoustic piano. Read on for a detailed overview of the features of this piano. 
Specifications
| | |
| --- | --- |
| Number of Keys | 88 |
| Touch Sensitivity | Light, Normal, Heavy |
| Polyphony | 120 notes (vibes/guitar), 60 notes (piano/electric piano) |
| Presets | 30 |
| Amplifier | 22W×2 |
| Power Supply | 19V DC |
| Dimensions (in.) | 30.91×53.58×15.98 |
| Weight (lbs.) | 42 |
| Warranty | 1 year |
Review
The Korg SP-280 is a quality feature-packed piano that delivers a playing experience similar to what you get with concert grand pianos and other high-end units. The following are some of the major features of this piano. 
Overall performance and design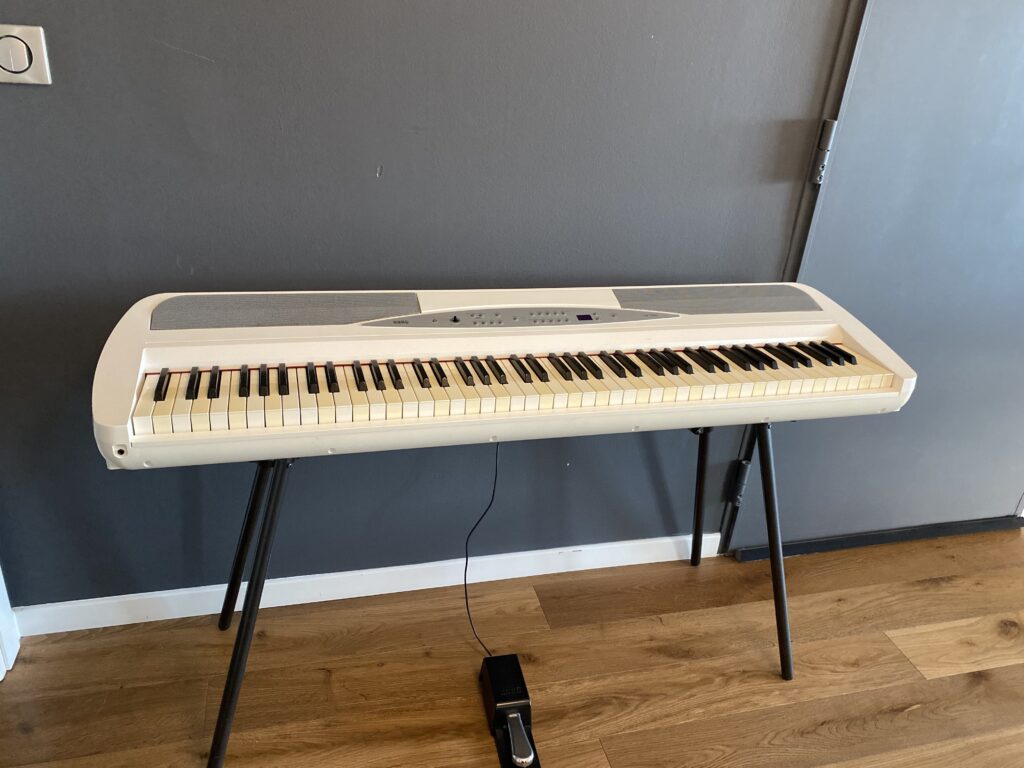 The Korg SP-280 has a sleek design that is sure to look great in your home and blends perfectly with other instruments on stage. One of the most impressive things about this piano is its portability. The entire unit, including the stand, weighs a little less than 42 lbs. The stand is also quite sleek and doesn't take up as much room as other digital piano stands in the same range. It is quality and provides sturdy support to the piano. As far as the playing experience goes, the SP-280 plays like an acoustic piano Trusted Source Digital Piano vs Acoustic Piano – What's The Difference? Music Gateway battle it out between digital piano vs acoustic piano. Check it out to learn more about which is best for a beginner! www.musicgateway.com . The sound quality is rich and expressive as it neatly switches between four piano samples depending on your preferred style of play 
Number of keys
The Korg SP 280 is a full-length piano with 88 keys. This means the piano offers a full range of octaves, giving you the full grand piano experience on such a simple unit. It is sleek and does not have any ugly control panels. 
Touch sensitivity
The SP 280 features Korg's natural weighted hammer action keyboard, which is undoubtedly one of the best around. The touch sensitivity of the keys on this piano is similar to what you get from other high-end pianos from Korg. The lower register of this piano offers the heaviest key action, and you can expect the response to lighten as you move towards the upper registers. It also features a key touch control function that allows you to adjust the output level and optimize it for your playing touch. 
Presets
Another very impressive feature of this piano is the variety of presets it offers. This unique piano offers an assortment of voices and tones. There are 30 different presets, with the concert, grand, and acoustic tones being the most popular. There are 6 electric tones, 1 electric grand tone, and 5 acoustic piano sounds that come preset in the piano. It also offers an array of other instruments, including strings, organs, marimbas, and vibraphones. In addition to these presets, there is also an impressive collection of demo songs onboard the piano. 
Amplifier
Another easily noticeable feature that sets this piano apart is the possibility of amplifying the already loud double 22-watt speakers. It's going to be difficult to find any digital piano that offers as much sound amplification as what you get with the SP-280. This is great, especially for those who intend to use this piano for stage gigs and concerts since you won't have to worry about your piano getting drowned by the sounds of other instruments. 
Power supply
The Korg SP-280 is more economical in power consumption than many other digital pianos in the same range. Most digital pianos in the middle to high range use about 40W of power. The SP-280 needs less than half of that with an impressive 15W power consumption. This is a good thing for serious piano players who can benefit from long hours of practice without having to bother about the extra electricity cost.  
Dimensions and weight
As earlier mentioned, one of the main selling points of this piano is its portability. It is important to note that this piano is heavier than other units in its price range. It weighs just about 42 pounds and that takes into account the weight of the stand as well. But it has a sleek design which gives it less footprint despite being a full-length piano. The sleek design of the stand ensures that it takes up less ground room compared to other piano stands. 
Ways of using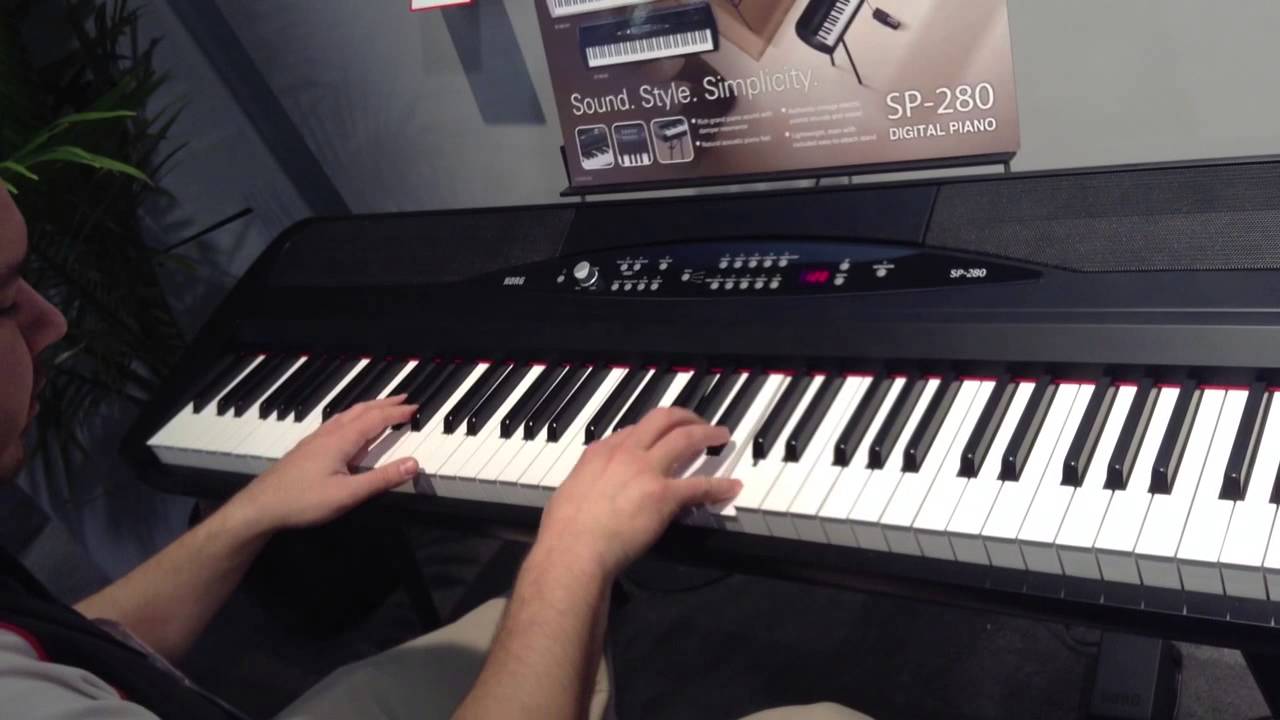 The robust connectivity options that this unit offers make it possible to use it in different ways. It features a Line-In jack which means you can connect the piano to an audio device and play sound through the speakers. This way, you can play along to selected tracks. This setup is also great for live performance. 
The line-out jack also makes it possible to connect the piano to external speakers or a recording device. In addition to the Line IN and Out, this piano also has MIDI In and Out support. This makes it possible to connect the SP-280 directly to computers. The MIDI connectivity also makes it possible to connect to other pianos. 
Cleaning
Cleaning this piano is straightforward. If the exterior gets dirty, you simply need to wipe it with a clean cloth. Ensure that the cloth is dry. It is not advisable to use liquid cleaners of any kind on your piano to avoid damaging it. Also, keep it away from extremely dirty or dusty locations as much as possible to prevent dust from getting into the piano. 
Ease of maintenance
The maintenance requirements Trusted Source Piano Maintenance and Care - Piano Emporium Tuning, Humidity Control, Finish Care, Regulation, Cleanin, Voicing & Making sure you have the right technician are key points in piano maintenance and care. www.pianoemporium.com for this piano are no different from that of any other piano. The most important consideration of all is to pay attention to storage. The piano should not be kept in direct sunlight or locations with extreme humidity and temperature. You should also keep it away from extreme vibration and magnetic fields. 
Warranty
Korg offers a warranty on all its keyboards, including the SP-280. The warranty covers both the digital piano and the stand. You can also get an extra year extension on the warranty if you register the piano within 90 days of your purchase. 
Price tag
This piano comes at a price tag of less than $1000, which puts it in the mid-range. But its natural weighted keys and amplified sounds feature to allow it to produce sound on a similar level as an acoustic piano. The optional pedal feature is something else you are unlikely to find on other units in the same price range.
Other features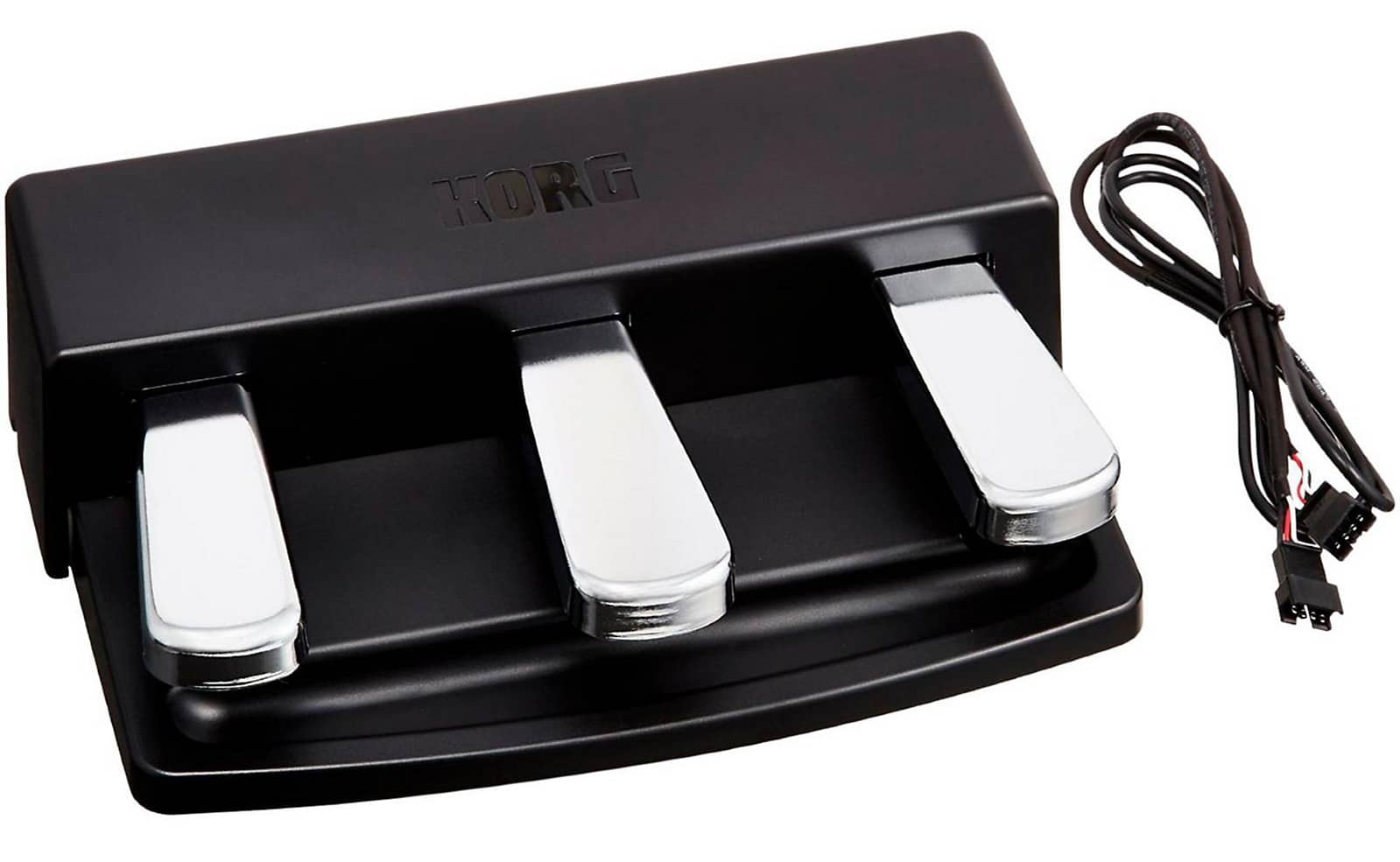 Pedals: The Korg SP-280 features a damper pedal. The player can use this as a half-damper pedal, which makes it possible to control the piano's damper effect conveniently. There is also an optional pedal unit that can be connected to the piano, which can be used along with the regular damper pedal. 
Speakers: the SP-280 features dual 22 watts speakers, which makes it such an impressive sound machine. It is also possible to connect the speakers to amplifiers using MIDI connectivity. But the internal speakers are mostly adequate when playing alone in a moderately noisy or quiet environment. 
Metronome: the SP-280 comes with an inbuilt metronome feature. This makes it possible to adjust the tempo, volume, and time signature. Beginners will find the metronome features particularly useful for them. There is also an accent feature that chimes to notify the player of the accent.
Auto power-off function: this piano has an optional auto power-off function. If you leave it on for 30 minutes without any input or setting a demo performance, the instrument will turn itself off automatically. This helps to save on power. This function can also be disabled if you do not want it, in which case the piano will remain on indefinitely until you switch it off yourself. 
PROS
CONS

It has a sleek and streamlined design
Features 88 natural weighted hammer action keys 
A large range of preset sounds with a variety of tone, style, and voice 

It does not have a built-in recording system. This means you will need an external device if you intend to record songs. 
No USB connectivity
Conclusion
Korg SP-280 is an impressive portable piano that offers several great options for both beginners and professionals alike. Most notable of this is the variety of sound presets, which makes the SP-280 an incredibly versatile unit. The variety of connectivity further boosts the versatility of this speaker since it allows you to use it in different ways. 
Hopefully, you found this Korg sp-280 digital stage piano review helpful in determining whether it's an ideal choice for you. But for its price, you can be sure you're getting good quality piano whether you intend to use it as a beginner piano or an addition to your professional collection. 
References
1.
Digital Piano vs Acoustic Piano – What's The Difference?
Music Gateway battle it out between digital piano vs acoustic piano. Check it out to learn more about which is best for a beginner!
2.
Piano Maintenance and Care - Piano Emporium
Tuning, Humidity Control, Finish Care, Regulation, Cleanin, Voicing & Making sure you have the right technician are key points in piano maintenance and care.