Korg is one of the pioneers when it comes to digital pianos, synthesizers, keyboards, production tools, software, and much more. With that in mind, we have developed this comprehensive and detailed Korg LP-380 review, so that you can determine whether it is the right digital piano for you.
Whether you are a beginner or a pro pianist, the Korg LP-380 will help propel your performance to the next level. It is a slim and compact digital piano that is moderately priced and offers you the full value for money. It is considered to be a step up from the Korg LP-350 digital piano, and it includes several advanced features.
Specifications
| | |
| --- | --- |
| Type | RH3 (Real Weighted Hammer Action 3) Keyboard |
| Number of keys | 88 |
| Touch sensitivity | Light, Normal, Heavy |
| Polyphony (Voices) | 120 |
| Presets | 30 demo songs |
| Amplifiers | (2) 22W |
| Speakers | (2) 10cm |
| Pedal | Damper, Soft, Sostenuto (half-pedaling supported) |
| Dimensions | 53.35 x 13.82 x 30.39 in |
| Weight | 81.57 lbs |
There are numerous companies in the music industry that have delivered world-class musical instruments, each more advanced than the last. If you know a thing or two about musical instruments, particularly digital pianos and keyboards, then you would have certainly heard about Korg, a Japanese manufacturer that has been in the business for more than six decades.
The LP-380 is perfect for people who are looking to experience the feel of a full-size digital piano, but don't have a lot of room to keep it. Having said that, it isn't exactly portable, but you still can move it around. We have tried out this model extensively, and here's everything we want to share with you.
If you have played or practiced on a keyboard until now, the Korg LP-380 will be a significant upgrade for you. Its slimline design also makes it suitable for places where you don't have a lot of space. It also has a wonderful sound that closely emulates a grand piano, as well as other interesting tones as well. Let's go in-depth and discuss everything in greater detail.
Design
We adore the design strategy implemented by Korg for the LP-380, and although you might find the design pretty basic, it is quite functional and can easily fit into any space. The designers over at the company have put a lot of effort into making the piano as slim as possible, without affecting the piano playing experience.
Therefore, we can safely say that Korg managed to fit a wonderful digital piano into a lightweight and compact body. With its 26 cm depth, you can fit it anywhere. Another striking feature of its design is the soft-close lid, which protects the keys from any kind of damage and also doubles as a music rest. However, you can't stretch its limits by placing a laptop or any other device on it.
Before you start to marvel at the design of the LP-380, we should clarify that it isn't actually breathtaking or unique. We like it for its functionality, and people who like minimalist design will certainly appreciate it. It measures 53.35 x 13.82 x 30.39 inches, and weighs around 81.57 pounds, including the stand weight. It also comes in several color options, including Black, white, Rosewood grain finish, and Rosewood grain black finish.
One thing that we aren't particularly fond of is that Korg has added plastic keys to the LP-380, instead of the ebony and ivory keys that most manufacturers are using nowadays. However, this doesn't seem to be a dealbreaker, because the keys still have a nice feel to them, and they don't hinder your playability in any way.
Keyboard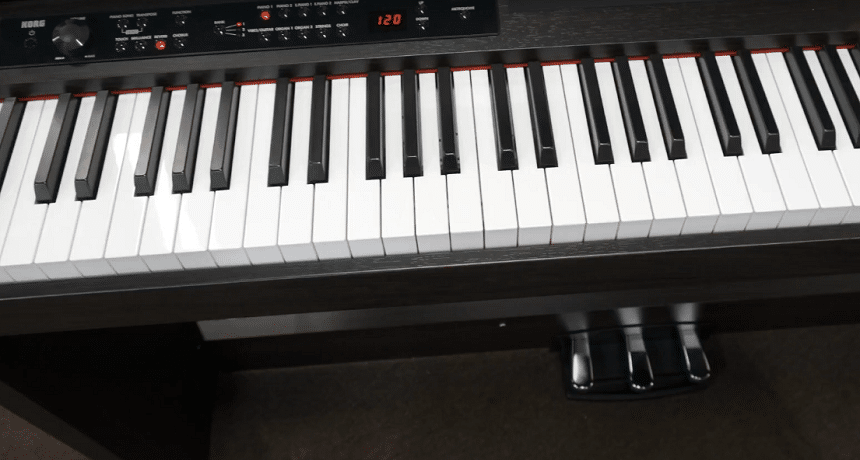 In this section, we break down the entire digital piano into its components and features. On the surface, the Korg LP-380 has a pretty basic design that doesn't really stand out from the rest, so if you actually admire aesthetics, then this might not be the best option for you. This digital piano comes with 88 black-and-white keys which come with Real Weighted Hammer Action 3, a technology developed by Korg.
The RH3 action goes a long way in offering you the real feel that you get from a classic grand or upright piano. This is a step up from keyboards and synthesizers, which don't have similar keys. The keys help you achieve an octave range between A0 and C8, thus offering a wide coverage.
Moreover, the keys are touch sensitive, with levels ranging between light, normal, and heavy. Based on the level you have selected, the sound output will emulate that of a real instrument depending on how much pressure you apply on the keys. Apart from this, you also get nine fantastic adjustable temperament options to choose from, along with transpose and fine-tuning features.
Another interesting feature in the Korg LP-380 is the three pedals built into it, which are usually found on concert grand pianos. They help you adjust the damper, soft, and sostenuto settings, and also offer support for half-pedaling. The metronome feature is also included in the piano, which offers volume, sound, and accent controls as well.
Last but not least, this digital piano comes with a high-output 2-speaker system, which offers powerful and clear sound, sufficient for a high-powered performance whenever you need it.
Sound
Sound is one of the key factors that come into mind when discussing a digital piano like the Korg LP-380. It only has 120 notes of polyphony, but can produce a crisp, clear, and clean sound that makes it worthwhile. Plus, the embedded speakers in the piano are powerful enough to allow you to practice at home, and also perform on stage.
In addition, the LP-380 comes with 30 different sounds, which are divided into three banks each. Out of these sounds, you can find five piano sounds, including Classic Piano, Grand Piano, Jazz Piano, Live Piano, and Honky Tonk. Apart from these, you have the Electric Grand, 6 Electric Pianos, Harpsichord, 2 Clavichords, Acoustic Guitar, 3 Strings, and much more.
Each of the sounds in this Korg digital piano are rich and vibrant, thus allowing you to experience the true feel of the instruments that they emulate. Speaking of the Classic and Grand Piano sounds, they sound pretty great, but you might not find it very impressive if you have tried out some of the high-end digital pianos.
Speakers and Amplifiers
Korg has packed the LP-380 digital piano with a pair of 22W 10cm amplifiers, and the speakers are world-class, to say the least. This shows that the manufacturer has paid special attention to the speakers as compared to the rest of the piano.
As compared to digital pianos that are of the same caliber, the speakers definitely help this one stand out from the rest. Therefore, you can add more expression to your playing.
The speakers also make the LP-380 very interesting to play, no matter which sound you have chosen, the added power will help you crank up the piano to the maximum volume without experiencing any distortion or crackling.
You can also find two headphone jacks on the LP380, which are an industry standard and found in most of the digital pianos out there. It allows you to connect your headphones and practice without disturbing anybody else, and you can also have or take piano lessons with the help of the second pair of headphones.
Key Features
The Korg LP-380 has several world-class features and it also showcases expert craftsmanship. Let's have a deeper look at the features that make up this wonderful digital piano.
Korg Stereo Piano System
One of the key features includes the Korg Stereo Piano system, which helps deliver the rich piano sound that you hear. The Stereo Piano system is developed by the company's expert engineers, and it helps the piano deliver a rich and high-quality sound, along with a whole-bodied tone.
Effects
This digital piano comes with three effects: brilliance, reverb, and chorus. Brilliance is used for adjusting the tone brightness, while reverb is used to develop the feel of a concert hall performance. Lastly, chorus is used to make the sound richer and more spacious.
USB MIDI/Audio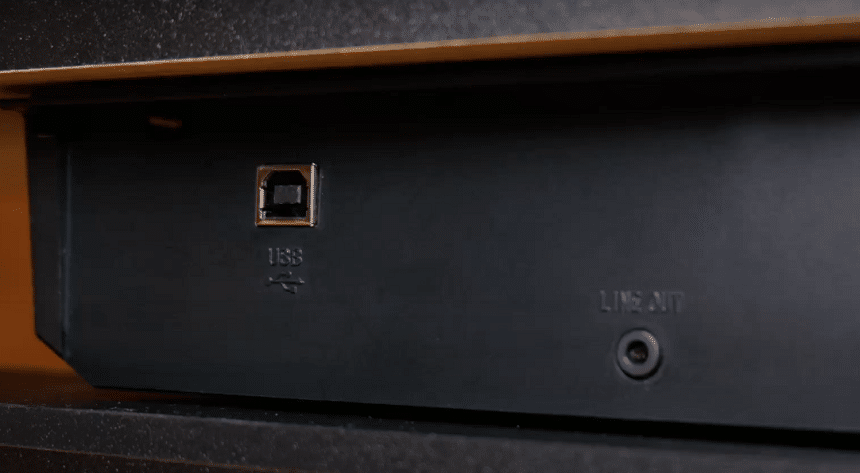 You can use a USB-to-MIDI cable to connect your piano to a computer, tablet, or smartphone. This allows you to use it as a MIDI keyboard, and your performance will be recorded as music data.
KORG Module
The KORG Module is a quality sound module app that offers a wide range of high-quality sounds. You can use it for both performance and music production, and the app is available on iOS only.
Metronome
The metronome feature in the LP-380 allows you to play with a regular rhythm in your practice sessions. It also features accent, sound, and volume controls that you can use in order to tailor the metronome sound.
Demo Songs
This digital piano is filled with 30 demo songs that you can play along to, in order to learn more songs and also to polish your skills.
Transpose
The Korg LP-380 also comes with transpose features, which you can make use of to shift the pitch of the piano and play music on keys that you are more comfortable playing on. This would make a C key produce a C# sound if you set the transpose to +1, or B if you set it to -1.
Fine Tuning
Fine tuning allows you to alter the overall tuning of your instrument, in order to make it sound different, but it is mostly for professional players. You can alter the tuning in intervals of 0.2 Hz, but we wouldn't recommend you use it unless you know exactly what you are doing.
2 Modes
The Korg LP-380 comes with the Partner Mode and Layer Mode. The Partner Mode splits the 88 keys into two segments of 44 keys each, so two people can play it together. The Layer Mode is used to combine two sounds together and play them at the same time.
Controls and Ease of Use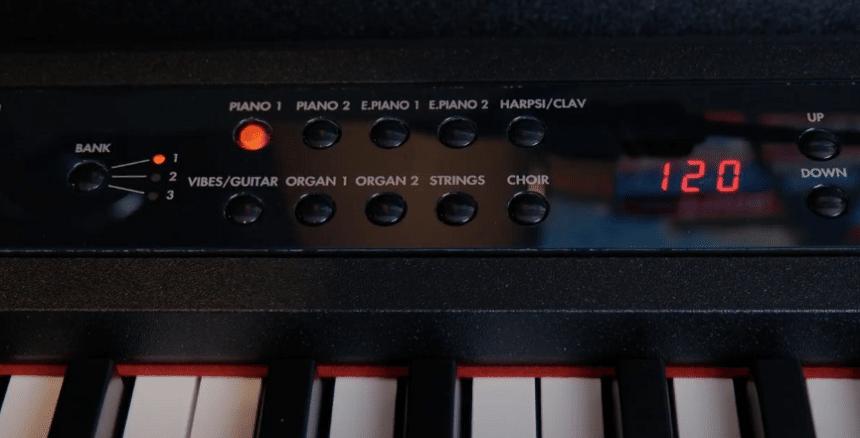 The control system of the Korg LP-380 is quite user-friendly and easy to understand. Some of the digital pianos come with very irritating controls, thus making it difficult for you to adjust them unless you refer to the manual every time. But that isn't the case with this digital piano, since it has buttons for everything you need to select or change.
For instance, if you are looking to choose the piano voice, you can press the piano button, followed by the bank button to select the particular piano sound that you want. There is a 3-digital red LED screen that helps you see which options you have selected.
Although we would very much prefer it if Korg added a simple screen, instead of having its users memorize every control. Then again, you also don't get this in several digital pianos from Casio and Yamaha, and the LP-380 actually has much easier controls than others.
We should also mention that this digital piano comes with a comprehensive and detailed user manual that allows you to understand all of the controls regarding it. Plus, you can also refer to it for any advanced controls that might be difficult to remember. Otherwise, the general and basic controls on this Korg instrument are quite easy to use.
Connectivity
The Korg LP-380 comes with two headphone jacks at the back, which can be used for duet playing or piano lessons. Plus, you have a Line Out port that you can use to connect it to an external sound system.
Additionally, you also get MIDI in and MIDI out ports, which is an older method of connecting the digital piano to legacy devices or your computer. You also have the USB to Host connection, as well as the pedal port.
Accessories
In all fairness, there isn't much that comes with the Korg LP-380, and the box only includes the digital piano, power adapter, owner's manual, and the pedal box. There isn't a music book that you can use to play the demo songs that come with the piano.
A good thing is that you don't have to buy any music stand with this piano, since its lid allows you to keep your sheets and books on it. You will just need a screwdriver to attach the piano to the included stand, and that's all.
Price
The Korg LP-380 is priced at $1,249, which is considerably more affordable if you compare it to other options in its tier. Keeping in mind the features that it provides and the sound quality that it possesses, this digital piano certainly provides good value for money, especially if you are on a budget and looking for an affordable option that can start you off on your musical journey.
Warranty
With the Korg LP-380, you get 3 years of warranty, and coverage is provided by the Korg distributor in the place where you purchased it from. Plus, if you register your digital piano online within 90 days of its purchase, Korg will also extend your manufacturer's warranty by one year.
Korg LP-380 in Short
88 key Korg Real Weighted Hammer Action 3
3-level touch sensitivity
9 types of adjustable temperament
3 pedals
120-note polyphony
2-speaker system with 22W output
2 modes: Layer mode and Partner mode
Who Should Get This Digital Piano?
The Korg LP-380 is perfectly suitable for beginner and intermediate-level piano players. When it was first released into the market, it became highly popular among these segments of players, and even some advanced and experienced players gave it a shot. If you are using it to polish your skills and practice extensively on it, you will be needing an upgrade in due course.
PROS

CONS

Slim and sleek design
Can easily fit any space
Easy to understand control system
High-output 2-speaker system

Contains plastic keys without ebony or ivory coating
Model is outdated and is need for an upgrade
 The hammer action leaves much to be desired
Alternatives
Although we like the Korg LP-380 pretty much, there are certain contenders that might be better than it. Let's compare some of the popular ones.
Korg LP-380 vs. Casio PX-870
As compared to the LP-380, the Casio PX-870 has a proper upright piano design, and it features the Tri-sensor Scaled Hammer Action Keyboard II, which translates to a better experience. Plus, it has 256-note polyphony, as compared to the 120-note polyphony that the LP-380 has, and you can connect it to your computer, tablet, or smartphone with the USB cable. It is priced at $1,499, which is slightly higher than the Korg model, but it is certainly worth it.
Korg LP-380 vs. Yamaha YDP184
The Yamaha YDP184 is heavier and bigger than the Korg LP-380, and it features the much superior Graded Hammer Standard feature, which offers a much more realistic feel. Plus, the keys are capped with ebony and ivory, as compared to the plastic keys of the LP-380. Moreover, the YDP184 has an LCD screen, which makes it easier to control. At $2,100, it is almost twice the price of the Korg LP-380, but definitely a much better digital piano as well.
Korg LP-380 vs. Donner DDP-100
The Donner DDP-100 is a fully weighted keyboard, which is quite better than the LP-380. It has 128-note polyphony, while the LP-380 has 120-note polyphony, so they are almost the same in this department. The DDP-100 has 2 25W speakers that have a much powerful output, but it doesn't have any control panel, which can make it difficult to use. The only thing it has going for it is that the piano is priced at $550, which is half of what you can expect to pay for the Korg LP-380.
Conclusion
We would like to conclude our Korg LP-380 review by saying that it is a wonderful digital piano, especially if you are a beginner or intermediate player. If you are transitioning from the keyboard to a digital piano, then you would certainly benefit from it. Otherwise, you should pick out something better and more upgraded.