The Korg B1 has always been a unique piano, and this is evident in how popular it is among users. It is not exactly an overly expensive piano, and if it were, there would be very little to complain about given how much functionality it offers users. The Korg B1 is a unique piano and is one of the biggest cards pushing its brand to a competitive level with more established brands like Casio and Yamaha.
The Korg B1 can be considered the jack of all trades as it is great for beginners and pro players. It allows for fluid play, and its design is remarkable enough to fall between aesthetically pleasing and highly functional. The price is also great and is not beyond the quality that it offers. This Korg B1 review is intended to give readers a complete analysis and help them make a buying decision.
Specifications
| | |
| --- | --- |
| Type | Digital |
| Number of Keys | 88 |
| Stereo | A built-in system with MFB Servo technology |
| Dimension | 51.65 x 13.23 x 4.61 inches |
Korg B1 Review
The Korg B1 is not extremely heavy, and moving around does not take a lot. However, that is not the best feature of the design. It is an 88 key kind of keyboard, which means you will explore a lot playing with it. The battery power is long-lasting, and a class tutor who takes piano lessons claimed to have no problem with power going off. The piano also has onboard reverb and chorus effects with Partner mode that is ideal for lessons and instruction. The color is the traditional white and black that characterizes most piano.
Overall Performance and Functions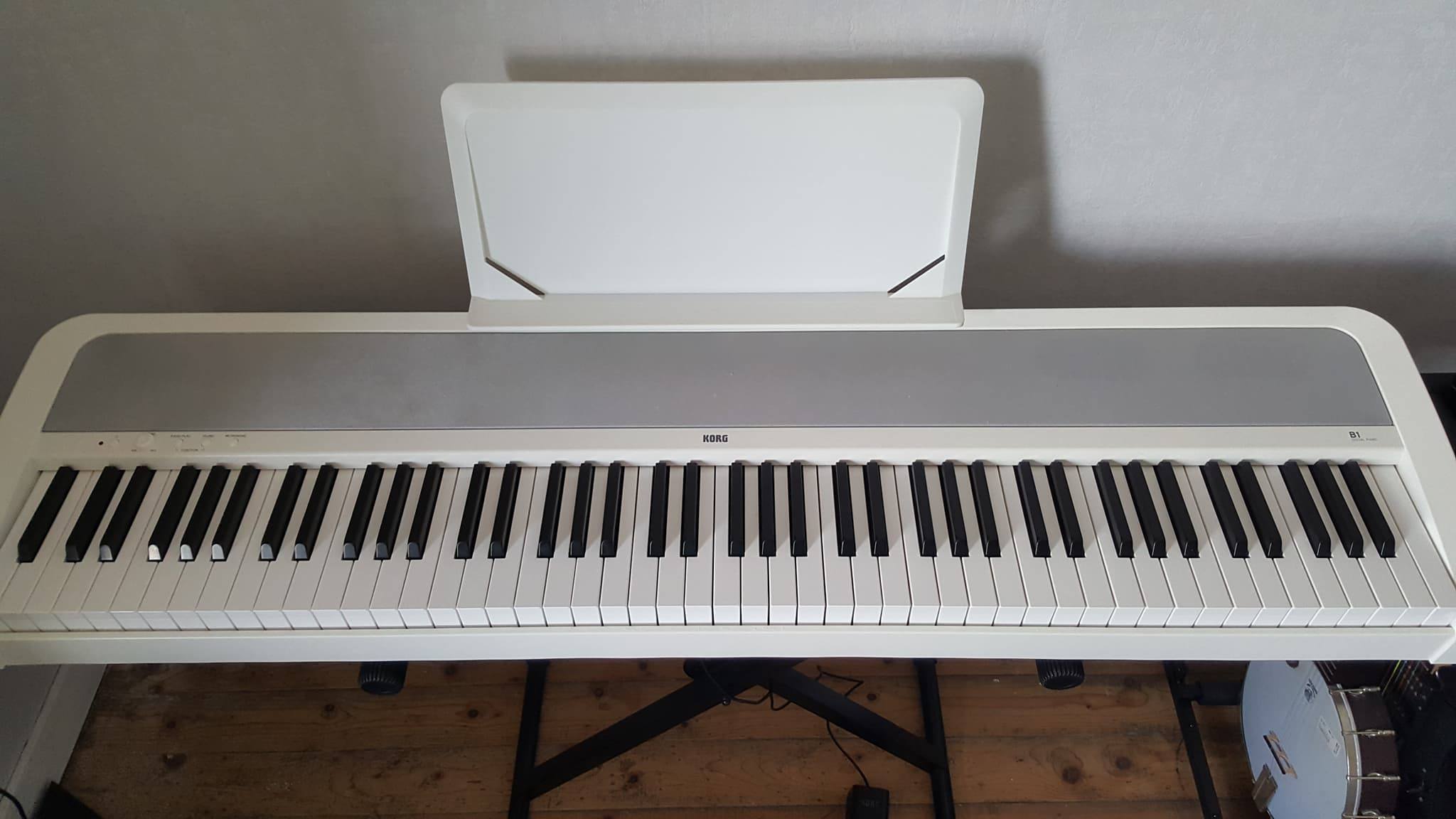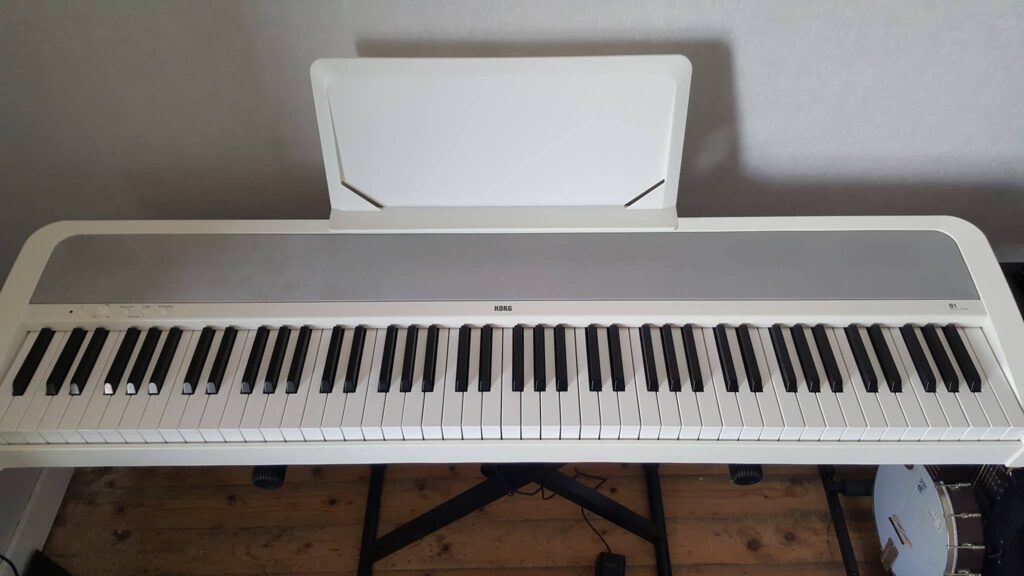 The piano performance would be in the 9+ point category on a scale of 1 to 10.  It is not a disappointment and, in all respects, offers everything that music lovers and pianists will want. 
If you want an extremely loud piano, this isn't really for you because it is more of quality to loudness when it comes to its speakers and sound. Note combine every well with a series of technologies to give out beautiful and nice tones that are classy, rich, and natural.
The piano is not a space consumer either. It is just a nice piece weighing 26 pounds and can be easily lifted by any healthy adult. In comparison to the competitors, this piano functionality is rated to have the edge in advantage, which is a great thing if you are considering whether to go for it or not.
Keys
The Korg B1 has a unique keyboard with 88 soft keys. These keys have natural weight and a very easy-to-feel experience during use – the keys are one of the significant features that differ the electronic keyboard from digital is the keys' weight. The touch is heavier on the lower end and progressively gets lighter towards the higher end. Overall, the mechanics of the keys feels similar to that of an acoustic piano's keyboard. These natural weight keyboard helps to set a dynamic response of the piano to match your playing style. The Korg B1 piano is an excellent instrument with a quality keyboard. 
The Korg B1 is made of plastic. A feature similar to most keyboards in this price range. The piano keys are also sensitive to touch with top-notch adjustability into either of the three-level – light, normal and heavy. As you can imagine, the "heavy" option has a more dynamic range, meaning you can be most expressive while playing using this setting.
The favorite setting depends on the person playing this digital piano. People with lighter touches might prefer the light setting, not having to apply the same effort to play a song in fortissimo as with the heavy setting. Every adjustment option has its features, and you can select any depending on the choice of the pianist.
Altogether, all of the actions mentioned above are hammer actions, so they're all relatively heavy and are weighted similar to a real piano.
Design

One thing that gets the likes and interest of many pianists in a piano is the features and forms, and the Korg B1 is no exception to that as it comes with a wide array of components and peculiarities. The B1 piano comes with a good stand of its own. However, it is better to purchase one singly to have a wonderful enabling seamless integration of the unit. You can look for an STB1 furniture stand that is specially designed for B1 or any universal keyboard.
One of the unique features of this digital piano is how compatible it is with reduced weight. At only 26 pounds and 51.6″ x 13.2″ x 4.6″, it's very portable. Anyone who is anywhere over 15 years can move this piano easily by himself. These qualities of portability and lightweight make it ideal and a great choice for anyone. You can easily place it in a small space. Because it's so compact, it will not take away too much of the available space. The Korg B1 keyboard goes further to add beauty to the cabin with its smooth and attractive looks.
The B1 is also one straightforward package with easily memorable key combinations for premium sound and functions you often use. The B1 is available in two colors, black and white.
Korg B1 comes with a single damper pedal by default which is enough for most pianists. But if you study seriously, you can purchase accessories like the triple-pedal unit and matching cushioned bench.
Sound
The piano makes full use the Korg's improved and classy PCM stereo sampling technology. The sampling offers a real and authentic sound that is associated with a top-notch piano. It also offers other great sounds that give the acoustic piano feel, primarily achieved with its characteristic servo-assisted MFB tech found in Korg products. This piano is considered an improvement of Korg sounds compared to the variations before it. According to first-hand users, its tones are very expressive and ensure a damper resonance and nice string vibrations.
The sound from the B1 is really rich and natural, and this is credited to the passive radiator and full-range speakers. The speakers of the piano are oval and are about 3.94 x 1.97″ in diameter. You can get an amplification up to 9W, which is quite great for an entry-level piano.
A great feature of this piano is the fact that there is no artificial, childish tone. For some reason, entry piano levels are often riddled with unnatural sounds. The Korg B1, however, was designed to put out improved playing, and it is evident when the classical piano plays.
The piano also cuts into other instrumental sounds, which is expected, and fortunately, they do not sound off note or poor. The only limitation is that not all sounds are included. These are, however, few, and the more important sounds are included.
Speakers
As already stated, the speakers are great for the piano and are one of its key features. Both speakers give out a combined power output of 18W. The speakers use a kind of motional feedback technology that tends to imitate an environment such that they can adapt and offer lower or higher frequencies. The accuracy and prediction of the speakers are very impressive and, compared to competitors, are in a world of their own. The volume is not exactly the loudest, which isn't so bad because the mid sound adds to the natural and rich tone when playing.
Modes
From a particular level upwards, the Korg B1 digital piano has three modes – split, dual, and duet. The first two modes – split and dual are for mixing two different instrument sounds. The split mode splits the keyboard into two parts, distributing a sound for each one. The dual-mode mixes two different sounds into a more complex harmonized sound. Unfortunately, the Korg B1 doesn't come with these two modes – it comes with other pianos that offer the above features.
The Korg B1 piano comes with the third Duet mode, which is quite natural to possess. The duet mode, also called the partner mode, splits the keyboard into two halves, with each half having a middle C. Both parts have the same pitch so that it's convenient for a piano teacher and a student to practice together with the help of the duet mode.
For example, an instructor can play some tunes on the left side of the keyboard, and a student can follow along on the right side playing the same notes. Seeing and knowing these features the B1 digital piano comes with, you will conclude that the piano is designed with the aim of training beginners.
Connectivity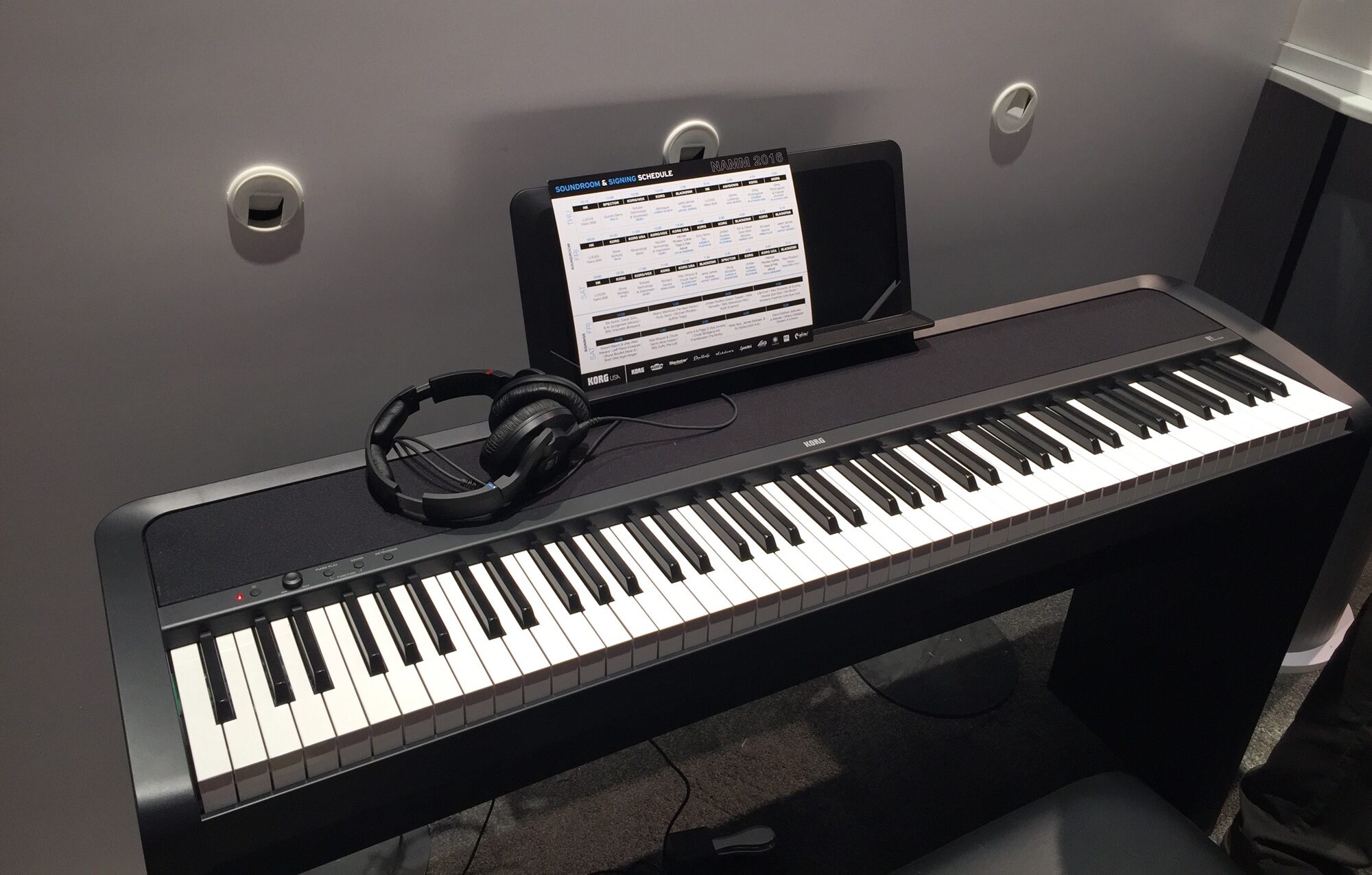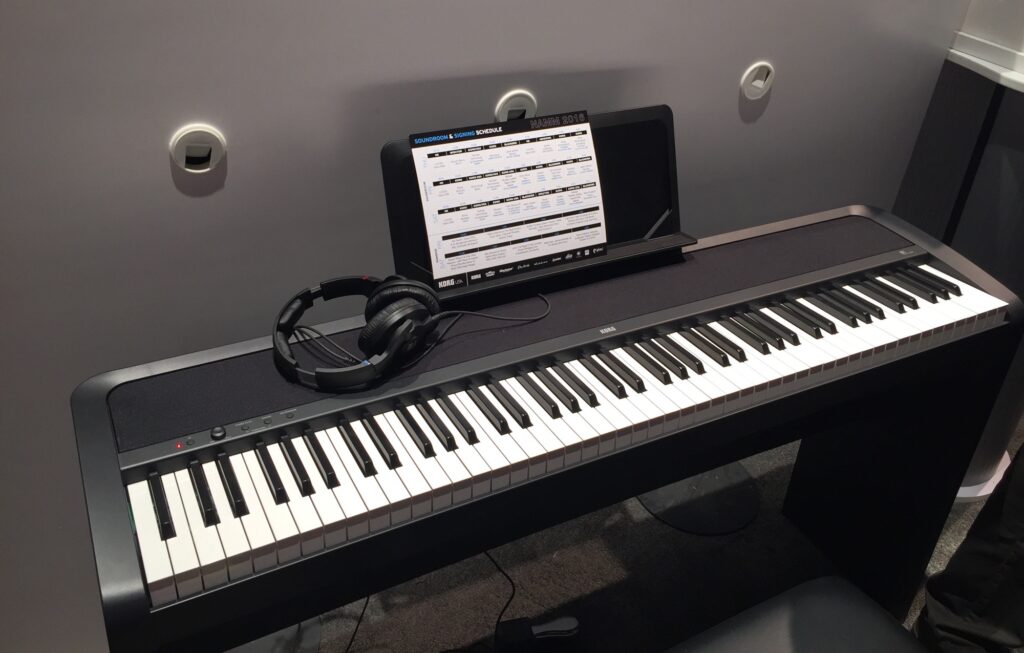 The connectivity of the Korg B1 is not the greatest and amounts to just two jacks. However, it is functional and can be used for all that it is worth. It could have been better, though. The first is a quarter-inch pedal jack that can be located at the bottom of the piano. This is where the 3 pedal unit is connected. 
Durability and Warranty
Another major selling point of the Korg B1 is its durability. Users who have bought this piano have generally commended its strong design and how reinforced it is in terms of usage. Some users stated that they have been using it forever, while others were more specific with two to three years of use.
The direct reviews from customers who have bought the piano clearly show that it is durable and long-lasting. Therefore, if your concern is whether it does last long or not, then the answer is positive.
Price Tags
Getting a price tag for the Korg B1 is not exactly difficult, and they are available for both new and old models. The prices generally differ from one to another among different selling platforms. However, the discrepancies are not much, and a standard new Korg B1 can be gotten for $500 to $550.
Key features
Some of the piano's key features have already been discussed, but this section will outline them because they are almost unique and cannot be gotten from most competition of the same standard and expectations.
The most telling feature of the piano is its Motional Feedback technology that is great for offering top-notch sounds that you will find to be amazing. It helps modify the sound frequency appropriately such that it creates a nice perfect sound.
Pros and Cons
| | |
| --- | --- |
| Pros | Cons |
| Motional Feedback technology for better sound frequency alteration | Not enough connectivity options |
| Sleek, Chic, lightweight design | Built-in system with MFB Servo technology |
| A vast range of keys and playing possibilities | |
| Built-in system with MFB Servo technology | |
Conclusion
The Korg B1 has a lot of benefits and very few limitations. It is exactly what a beginner or a veteran will want. While there are bigger piano models for an entry-level piano, this equipment beats the expectation.
The sound and speakers were analyzed and shown to be perfect, while the keys give users a lot to explore, with all of them being 88 in number. Other features are also top-notch. The only slight drawback is the limited connectivity option which is only two in number. Apart from this issue, everything else about the piano meets and surpasses expectations.
Everything that has been reviewed in this article concerning this equipment is true, and you can honestly use them as a buying and determinant on whether this equipment is for you.