You have every reason to be excited if you're a forward-thinking sound designer or you're a fan of classic '90s synths. This Korg Wavestate review sings the beauty of this wave sequencing synthesis that offers everything from groundbreaking sample manipulation to real-time performance and lots more. Related to the original Wavestation from 1990, this 37-key synthesizer is a revamped version that offers something beyond the regular. Boasting unique sonic capabilities that stand out from the usual, it perfectly combines the concept of algorithmic composition, drum machines, groove boxes, subtractive synthesis and delivers excellently. 
After you've changed patches, you can key your sound stylistically by exploring the Smooth Sound Transitions to your advantage. And, you also have the complimenting save presets feature that makes this easier for you. When one looks at the stunning features of this Wavestate, you'll agree that this Korg Wavestate review is a worthwhile one. From boasting extensive hands-on control to delivering stunning sounds, the Wave Sequencing 2.0 truly does take digital synthesis to the next level with its driving rhythms, evolving pads, and lushness. And, it's no surprise that it easily transforms raw samples into pleasant sounds.
Specifications
| | |
| --- | --- |
| Type | Keyboard Synthesizer with Sequencer |
| Sound Engine | Wave Sequencing 2.0 |
| Type of Keys | Full Size |
| Number of Keys | 37 |
| Polyphony | 64 Stereo Notes |
| Controllers | Pitchbend, Mod wheel, Vector X/Y Joystick |
| Presets | 2GB PCM Sounds: 740 Programs, 240 Performances, 1000 Wave Sequences |
| Effects Types | 14 x Simultaneous FX |
| Filter | Polysix, MS-20 Filters, 2-pole, 4-pole, Highpass, Lowpass, Bandpass, Multi Filter |
| Stereo Voices | 64 |
| Audio Outputs | 2 x 1/4" (L/mono, R) |
| Power Source | 12V DC power supply |
| Dimensions | 3.66" x 22.24" x 13.31" |
| Weight | 6.93 lbs |
Korg Wavestate Review
The Korg Wavestate comes with an array of features that you can use to your advantage. The step sequencer values, gate times, and shapes help achieve quality sound, and you can independently manipulate the melody, the sequence of samples, and the timing — all thanks to the Wave Sequencing 2.0. The arsenal of effects Wavestate boasts is worth commending. And, this unveils why the sound it delivers is very pleasing and ear-catching. Speaking of these effects, there's an array of classic guitar pedals, multi-head tape echo, VOX wah, and VOX guitar amps included on the modeled effects. More so, Overb, Multiband Mod Delay, Reverse Delay, Talking Modulator, and the WaveShaper are the varied processors you'll have access to. And, there are stereo delays, phasers, flangers, choruses, EQs, compressors, and a host of other standards available too.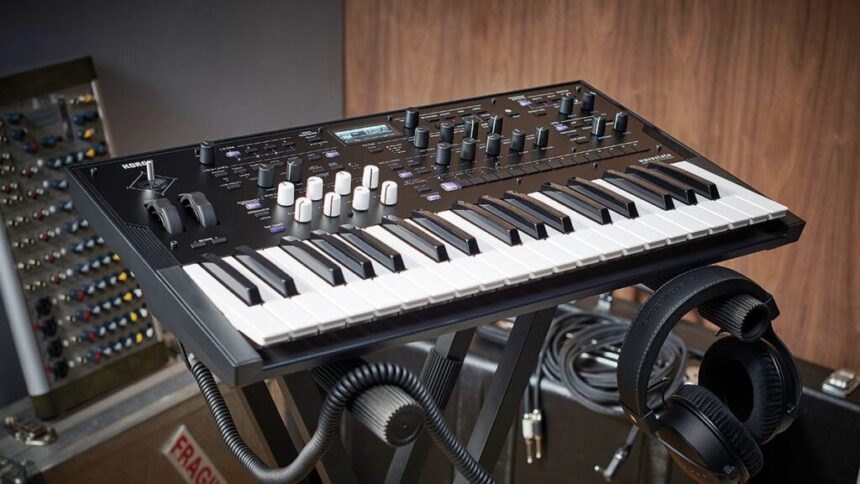 You'll also be glad to know that Parametric EQ and master reverb are featured on the Performance, and there are three unique effects attributed to each Layer. It's also worthwhile to speak about the several filters this amazing Wavestate has. You have the Band Reject Filters, Bandpass, Highpass, and the 2-pole and 4-pole Lowpass to use to shape things up and do some refinement. The strong, sweet Polysix Lowpass and the vibrant MS-20 Highpass and Lowpass also help you infuse your sounds with some vintage characters. The Korg Wavestate does empower you with all you need to get the best sound you can ever get. With the eight programmable Mod Knobs, front-panel controls, effects, LFOs, envelopes, and filters, you're not so far from exploring. And, the controllers and knobs are there to help you express yourself easily. All-in-all, Korg has incredible and impressive performance with its multi-timbral engine, voice count, digital sound quality, textures, rich pulsating pads, and lots more. And, the fact that it offers something new yet stays faithful to a classic is another reputation that volumes up its credibility. 
Overall Performance
The Korg Wavestate performs incredibly well! Judging by the several features and the plenty of effects it offers you to explore, you would be glad that you got your hands on this equipment when you started using it. Scoring high on excellent performance, the Wavestate feels solidly built, it isn't heavy, and its sleek, digital design is something you'll like. Though there's no aftertouch, velocity release and velocity are offered by the keybed, and since the keys are full-sized, you'll be able to conveniently get your hands on it without running into any hassle. 
This 37-key synthesizer strikes a balance with its portability and playability. You can easily organize and manage your sounds with the Set Lists and Smooth Transitions if you have a live performance. It also has a large library for your storage and, manipulation of pitch, step sequencer values, gate times, sample duration, and a host of others has been made easy with its provided Lanes. Boasting flamboyant sonic excitement with its plentiful effects, this synthesizer is purposely designed to make your sound production journey easier and more enjoyable, and there's no compromise at all on how well it can perform. 
Sound Technology
Manipulating sounds creatively has never been easier and more fun. With the Wave Sequencing 2.0 of the wave state synthesizer, composers, sound designers, and music producers can bask in the thrilling, rhythmic sounds offered by the indefatigable Korg and transform their samples like magic. The sound technology of the Korg Wavestate is superb, and creating complex, evolving patches and manipulating pitch, timing, sequence, and timing has been made more relaxing with the Wave Sequencing 2.0. If you seek a non-linear playing experience, you can work on the Lanes to give you that, and the sound technology isn't something that's way too complicated for your understanding. 
Controllers
This synthesizer gives you all that's needed for expressive real-time performance with its set of hands-on controls. Whether you're into sound designing, you love composing, or you're a producer, you can easily find your way around the Korg wave state without feeling too overwhelmed because of the controllers that are right at your fingertips. The sequence steps, modulation lanes, filters, LFOs, and envelopes can be easily accessed. More so, the four layers of sound are made to be right at your control with the Vector Joystick. You enjoy ample hands-on control with the Wavestate synth, and it's quite a satisfactory experience.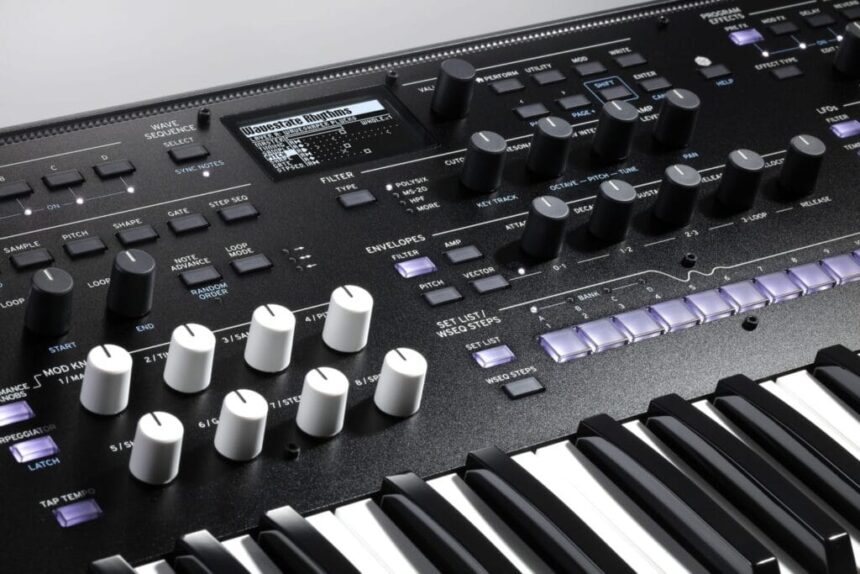 Polysix Filters
It's about time you get creative with the filters. Sound designers know nothing does it like some good filters. This synthesizer furnishes you with incredible sonic possibilities and empowers you with the MS-20 and Polysix filters to shape your sounds to your satisfaction. Between multiple filter modes, you can morph and modulate with the multimode filter. Additionally, you'll gain access to a pack of filters that are purposed to bring out the creativity in your sounds. From the Band Reject filters and Bandpass to Highpass, Lowpass, 2-pole and 4-pole, and lots more, Korg presents you with a wide set of filters you can use to shape and refine your tunes. 
Modulation
Korg understands how vital a modulation matrix is, and it doesn't disappoint on that. Irrespective of the length you want your sounds to be polished, you have the modulation freedom to carve out the beauty you desire with the plenty of modulation settings at your disposal. You can modulate the on-screen parameters and knobs, and if it interests you to be extra creative with your patches, the built-in modulation signal transformation helps you get more things done.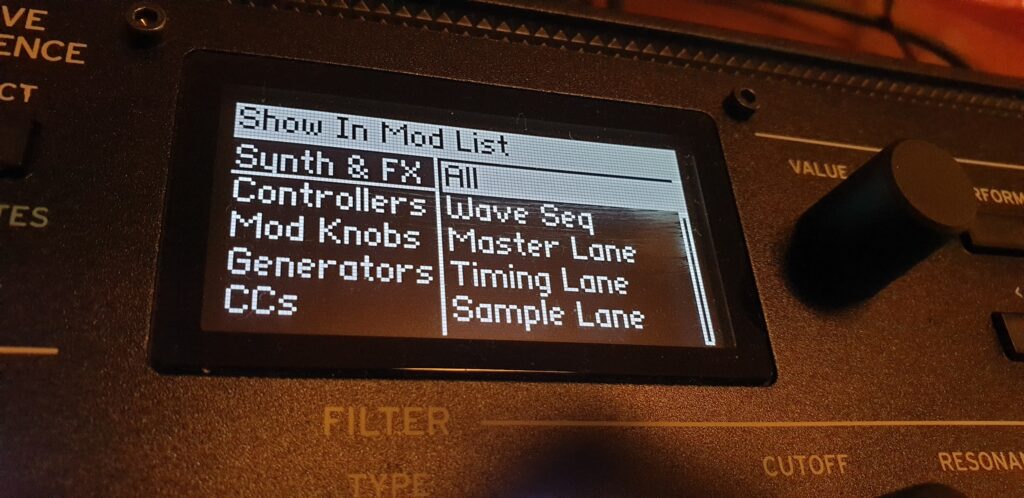 When it comes to modulation, Wavestate offers some modulation capacities that you can't find on other rivals as it allows its users to manipulate their curvature, smooth out, and quantize their modulation signals.
Wavestate had been described as a "modulation heaven" by many websites, and, indeed, no digital hardware synth comes close to it when it comes to the modulation matrix. The profoundly deep modulation capabilities are worth commending. 
Vector Envelopes
The Korg Wavestate has vector envelopes that are purposed to make your sound creation journey a less stressful one, and they do help you automate vector movement. 
Memory Pool
Unlike the original Wavestation, this revamped version comes with thousands of raw samples as it boasts gigabytes of samples to explore. Offering a massive memory pool, the Korg has a couple of libraries where you'll find lots of samples you can make use of, and it has a playback technology that is so thrilling. If you're looking for the best performance synthesizer with a huge memory pool, look no further than Korg. Aside from its incredible gigabytes, you can also enjoy smooth morphine and use the guitar amp modeling, reverb, tape echo, and lots of other effects on each layer to compliment the quality of your sound. In real-time, you can morph between the layers with the Vector Joystick. And if controlling four layers of sound like a breeze sounds pretty interesting to you, coupled with enough memory to explore, do well to let the Wavestate take you on a fine sound journey. 
Stereo Voices
Without mincing words, the Wavestate takes sonic precision and sound quality to a different dimension. No one does it like the Wavestate as it offers pristine sound quality, and you have the opportunity to play 64 stereo voices at the same time. The Plugin Guru and the KRONOS and KROME libraries are all teeming with sounds you can explore to your advantage to enjoy better results with your output. 
Audio Ports
This synthesizer has enough and quality audio ports that are meant to make your studio works or stage performances easy. Unlike other synthesizers with slacking and unreliable ports, Korg Wavestate is apt for all your musical designs. If you're often into late-night sound design sessions, you can personally monitor the sound with the headphone output, and the balanced line-level outputs are also there to facilitate all of these for you. That is not all; you can integrate your computer with the available USB MIDI. If you would love to connect your MIDI-compatible hardware, you don't have to bother about that because DIN MIDI ports are available to serve you. 


Other Features
Although virtually all of the features of the Korg Wavestate have already been mentioned, it's worthy of talking about the smooth transition and Setting Lists settings of this fantastic synthesizer. With this, you don't have to bury yourself in the menu frantically trying to access your sounds. You enjoy easy sounds management with these settings, and if you have a live performance, you'll find it to be very handy. Another thing that will catch your fancy is the smooth transitions which help you change your sounds creatively. 
The Korg Wavestate has its upsides and downsides, and here are they; 
| | |
| --- | --- |
| PROS | CONS |
| It has a compact design with 37 full-size keys  | It has no software-based editor |
| It features Set Lists and Smooth Sound Transitions | It has no Aftertouch  |
| It has 14 simultaneous effects | |
| It has 4 Layers with Vector control | |
| It has 64 stereo voices | |
| It has gigabytes of samples | |
| It has massive modulation with hands-on control | |
| It's made in the USA   | |
Why Do You Need Korg Wavestate?
The stunning Korg Wavestate works like magic, and it helps to make music Trusted Source Benefits of Music on Body, Mind, Relationships & More | Healthline Listening to music has benefits for learning, mental health, and physical well-being. It can impact us as individuals and communities. www.healthline.com creation very fun and exciting. If you're looking for a synthesizer with pleasing effects, nice samples, and decent and quality sounds, you should look no further than the Wavestate. With its awesome tweakability, excellent build quality, and sound smoothening features, music producers and sound designers would be thrilled to have this "machine" for their productions, and you should consider getting one too because Korg is worth it. And guess what? It's very affordable! 
Conclusion 
The Korg Wavestate is one-of-a-kind. Looking at its features from the finger-pleasing 37-note keybed and the numerous filter options to the several performances and programs to the vector control, wave sequencing 2.0, and lots more, you'll realize that Wavestate has come to offer you the more that you deserve and nothing less. Plus, all of these comes with excellent reliability and dons you with extra competency. 
Wavestation nostalgists and sound designers seeking quality sounds would be glad to invest in this Wavestate because the sounds it provides are incomparable. This Korg Wavestate review has done justice to preach the uniqueness of this musical tool and what separates it from others out there.
References
1.
Benefits of Music on Body, Mind, Relationships & More | Healthline
Listening to music has benefits for learning, mental health, and physical well-being. It can impact us as individuals and communities.